What is Loon Vape?
Loon Vape is the solution for you. Loon Vape is a pioneer in the vaping industry with various electronic nicotine devices and products for adults.
The Loon is the second to none independent vaping company based in Minnesota, United States. The brand was established in 2013 with a mission to go against combustible cigarettes and take electronic vaping products to the next level, providing an alternative for vapers.
Loon electronic products carry a unique design and the most potent batteries lasting for a long workday. In addition, Loon has various disposable products that are available globally, satisfying different vapers' expectations. We'll discuss every piece of information on the Loon vape in detail.
Main Products of Loon Vape:
1.  Loon 300 Disposable Pods
The Loon Disposable Vape provides 300+ puffs of premium vaping experience, enough to get you through the night. Available in different flavors and contain 50mg nicotine strength. Loon 300 disposable vape has processed Nicotine Salt, enhancing the better vaping experience by increasing nicotine strengths to desired smoother levels and reducing harshness.
Features of Loon 300 Disposable Vapes
1.3ml e-juice capacity

5% nicotine salt volume

Contain over 300 puffs

Packed in single pack / 12-pack

It comes in a 50mg nicotine salt
1.1 Iced Grapefruit Disposable Device
A tangy ripe grapefruit perfectly blended with a mint of icy menthol creating a smooth taste for the chilling flavor, leaving your buds dancing to the sweet rhythm.
1.2 Blueberry Bliss Disposable Vape
Blueberry Bliss is a delicious blend of fresh blueberries balanced for a smooth and sweet taste that will mesmerize your taste buds.
1.3 Strawberry Banana Smash Disposable Vape
Strawberry Banana Smash flavor comprises fresh and ripe strawberries perfectly mixed with ripe banana slices, creating a fresh fruit taste that tantalizes your palates.
1.4 Loon 300 Jolly Watermelon Vape
Jolly watermelon disposable vape is a flawless fuse of sour watermelon candies with fresh fruits for mouth-watering flavor. 
1.5 Pink Lemonade Disposable pod
The Pink Lemonade contains indigenous pink lemonade mixed with tart strawberry and fresh Lemon for a refreshing flavor.
1.6 Strawberry Ice Disposable Vape
Strawberry ice is a smooth, refreshing flavor containing fresh strawberries merged with menthol for a sweet treat.
1.7 Loon 300 Grape
Grape 300 is a perfect fuse of juicy grape flavor and fruits, making a refreshing fruity taste.
1.8 Iced Banana 
The Banana iced flavor is a delectable fuse of ripe jungle banana with a hint of menthol for a refreshing taste.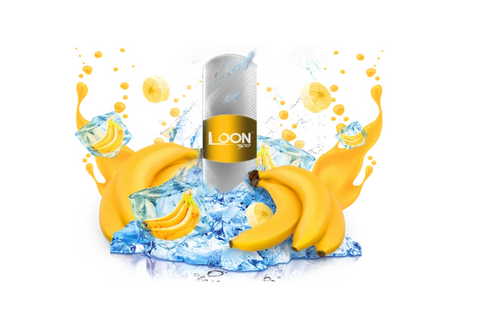 1.9 Iced Lemon
Iced Lemon is a tasty, juicy lemon blended with the menthol flavor creating a toothsome taste.
2. Loon Air Disposable
Loon Air is the premier disposable as it holds over 500 puffs, providing a long-lasting vaping experience for vapers. Loon Air is available in different mouth-watering flavors and designed with a modern appearance carrying a solid battery.
Features
Carry 1.7ml e-juice capacity

5% nicotine salt

Over 500 puffs for every device

It comes in a single pack

Packed in a 50ml bottle

2.1 Loon Air Iced Mango
 Iced Mango flavor is a tangy blend of fresh and juicy mango with a menthol flavor, making a sweet, freshening treat.
2.2 Iced Banana
The Iced Banana involves mingling succulent ripe banana slices with the hint of menthol, resulting in a refreshing, smooth taste.
2.3 Loon Air Grape
The disposable grape from Loon Air contains a native luscious escape taste fused with a fruity grape taste for authentic taste.
2.4 Strawberry Banana 
The flavor includes fresh native strawberry blended with ripe bananas for a toothsome taste that will tantalize the palates.
3. Loon Bullets Disposable
Loon Bullets disposable carry a unique design and have eye-catching colors, and they derive over five hundred puffs. In addition, the bullet contains 6% nicotine salt. Loon Bullets fill the market with different succulent flavors with a 450mAh lithium-ion battery lasting for a day of heavy vaping.
Features 
60mg nicotine salt by volume

2ml juice capacity

Over 500 puffs

Non-refillable

 

Contain a draw-activated mechanism
3.1 Iced Cola
The Cola Iced disposable flavor is a great summer cola taste fused with a hint of cool menthol ice for authentic taste.
3.2 Bad Bull
 Loon bad bull is a succulent taste that gives you energy for every draw making your palates fly smoothly.
3.3 Bubble Gum Disposable
Bubble Gum disposable vape contains a toothsome taste exactly like bubble gums, making you chewing on the first puff.
3.4 Iced Pineapple
The Iced Pineapple disposable vape is a delicious blend of sweet and ripe pineapples and tropical flavor for a refreshing treat.
3.5 Iced Green Apple
The Iced Green Apple incorporates a succulent tart apple taste with ice for a tasty flavor that will tantalize the buds.
3.6 Strawberry Banana
Strawberry Banana is a delectable mix of fresh strawberries and banana slices, creating a fruity taste.
3.7 Iced Lush
Iced Lush disposable contains a soft burst of watermelon flavor merged with the smooth menthol taste.
3.8 Iced Banana
The Iced Banana bullet disposable contains a blend of jungle ripe bananas with crisp ice for authentic taste.
4. Loon Air Plus Disposal
Loon Air+ is a pioneer in the disposable vaping category, carrying over 800 puffs. The Air+ disposable comes with a large 930mAh battery capacity lasting for two days of heavy vaping. In addition, air+ comes in an oil baffle design, and a 3.5ml e-juicy ability contains 6% nicotine strength. Loon Air+ disposable vape equals 5 JUUL compatible pods.
Features
Available in 3.5ml e-liquid capacity

800+ puffs per device

60mg nicotine salt by volume

930mAh battery
Loon Air+ Disposable Flavors
4.1 Strawberry Watermelon
Strawberry Watermelon is the blend of summer watermelon and fresh, ripe strawberry for a smooth, reviving flavor.
4.2 Pink Lemonade
Pink Lemonade disposable contains ripe, juicy berries flawless blended with lemonade flavor for a freshening taste.

4.3 Strawberry Banana
The strawberry banana consists of fresh strawberries fused with banana slices making a fruity taste.
4.4 Orange Fantasie
Orange is a  fantastic blend of a ripe orange with smooth soda fizz for a tasty taste.
4.5 Bud Bull
Bud Bull disposable is a succulent blend full of energy from the first draw.
4.6 Apple Berry Crumble
The Apple Berry Crumble contains a fresh blend of pie from original apple and ripe berries for a refreshing flavor.
4.7 Strawberry Kiwi
Strawberry Kiwi disposable flavor encompasses fresh juicy strawberry-infused by juicy kiwi burst for a sweet treat.
4.8 Berry Lemon Bubble Gum
The disposable is a blend of fresh and ripe blackberry with a sweet bubble gum containing a citrus twist.
4.9 Iced Kiwi Lemon Twist
The iced kiwi lemon disposable is a luscious merge of fruity kiwi and a cold menthol taste twisted with a citrus flavor.
4.10 Iced Pineapple
Iced Pineapple disposable flavor contains a sweet tropical pineapple taste well-balanced with a hint of mint for a menthol taste.
4.11 Bubble Gum
Bubble gum disposable contains a delicious bubble gum taste that will make you chew each puff.
5. Loon Maxx Disposable Wholesale
The finest disposable in the vape market, Loon Maxx, contains a capacity of 6.5ml pre-filled juice and a 60mg nicotine salt. The disposable vape carries a robust 1000mAh battery and provides over 2000 puffs lasting three to four days of heavy vaping. The device lack a standard type as batteries, tanks, pod cartridges come in different shapes, sizes, and colors.
Loon Maxx Disposable Features
Available in 6.5ml capacity

Contain 6% nicotine strength

 

Produce over 2000 puffs

Carry a 1000mAh battery

 

Available in 10 pack

5.1 Berry Lemon Bubble-gum
The flavor is a perfect blend of fresh and ripe blackberries and a soft bubble-gum taste with a citrus twist.
5.2 Apple Berry
Apple Berry is a fruity sensation merged with juicy apples and sweet, ripe berries, creating a sweeping bud taste.
5.3 Banana Bad Bull
Banana Bad Bull comprises jungle banana flavor blended with the energizing taste for a smooth, freshening taste.
5.4 Blue Lightning
 The blue lightning flavor accommodates juicy blueberry blended with citrus soda for a delicious taste.
5.5 Iced Pineapple
The iced pineapple constitutes a fresh tropical pineapple fused ideally with menthol taste mesmerizing with the palates.
5.6 Strawberry Ice Cream
Strawberry ice cream is a flawless balance of fresh soft strawberries with ice cream, making authentic flavor.
5.7 Iced Lush
The lush iced flavor comprises a softy and juicy watermelon drenched in ice, producing a succulent taste.
Loon Disposable Vape Wholesale
Loon disposable vape is the perfect alternative for vapers who want to shift and those that need to quit smoking due to high nicotine concentration. The disposable vape comes in various flavors catering for all vapers, with a solid battery cable lasting days for heavy vaping. Moreover, every disposable taste comes in different shapes, sizes, colors, and capacities as per the price.If you are looking for Loon Disposable Vape Wholesaler, please send us a message.We will provide you with the latest Disposable Vape Wholesale information and give you wholesale prices.