VooPoo is a well-known and appreciated vape brand in the vape industry that offers quality vape pens and pod kits for an ultimate vaping experience. The VooPoo VMate is a vaping device that is an easy to use, flavorful and cost-friendly device. 
The device comes with a mesh pod with a resistance of 0.7ohm, and it can increase the heating area for the e-juice by more than three times and release a very rich flavour. The VooPoo Vmate pod is about 70% leak-proof than any other type of Pod. This makes it safer for the e-juice not to leak during vaping.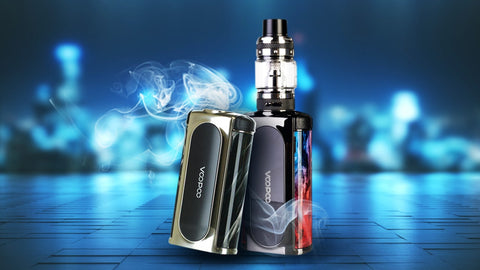 VooPoo Vmate Battery Shelf Life and Battery Performance
The Pod's battery has a dual 18650-battery which can give up to 157Watts of power. The battery has a capacity of 900mAh, and one can only charge it using a USB cable or an upgrade cable since it is fast.
The Gene chip inside the Pod detects a change in resistance and keeps the coil in use. It also configures a variable wattage, voltage and controls temperature in the Pod. The chip supports all the heating materials to ensure there will be no short-circuiting or any overcharge. Additionally, the chip helps in power-ramp-up and giving accurate power output. 
The battery has an LED indicator that shows how much percentage remaining for it to be recharged or it is already full. When it blinks green, the battery percentage is over 60%, blue means the percentage is between 20-60%, and red means it is below 20%.
Once fully charged, it can go up to 2 days, but it may vary depending on how the user frequently vapes. It is recommended that one should use an external charge when possible. 
VooPoo Vmate Pods Design and Quality 
VooPoo Vmate has various pens and pods that come at different sizes and prices and are designed with portability features such as the casing of the Pod. The pod kit contents include: 
USB charger

User manual

Warranty cards 

Drag mod
VooPoo Vmate pod has been designed to be a compact and lightweight vaping device, making it lighter than other vaping devices. The pods come in different colours to give the ultimate user choice to get the best of choice, such as Space grey, green, red and silver. 
The Pod can hold e-juice of a capacity of 3ml, and the pods are designed in medical materials that allow you to choose the flavour you'd prefer. The Pod includes a built-in mesh coil of 0.7Ohm, allowing more e-juice to be heated faster, therefore experiencing increased flavour. 
Besides the 0.7Ohm mesh coil, there is an option of a 1.2Ohm coil pod, which, when used, produces less vapour during vaping. The built-in design of the coils means that there are no coil changes from time to time. The VooPoo Vmate pod supports Mouth Lung vaping, producing less vapour, which allows inhaling and using the Vmate similar to a cigarette.
Refilling e-juice pods
The following are easy steps on how one can refill the Pod: 
Pull out the silica gel plug at the side of the Pod

Refill the juice by using a syringe or a dropper (This is to ensure there is no spillage)

After done, finish pressing back the gel plug. 
Note that it is recommended that after refilling the e-juice, the Pod should stand still for about 5 minutes to make the cotton fully soaked with juice. 
Replacing pods
You can replace the pods if they break or they can no longer work. Purchasing a replacement pod which comes in 2, costs $5.65, and it includes the following specifications and Features:
An internal coil with a resistance of 0.7Ohm

E-liquid capacity is 3ml
The pods are only compatible with VooPoo Vmate Pod Kit and VooPoo VThru pod kit. 
Pros and Cons of VooPoo VMate 
Pros
The Pod is small in size, which makes them portable

Its battery lasts long

Its design is compacted in a way it is easy to use, refilling and maintaining. 

It saves cost 

VooPoo VMate is responsive in such a way that the firing rate of the chip is fast.
Cons
There is no adequate space for the e-juice hence requiring one to keep on refilling once depleted. 

It is limited to two types of kit; the VooPoo VMate and VThru pod kit.

Although the screen is legit and easy to read, the actual screen takes only a small part of it. 
VooPoo VMate Pod Review
The most probably outstanding thing about this vape pod is that; it has all the parts of a dual vape mod with battery openings. It requires two 18650 batteries whereby its output wattage range is between 5-200W and the voltage range is between 0-7.5V. 
Performance of the VooPoo Vince Pod
The Pod does not have any difference when it comes to performance compared with other pods. The performance of the pod system might look hard judging from the outlook, but in an actual sense, it is simple. 
Its system delivers more flavour and warmth just from the first draw because of the inbuilt coil. 
VooPoo Vmate Vs JUUL
Juul is a famous e-cigarette brand that uses prefilled pods with a mixture of e-juice and nicotine. Both the Juul and VooPoo VMate have no buttons; hence they use the draw-activation system. 
They are rechargeable via USB cable, and more so, each pod unit comes with a charging unit. JUUL always comes prefilled, while VooPoo VMate usually comes with an empty pod and the e-juice separately. 
VooPoo Vmate Prices
The prices set for the VooPoo Vmate pods are reasonable, and purchasing them in bulk can get you one device at $79. It is not recommended to be sold for minors since it contains nicotine which is highly addictive. 
FAQS about VooPoo VMate Pods
How long does a pod last?
The VooPoo Vmate, when fully charged, can last up to 48 hours, but it depends on how frequent one vapes. The inbuilt battery helps in keeping the charge for a long.  
How would you know that the mod is full?
The mod operates via auto draw. There is a LED light beside that indicates the battery percentage by using colours. If it is more than 60%, it usually lights green. 
How does one turn on the VooPoo Vmate Pod?
Usually, there are no buttons to control the turning on. Once you have filled the Pod with the respective e-juice, inhale at the mouthpiece to start the process. 
ALTERNATIVE VAPE: UPENDS
UpOx
UPENDS is the new rising e-cigarette brand. With this device, you can put the flavour of your choice. UPENDS is still the leading brand and wholesaler of vaping products.In addition, UPENDS gives a chance of vapours to refill the vaping pens once they are over, which explains why they are of a lower cost. This makes it very economical when it comes to spending money. 
The UpOx is one device from UPENDS that features the Etchip 2.0 coil. The pod system is compatible with most of the mainstream e-juices. It has improved heating systems and mesh coils that give the first puff a mouthful of the original flavour. The battery connection is done magnetically and is in an inverted design.
The Pod is and can be magnetically connected to the battery in an inverted manner. Its battery shell is made up of aluminium which is lighter, tougher and thinner. This makes the pen easily portable.  
Conclusion
The above article shows that VooPoo VMate is perfect for all smokers, especially those moving from being cigarette smokers to using an e-cigarette. VooPoo VMate gives an amazing vaping experience and is effortless since it has various e-juice selections and flavours.
The long-lasting battery ensures a smooth experience for long hours. It is cost-friendly and requires minimal maintenance. The design of the VooPoo VMate is right, from its construction, chipset to being durable.