Introducing the Cube Zero 3000 Disposable, a compact and stylish vape device packed with a range of impressive functionalities. Equipped with a generous 11ml of pre-filled vape juice, this device delivers approximately 3000 puffs without the need for a rechargeable battery. Moreover, it's entirely nicotine-free, catering to those who seek flavor enjoyment without the nicotine kick.
The Cube Zero 3000 also incorporates a mesh coil and operates via a draw-activated mechanism, ensuring effortless usage for both experienced vapers and newcomers alike. Additionally, featuring adjustable airflow and the ability for MTL vaping, this device offers a seamlessly customizable and smooth vaping experience.
Features
11ml Pre-Filled Juice
Battery Capacity: 1600mAh
3000 Puffs
0%(0mg) Nicotine Free
No Rechargeable Battery
Approximately 3000 Puffs
Mesh coil
Draw-Activated
MTL Vaping
Airflow Adjustable
21 flavors
Pros
Impressive throat sensations even in the absence of any nicotine content.
The square-shaped body provides a comfortable grip.
Cons
No need for recharging (there might be residual juice when the battery runs out).
Cube Zero Vape Flavors Review
Mango Colada: This exceptional disposable vape transports you to the heart of a sun-drenched beach, where the luscious fusion of ripe mangoes and creamy coconut comes to life in every inhalation.
With each puff, you'll be carried away by the tropical breeze, laden with the aroma of fresh mangoes and the indulgent essence of coconut. Mango Colada offers a blissful vaping experience, capturing the spirit of a classic piña colada with a tantalizing mango twist.
Passionfruit: This disposable vape brings the essence of Passiflora, also known as passionfruit, to your palate. Its unique blend of sweet and tangy notes perfectly replicates the tropical allure of passionfruit. With Tropic, you'll embark on a sensory journey to a tropical paradise, savoring the authentic taste of this exotic fruit with each draw.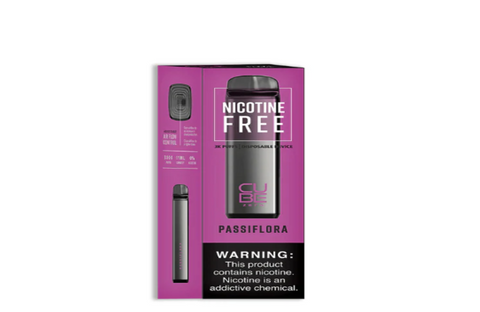 Summer Menthol: Cool down and rejuvenate your senses with Summer Menthol. This flavor offers a refreshing burst of menthol combined with a hint of summer fruits. Upon inhalation, an invigorating menthol wave washes over you, awakening your senses. Subsequently, a medley of sun-kissed fruits emerges, striking a harmonious balance between chill and sweetness, delivering a delightful summer vaping experience.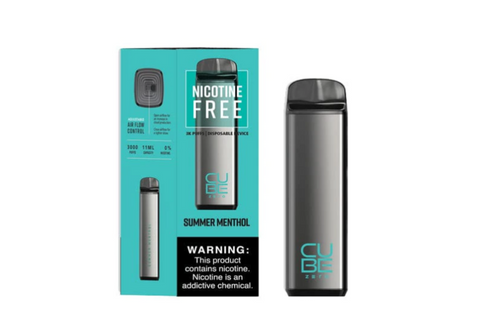 Wild Berry: Unleash your inner wildness with Wild Berry, a disposable vape that celebrates the vivid and luscious flavors of forest berries. With every inhalation, you'll encounter a symphony of sweet, tart, and tangy berry notes reminiscent of a thriving berry patch in full bloom. Wild Berry offers a fruity sensation that will leave your taste buds yearning for more.
Aloe Grape: Satisfy your thirst with Aloe Grape, a vape flavor that marries the natural goodness of aloe vera with the irresistible allure of grape. This distinctive combination results in a refreshing and sweet fusion, simultaneously soothing and revitalizing. Aloe Grape provides a cool and juicy vaping experience, making it an ideal choice for those seeking ultimate refreshments.
Morango Mango: Embark on a fruity adventure with Morango Mango. This disposable vape artfully blends the sweetness of ripe strawberries with the tropical juiciness of mango. The outcome is a perfectly balanced flavor profile that entices your taste buds with a symphony of fruity notes. Morango Mango is your ticket to a mouthwatering journey through lush orchards and sun-soaked fields.
Fresas Con Crema: Indulge in the decadent pleasure of Fresas Con Crema. This creamy delight seamlessly combines the succulent flavors of sweet and juicy strawberries with the opulence of velvety whipped cream. Each inhale offers a luxurious experience as the strawberry and cream notes intertwine, creating a tantalizingly sweet and creamy vape that satisfies even the most discerning palates.
Energy: When you require a boost to power through your day, look no further than Energy. This invigorating disposable vape flavor delivers a stimulating experience that awakens your senses and provides the energy you need. With its revitalizing blend of flavors, Energy is the perfect companion for those moments when you seek an extra kick to remain alert and focused.
Strawnana
Strawnana is a delightful flavor that combines the best of two worlds – the succulent sweetness of ripe strawberries and the creamy richness of ripe bananas. With each inhale, you'll experience the harmonious marriage of these two beloved fruits. The strawberry brings a burst of fruity sweetness, while the banana adds a creamy and smooth texture to the mix. Strawnana is the perfect choice for vapers who crave a luscious and balanced fruit fusion.
Melonberry
Melonberry is a tantalizing blend that captures the essence of two refreshing fruits – juicy melons and ripe berries. This flavor offers a symphony of flavors with every puff. The melon provides a cool and hydrating quality, reminiscent of a summer's day, while the berries infuse a delightful tartness and a burst of vibrant color. Melonberry is the ideal choice for those seeking a fruity vaping experience that is both invigorating and sweet.
Coffe
This exceptional vaping experience captures the essence of freshly ground coffee beans and the comforting aroma of a cafe in every draw. With each inhale, you'll be transported to your favorite coffee shop, as the rich, robust notes of coffee beans envelop your senses.
The deep, satisfying flavor of coffee is beautifully replicated, providing you with a comforting and invigorating vaping experience.
Vape product suggestions:
Upbar-nano
The UpBAR Nano is a lightweight, single-use vaping kit designed for convenience while traveling. To get the most out of e-liquids, it uses FRESOR technology. The Next-Gen Mesh Coil and a unique flat stacking design work in concert to raise the number of puffs that may be produced while increasing energy efficiency layer by layer.
With the help of the innovative FRESOR technology, the Nano is created entirely automatically, ensuring consistent performance. As a result, vaping offers a flavorful, accurate flavor reproduction, a ton of vapor production, and protection from leakage issues.
Features
0 E-liquid capacity
410 mAh battery capacity
20 mg/ml nicotine salt
0 Ω Resistance
UPENDS Mirror
The Upends Mirror vape pen has a chic, carry-anywhere style and consistently offers a top-notch vaping experience. It has a polished appearance in part because of its streamlined design and smooth exterior.
With a promise of a continuously pleasing flavor profile, this gadget raises the bar for vapor generation. It also keeps its stylish design. This is made possible with the incorporation of a cutting-edge mesh coil. The Mirror's performance reveals how adept it is at offering a variety of tastes.
The robust 500mAh battery, generous 10mL e-liquid capacity, and ease of Type-C charging let you to indulge in uninterrupted vaping sessions whenever the mood strikes. Questions about battery life or e-liquid levels are no longer pertinent.
Features
10mL E-liquid Capacity
0Ω Resistance
500mAh Battery Capacity
Type-C Charging Port
Upends UpBar GT
The UpBar GT is a chic vaping gadget that exudes elegance and takes design cues from costly sports cars. It has a svelte, slender body that is adorned with seductive lines and tiny accents to give it a unique look.
The UpBar GT pods have a 2 ml volume and already contain 20 mg of nicotine. These pods provide a pleasurable vaping experience and have a mesh coil. They need to be changed after 600 puffs on average. The UPENDS UpBar GT is available in a wide selection of flavors to accommodate different palates and give consumers a wide range of options.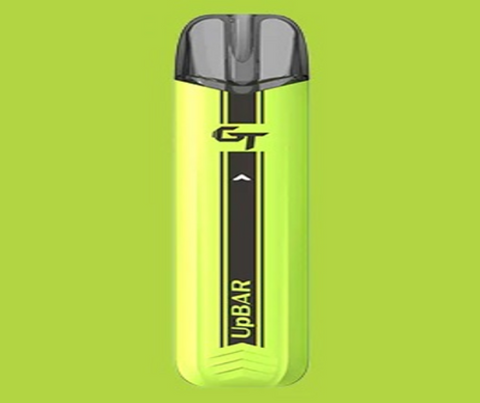 Features
2% Nic Salt
2 ml e-liquid
400mAh battery
600 puffs
E-liquid ratio: 50PG/ 50VG
Coil: 1.4ohm mesh
FAQs
Is Cube Zero Vape nicotine-free?
Whether Cube Zero Vape is nicotine-free or contains nicotine depends on the specific product and flavor. Some Cube Zero Vape options are nicotine-free, catering to those who prefer vaping for flavor without nicotine. Others may contain nicotine, with various nicotine strength options.
Best Vape Wholesale Supplier-UPENDS
Step into the realm of Vape-UPENDS, where innovation and sophistication seamlessly unite. Brace yourself for an exceptional vaping journey filled with unforgettable moments. We extend a warm invitation, inviting you to become a valued member of our vibrant community, where an array of exclusive offerings awaits to enhance your vaping satisfaction.
At Vape UPENDS, our cutting-edge innovations, elegant designs, and meticulous craftsmanship consistently bring joy. Our team of skilled artisans infuses their passion and expertise into crafting flawless and refined works of art that will enrapture your senses. With each inhale, our goal is to awaken your discerning palate and ignite an enchantment that leaves you completely enthralled by the meticulously orchestrated sensations we've carefully designed.
Our ultimate aim is to deliver an unparalleled vaping experience, and we are delighted to embark on this transformative journey alongside you. Allow us to elucidate why Vape UPENDS proudly stands as the top choice for those who demand nothing less than perfection when indulging in moments of relaxation.
Prepare to submerge yourself in a world where creativity, elegance, and sheer wonder converge to create an experience that captures your imagination and leaves you longing for more.