Different vape equipment is available in the market developed by different vape developers. Therefore, as a vaper, you need to consider the quality of the vaping equipment, the quality of the vape, the price ease of use, among other parameters.
The quality and type of vape equipment you choose will determine the vape's end results. This way, you need to be careful only to choose the best.
UPENDS Review and Instructions of Vaporesso Xtra Pod Kit
We at UPENDS understand that because there is numerous vape equipment in the market, it may be hard for you to choose the best you. This way, we have set aside this article to help you understand the functionality of Vaporesso Xtra Pod fully.
Here is what you may need  to know about Vaporesso Xtra Pod Kit;
What is Vaporesso Xtra Pod Kit?
The Vaporesso Xtra Pod Kit is one of the latest and compact pod kits developed by Vaporesso, a renowned vape equipment developer. It comes with numerous vaping features that are unique in many aspects. It is powered by a long-lasting battery, comes with an intricate curved design that gives you as a vaper a comfortable grip.
Vaporesso Xtra Pod Features at a Glance
Battery and Battery Life
Vaporesso Xtra Pod Kit is powered by a unique and powerful 900mAh battery. This battery is powerful enough to allow you to vape for a while before you can stop for the next recharge. As you vape, you will not be caught unaware when the battery runs low as Vaporesso Xtra Pod Kit is equipped with battery-life LED indicators that indicate the battery life. 
If you vape moderately, a full charge of 900mAh can give you a vaping experience for 72 hours.
Puff Activation
Vaporesso Xtra Pod Kit is quite easy to operate and enjoy your vape. After you recharge its battery, you only need to place it on your mouth, make a puff, and Vaporesso Xtra Pod Kit will be activated. There is no need to click any button to have it running.
E-liquid Capacity
Vaporesso Xtra Pod Kit comes with a pod with a capacity of 2ml. This e-liquid capacity is enough for you if you are not a frequent vaper. After the 2ml e-liquid is depleted, you can easily and conveniently refill the pod using the practical silicone stopper plug on its side.
Flavor
The flavor you get from vaping using Vaporesso Xtra Pod Kit mainly depends on the flavor of the e-liquid you refill the Pod with. But because Vaporesso Xtra Pod Kit is unique, it gives you a rich and clear flavor. This is possible as Vaporesso Xtra Pod Kit makes use of upgraded cotton material and an upgraded cotton wick.
E-Juice Recommendation
Different vape equipment requires different e-liquids to make sure you enjoy vaping. In this case, it is recommended that as you use Vaporesso Xtra Pod Kit, you use an e-liquid with 50% PG or high PG blends to realize the best performance.
Ease of Use
Vaporesso Xtra Pod Kit is extremely easy to use. First, it has no button that you will need to locate to have it start running. Second, it is also easy to refill its Pod with your favorite e-liquid as it gives you an option of a side fill port.
Diverse Colors
Vaporesso Xtra Pod Kit is available in 4 different colors; Grey Resin, Rainbow Resin, Silver, and Grey. This lets you choose the color of your choice or the color that is compatible with your home décor.
Portability
Vaporesso Xtra Pod Kit can also boast of portability. This vape pod comes with a dimensional size of 73.9 x 38.2 x 16.7mm that combines with a glossy finish to give you high portability. This way, you can travel with your Vaporesso Xtra Pod Kit from one place to the other with ease or even vape without being noticed.
Pros and Cons
These are the pros and cons associated with Vaporesso Xtra Pod Kit;
Pros
It is built with a compact and quality design that gives you a long-lasting vaping experience.
Vaporesso Xtra Pod Kit guarantees you a top-notch flavor
It is powered by a powerful battery that gives you over 72 hours of runtime.
It is built to guarantee you a top-notch flavor
Vaporesso Xtra Pod Kit gives you a restrictive lung hit using its 0. 8-ohm coil
Cons
When you need its Pod outside the kit, it may not be easy for you to detach it.
General Performance
Vaporesso Xtra Pod Kit is highly rated as its performance is outstanding, giving you exceptional performance. It makes use of two pods that that utilizes two different coils; 0.8 - ohm and 1.2-ohm that gives you varying vaping experience.
When using the 1.2-ohm coil, Vaporesso Xtra Pod Kit guarantees you dense and huge clouds and a highly concentrated flavor. It works best with the nic salt with a mouth-lung draw which is healthy. Its airflow is designed to enjoy a smooth draw, making it friendly and satisfying.
Vaporesso Xtra Pod Kit Features at a Glance
9 x 38.2 x 16.7 mm Dimensional size
2ml Pod Capacity
8 or 1.2Ω resistance coil
3-color LED indicator
Refillable pod system
Draw activation
Micro USB charging port
16W maximum output wattage
900mAh 
Manual, Review, and Instructions
The Vaporesso Xtra Pod Kit is a wonder vape kit that you can always trust as a vaper. It assures you a pure and strong taste in every puff you make. With a strong battery, you can always be enjoying vaping for a long time without stopping for recharging. You will also not be caught off-guard when the battery runs low as Vaporesso Xtra Pod Kit is equipped with LED battery indicators that you can use to monitor the battery life. You will also love this vape tool because of its solid quality that makes it exquisite and worth your money. 
Let's Look at the Frequently Asked Questions
How do I Refill my Vaporesso Xtra Pod Kit Pod?
Refilling the Vaporesso Xtra pod is easy and straightforward. When the Pod has depleted the e-liquid in the Vaporesso Xtra pod, you need to follow the following simple procedure;
Detach the cartridge from the whole Vaporesso Xtra kit
Flip to open the fill plug on the side
Fill up to the 2ml-mark using the right vape e-liquid
Replace back the Pod
Allow the Vaporesso Xtra kit's coil to prime before starting to vape
How do I Charge my Vaporesso Xtra?
Vaporesso Xtra comes with a USB cable and a USB port that you can use to charge your Vaporesso Xtra battery. You only need to plug it into the power source and have it charged.
How Long does my Vaporesso Xtra battery last?
Vaporesso Xtra is powered by a rechargeable 900mAh battery. This battery is powerful enough to allow you to enjoy vaping for over 72 hours before the next charge.
Alternative Vape Equipment: UPENDS
This is a super-value pod system. Its performance is always surprising as it comes with a pocket-friendly price that many vapers may think is unworthy. It utilizes an Etchip 3.0 Cloud Chaser coil that brings you an outstanding DL and RDL experience.
You will also love the Uppor Pod system because of its PAV balance technology that balances the vaping power, e-liquid viscosity, and airflow to give you the best vape experience. experiences depending on your vaping experience.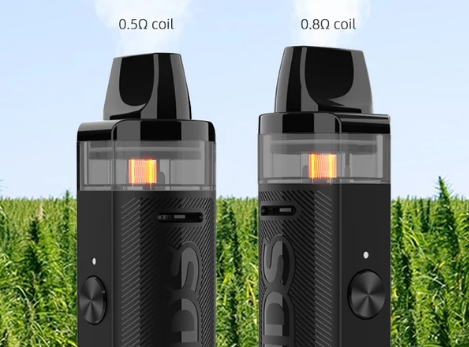 We can highly recommend Uppor for you, be it that you are a beginner vaper or an expert vaper.
Conclusion
Vaping has been widely accepted by many people who used to smoke as the best way they can continue enjoying nicotine hits. However, it would be important if you were careful about the best vape tool you choose to get the best. The Vaporesso Xtra Pod Kit is one of the best vape equipment we can recommend, not forgetting the UPENDS vape equipment.