Are you looking for a non-disposable vape whose innovation and style intertwine seamlessly? Vaporesso non-disposable vape is the device for you. It is not just about the looks, Vaporesso non-disposable devices are packed with technology that elevates your vaping game. Immerse yourself in rich flavors as the advanced heating elements deliver the perfect balance of vapor and taste. From sleek and compact designs that fit snugly in your hand to powerful devices that unleash immense clouds, Vaporesso has crafted a lineup that caters to every preference and desire.
Customization is the name of the game with Vaporesso non-disposable vapes. You can fine-tune your experience with adjustable airflow, wattage control, and coil options that suit your vaping style. Whether you prefer a smooth and satisfying mouth-to-lung draw or a direct-to-lung rush, Vaporesso has got you covered.
What is a Vaporesso Non-disposable vape?
Vaporesso is a reputable brand that offers a range of high-quality vapes, including non-disposable vapes. They are known for their innovation, advanced technology, and user-friendly designs. Vaporesso devices feature sleek aesthetics and a durable build.
One notable non-disposable vape pen from Vaporesso is the Vaporesso XROS. It is a sleek and ergonomic pod system with a draw-activated firing mechanism. The XROS offers adjustable airflow, refillable pods, and multiple power modes. It is designed for both mouth-to-lung (MTL) and direct-to-lung (DTL) vaping styles.
Before purchasing any specific Vaporesso non-disposable vape pen, it is recommended to read detailed reviews from reliable sources and consider factors such as performance, vapor production, flavor, battery life, ease of use, and user experience.
General Features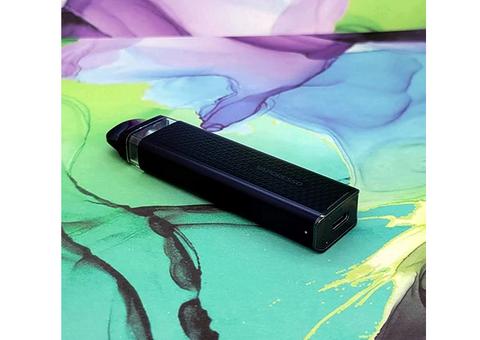 Battery
Vaporesso non-disposable vapes have a built-in rechargeable battery that powers the device. The battery capacity can vary, ranging from small to large, which determines the overall battery life and usage time. It also comes with a USB cable and charging port, allowing you to recharge the device. The Vaporesso XROS battery capacity comes in 1000mAh which can last up to 15 refills.
Tank or Cartridge
Vaporesso non-disposable vapes have a refillable and replaceable cartridge that holds the e-liquid. The difference between tanks and cartridges is that tanks are larger and allow for more e-liquid capacity, while cartridges are usually smaller and more compact. Some tanks or cartridges are transparent, allowing you to see the e-liquid level. Vaporesso non-disposable vapes have transparent cartridges and this is good because it lets you know when your e-liquid has been depleted so you can refill. It also prevents the coil from wearing out quickly due to vaping on an empty cartridge.
Adjustable Airflow
Vaporesso non-disposable vapes offer adjustable airflow control, allowing you to customize the amount of air that flows through the device while inhaling. This feature can affect the draw resistance and vapor production.
Also, they come in either button-activated or draw-activated forms. Button-activated devices require you to press a button to activate the heating element, while draw-activated devices are triggered by inhaling on the mouthpiece. Some Vaporesso non-disposable vapes have both features in one vaping device.
Coil or Atomizer
The coil or atomizer is the component responsible for heating the e-liquid and producing vapor. This feature is present in all vapes, whether disposable or not.  Most non-disposable vapes usually have replaceable coils or atomizers, which need to be replaced periodically as they wear out. The Vaporesso XROS non-disposable vapes use the COREX technology to heat the e-liquid which in turn produces warm vapor and excellent flavors with no harsh throat sensation.
Relevant YouTube videos on Vaporesso Non-disposable vape
Reviews: Are Vaporesso Non-disposable Vapes Good?
Vaporesso XROS 3 Non-disposable Vapes
Designed to redefine your expectations, this cutting-edge non-disposable vape device combines sleek design, customizable features, and exceptional performance. The included 1.0Ω & 0.6Ω pods are excellent for nicotine salts and work well with regular nicotine e-juices. The pods can contain over 25 mgs of nicotine salt. The pods are also magnetic to the vape device and fit perfectly. The 1.0Ω is suitable for a tighter  Mouth-to-Lung (MTL) draw while the 0.6Ω is suitable for a looser draw.
The Vaporesso XROS 3 packs a large 1000mAh battery and recharges through a Type-C port. Another major feature of this vape pen is the airflow control slider that allows for easy adjustment until you have your preferred draw. In addition to these features, this non-disposable vape uses the COREX heating technology which is perfect for warm vapors and excellent flavor production. Experience the thrill of instant satisfaction, effortless convenience, and the perfect balance of flavor and vapor production.
Features
Dimension: 115.1mm x 23.6mm x 13.7mm
Charging Type: Type-C
Battery Capacity: 1000mAh
Pods: 2ml capacity, replaceable pods
Firing Style: Button/draw activated firing
Adjustable Airflow
Draw: Tight MTL to loose MTL
Adjustable Wattage: No
Pros
Excellent for either regular nicotine or nicotine salt e-juices
Sleek and compact design
Compatible with all Xros pods
Has two firing systems.
Comes with 2 pods (1.0Ω & 0.6Ω)
Delivers mouth-watering flavor with both pods
Cons
The draw for the 0.6Ω is not tight
Vaporesso Xros 3 Mini Non-disposable Vapes
The Vaporesso XROS 3 Mini non-disposable vape, just like the name implies, is a mini version of the Vaporesso XROS 3. It's a little bit shorter than the Vaporesso XROS 3, and as a result, it's just that much more portable. This pocket-sized marvel delivers an exceptional performance with adjustable airflow and a high-quality coil. Enjoy hassle-free refills and transparent pod visibility.
Despite its small size, the XROS 3 Mini offers a long-lasting battery, rapid charging, and built-in safety protections. It can last up to an average of 15 refills with its 0.6Ω pod. The pod can also take 25 mg of nicotine salts.  The XROS 3 MINI has a compact dimension of 99.2mm in length, 23.6mm in width, and 13.8mm in depth. This gives it a nice and light feel while holding a solid and well-made feel. It has a long-lasting battery capacity of 1000mAh and comes with a LED indicator. The LED indicator shows the battery level of your vaping device. Experience your vaping pleasure with the XROS 3 Mini—a true powerhouse in a compact package.
Features
Size: 99.2mm x 23.6mm x 13.8mm
Pod Capacity: 2ml
Battery Capacity: 1000mAh
Draw Activated
Charging: 1A Type- C
Pod Series: Uses XROS series Pods
Pros
Premium look and feel
Great for MTL vaping
Comes in 8 different colors
The COREX Tech pod delivers mouthwatering flavor and pod longevity
Compatible with all XROS pods (5 pods available)
Cons
Frequently Asked Questions (FAQs)
What are the advantages of using a non-disposable vape?
Non-disposable vapes have several advantages over disposable vapes. They offer more customization options, allowing you to choose different flavors and nicotine strengths by using different e-liquids. They are also more cost-effective in the long run since you only need to purchase the e-liquid refills instead of constantly buying new disposable devices. Non-disposable vapes are also generally more environmentally friendly, as they produce less waste.
Are non-disposable vapes safer than disposable vapes?
Both non-disposable and disposable vapes have their safety considerations. However, non-disposable vapes often have more advanced safety features, such as temperature control and short-circuit protection, which can help prevent accidents. It's important to use any vaping device responsibly and follow the manufacturer's instructions for safe usage.
How do I choose the right non-disposable vape?
When choosing a non-disposable vape, consider factors such as battery life, tank capacity, ease of use, and overall build quality. Look for reputable brands like Vaporesso that have positive reviews and a track record of producing reliable products. It's also helpful to read user reviews and consider your personal preferences regarding size, design, and features.
How do I maintain a non-disposable vape?
To keep your non-disposable vape in good working condition, regularly clean the tank or cartridge to remove any residue or build-up. Follow the manufacturer's instructions for cleaning and maintenance. It's also important to charge the battery properly and avoid overcharging. Replace coils or atomizers as needed to ensure optimal performance.
Can I use any e-liquid with a non-disposable vape?
Most non-disposable vapes are compatible with a wide range of e-liquids. However, it's essential to check the manufacturer's recommendations to ensure compatibility and avoid potential damage to your device. Some vapes may have specific requirements regarding e-liquid viscosity or nicotine concentration.
Best vape wholesale supplier-UPENDS
Indulge in an unparalleled vaping journey with UPENDS—a remarkable retailer specializing in high-quality vaping products at affordable prices. Positioned as a leading retailer in China, we take immense pride in selectively sourcing our products solely from reputable factories within the country. To guarantee a curated catalog that surpasses the highest standards of excellence, our team of experts in research and development meticulously vets each product.
At UPENDS, we present a diverse selection of disposable e-cigarette offerings that excel in quality, taste, design, and overall aesthetics. Immerse yourself in an extraordinary shopping experience by opting for UPENDS. Choose us, and we promise to deliver e-vape products that will provide you with unparalleled satisfaction.
UPENDS is looking for authorized disposable e-cigarette agents, distributors, wholesalers worldwide, if you are interested, please contact us now!