Vandy Vape, a relatively new player in the e-cigarette market, made a significant impact in 2017 with a series of impressive products. Their collaborations with renowned reviewers and personalities resulted in exceptional RDA's, while their innovative RTA's redefined expectations for rebuildable atomizers.
The Kylin RTA, in particular, stood out as a best-selling product.
The popularity of Vandy Vape's ecig products and accessories can be attributed to their competitive pricing, top-notch build quality, and reliable manufacturer's warranty. Their level of professionalism and quality control sets them apart from other Chinese electronic cigarette manufacturers, especially in the realm of rebuildable atomizers.
With frequent new releases catering to various vaping niches, Vandy Vape is expected to stay in the market for a long time to come.
Vandy Vape Product Options
Revolver RTA By Vandy Vape
The Revolver RTA stands out as an extraordinary tank, offering a distinctive feature that allows direct adjustment of the airflow system beneath the coil. Boasting three distinct airflow options, users can fully personalize their draw to prioritize flavor, clouds, or achieve a perfect balance of both. Featuring a 2ml tank capacity and an impressive clamp design single coil build deck, the Revolver proves itself as one of the most versatile single coil RTAs available in the market.
Features
Revolutionary Adjustable Revolving Airflow System
2ml E-liquid Capacity
25mm Diameter
Convenient Top Fill System
Single Coil Build Deck
Package Contents
1Revolver RTA
1OHM Coil (0.3)
1Drip Tip (18mm)
1Accessory Kit
Simple EX Kit
If you're a fan of salt nics and in search of the perfect blend of flavor and portability, the Simple EX by Vandy Vape is the ideal solution!
This compact squonk mod is specially designed to enhance the flavor of your favorite salt nic-based e-liquids. Equipped with an 800mAh battery and a 4ml squonk bottle, you can enjoy a fantastic all-day vaping experience.
The included RDA features a user-friendly single coil build deck, making building and wicking a breeze. Its well-designed airflow caters to mouth-to-lung vaping, ensuring a satisfying draw. The Simple EX 800mAh kit is an excellent choice for rebuildable device enthusiasts who seek more than a standard pod mod.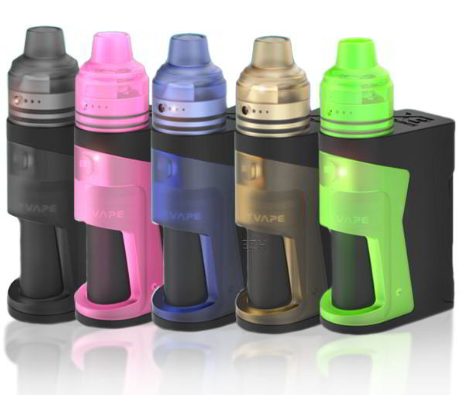 Features
Bottom-Feeding Squonk with 4mL Squeeze Bottle
Variable Voltage Range: 3.3-4.5V
Voltage Adjustment in 0.3V Increments
Equipped with Vandy Vape's Advanced Chipset
Constructed with Lightweight Nylon & ABS Materials
Intuitive OLED Screen Displaying Battery & Voltage Information
LED Battery Light Indicator
Responsive Tactile Firing Button
Dual Adjustment Buttons
Includes Overtime, Low Power, Short Circuits, No Atomizer, and Over Temperature Protections
Squonk-Ready 510 Connection
Dimensions: 58.5mm x 41mm x 23.6mm
Package Contents
1Simple EX Squonk Kit
1QC USB Cable
1Stainless Steel Top Cap
1PC Drip Tip
1Delrin Drip Tip
1Instructional Manual
1Spare Parts Bag
2Superfine MTL Fused Clapton Coil
Capstone RDA
The Vandy Vape Capstone RDA, created in collaboration with VAPE HAPPY, is a meticulously designed RDA that boasts exceptional features. Its innovative pyramid-shaped post design enables liquid to cascade directly onto the coils when squonk, while the secure wide post holes make it an ideal match for your preferred squonk box.
The adjustable ramp airflow ensures air is drawn beneath the coils and channeled directly into the chimney, resulting in an intense flavor profile. Additionally, the dual-build capability makes it perfect for cloud chasers, ensuring a satisfying vaping experience.
Features
24mm Diameter
Single Screw Spring Loaded Deck
Ramp Airflow System
Dual Coil Build
Squonk Ready
Waterfall Squonk Action
Package Contents
1Capstone RDA
1x 810 Drip Tip
1x 510 Drip Tip Adapter
1PC Comp Cap
1Accessory Kit
Phobia 24 BF RDA
Vandy Vape has once again partnered with a guest designer, Alex from VaporsMD, to introduce their latest product, the Phobia RDA!
With a thoughtfully crafted post-less build deck, the Phobia RDA enables easy and efficient installation of two coils. Its ingenious airflow channels ensure direct airflow to the coils, resulting in reduced leakage and heightened flavor production.
Available in four exquisite finishes and equipped with an Ultem drip tip, the Phobia RDA stands out as the go-to RTA of the moment, boasting an array of remarkable features that every vaper should have.
Features
Diameter: 24mm
Postless Quad Terminal Style Build Deck
PEEK Insulator
Gold Plated Screws
Juice Flow Splitter in Center
Dual Center Airflow
Bottom Airflow Design
Gold Plated 510 Contact
Squonk-Ready 510 Pin
Constructed from 304 Stainless Steel
810 Drip Tip
11mm Bore Delrin Drip Tip (Only available in Black Finish)
11mm Bore ULTEM Drip Tip
12mm Wide Bore Proprietary Delrin Drip Cap (Only available in Black Finish)
12mm Wide Bore Proprietary ULTEM Drip Cap
Includes 510 Drip Tip Adapter
Package Includes
1x Vandy Vape Phobia BF RDA
1x 810 ULTEM Drip Cap
1x 810 ULTEM Drip Tip
1x Philips Screw Driver
1x 510 Drip Tip Adapter
1x Bottom Feed 510 Pin
1x Spare Part Pack
1x User Manual
Kensei RTA
The Vandy Vape Kensei 24 RTA introduces an entirely new design with staggered height posts, a gold-plated build deck, and a unique honeycomb bottom airflow system. Meticulously engineered, the Kensei exudes a high-end finish, reflecting its superior craftsmanship. With a 2ml extendable tank section, adjustable airflow, and a juice control ring, this RTA offers versatility and convenience.
Designed for the discerning user seeking exceptional flavor output and an outstanding vaping experience, the Kensei RTA is a testament to Vandy Vape's commitment to excellence. As a Vandy Vape product, you can trust that the Kensei RTA will deliver on performance and quality.
Features
Diameter: 24mm
Threaded Top Fill Design
Standard Capacity: 2ml (with Bubble Glass Tube)
Staggered Height Posts
Top Mounted Flathead Screws
Honeycomb Airflow System
Two Unified Wicking Port Cutouts
Adjustable Juice Flow Control
Extended PEEK Insulator
Gold Plated Build Deck
Dual Adjustable Airflow with Three Positive Locking Positions
Gold Plated 510 Contact
Adjustable 510 Pin
Constructed from 304 Stainless Steel and Glass
810 Acrylic Drip Tip
Package Contents
1x Vandy Vape Kensei 24 RTA
1x 4ml Glass Section
1x Drip Tip Set
1x Hex Key
1x Accessory Bag
Vandy Vape Pulse AIO Mini Kit
The Vandy Vape Pulse AIO Mini Kit is a high-performance device with an external 18650 battery compatibility with an output of up to 80W. With its Vessel 2 DIY RBA Tank (sold separately), it caters to your DIY satisfaction, while also providing a Vessel Pre-made Coil tank option.
A 180-degree curved airflow is a feature of the Vessel 2 DIY RBA Tank that makes vaping more airy. Crafted from Lexan EXL1414T Polycarbonate, the kit showcases impeccable workmanship, complete with round and square buttons, and a matching inner panel.
Intuitively designed, the device is easy to use and remarkably functional. The screen displays important information such as Temp Control, Voltage, Bypass, and Smart Mode. Furthermore, it is compatible with VVC coils, making it suitable for all types of vaping styles. The Vandy Vape Pulse AIO Mini Kit is the perfect choice for vapers who seek versatility, performance, and user-friendly operation.
Features
Power Output Range: 5W to 80W
Supports External 18650 Battery
Designed for DIY Customization
Robust Lexan EXL1414T Polycarbonate Construction
Compatible with VVC Coils
Package Includes Round Button, Matching Inner Panel, and Square Button
Offers Voltage, Temp Control, Bypass, and Smart Mode
Replaceable Panels for Personalization
Suggested product
Upbar-nano
The UpBAR Nano is a mini box-shaped disposable vape that offers the convenience of vaping anywhere. It utilizes FRESOR technology and Next-Gen Mesh Coil, enhancing e-liquid utilization and energy efficiency. The automated production ensures consistency, delivering robust flavor, dense vapor, and leakproof performance.
Features
0 E-liquid capacity
410 mAh battery capacity
20 mg/ml nicotine salt
0 Ω Resistance
FAQs About Vandy Vape
Where is Vandy Vape based?
Vandy Vape is based in Shenzhen, China.
What types of products does Vandy Vape offer?
Vandy Vape offers a diverse selection of vaping products, including vape mods, atomizers (RDAs, RTAs, and RDTAs), vape kits, coils, and accessories.
Are Vandy Vape products beginner-friendly?
Vandy Vape caters to vapers of all experience levels. They offer products suitable for beginners with user-friendly features, as well as advanced devices for experienced vapers seeking customization options.
Best Vape Wholesale Supplier-UPENDS
Welcome to the captivating realm of Vape UPENDS, where creativity and style entice you to embark on an unparalleled vaping adventure. We extend a warm invitation to join our exclusive club, where enticing discounts await to enhance your vaping experience.
At Vape UPENDS, we take great pride in our innovative designs, sophisticated aesthetics, and meticulous craftsmanship. Our team of skilled artisans is dedicated to crafting flawless and elegant products that are sure to awaken your senses with every inhale.
Our ultimate aim is to provide you with the finest vaping experience possible. So fasten your seatbelts and get ready for a journey that will leave a lasting impression! As you unwind, allow us to demonstrate why Vape UPENDS is the ultimate choice for discerning vapers like you.