Vaping has become a popular choice among youngsters as an alternative to cigarette smoking. Most vape products are readily available in supermarkets. Many people find vaping a relaxing experience and it is also usually cheaper than smoking.
With the popularity of vaping, many vape brands are introducing new products to the market. This is also making it difficult for people to pick the best. To help you a little in the selection process, we have reviewed one of the most popular mods.
In this article, we will review Uwell Nunchaku and see whether it fits your vaping needs.
What is Uwell Nunchaku?
If you're a fan of stick-style vape devices, you would love the original Uwell Nunchaku Vape Kit. This is one of the most sought-after full vape kits featuring all the slim stylings. It comes with all the features that you want for a great vaping experience. It is the first mod manufactured by Uwell, a brand name that is well-known for the sub-ohm tank.
Given that Nunchaku Vape Kit is the first mod by the company, it has a stunning tube design that comes with a TC suite. The vape kit comes in many different colors, including Metallic Green, Black, Stainless, Iridescent, Black & Gold, Blue, Purple, and Sapphire.
Uwell Nunchaku is a simple vape mod with a large 5mL e-liquid capacity and a single high-amperage battery. The mod can be charged via the Micro USB port and gives a long-lasting battery life. The kit can be an ideal choice for anyone looking for a regulated mod to sub-ohm vape.
Uwell Nunchaku Vape Kit Specifications & Features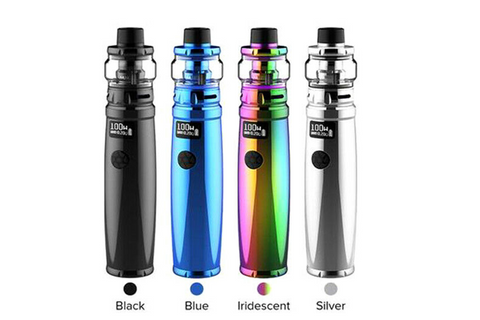 Specifications
Dimensions: 27.4 mm x 94.5 mm height
Power Range: 5-80W
Voltage: 0.7-7.0V
E-Liquid Capacity: 5mL
Material: Stainless Steel & POM
Multiple Work Modes: Power Mode, TC Mode, Bypass Mode
Battery: Replaceable 18650 Battery
Bypass Mode: 0.1 to 0.5-ohm range
96-inch OLED Screen
Simple Design and Interaction System
Pocket Size and Ergonomic Design
Wide Space RDA Tank - for building coils and dual coils
Coils: Plug-Pull Coils
New Generation Control Panel
Removable Bunk in the Tank
Pro-FOCS Coil Technology
510 Connection
Adjustable Airflow
USB Port for Charging
Uwell Nunchaku Vape Kit Pros and Cons
Pros…
Compact and Portable
Great Build Quality
Stainless Steel and Glass Construction
Removable 18650 Battery
Long-Lasting Battery
Lots of Color Options
Ergonomic Contour
Simple and Intuitive Menu Screen
Affordable Full Vape Kit
Can Use Up To 25mm Atomizers
Dual Adjustable Botton Airflow System
Plug-Pull Coils
Cons…
No Wattage Adjustment on TC Mode
The taste seems a bit inconsistent on coils
Single Fill Slot Only
The screen is Slightly Raised
Uwell Nunchaku Vape Kit Review
An affordable vape mod with TC that is underrated…. 
 Nunchaku by Uwell is an amazing-looking vape kit that comes in many different colors. It is made of stainless steel material and the shape of the kit allows you to carry it easily. It is made to fit easily in your palm with a diameter of 27.4 mm and the matching tank of 25.2 mm wide. It provides maximum 80-watt output just like many other single 18650 battery box mods. The wattage is sufficient for most vapers.
This is one of the most simple and intuitive offerings in the market by Uwell and comes with Pro-FOCUS Coil Technology. Although the device lacks a few features compared to similar vape kits available on the market, it does what it is meant to do. This sub-ohm kit also features an OLED display screen that displays all the basic information.
Those who have used the device loved the simple design and intuitive interface. Also, the flavor profiles are on point just like other Uwell products. The easy plug-pull coils make it easy to use the device even when you are on the go. The ventilation hole of the battery door provides protection against overheating which is a great thing for any vape kit.
As you already know that Uwell is known for its Sub-Ohm tank but what makes it stand out? Well, it is a revolutionary tank after the Valyrian and Crown series. It comes with an elegant chassis design with a 5mL e-juice capacity. It features dual button airflow and is laced with the latest plug-pull Pro-FCOS Coil Technology. The tank has a protective metal cage sleeve and can be easily refilled via a threaded top-fill system.
Furthermore, Uwell has improved the chimney and structural design to give a more ergonomic design to the vape kit. The condensation holder helps to minimize any leakage and the new coil technology adopts the plug-pull mechanism during the replacement process. Also, the Claptonized A1 central wire helps in balancing flavor and vapor production.
The Uwell Nunchaku mod contains a control chip that allows the device to run up to 80W and also offers different performing modes. These modes consist of temperature control and other mechanical mod functions. The innovative fire button allows you to easily switch multiple modes. There is also a battery indicator so that you know that it's time to recharge your device.
All-in-all, it is a simple but functional stick device that is powerful enough to provide a great vaping experience. It is an excellent wattage mode vape pen that gives consistent performance and fires with no delay. The extremely easy-to-use menu system makes it an ideal choice for both beginners and experienced vapers.
What's in the Box?
This is what you will get when you buy Uwell Nunchaku…
1 x NUNCHAKU Mod
1 x NUNCHAKU Atomizer
1 x Extra Quartz Glass
1 x 0.25Ω Coil (installed)
1 x 0.4Ω Coil
1 x Pack of Replacement O-Rings
1 x Micro USB Cable
1 x User's Manual
1 x Drip Tip Cover
FAQs About Uwell Nunchaku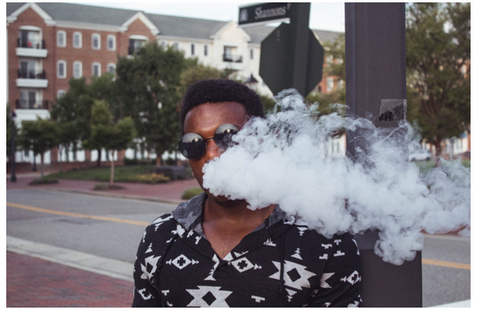 Is the Uwell Nunchaku vape kit worth buying?
Uwell Nunchaku has a pen-style design and intuitive interface so that you can have a great vaping experience without worrying about complex settings or adjusting menus. Also, it is an affordable vape mod available on the market in its category.
How do I change my Uwell Nunchaku settings?
It is easy to change the settings on your Uwell Nunchaku as all you have to do is press the fire button, tilt the mod, and you'll be able to adjust things according to your choice. Whatever setting you want to choose, just press the fire button and you're done.
What coils fit Uwell Nunchaku?
Nunchaku comes with the latest plug-pull Pro-FCOS Coil Technology and features 0.25Ω  Coil (installed) and 0.4Ω Coil.
How do I fill the Uwell Nunchaku vape tank?
As the device comes with plug-pull design, there is no need for screwing. All you need to do is just plug and pull to fill the vape tank on your device.
What makes Uwell Nunchaku an ideal choice?
Uwell Nunchaku is a pocket-sized, full-featured vape mod that comes with all the basic features you may need for satisfying vaping.
What is the battery capacity of the Uwell Nunchaku 80W kit?
The Uwell Nunchaku 80W kit is powered by a single 18650 battery which is sold separately. The device can run up to 80W.
What features does the Uwell Nunchaku kit have?
The Uwell Nunchaku 80w vape kit is a portable pen-like vape device that comes with a single 18650 battery, an OLED screen, temperature control, variable wattage, and other features.
UPENDS: Your One-Stop Shop for All Vape Products
While trying to get your hands on a perfect vaping kit, you must have encountered hundreds of vape brands and thousands of vape products. Today, there are countless vape manufacturers on the market but do they sell genuine vape products? Well, the answer is pretty simple as not all of them are worth considering as you may end up buying a fake product.
So, what should you do to pick the best vape kit? Simply, find the most reliable and renowned vape brand like UPENDS, and check for your favorite products. UPENDS has made a remarkable presence in the vaping community by providing the most innovative vaping products. The company is also known for its exceptional customer service and customer-oriented vape products.
UPENDS MIRROR, UpBar GT, UpBar NANO, and DIAMOND are the latest offerings by UPENDS. These products are engineered to have the best technology and give a powerful performance. These products have features like the latest mesh coil and innovative design. Additionally, the vape kits are available in many refreshing flavors.
As we believe in innovation and designing customer-oriented vape products, we want some great people to help us reach the global audience. We are currently seeking authorized vape distributors and agents to keep up with the quality.
If you're interested to be our partner, feel free to contact us…