In the ever-evolving world of vaping, disposable vape devices have emerged as a convenient and hassle-free solution for vapers seeking a flavorful and on-the-go experience. Among the top contenders in this realm, the UWELL Gabriel BF8000 and DB600 Disposable Vape stand out as exceptional choices, promising a delightful vaping journey with every puff.
With a focus on flavor, ease of use, and portability, these disposable vapes offer an enticing array of features that are sure to appeal to both seasoned enthusiasts and newcomers alike. Let's delve into the world of UWELL Gabriel disposable vapes, where satisfaction is just a draw away.
UWELL Gabriel BF8000
For those looking for an exceptional, long-lasting vaping experience, the UWELL Gabriel BF8000 Disposable Vape is the best choice. This innovative disposable vape stands out from others on the market thanks to its advanced features.
One of the most remarkable aspects of the UWELL Gabriel BF8000 Disposable Vape is its use of nicotine salt, boasting a 5% nicotine concentration. This ensures a smooth and satisfying hit that will please even the most discerning vapers.
Additionally, this disposable vape impresses with its generous prefilled e-liquid capacity of 18ML, allowing for extended vaping sessions without frequent refills.
Equipped with a powerful 500mAh integrated battery, the UWELL Gabriel BF8000 Disposable Vape provides up to 8000 puffs on a single charge, granting an extended vaping experience lasting for days.
Its anti-slip side vertical stripes make gripping and holding the device comfortable, ensuring ease during prolonged vaping sessions.
With Pro-FOCS flavor adjustment technology, this vape delivers consistent and satisfying flavor experiences, regardless of how long you vape.
Designed with a skin-friendly rubber paint coating, the UWELL Gabriel BF8000 Disposable Vape ensures hands remain comfortable and irritation-free, making it suitable for those with sensitive skin.
Available in a variety of catchy and gradient colors, you can choose the perfect style to suit your preference. The inclusion of a Type-C charging port ensures fast and efficient charging times.
Why Choose UWELL Gabriel BF8000
Replaceable Pre-Filled Pod
Easily switch between different colors or flavors according to your preferences. The devices are designed for sustainable use, offering an economical and environmentally friendly vaping experience.
Pro-Focs Flavor Adjusting Technology
Experience the remarkable Pro-Focs flavor-adjusting technology that superbly enhances and maintains the flavors, ensuring a consistently smooth and rich vaping experience with a mellow taste.
Comfortable Drip Tip
The drip tip design is ergonomically crafted to perfectly match the contours of your lips, providing a comfortable and seamless vaping experience.
Fashionable Appearance
Every pod color represents a unique and distinct flavor, adding a touch of vibrancy and playfulness to your vaping experience. Enjoy the colorful variety as you explore different enticing flavors.
Features
2ML/5ML
Type-C Charging Port:
2 Ω Coil Resistance
500mAh Battery Capacity
20, 50 mg Nicotine Strength
400mAh battery
2000 puffs for each pod (8000 puffs for 4 pods)
UWELL Gabriel BF8000 Flavors Review
Blueberry Watermelon
The harmonious blend of Blueberry Watermelon is a celebration of summer in a vape. As you take the first draw, the tangy and sweet notes of fresh blueberries tantalize your taste buds, while the juicy and refreshing essence of ripe watermelon follows suit.
Cherry Cola
Cherry Cola, brings back memories of soda fountains and classic refreshment stands. With every inhale, you are greeted by the familiar taste of cola, rich and effervescent, layered with the bold and distinct flavor of dark cherries. The result is a delightful symphony of sweetness and tang, making this flavor a satisfying choice for those looking for a bit of pop culture in their vaping experience.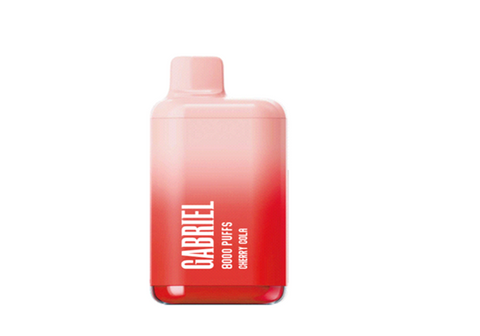 Clear
Clear contains no added flavors, colors, or additives, allowing users to enjoy the true essence of the e-liquid base. The smooth and clean draw of Clear is perfect for those who appreciate the subtle taste of pure vapor and desire a no-frills vaping experience that focuses on the raw pleasure of vaping.
Guava Kiwi Passion Fruit
The tropical sweetness of guava merges seamlessly with the tangy essence of kiwi, while the intense and aromatic passion fruit ties the blend together, creating a multi-layered vaping sensation that is nothing short of paradise.
UWELL Gabriel DB600
The Uwell Gabriel DB600 Disposable Vape offers an impressive 600-puff capacity. It comes pre-filled with 2ml of e-liquid and features a built-in 500mah battery. The device is designed in attractive macaron colors that are sure to catch your eye instantly. Made from PC&ABS materials, it includes a lanyard hole for added convenience. The arc-shaped drip tip ensures a comfortable fit for your mouth.
The Uwell Gabriel DB600 Disposable Vape is a top-notch product that contains 20mg of nicotine salt-based e-liquid, complying with UK legal standards and TPD notification requirements. This user-friendly vape device is effortless to use – simply inhale to enjoy vaping, and when it's empty, you can responsibly dispose of it.
Features
500mAh battery
2ml e-liquid capacity
20mg Nicotine
Up to 600 puffs
Draw activated
Lanyard hole
2ohm Mesh Coil
Leakproof design
1mm x 47.2mm x 16.45mm
Related Products:
UPENDS Diamond
Engage in the world of vaping, where the device's diamond-textured exterior creates a captivating and ethereal ambiance by reflecting light from its base. This unique design element enhances the visual allure of the device, making it a sight to behold. Moreover, it elevates your vaping experience by delivering richer flavors and a more authentic replication of tastes.
Furthermore, revel in the advantage of enhanced energy efficiency, allowing you to relish more puffs before requiring a recharge. The convenience of a bottom button enables you to effortlessly adjust the airflow inlet, providing the freedom to choose between Direct-to-Lung (DTL) or Mouth-to-Lung (MTL) vaping styles according to your personal preference.
With an impressive e-liquid capacity of 13mL and a rechargeable 600mAh battery, you can Enjoy lengthy vaping sessions without worrying about running out of e-liquid or battery life.
Features
Battery capacity of 600mAh
E-liquid capacity of 13ml
Dimensions: 119.8 mm x 27.5 mm
Include a Type C USB charging port.
Features a 1.0ohm resistance level
Uwell Caliburn A2
The renowned Uwell brand's Caliburn A2 Pod Vape Kit has gained significant popularity and acceptance within the vaping community. Its impressive features include a built-in 520mAh battery, a 2ml e-liquid capacity, and a transparent window for easy e-liquid level checking. The bundle also includes two replacement pods with 0.9ohm mesh coils, adding to its outstanding value.
For a satisfying throat-hit experience, it is recommended to use nicotine salt juice with nicotine levels ranging from 5-20mg. The Caliburn A2 proves to be a reliable choice for vapers seeking a delightful vaping session, especially when paired with Nicotine Salt E-liquids.
Features
Battery capacity of 20mAh
Output wattage of 15W
Option for draw or button activation
Equipped with an LED indicator light
Pod capacity of 2mL
Features a 0.9ohm UN2 Meshed Coil
Includes an e-liquid viewing window
Utilizes a magnetic pod connection
Charging through a USB Type-C port
FAQs
What makes UWELL Gabriel BF8000 and DB600 stand out?
UWELL Gabriel BF8000 and DB600 stand out for their unique features and qualities. The DB600 boasts a diamond-textured exterior that creates a captivating visual appeal, while the BF8000 offers enhanced energy efficiency, allowing for more puffs before needing a recharge. Both devices provide an enjoyable and flavorful vaping experience.
What is the e-liquid capacity of UWELL Gabriel BF8000 and DB600?
The e-liquid capacity of UWELL Gabriel BF8000 is 13mL, and the DB600 has a 2ml e-liquid capacity, ensuring you have enough e-liquid to enjoy your vaping sessions.
How do I charge UWELL Gabriel BF8000 and DB600?
Both devices feature a USB Type-C port for charging, making it easy and convenient to recharge the built-in batteries.
Best Vape Wholesale Supplier-UPENDS
Investigate the fascinating world of Vape UPENDS, where creativity and design work in harmony to lure you into a wonderful vaping experience. Join our friendly community where you'll find a variety of unique offers if you wish to improve your vaping experience.
With cutting-edge technology, elegant designs, and thorough attention to detail, Vape UPENDS takes great pride in its products. Our group of talented artisans gives it their utmost to create perfect, gorgeous products that will astonish your senses. With every one of the unique experiences we have in store, we hope to impress you and titillate your fine taste.
Your amazing vaping experience is our main priority, and we can't wait to go on this revolutionary adventure with you. Give us the opportunity to explain why Vape UPENDS is the ideal choice for discerning customers who demand nothing less than the best. Take some time to relax.