For years now, the introduction of vape kits and vape tools has revolutionized the consumption of cannabis. Their popularity is not surprising especially as they offer the cannabis-loving community with different benefits. Unfortunately, similar to every prominent product on the market, the advent of vape tools brought about fake and counterfeit versions of its kind, making it extremely difficult to find the right vape tool and kit.
Irrespective of this one drawback, the good news is that one can still find high-quality vapes, one of which is the Uwell Caliburn Vape. Here is a detailed review of this one-of-a-kind vape tool which contains all the necessary information you need as regards how the Uwell Caliburn Vape works and if it is the right vape tool for you.
What is the Uwell Caliburn AK2 Vape?
The Uwell Caliburn AK2 is considered one of the most compact vape kits available on the market. It requires no special skill or knowledge to navigate as it is easy to use. It is also capable of creating a small amount of vapor for a 'Mouth to Lung" vape tool.
It is equipped to last an entire day even on a single charge thanks to its in-built 520mAh battery capacity. The Uwell Caliburn AK2 is no doubt the best tool for regular and first-time vapers who are looking for a simpler vape. The kit also comes properly packed and complete to best help you get started.
With the high-grade inhale activation capability, you won't have to bother about dealing with screens or menu systems, as you can easily start vaping by simply inhaling on the mouthpiece. In addition, the product was designed to offer a vape that provides a similar experience to that of a cigarette. This vape produces a little amount of vapor for an MTL inhale. As earlier implied, thanks to its fixed power output, you get to enjoy a consistent vape irrespective of the battery running down.
It is also worth knowing that the A2 Caliburn pod is capable of holding 2ml worth of e-liquid, plus there are a plethora of options available for you to choose from. The Uwell brand has also manufactured a unique top-filling mechanism that helps in making refilling a whole lot easier. In addition, the mesh coil also does a good job of delivering better flavor from e-liquid, not to mention that it is also long-lasting.
General Features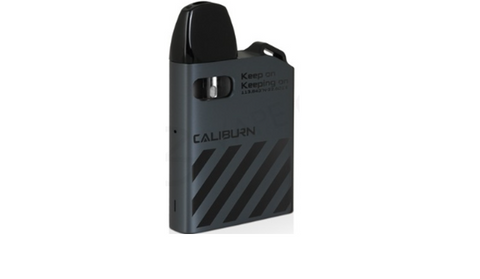 The Uwell Caliburn AK2 boasts a 520mAh battery capacity, which allows you to vape around a pod and a half of e-juice before the need to recharge. The AK2 is also fitted with a Type-C charging port which is placed at the bottom of the device. It takes only up to 45 minutes for the Uwell Caliburn AK2 to charge fully, which ultimately means that you won't have to go too long without your device. The AK2 is also equipped with an LED indicator light which is placed at the side of the device and aids in indicating your battery level.
Unlike a lot of other vape kits on the market, the Uwell Caliburn AK2 is easy to navigate. You don't need any prior skill or technical know-how to use this vape. They also don't come with any complicated buttons that you need to be bothered about. All you are required to do to start vaping is by simply inhaling on the mouthpiece. With that, you can begin enjoying your Uwell Caliburn AK2 vape.
Cost Effective and Affordable
One core feature that anyone should look out for when purchasing a vape kit, is its ability to offer a top-quality experience at no extra cost. Anyone should be able to enjoy vaping without having to be restricted by price. Fortunately, the Uwell brand recognizes this hence their efforts in proving high-grade vape kits at very reasonable prices, meaning you don't need to spend a huge amount of money before you can partake of the bliss that comes with the Uwell Caliburn AK2 vape kit.
Another feature of the Caliburn AK2 vape kit is that it comes readily available in a variety of strains. The Umwell brand which has prioritized consistency and quality, also understands the need to make readily available options to regular and first-time vapers alike. Everyone has their preference and the need to get something different and with the different AK2 strains available, you get to spice things up and enjoy something different. This allows seasoned vapers to find the vape kit that best suits their taste.
So what are some of the top-rated well Caliburn AK2 to check out? Below are a couple of our favorite picks and why we think they could be a perfect vape tool for you.
Relevant YouTube videos
Uwell Caliburn AK2 Vape reviews: Is the Uwell Caliburn AK2 Vape good?
Uwell Caliburn AK2 "Neon Orange" Vape
This variation or rather strain of the Uwell Caliburn AK2 vape is an incredibly portable and well-designed vape kit that doesn't just look cool but also operates as phenomenal as it looks. Its diagonal stripes serve as a symbol of creating a pathway for moving forward. Thanks to the Uwell brand, this unique strain is capable of offering vapers the most authentic flavors of e-juice. With this vape kit, you don't have to bother about messy coil changes. No doubt an excellent vape tool that is perfect for both seasoned and beginner vapers.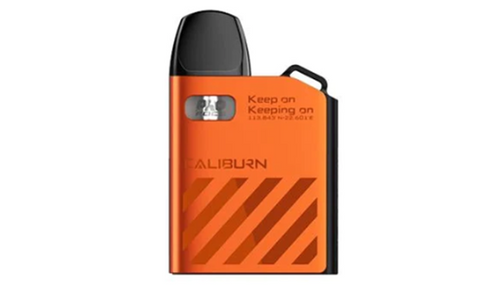 Features
Mouth to Lung vaping
Inhale activated
520mAh Battery Capacity
Lightweight and portable design
Consistent puffing
Pros
Recharges very quickly
Useful E-juice window
Efficient pod life
No need to worry about the pod leaking
No wicking issues or dry heats
Cons
Product contains nicotine
Not durable and could damage if dropped
Decent but no an efficient battery life
Uwell Calibrun AK2 "Classic Black" Vape
No doubt another impressive product from the Uwell brand. This variation of the AK2 vape is easy to handle thanks to its light silicone lanyard, which ultimately means that it is the perfect fit whenever you need your vape kit with you when you are on the go. This vape tool is also capable of delivering as small as 35 minutes to recharge your device to 95%. It is no doubt a dependable vaping system and offers only the best experience to any user.
Features
Draw activated firing mechanism
Magnetic pod connection
Low voltage protection
E-liquid viewing window
2ml pod capacity
LED battery indicator light
Pros
Clean and modern design
MTL draw is tighter
Beginner and user friendly
Very flavorful pods
Good build quality
Cons
Paint chips easily if dropped
The e-juice window is only on one side
Only one type of pod is available
FAQs about Uwell Caliburn AK2 Vape
How do I know when my Uwell Caliburn AK2 battery has depleted?
With this vape tool, it is very easy to tell when your battery has almost been exhausted and needs to be charged. The Uwell Caliburn AK2 vape kit is equipped with an LED indicator which is placed on the side of the vape and usually lights up to indicate your battery level. Each color stands for a certain battery percentage as Green is for over 60%, while Blue is between the range of 30 – 60% and Red is for under 30%. Once the battery has been exhausted, the red light will flash 10 times consecutively before refusing to fire.
Is the Uwell Caliburm AK2 vape safe to use?
The major priority of the Uwell Brand is to provide a high-quality and safe vape for all cannabis lovers and the AK2 is no exception. However, in other to get only the best vape kits from the Uwell brand, it is necessary to purchase only directly from the manufacturers or from a local retailer. Finally, before use ensure you are complying with the necessary instructions. Also, keep the vape kit directly away from children and pets.
Is it possible to travel with my Uwell Caliburn AK2 Vape?
Thanks to the compact and portable size of the AK2 Vape, they are travel enabled. They are not only lightweight but their size also allows them to take up little to no space at all making it seem like you have nothing on you. It is however essential for you to consider the general regulations of your intended travel destination before taking your vape along.
Is the Caliburn AK2 Vape expensive?
It might delight you to know that it is not costly and doesn't attract more than half of your savings. They are very much affordable and are set at a reasonable price, so you don't have to withdraw your life savings. You are guaranteed to get high-quality vape at no extra cost.
Best vape wholesale supplier-UPENDS
How can you ensure that you're getting only the right vaping products that guarantee your safety during usage? It starts with buying from a remarkable retailer that specializes in providing high-quality vaping products at affordable prices. UPENDS is a leading distributor of vape products with an impressive catalog that reveals the highest standards of excellence.
One of our top notch products is the Upbar-GT, a new generation disposable vape with more puffs, stronger taste and no oil leakage. Choose UPENDS for disposable vapes that offer unparalleled satisfaction.
UPENDS is looking for authorized disposable e-cigarette agents, distributors, wholesalers worldwide, if you are interested, please contact us now!