Also referred to as pod mods or pod system vapes, the refillable open pod system vape devices are portable and lightweight vaping devices that allow you to vape on the go. And as the name suggests, they allow you to refill once the ejuice is depleted.
As expected, they are hundreds of brands to choose from, but in this article, we look at two of the best MTL vape devices. They are the Upends Uppen and Uwell Caliburn vape pens. Let's see how they compare.
Comparison table
| | | |
| --- | --- | --- |
|   | Upends Uppen | Uwell Caliburn |
| Size | 16 × 134mm | 110mm x 21mm x 12mm |
| Battery capacity | 600mAh | 520mAh |
| Output power | 10W | 11W |
| Resistance | 1.2ohm | 1.4ohm |
| E-liquid capacity | 2.0ML | 2ml |
| Material | Aluminum-alloy | Aluminum-alloy |
| MSRP | $26.99 | $11.49 |
| Feedback from end-users | Smooth and satisfying draw | Excellent for long vaping |
Design and build
The Upends Uppen vape pen has an elegant simplistic plastic design that is not only durable but also flexible to mitigate breaking under pressure. And to bolster its look, the clip and the top are made of 18K gold. In fact, you can carry it in your shirt pocket and no one will realize it's a vape pen.
On the other hand, the Uwell Caliburn comes also in a minimalistic design. The difference? It is taller than the Uppen model. The cap is made of aluminum-alloy unlike the plastic construction of the Uppen. This makes it more durable allowing it to withstand accidental drops.
Like Uppen vape pen, you can slide the Caliburn in your pockets or bag without the need for extra space. Both pens have their brand names engraved on their side. However, the Uwell Caliburn has the name Uwell engraved on one side and Caliburn on the other.
When it comes to colors, both vape devices are on point. While Upends Uppen affords your classic silver, grace black, and rose gold colors, Uwell Caliburn comes in six colors. They include blue, iris purple, red, black, grey, and metallic green. So, whichever you choose, you'll have a color that will match with your outfit.
So how do they fare when it comes to dings and scratches? Well, both vape devices can withstand scratches and bumps with ease. Thanks to its round shape, the Uppen is not susceptible to color coming off since it has no edges. As such, it maintains an elegant look for a long time.
On the flip side, the Caliburn, while it can also withstand pesky scratches and dings, is susceptible to color coming off. Particularly on the bottom edges. So do not be amazed when it starts losing its elegance after use for long.
What about the shape of the pens? Well, if you like round objects, then the Uppen vape device is your best fit. Besides, small round objects do not take up much space in a pocket or pouch. This means you'll have more room for other valuables.
On the contrary, the Caliburn features a rectangular shape measuring 110 mm x 21 mm x 12 mm, which offers a more ergonomic grip but at the same time takes up much space in your pocket. Thanks to their tall and slim design, vaping becomes easier and comfortable whether in the office or relaxing.
The pod
Both the Uppen and Caliburn pods are removable and can hold 2ml ejuice, meaning you can vape throughout the day without much thought. The pod's mouthpiece of the Uppen slopes in on both sides and has a contour-like opening. The Caliburn, while has a sloping mouthpiece, lacks the contour design. As such, the Caliburn is more comfortable to the mouth.
The coils in both vape devices offer stellar performance ensuring no excess heating of the vapor. Also, the coils prevent popping and dry hits so you can enjoy vaping with ease. While you can replace the pods, the coils are irreplaceable.
When it comes to refilling the pod, the Uppen provides you with a refilling hole that is placed on the side of the pod. Here, you can use just about any type of dropper meaning you are not limited to one. The Caliburn has its mouthpiece function as a fill cap, which is rather annoying. This is due to the factor that you have to remove it.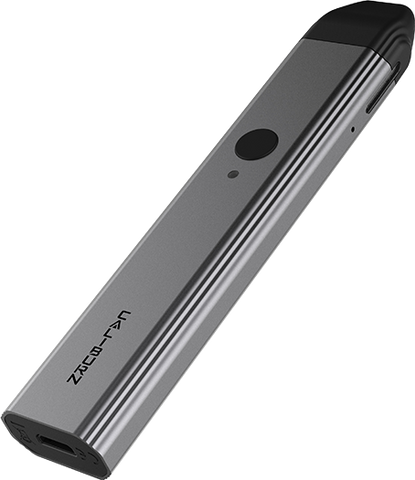 And removing it is not easy; you have to twist it around. Once open, you are presented with three holes, which further complicates the refill process. You should not use the middle hole but either of the outer holes. Having said that, you should slowly fill through one hole in a tilted position.
This is to ensure the ejuice flows to both sides and that it is exposed to the coil. This way, you'll have uniform flavor when vaping. Once done, reinstall the mouthpiece. That is quite a process when using the Caliburn device. Both pods are made of plastic so you should handle them with care to avoid breakage.
Hygiene
Well, when it comes to hygiene, the Uppen vape device outshines the Caliburn. For one, you don't have to remove the mouthpiece when refilling it. Doing so allows bacteria in your hands to settle on it, which is the case with Caliburn.
Further, the Uppen boasts of one-of-a-kind antibacterial technology that keeps bacteria and dirt at bay. This ensures you cannot be exposed to illness-causing organisms whether vaping indoors or outdoors. If you value hygiene as you value relaxation, then the Uppen vape device is your best bet.  
Battery and charging
The Uppen comes with a powerful 600mAh battery that can hold power for quite a long time. The Caliburn is equipped with a slightly weaker 520mAh, which as you guessed, has a shorter lifespan. Besides, the Caliburn battery outputs 11W compared to Uppen's 10W. This means that Caliburn uses more power compared to Uppen.
 When charging, the Uppen LED flashes white while that of Caliburn flashes red. And to indicate battery level, Uppen has two colors: white (100%-30%) and red (30% and below). On the other hand, Caliburn features three colors: green (100-60%), blue (60-30%), and red (30% and below).
Both devices allow you to vape as you charge and are equipped with a USB-port. This allows you to charge with your laptop, power bank, or any other USB device on the go. Besides, it will only take you less than an hour to fully charge either of the batteries.  
Performance
So how do the two compare when it comes to performance? Well, the Upends Uppen vape device has an airy MTL vape that causes the vapor to escape once you pull. So, if you are into tight MTL, then this will be a disappointment for you. While the Caliburn also boasts of an airy MTL vape, it is slightly tighter compared to Upends.
The Uppen is equipped with a 1.2-ohm coil that makes the vapor warmer. However, the flavor remains pleasant. Caliburn comes with a 1.4-ohm that produces a cooler vapor that is soothing to your throat when combined with the nic salt. You can also use Caliburn Koko pods with it. These pods come with 1.2-ohm coils.
When vaping, you should expect the Uppen to offer a flat and dry experience. In fact, the flavor properties are also subdued when exhaling. On the other hand, the Caliburn vape device does not offer a dry experience.
The Uppen battery affords you much-needed longevity. When fully charged, you can use it for an impressive nine hours. During this time, the vapor is full of flavor and the temperature remains constant. Once the battery flashes red, that's when you can expect a change in performance, which, is minimal.
For the Caliburn, performance is not as pleasant as you'd expect. The battery drains quickly and the flavor and temperature begin to drop mid-way the blue light. However, this is expected since it is an 11 W device. If you want to vape for long without a hassle, the Uppen device is what you need.
Pros
Uppen
Lightweight and portable
There's no leakage
Offers a quiet vaping experience
The magnetic attachment coupled with vibration once the pod meets the battery improves its convenience.
Caliburn
Takes less time to charge; approximately 45 minutes
It is easy to use give the intuitive buttons
It has a window to view the level of the flavor
Features a robust build
Cons
Uppen
Average cloud production
The vaping experience is dry
Airy MTL is not a favorite for many
Caliburn
It is difficult to refill the flavor
Shorter battery life
Loses flavor and temperature fast
Conclusion
Well, so which is the best vape device? From this review, we see that the Upends Uppen vape device outshines the Caliburn model.
First off, it features an antibacterial pod that prevents bacteria and other illness-causing organisms from building up on the mouthpiece. Next off, the ETCHIP coil ensures that it is free from pops allowing for a smooth satisfying draw.
And thanks to the anti-dust cap, the original flavor is securely held inside the pod. As such, if you stay for long without using it, you'll still enjoy the rich flavor taste. As mentioned, it comes with a refilling hole that is compatible with at least all ejuice bottles.
So whether you use the nasty, dinner lady, twelve monkeys, or naked bottle, this vape pen got you sorted. The next time you think of buying a vape pen, get yourself the Upends Uppen vape device.