As vaping technology continues to evolve, finding the best pod vape that suits your needs can be a daunting task. But fear not, because we've done the research for you. In this blog, we will unveil the crème de la crème of pod vapes, showcasing the devices that have set the bar for innovation, performance, and user experience in the year 2023.
Get ready to explore sleek designs, cutting-edge features, exceptional flavor delivery, and much more. Join us as we dive into the world of vaping and discover the ultimate pod vape companions for an unforgettable vaping journey.
What to Consider Before Buying the Best Pod Vape?
Before you dive headfirst into the world of pod vapes and pick up the best one out there, there are a few things you should consider. Trust me, it's worth taking a moment to ponder before making that purchase.
Vaping Style
First things first, think about your vaping style. Are you a flavor chaser or a cloud chaser? Maybe you want a balance of both? Knowing your preferences will help you find a pod vape that delivers the experience you crave.
Battery Life
Next up, check out the battery life. Ain't nobody got time for a pod vape that dies on you halfway through the day. Look for devices with long-lasting batteries to keep you vaping without interruption.
Flavor and Nicotine Strength
Now, let's talk about pod options. Some vapes offer a wide range of pod choices, giving you the freedom to explore different flavors and nicotine strengths. So, consider whether you want that flexibility or if you're cool with sticking to one pod.
Size
Oh, and size matters too! If you're always on the go, a compact and portable pod vape might be your best buddy. But if you're a homebody who wants a bit more power, a bigger device might suit you better.
Price
Lastly, keep an eye on the price tag. Finding the best pod vape doesn't mean breaking the bank. Look for devices that offer a good balance between performance and value for your hard-earned cash.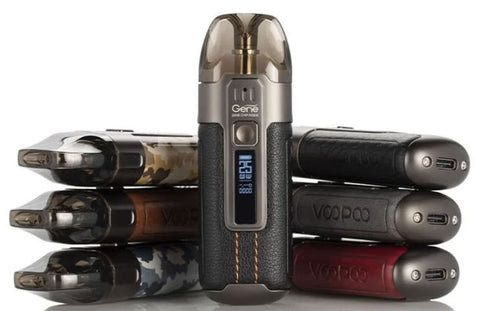 Ease of Use
When it comes to choosing a pod vape, ease of use is a crucial factor to consider. After all, you want a device that simplifies your vaping experience and doesn't leave you scratching your head in confusion.
Look for pod vapes that have a user-friendly design and intuitive controls. A device with a straightforward interface and easily accessible buttons or touchscreens will make navigation and adjustments a breeze.
Consider the pod system as well. Are the pods easy to insert and remove? Are they securely held in place? A hassle-free pod system ensures quick and hassle-free coil changes and refills, allowing you to spend more time enjoying your vape and less time fumbling with components.
Maintenance
Another aspect to look for is the simplicity of maintenance. Does the pod vape require frequent cleaning or intricate upkeep? Opt for devices that are easy to clean and maintain, as this will ensure a longer lifespan and consistent performance.
Portability
Portability is often a key feature of pod vapes, so consider the device's size and weight. Compact and lightweight designs are ideal for on-the-go vaping, fitting comfortably in pockets or purses without weighing you down.
Activation Method
Finally, check for features like automatic draw activation or one-button operation, which can enhance the overall user experience. These convenient features eliminate the need for complex settings and provide a hassle-free vaping experience.
Which is the Best Pod Vape 2023?
The best pod vape of 2023 is the OXVA Xlim SE Bonus Edition Pod Kit. This pod vape kit is ideal when it comes to vaping. Therefore, here we will review about the pod vape. Let's move on.
OXVA Xlim SE Bonus Edition Pod Kit
Introducing the OXVA Xlim SE Bonus Edition Pod Kit—a true game-changer in the world of vaping. Packed with a plethora of features and impressive performance, this pod kit is sure to leave vapers in awe. Let's dive into the details:
Features
Ergonomic Design: The Xlim SE boasts a sleek and ergonomic design, providing a comfortable grip for extended vaping sessions.
Adjustable Wattage: With a variable wattage range of 5W to 25W, users can customize their vaping experience to suit their preferences.
Large Battery Capacity: Equipped with a 900mAh built-in battery, the Xlim SE offers extended battery life, ensuring uninterrupted vaping throughout the day.
Fast Charging: Thanks to its USB Type-C charging port, the device can be quickly charged, minimizing downtime.
Smart Power Output: The Xlim SE automatically detects the coil resistance and adjusts the power output accordingly, optimizing the vaping experience.
LED Display: The bright and clear LED display provides essential information such as battery life, wattage, and coil resistance.
Enhanced Pod System: The refillable pod holds up to 2ml of e-liquid and utilizes the innovative UNI Coils for exceptional flavor and vapor production.
Multiple Safety Features: The kit includes various safety features like overcharge protection, short-circuit protection, and low voltage protection for a worry-free vaping experience.
Specifications
Dimension - 106.5mm x 20mm x 13.5mm
Battery Capacity: 900mAh
Wattage Range: 5W - 25W
E-Liquid Capacity: 2ml
Coil Compatibility: OXVA UNI Coils
Charging: USB Type-C
Performance
The Xlim SE delivers a remarkable vaping performance. The adjustable wattage allows users to find their sweet spot, while the smart power output ensures consistent and satisfying hits. The UNI Coils provide exceptional flavor and vapor production, elevating the overall vaping experience.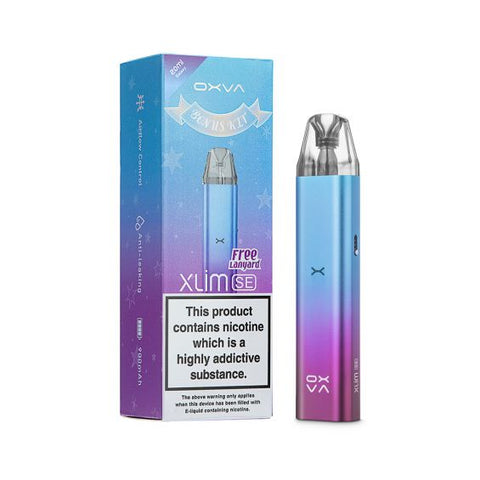 The battery life is impressive, lasting a significant amount of time before requiring a recharge. The device's compact size and ergonomic design make it ideal for on-the-go vaping.
Pros
Sleek and ergonomic design
Adjustable wattage for personalized vaping
Long-lasting battery life
Fast charging capability
Excellent flavor and vapor production with UNI Coils
Clear and informative LED display
Multiple safety features for peace of mind
Cons
Limited e-liquid capacity (2ml)
No airflow control
In conclusion, the OXVA Xlim SE Bonus Edition Pod Kit offers a feature-packed and high-performance vaping experience. With its ergonomic design, adjustable wattage, and outstanding flavor delivery, it's a top contender in the pod kit market.
While it has a few limitations like limited e-liquid capacity and no airflow control, the pros far outweigh the cons. For vapers seeking a compact, powerful, and user-friendly pod kit, the Xlim SE is a fantastic choice.
Other Best Pod Vapes of 2023
Uwell Caliburn G2
The Uwell Caliburn G2 is a highly anticipated upgrade to the original Caliburn series, and it certainly lives up to the hype. This pod vape offers an enhanced vaping experience with its sleek design and improved features.
With a built-in 690mAh battery, the Caliburn G2 provides excellent battery life, perfect for all-day vaping. The adjustable airflow allows users to customize their draw, catering to both mouth-to-lung and direct-to-lung vaping styles.
The Caliburn G2 utilizes replaceable coils and has a 2ml e-liquid capacity, ensuring a hassle-free vaping experience. The flavor production is outstanding, delivering crisp and satisfying hits. The easy-to-use firing button and simple pod installation make it ideal for beginners and experienced vapers alike.
Overall, the Uwell Caliburn G2 is a reliable and versatile pod vape that offers a smooth and enjoyable vaping experience.
Vaporesso Gen Air 40 Pod Kit
The Vaporesso Gen Air 40 Pod Kit is a sleek and compact device that combines style with exceptional performance. With a built-in 800mAh battery, it provides a long-lasting vaping experience without compromising portability.
The Gen Air 40 features adjustable wattage, allowing users to customize their preferred power output up to 40W. The 3.5ml pod capacity ensures fewer refills and convenience on the go. The Gen Air 40 utilizes Vaporesso's advanced AXON chipset, which provides a fast and consistent firing speed. The airflow control system enables users to fine-tune their vaping experience to suit their preferences.
Its delivery is exceptional, with the device producing rich and satisfying vapor. The clear and vibrant 0.69-inch OLED screen provides all the necessary vaping information at a glance. With its durable construction, user-friendly interface, and impressive performance, the Vaporesso Gen Air 40 Pod Kit is a top contender for vapers looking for a reliable and feature-packed pod vape.
Vaporesso Moti X Mini Pod Kit
The Vaporesso Moti X Mini Pod Kit is a compact and stylish device designed for on-the-go vaping. Powered by a built-in 1000mAh battery, it offers extended battery life to keep you vaping throughout the day. The 2ml pod capacity ensures sufficient e-liquid storage, reducing the need for frequent refills.
Moti X Mini features an adjustable airflow system, allowing users to fine-tune their draw for a more personalized vaping experience. With its draw-activated firing mechanism, there's no need to worry about pressing buttons – simply inhale and enjoy. The flavor production is excellent, providing smooth and satisfying hits.
The device's ergonomic design fits comfortably in hand, making it ideal for vapers seeking a portable and user-friendly pod vape. With its impressive battery life, adjustable airflow, and reliable performance, the Vaporesso Moti X Mini Pod Kit is a great option for those who prioritize convenience and style.
Best Wholesale Vape Supplier – UPENDS
Looking for the best wholesale vape supplier out there? Look no further, my friends! UPENDS is where it's at! They've got all your vaping needs covered, from top-notch devices to premium e-liquids.
With their wide selection and excellent customer service, UPENDS is the go-to supplier for all things vape-related. So, whether you're a vape shop owner or just a vaping enthusiast, UPENDS is the ultimate supplier to keep you puffing in style.