As the vaping industry continues to innovate, disposable vapes have emerged as a convenient and portable option for enthusiasts. Among the notable players in this space are the Elf Box 5000 and Elf Box 6000.
These disposable vapes have captivated users with their impressive puff capacities, offering an extended vaping experience without the need for frequent replacements. In this article, we embark on a journey to unravel the evolution of the Elf Box 5000 and Elf Box 6000 disposable vapes, exploring their enhanced features and advancements that have propelled them to the forefront of the vaping scene.
From increased puff capacities to improved battery life, we will delve into the intricacies of these devices, examining their impact on the vaping landscape. Join us as we explore the remarkable evolution of the Elf Box 5000 and Elf Box 6000 disposable vapes, and discover the revolutionary strides they have taken in providing users with a satisfying and convenient vaping experience.
Elf Box 5000 Puffs
Introducing the Elf Box Disposable Vape 5000 Puffs, a cutting-edge vaping device designed to provide an exceptional vaping experience. With its impressive specifications and user-friendly features, this disposable vape is perfect for users who value convenience and performance.
At the heart of the Elf Box Disposable Vape is a reliable 16350 battery with a capacity of 650mAh. This battery ensures a long-lasting vaping experience, allowing for approximately 5000 puffs before the device needs to be replaced. With such a high number of puffs, you can enjoy extended vaping sessions without worrying about running out of power.
The vape comes with an ample e-liquid capacity of 12ml, providing an abundant supply of your favorite flavors. It is available in different packaging options, including 0%, 2%, 3%, and 5% nicotine concentrations, catering to various preferences and needs.
Equipped with a 1.2ohm heating wire resistance, the Elf Box Disposable Vape delivers a smooth and satisfying vaping experience with every puff. The heating wire ensures efficient vaporization of the e-liquid, producing rich and flavorful clouds.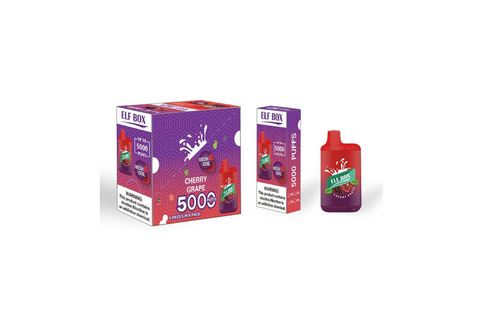 Charging the Elf Box Disposable Vape is a breeze, thanks to its support for the TYPE-C interface. Simply connect the device to a compatible charger, and it will quickly recharge, allowing you to resume vaping in no time.
Each box of the Elf Box Disposable Vape contains 200 pieces, providing an abundant supply for users or for sharing with friends. The total weight of a box is approximately 14 kg, while a single device weighs around 319g. The compact and lightweight design makes it easy to carry and convenient for on-the-go vaping.
Features
650mAh battery
5000 puffs
12ml E-liquid capacity
0%, 2%, 3%, 5% Nic salt
2OHM resistance
Type-C interface
Flavors
Lush Ice
Lush Ice is a refreshing and invigorating flavor that combines the sweetness of watermelon with a cool menthol kick. It provides a burst of juicy watermelon flavor accompanied by a soothing icy sensation, creating a well-balanced and satisfying vape.
Cherry Grape
The Cherry Grape flavor combines the bold and tangy taste of cherries with the succulent sweetness of grapes. This delightful blend offers a harmonious fusion of fruity flavors that will tantalize your taste buds with each puff.
Blue Razz Ice
Blue Razz Ice delivers a delightful combination of sweet blueberries and tart raspberries, complemented by a cooling menthol finish. The fruity blend provides a burst of berry goodness, perfectly balanced with a refreshing icy twist.
Strawberry Mango
Indulge in the tropical goodness of Strawberry Mango, where the luscious sweetness of ripe strawberries merges with the exotic juiciness of mangoes. This flavor profile offers a delightful fusion of tropical fruits that is both smooth and satisfying.
Mint Lemon
Mint Lemon combines the refreshing essence of zesty lemons with a cool and invigorating mint undertone. The tangy lemon flavor pairs harmoniously with the cooling mint, resulting in a refreshing and revitalizing vaping experience.
Cranberry Grape
Experience a delightful blend of tart cranberries and juicy grapes with Cranberry grapes. This flavor combination offers a balance of sweet and tangy notes, creating a unique and satisfying vaping sensation.
Kiwi Guava Passion Fruit
Kiwi Guava Passion Fruit is a tropical blend that combines the exotic flavors of kiwi, guava, and passion fruit. The result is a fruity symphony that is both tangy and sweet, transporting you to a tropical paradise with each puff.
Red Mojito
Red Mojito is a vibrant and refreshing flavor inspired by the classic cocktail. It combines the flavors of zesty lime, juicy raspberries, and refreshing mint, creating a delightful and invigorating vaping experience.
Peach Mango
Immerse yourself in the sweet and succulent fusion of ripe peaches and tropical mangoes with Peach Mango flavor. The combination of these two fruits offers a harmonious blend of sweetness and tanginess that is sure to please your palate.
Energy Drink
The Energy Drink flavor is perfect for those seeking an extra boost of energy. It captures the essence of popular energy drinks, providing a stimulating and invigorating vape that is reminiscent of your favorite energy beverage.
Elf Box 6000 Puffs
The Elf Box 6000 Puffs vape is an exceptional disposable vape that provides a remarkable battery life and an extensive assortment of flavors. It boasts a sleek design and user-friendly features, catering to both novice and seasoned users seeking a convenient and gratifying vaping experience.
One of the standout qualities of the Elf Box 6000 Puffs vape is its impressive battery life. Equipped with a built-in 1000mAh battery, this device can last up to 6000 puffs before requiring replacement. This represents a significant improvement compared to traditional e-cigarettes, which often necessitate frequent charging and battery changes. With the Elf Box 6000 Puffs vape, you can relish in prolonged vaping sessions without constantly monitoring your battery life.
Furthermore, the Elf Box 6000 Puffs vape is incredibly simple to operate. By inhaling through the mouthpiece, the device activates, allowing you to indulge in your preferred e-juice flavors. Its draw-activated mechanism eliminates the need for buttons or adjustments, making it an ideal choice for new users who may find the complex settings and customization options of other devices overwhelming.
When it comes to flavor options, the Elf Box 6000 Puffs vape delivers on its promise. It comes pre-filled with an extensive selection of popular e-juice flavors, including fruity, dessert, and menthol variations. Additionally, the device features a 1.8ohm coil that ensures each puff provides a smooth and satisfying vaping experience.
Another remarkable attribute of the Elf Box 6000 Puffs vape is its compact and sleek design. Its size is small enough to fit comfortably in your pocket or purse, making it an excellent choice for users who are frequently on the move. Furthermore, the device is lightweight and easy to grip, enhancing comfort and enjoyment during extended vaping sessions.
Overall, the Elf Box 6000 Puffs vape is a premier option for users seeking a high-quality and hassle-free vaping experience. With its long-lasting battery life, user-friendly design, and extensive range of flavors, it caters to the preferences of both new and experienced users alike.
Features
12ml E-liquid Capacity
6000 Puffs
650mAh Battery
Type-C port
Mesh Coil
Draw Activated Mechanism
5% Nicotine Strength
FAQs About Elf Box 5000 and Elf Box 6000
How long does the battery of the Elf Box 5000 and Elf Box 6000 last?
The Elf Box 5000 and Elf Box 6000 feature built-in batteries with different capacities. While specific usage times can vary depending on individual vaping habits, both devices are designed to provide extended battery life to accompany their high puff capacities.
Are the Elf Box 5000 and Elf Box 6000 easy to use?
Yes, both the Elf Box 5000 and Elf Box 6000 are designed to be user-friendly. They are draw-activated, meaning you simply inhale through the mouthpiece to activate the device and enjoy your vape. There are no buttons to press or settings to adjust, making them suitable for users of all experience levels.
Best Vape Wholesale Supplier-UPENDS
Enjoy the exciting world of Vape UPENDS, where elegance and innovation seamlessly converge. Join our warm community and discover a wealth of discounts created to improve your vaping experience. Our skilled artisans produce flawless and exquisite vaping goods that captivate your senses with cutting-edge technology and painstaking attention to detail.
Our ultimate goal is to give you a memorable vaping adventure that is full of innovation, style, and mind-blowing encounters. Choose Vape UPENDS as your top option, and enter a world that will fascinate you and leave you wanting more.