Finding an unparalleled sensation from one kind of disposable vape is such a privilege. With the latest vaping technology in the field of vaping, the Torch THC-O disposable vape has gained massive public interest, which leads to this article that clearly addresses this disposable vape. The content in the Torch THC- O disposable vape proves to be three times stronger than other disposable vape models.
This article brings to light the features that make the Torch THC-O disposable vape a special vape product.
What is Torch THC-O Disposable Vape?
Key Specs
2ml e-liquid capacity
Type-C USB port
700 puffs
Ceramic technology
Sleek and small physical design
Rechargeable battery
Live Resin Diamond E-liquid type
Battery indicator lights
The Torch THC-O disposable vape is a discrete, compact, and rechargeable disposable vape device that comes with a hugely appealing physical build. What makes this vape product to be unique is that it is made using live resin and comes with a small and white design. The Torch THC-O disposable vape contains a wonderful strain that offers a delightful flavor profile as it produces mild, sativa-leaning hybrid effects.
The vape device gives you the power to use the exciting flavors that are availed in a double measure compared with the closely competing vape brands.
Battery Life & Charging
The Torch THC-O disposable vape is engineered to feature a powerful built-in battery that can be recharged once it runs out. With this capability, your disposable vape device is made to be highly reliable and absolutely convenient for your exciting vaping journey. Even with the rechargeability, the vape device offers an impressive battery life that is responsible for consistent vapor production. Thanks to the presence of LED lights on this wonderful device allows you to know if the battery is charging or the battery level and hence makes your vaping experience absolutely convenient.
Cost of Purchase
Notably, the price of Torch THC-O disposable vape varies from shop to shop as you plan to make a purchase. On average, the price of this well-spoken disposable vape product lies at $24.99. With the Torch THC-O disposable vape, you are free to visit any online shop of your preference, but what you have to keep in mind is that you will find different purchase terms that include delivery and shipping fees. Always choose the one that does not make you go deeper into your pockets.
General Performance
Most vape users who are lucky to interact with the Torch THC-O disposable vape highly rank it for its outstanding performance. This is because this disposable vape device comes with an amazing package of the latest and lovely features that enhance each and every aspect of vaping. The Torch THC-O disposable vape employs the ceramic coil technology that is responsible for the deep and savory flavors that you are entitled to. Every puff you make from this vape product gives the exact e-liquid flavor that you desire. You will be enticed by the long-lasting battery performance that can be monitored by the efficient LED lights.
Ease of Use
Having a vape device that keeps you from worrying about how to operate it is one of the most underrated product experiences one can encounter. The Torch THC-O disposable vape is worth using as it comes with a small and portable body that allows you to travel anywhere with it. The disposable vape device comes with a fully charged battery that makes it easy as you are able to start vaping immediately.
It is exciting to note that the vape device employs the draw activation technology that lets you activate your Torch THC-O disposable vape with the very first puff you make. To save on battery and any other possible shortcomings, this vape device automatically shuts off when not in use. With the LED lights that update you on the battery life, a moment with the Torch THC-O disposable vape becomes even more fun.
Design
The Torch THC-O disposable vape device achieves a smooth and obtrusive physical design. The vape device is made of a rubberized body that is engineered to provide a firm and comfortable grip. The sleek and stylish physical appearance makes the Torch THC-O disposable vape highly attractive to those who love aesthetics.
Pros
It has a lightweight design
It employs the draw activation technology
It is easy and simple to use
It comes with the most popular and unique flavors
It engages the ceramic coil technology for accurate flavors
it uses a powerful, rechargeable battery
It has a huge puff count
It is highly portable and gives a comfortable feel when held
Cons
It is expensive
It cannot be refilled
Manual, Review & Instructions
The Torch THC-O disposable vape features the THC-O that is known to be a highly potent form of THC hence accounting for the powerful effects that this vape product delivers. The Torch THC-O disposable vape is capable of containing up to 2.2ml of the e-liquid you select according to your desired flavor.
While using this exciting disposable vape device, you will easily notice the high level of convenience it exhibits. As the name suggests, the vape product does not require any maintenance measures as it is built to be used and disposed of once its e-liquid content is fully consumed. With a single draw, your disposable vape is set for a long and memorable vaping session. The vape device as well allows you to press the provided button to start or regulate the heating levels of the vape device.
The effect of using the Torch THC-O disposable vape is that you will be kept in a blissful mood, where you feel at ease and relaxed. You will crave to always enjoy the unmatchable feeling the Torch THC-O disposable vape brings as it gives you a better feel each time you give yourself a treat with one of its premium quality flavors.
The Torch THC-O disposable vape comes in three powerful strains that ensure each and every vape is served with the required satisfaction. The strains include sativa, indica, and hybrid. Below are the types of flavors that you are assured of finding once you need to use the Torch THC-O disposable vape;
Indica
Romulan Grapefruit
This is a unique type of indica strain that flaunts you with the earthy pine flavor that is complemented by the strong, bitter tartness of the citrus flavor that balances the general wonderful taste. Such a potent strain is expected to give its users sedative effects, and it can act as the best remedy for those struggling with insomnia or any possible chronic pain. You will love the mouthwatering and distinctive taste of the Romulan Grapefruit that makes it gain adoration from nicotine enthusiasts.
Hybrid
Fuel Biscuits
It is really fun when you vape this kind of strain that delivers a pungent aroma and flavor that makes your taste buds yearn for more. You will feel the strong diesel notes and the unexplainable undertones of freshly baked cookies. The potent effects of this strain are known to offer a balance between mental and physical relaxation. The unique and flavorful strain is there to give you the stress relief you seek.
Sativa
Super Lemon Haze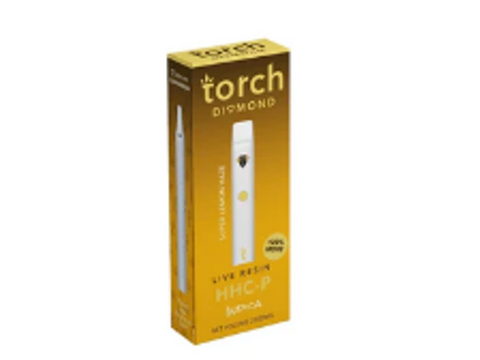 This type of sativa strain brings a bold and zesty lemon flavor and aroma that taste almost like the delicious tart taste of lemon candy. The strain is popular for its burst of citrus freshness and the overwhelming sweetness in every puff you make.
Frequently Asked Questions about Torch THC-O Disposable vape
How long does a Torch THC-O disposable vape?
The longevity of a disposable vape mostly depends on how often you vape. If you take multiple vaping sessions in a day, the disposable vape is most likely to get empty faster. The Torch THC-O disposable vape is at your service as long as you recharge its battery, and the 2.2ml e-liquid is enough to keep you going for two days if averagely used. With the 700 puffs at your command, you will have a fun time that is long enough as you plan to get another flavor of your liking.
How do I turn on my Torch THC-O disposable vape?
It is quite easy to operate the Torch THC-O disposable vape as it comes with a single button that, once it is pressed, you a set to enjoy the vape device's delicious strain. The Torch THC-O disposable vape allows you to preheat the e-liquid before you start the vaping session; you only need to double-press the power button.
UPENDS: Wholesale vape Equipment Supplier
Take a brilliant step to visit the UPENDS.com website that offers you the chance to the largest vape brand in China. With UPENDS, you are able to easily access the most coveted vape products in the vape market. The UPENDS company is a world-class vape product retailer that helps you access its noble and premium quality products at a wholesale price. Join the top-rising e-cigarette company today and enjoy the unmatchable benefits it brings.