Flavors play a vital role in the world of vaping. Once you've dialed in your ideal setup, the quest for your perfect, everyday vape experience begins. You're on the lookout for a flavor that will keep you captivated, no matter how frequently you indulge in vaping. Yet, pinpointing that one exceptional e-liquid can be quite the challenge, given the vast array of flavors available.
The encouraging news is that a majority of e-juice flavors can be categorized into a handful of fundamental flavor profiles, which we've outlined in our guide below. Once you comprehend these categories, your search becomes more manageable. If you're eager to dive right in, take a look at our selection of five outstanding e-juices across the most popular flavor profiles. You might just stumble upon your next go-to, all-day vape.
What exactly is vape juice?
Vape juice serves as the liquid element in an electronic cigarette and is known by various terms such as e-juice (or ejuice), e-liquid, e-cig juice, and vaping liquid. Regardless of the size or appearance of the vaping device, the process of vaping hinges on the availability of e-liquid to generate vapor. Vape juice is available in a multitude of flavors, varying viscosities, and an extensive range of nicotine concentrations.
What constitutes the composition of vape juice?
Generally, vape juice consists of foundational ingredients like propylene glycol (PG) and vegetable glycerin (VG), nicotine (either regular or in the form of nic salt), and flavorings, which may include sweeteners.
The nicotine concentration can range from zero to 5%, with PG and VG forming the e-liquid's base. Flavorings play a crucial role in determining the flavor profile and typically come in concentrated, water-soluble form. It's worth noting that flavorings, nicotine, and even PG are discretionary components; the sole essential ingredient is vegetable glycerin.
Best Vape Juice Flavors 2023
Black Note Virginia
Virginia Tobacco E-Liquid is renowned for its naturally sweet flavor and vibrant, multicolored leaves that can range from lemon yellow to rich mahogany, depending on their position along the stem.
Historical Background: The distinctive flavor profile of Virginia tobacco emerged by chance in 1839 when an overseer named Stephen, responsible for tending the barn fires used to dry harvested tobacco in Virginia, inadvertently fell asleep on duty. His unintentional negligence resulted in an intense drying process that imparted a bright yellow hue and a delightful, sweet aroma to the leaves, reminiscent of caramelized sugar. This fortuitous occurrence gained immense popularity, especially among French women who had recently taken up smoking. Over time, its appeal continued to grow, establishing Virginia tobacco as one of the most widely recognized tobacco varieties worldwide today.
Features
Formula: 50/50 PG/VG
Size: 60ml (Regular) / 30ml (Salt Nic)
Grape E-Liquid By Bar Juice 5000
Grape Nic Salt E-Liquid from Bar Juice 5000 offers a fusion of red and green grapes, crafting a delightful combination of grape flavors to tantalize your taste buds.
Created using the same flavor profiles and synthetic nicotine found in your beloved disposable vape products, Bar Juice is meticulously crafted with a 50% VG (vegetable glycerin) and 50% PG (propylene glycol) blend. It is currently available in 20mg nicotine strength, with a 10mg option on the horizon.
Bar Juice stands out as a cost-effective and environmentally friendly alternative to popular disposable vape brands like Elf, Geek, and Elux. It can be used seamlessly with any low-powered pod system or starter vape kit.
With one 10ml bottle of Bar Juice, you can enjoy approximately 5000 puffs, which is nearly ten times more than what a standard disposable vape offers!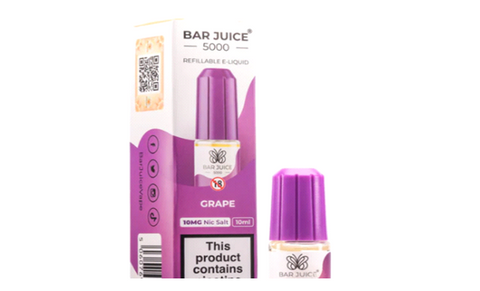 Features
Size: 10ml
Strength: 20mg
VG/PG Ratio: 50% VG / 50% PG
Flavours: Grape
Vapetasia Killer Kustard
Killer Kustard by Vapetasia offers an exquisite rendition of sweet vanilla custard, delivering a flavor that will captivate your taste buds right from your initial draw. When you take that first inhale of Killer Kustard, you'll experience an immediate burst of rich, creamy goodness that transports you back to the flavors of your childhood.
As you exhale, Killer Kustard doesn't linger; it quickly tempts you to reach for your vaping device again. Vapetasia has masterfully struck a balance between sweetness and savory notes, with just a subtle hint of nostalgia infused into this e-liquid. You can find Killer Kustard in a generous 100mL bottle, available in various nicotine strengths, including 0 mg, 3 mg, and 6 mg.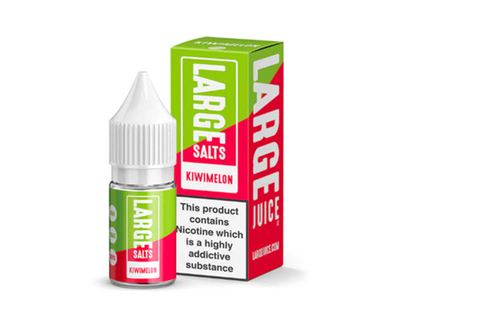 Features
100mL Chubby Gorilla Bottle
Dropper In Bottle
70% VG
30% PG
Kiwimelon E-liquid By Large Juice
Large Juice is a product line from All Vape that made a significant impact when it hit the market in 2019, and it has since maintained its popularity. Among their offerings, Kiwimelon stands out as a unique blend that prioritizes lighter, authentic fruit flavors. This blend achieves its distinct profile by combining kiwi and watermelon, with added depth from dragonfruit and lychee.
While the Kiwimelon nic salt e-liquid is favored by many, sub-ohm vapers should consider exploring the shortfill version. Each 50ml Kiwimelon shortfall package includes an 18mg Top Shot booster, providing you with everything required to create 60ml of 3mg e-liquid conveniently in one package. For those seeking a reduced vapor production experience, the nic salt e-liquid is available in 10mg or 20mg strengths and boasts a 50% VG concentration.
Features
Dragonfruit, Kiwi, Lychee, Melon flavour
10ml bottle
50VG/50PG
5mg, 10mg, and 20mg
Suitable for starter kits and pod devices
Tamper evident seal
Pacha SYN Fuji Apple Strawberry Nectarine
Pachamama's SYN series represents a fusion of their well-loved classic flavors with high-quality, nicotine-free alternatives, enhancing the satisfaction and deliciousness of the vaping experience. The case of Fuji Apple Strawberry Nectarine, it bursts with the delightful flavors of crisp apples, succulent strawberries, and a subtle hint of nectarine.
Features
60mL Glass Bottle
Dropper In Bottle
80% VG
20% PG
Available nicotine: 0mg, 3mg, 6mg
Glas Basix Blueberry Cake
Blueberry Cake from the Glas Basix Series is a freshly baked vanilla cake enriched with sweet buttercream, adorned with luscious blueberries and a sugary glaze.
When you take your first inhale of Blueberry Cake, you'll primarily experience the cake's warmth and the sweetness of the buttercream. The blueberry notes become more prominent during the exhale, harmonizing beautifully with the creamy cake taste from the inhale.
Fortunately, Glas's experts have achieved a gentle and soothing throat hit for vapers to relish. It's perceptible but devoid of any burning or harsh sensations.
Glas Basix Series holds the distinction of being among the pioneering e-juice lines to transition to Tobacco-Free Nicotine (TFN). TFN is a cleaner alternative sourced from tobacco leaves, ensuring a smoother vaping experience. Vape Juice currently offers a complete range of Glas Basix Series TFN e-juice flavors.
Features
Flavor Profile: Buttercream, Vanilla Cake, Sugar Glaze, Blueberries
VG/PG: 70/30
Nicotine Level: 0MG, 3MG, 6MG
Bottle Size: 60ML
Other product suggestions:
Upbar-nano
The UpBAR Nano is a compact, one-time-use vaping kit created for ease of usage when traveling. It makes use of FRESOR technology to get the most out of e-liquids. The Next-Gen Mesh Coil and a special flat stacking design combine to increase the number of puffs that may be made while layer by layer raising energy efficiency.
The revolutionary FRESOR technology enables the creation of the Nano totally autonomously, ensuring dependable performance. Vaping hence provides tasty, exact flavor reproduction, a ton of vapor production, and protection from leakage problems.
Features
0 E-liquid capacity
410 mAh battery capacity
20 mg/ml nicotine salt
0 Ω Resistance
FAQs
What are the best vape juice flavors for people who are new to vaping?
For beginners, it's often recommended to start with simple and familiar flavors like fruit, mint, or menthol, as they tend to be more universally appealing.
Best Vape Wholesale Supplier-UPENDS
Step into the world of Vape-UPENDS, where innovation and elegance come together seamlessly. Get ready for an extraordinary vaping adventure filled with unforgettable moments. We extend a warm welcome, inviting you to become part of our vibrant community, where a plethora of exclusive offerings await to elevate your vaping pleasure.
At Vape UPENDS, our state-of-the-art innovations, graceful designs, and meticulous craftsmanship are constant sources of joy. Our team of skilled artisans pours their passion and expertise into creating flawless and refined masterpieces that will captivate your senses. With each inhalation, our aim is to awaken your discerning palate and ignite an enchantment that leaves you completely spellbound by the carefully curated sensations we've designed.
Our ultimate objective is to provide an unrivaled vaping experience, and we are thrilled to embark on this transformative journey with you. Allow us to explain why Vape UPENDS stands as the top choice for those who demand nothing short of perfection when indulging in moments of relaxation.
Prepare to immerse yourself in a world where imagination, style, and sheer wonder converge to create an experience that captures your attention and leaves you yearning for more.