Vape juice is technically a fluid that is placed in a tank of an e-cigarette that creates vapor. Vape juices got different flavors and quantity. All these will depend on the brand, if they have manufactured the flavor that one needs.
Most of the brands have managed to create amazing flavors such as menthol, and still creating with the best quantity of Vegetable Glycerin. This is to favor the vapor(User) to be well comfortable with the content. 
Below are some of the brands that have gained popularity because of their amazing products, uniqueness and their concept on flavors to suit well the vapors.
The following are the major vape juice brands for 2021:
VaporFi
The brand is well known for its high quality than food-grade ingredients for better blending their amazing and delicious flavors. Some of the flavors that these brand blends are such as strawberry, watermelon, kiwi, apple pie, menthol tobacco, and Maui Menthol. Since it is made from food-grade ingredients, this gives the flavor a long-lasting appeal. 
Dinner lady
It is one of the most popular brands and one of the fastest brands in the UK and all over the world. The reason is as to why it is commonly used, many of the vapers know the brand due to the Lemon flavor. They have expanded the range to cover all bases from fruit to tobaccos. Their ranges span from authentic-tasting dessert e-liquids all the way to fruit and ice medleys, for a sweet, tasty, amazing, and cool vape.
The Dinner Lady got you covered in producing all flavors of your choice of 50PG/50VG and shortfall concentrates for DIY fanatics. It is giving the vapor the choice.All Dinner Lady e-liquids are made in small batches from only the highest quality ingredients and pharmaceutical grade nicotine since some use sub-ohm. 
Freeman Vape juice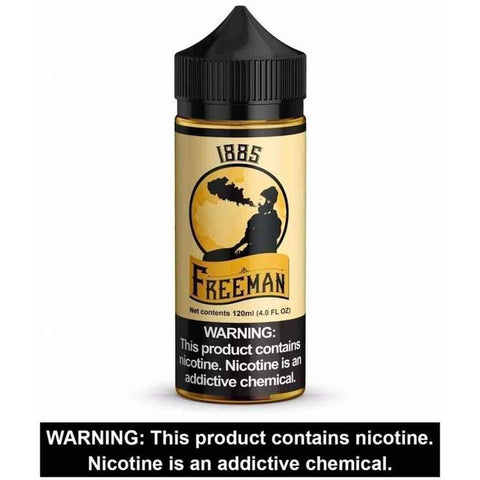 It was launched in late 2017. It is only available in the USA and the range includes a various range of flavors covering menthol, tobacco to milkshake. The brand's favorite is Trail Blazers that offers a little bit of tobacco, a False spirit that is having the Apple's taste, and Cocaine a mixture of Coconut and Cookie. All the flavors come in 80VG (Vegetable Glycerin)/20PG and that makes it more suitable for the sub ohms vapers amongst us. 
Naked Brand
The brand is known for its simplicity, tasty fruit, and menthol flavors that never get old. The flavors are widely known for achieving ADV status among the vapor community. The brand tends to consistently stick to the flavors found in nature. The Naked brand packaging comes in 60ml bottles. The labels on the products are just simple and polished.Each flavor in their lineup features a straightforward, natural fruit flavor that performs just fine without all the extra sweets and creams mixed in.
JAC vapor UK E-Liquid
The brand is produced in the UK, and it carries tests on Nicotine bases and ingredients before mixing. The JAC vapor brand is one of the vaping brands that produce an e-liquid that provides minimal vapor. Great for secretive vaping. This range is called Clear Steam and is available in the same flavors as their main juice line. The e-liquids that are offered can suit both mouths to lung and sub-ohm devices.
The Standard range is 50PG/50VG and it is recommended for MTL Devices. The smoking range is the Nic Salts. This type of e-liquid helps the nicotine enter the bloodstream quicker than standard e-liquid. This type of range is recommended for new vapers that have just come off smoking. Lastly, the premium/High VG/Bryn's Special Sauce it is recommended for Sub Ohm Devices.
V2 Platinum E-Liquid
The brand is produced to high standards and they are the best UK . They are specially formulated to exacting standards using pharmaceutical-grade nicotine, giving you the flavors you love in a convenient, clean, and affordable new way. Fifteen great flavors, various tobacco, menthol, and minty flavors, plus a range of sweet and fruity flavors.
The brand hasselected a blend of vegetable glycerin and propylene glycol that delivers maximum compatibility with all vaping equipment while giving you a superb balance of throat hit and flavor quality They have gone to an extent of providing batch numbers where the users can check online to verify what exactly gets into the E juice. One will be sent a PDF that contains the details of the batch of the E juice. Peppermint, cherry and congress flavors are the favorites ones for the company.
Beard Vape Co
The company was founded in early 2014 and is based in Venice California. They specialize in making high-quality artisanal vape juices that are crafted with skilled mixology. The company is known for its incredible flavors and also its recognizable logo. That makes the company be truly trusted by their clients. The brand's team approaches flavors in a very creative way that will not disappoint at all. Every juice is extremely nuanced and made with the very best ingredients that the brand can get its hands on. They are available in 50ml short fills and they've got a 60%-85% VG ratio. It is also suitable for sub-ohm vapors. 
Black Note
The products of this brand are produced in America. The brand is growing too fast since the vapors want the flavor to be of realistic tobacco. To get the Black Note, the tobacco is extracted in a process that has 9 stages from picking the tobacco leaves to the final product. Keeping in mind the tobacco is not manufactured synthetically.
Hence it gives an assumption that this is a pure tobacco E-liquid that uses no artificial flavoring. Although there are 8 different flavors in the range, the favorite ones are Cadenza and Prelude. This is a pure tobacco e-liquid that uses no artificial flavoring. Not the cheapest e-liquid but you do get what you pay for.The Black Note e-liquids have a ratio of 50% PG / 50% VG
Twelve monkeys
The brand is based in Canada, and it has emerged being a global brand. The main reason being, they manufacture using high-quality ingredients and produced in artisanal processes to deliver a product that most vapors will love and suiting their want. Twelve Monkeys feature a tropic taste with unique tasting fruity blends.
What makes this brand get lots of votes in the annual Eciglick awards, it's because the brand has various ranges such as Mangabeys, Tropica, and Congo Cream among others. The excellent origin range that is offered in 65VG/35PG mix makes it comfortable in most of the latest vape tasks and sub-ohms.
Apollo E liquids
One thing and it's amazing about this is that they offer an e-liquid to suit different devices. . They are also made to the highest safety standards available. The flavors in this range are excellent, such as the Smoozie, Zour, and Due Time but there is plenty to pick from for all flavor profiles.
They not only give the 50/50 range on tested flavors such as Tobacco, Menthol, Strawberry, Grape, and Watermelon but also offer more 'off the beaten track' e-juice blends.
Some of the blends include the French Vanilla, Baja Burst which is a blend of tropical fruits, and Razzle which combines Raspberry, strawberry, blueberry, and blackberry. All of these e-juices are a great starting point for new vapers and are great for your standard e-cig tanks. 
Basically, those were the top 10 Vape juice Brands for 2021. And it is clearly depicted that one can comfortably acquire the flavor one wants, either menthol, strawberry flavor or even Tropica. Still you can consider the location displayed on the brand's description, for easy accessibility of your favorite vape juice. 
Still it has been indicated if it is suitable for sub-ohms or not, so as to let the vapers be comfortable with the vape juice they are buying. 
Wholesale Vape Sources: UPENDS 
UPENDS is the new rising e-cigarette brand. With this device, you can put your own flavor of CBD vape juice that you'd wish to have. UPENDS is still the leading brand and wholesaler of vaping products. The developer allow you to enjoy your vaping experience, at the comfort of your flavor at a wholesale price. Their products are developed and presented in a pen stylus design, easy to carry along, anytime anywhere one can vape. 
With UPENDS they assure each vapor of great disposal and allow one to vape at a lower cost. 
UPENDS gives a chance of vapors to refill the vaping pens once they are over, that explains the reason why they are of a lower cost. This will favor the vapor's in terms of spending money. 
The pod Kit is designed for people chasing both hygiene and style. It can be recharged within 1Hour. The Pod can only sustain 3-5 refilling's with your own taste on the vape juice you are going to refill it with. 
The brand is focusing and ensuring on each detail during use and strive for easier, amazing and absolutely fine experience. 
One is suggested to place an order through their official website at UPENDS
, since the brand is establishing their global distribution panel.