Weed pen disposables are a popular and convenient way to consume cannabis. These devices come in a range of flavors, strengths, and sizes, making it easy for users to choose the one that suits their preferences.
However, buying weed pen disposables online can be tricky, as there are numerous scams and fake products on the market. In this article, we'll provide some tips to help you avoid these pitfalls and purchase high-quality weed pen disposables online.
What Are Weed Pen Disposables
Weed pen disposables are a type of vaporizer device that is designed for one-time use and comes pre-filled with cannabis oil. They are often referred to as disposable vape pens or pre-filled vape pens.
They are a convenient and discreet way to consume cannabis, as they are small and easy to use, and can be disposed of after the oil is used up. Weed pen disposables are available in a variety of flavors and strengths, and they are a popular choice among cannabis users who want a quick and easy way to consume cannabis on the go.
Types Of Weed Pen Disposables
Here are some of the most common types of weed pen disposables:
Standard Disposable Vape Pen: These are the most common types of weed pen disposables. They are small and compact, usually around the size of a pen, and come pre-filled with cannabis oil.
All-In-One Disposable Vape Pen: These pens have a built-in battery and pre-filled cartridge, making them a more convenient option for users who don't want to deal with charging and filling up the pen.
Buttonless Disposable Vape Pen: These pens are designed to be used without buttons or switches. The user simply inhales to activate the pen, making them a more user-friendly option for beginners.
Refillable Disposable Vape Pen: While most weed pen disposables are designed for one-time use, some manufacturers offer refillable disposable vape pens. These pens allow users to refill the cartridge with their own cannabis oil or e-juice.
Tips For Purchasing Quality Weed Pen Disposables
Research The Brand And Product
Before purchasing weed pen disposables online, it's important to research the brand and product thoroughly. Look for reviews from other customers, as well as information about the manufacturer's history and production process. If a brand has a good reputation and a transparent manufacturing process, it's more likely that its products will be of high quality.
Check The Ingredients
When buying weed pen disposables, it's essential to check the ingredients list. Make sure that the product contains high-quality cannabis oil, and avoid those that include additives or fillers. Reputable brands will list the ingredients clearly on their packaging or website, so be wary of those that don't.
Look For Third-party Lab Testing
Another way to ensure that you're purchasing a high-quality product is to look for third-party lab testing. Reputable brands will have their products tested by independent laboratories to verify the potency and purity of the cannabis oil.
Look for brands that provide lab reports on their website or product packaging, as this is a sign that they're committed to transparency and quality.
Check For Counterfeit Products
Unfortunately, fake weed pen disposables are common on the market. These products are often sold at a lower price than authentic ones, making them attractive to buyers.
To avoid purchasing a counterfeit product, make sure to buy from reputable online retailers or directly from the manufacturer's website.
Look for official packaging and branding, and be wary of products that seem too good to be true.
Don't Be Afraid To Ask Questions
If you have any questions about a particular product or brand, don't be afraid to reach out to the manufacturer or retailer. Reputable companies will be happy to answer any questions you have and provide more information about their products. If a company is unresponsive or provides vague answers, it's a sign that you should look elsewhere.
Weed Pen Disposables Online You Might Want To Try
BudPop
In 2019, a group of friends who were passionate about hemp and its benefits started BudPop with the aim of addressing the shortage of organic hemp products in the market. Since then, the company has produced a range of high-quality Delta 8 and CBD products, all of which are 100% vegan and made from non-GMO hemp.
Features
100% vegan
900mg of Delta 8 THC
Strain-specific terpenes used
Natural flavors
Kandypens Slim Kit
The Kandypens Slim Kit is an extremely discreet oil pen that has received many positive reviews for its performance with thicker oils. Its 0.5 mL tank is supported by a 180 mAh battery, which should last through several sessions. Due to its compact size, it can be easily carried in your pocket without being noticeable.
Features
180 mAh battery
510 thread
5 mL E-liquid
USB charger
UPENDS Uppen Vape
The Uppen is equipped with a luxurious 18K Gold clip and its mouthpiece is designed to be smooth and sleek, taking inspiration from the ergonomic design of clarinets. It also features a battery level indicator that allows you to quickly check how much charge is left.
Additionally, the refillable pod system is user-friendly and incorporates a distinctive design that employs magnets to pull the pod back into place, ensuring a secure and consistent connection every time.
Features
Battery: 600mAh
Average Output: 10W
Capacity: 2.0ML
Resistance: 1.2ohm
ETCHIP coil
Delta Extrax
Extrax is a Delta 8 brand that has won awards and boasts one of the most extensive product collections in the industry. In addition to its commitment to quality, the company is recognized for offering creative products that blend legal cannabinoids and natural terpenes in a distinctive manner.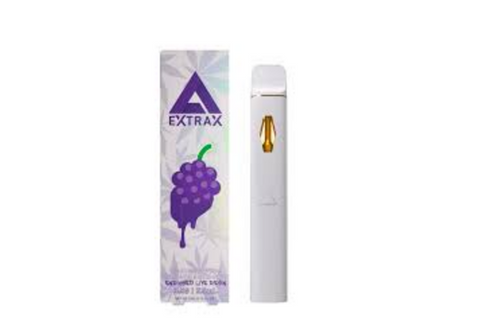 Features
1 gram blend of natural terpenes
Draw-activated
Third-party lab-tested
280 mAh
Rechargeable
3Chi
3Chi is a leading vendor in the Delta-8 (D8) market that is dedicated to researching the potential of hemp-derived cannabinoids to restore balance in the body.
A unique feature of 3Chi's vape pen products is that 9 out of 14 of them are infused with Cannabis Derived Terpenes (CDTs), which are terpenes extracted directly from the Cannabis plant.
CDTs not only provide a more pungent and authentic Cannabis flavor, but they also offer strain-specific psychoactive effects.
Features
Third-party Lab-tested
No PG, MCT, VG, or PEG oil
5% natural terpenes
Free of preservatives or additives
Free of harmful chemicals
Naturally flavored
1ml total Delta 8 THC
FAQs About Weed Pen
How Do I Know If A Weed Pen Disposable Is Safe To Use?
Look for products that have been tested by a third-party laboratory for purity, potency, and contaminants.
How Should I Store My Weed Pen Disposable?
Weed pen disposables should be stored in a cool, dry place away from direct sunlight and heat.
How Much Are Disposable Weed Pens?
Disposable vape pens can be found in many dispensaries and typically cost between $15 to $20. They are available in different brands and flavors that are specific to certain strains.
As they do not have rechargeable batteries, you don't need to worry about the battery running out unless the extract is completely used up, in which case you can simply dispose of the pen.
Do Disposable Vape Pens Contain Weed?
Before purchasing a disposable vape pen, it's important to determine if you prefer a Sativa, indica, or hybrid oil. These pens typically provide cannabis oil that is specific to a particular strain, so it's recommended that you conduct your own research to determine which option is most appropriate for your requirements.
Best Vape Wholesale Supplier-UPENDS
Welcome to the fascinating world of Vape UPENDS, a place where elegance and creativity converge to produce a genuinely exceptional vaping experience. To provide you a vaping experience unlike any other, we painstakingly incorporated cutting-edge technologies with svelte aesthetics and unrelenting attention to detail.
You will get access to a unique selection of products as a member of our select community, which will help you up your vaping game. Our team of professionals is committed to creating equipment that is faultless, lovely, and emanates refinement and magic. We are sure that our exceptional products will captivate you.
Our ultimate objective is to give you an outstanding vaping experience, and we can't wait to embark on an unforgettable journey with you. So take a seat back, unwind, and let us show you why Vape UPENDS is the ideal option for people who just want the best. Join us on this adventure to see why our special blend of creativity, style, and attention to detail is sure to capture your attention.