Are you on the hunt for an epic tank that will take your vaping game to the next level? Well, look no further because we've got the inside scoop on the Zeus Tank! Get ready for a wild ride as we dive deep into this bad boy in our comprehensive review.
From its slick design to its mind-blowing vapor production, we'll be covering it all. Whether you're a cloud chaser or a flavor fanatic, the Zeus Tank has got you covered. So, sit back, relax, and join us on this awesome adventure with the Zeus Tank!
Features of Zeus Tank
The Zeus Tank is packed with features that will blow your mind! Let's start with its innovative quick-change prebuilt coil system, making coil replacements a breeze. Plus, it comes with the top-notch GV mesh coil, delivering intense flavor and impressive vapor production.
But that's not all – the Zeus Tank takes airflow to a whole new level. With its direct top airflow and top-to-bottom airflow design, you'll experience smooth hits and clouds for days. And guess what? It's leak-proof too, so no more messy surprises.
Oh, and did we mention the quick slide coil design? Changing coils has never been easier. And with the updated fill port design, spillage becomes a thing of the past. Say goodbye to dirty hands with the top oil refilling feature.
With the Zeus Tank, convenience is key. The quick slide coil design allows you to swap out coils in a flash, without any complicated manoeuvres. Say goodbye to tedious coil changes and hello to uninterrupted vaping pleasure.
And let's not forget about the updated fill port design. No more worries about e-liquid spills or leaks. The Zeus Tank's clever engineering ensures a spillage-resistant experience, keeping your hands and vape setup clean.
The top oil refilling feature takes it a step further, allowing you to refill your tank without any mess or hassle. Simply pop open the top cap, add your favorite e-liquid, and you're good to go. It's a game-changer for those who value convenience and cleanliness.
Innovation and functionality come together seamlessly in the Zeus Tank, providing you with a vaping experience that's as enjoyable as it is effortless. Get ready to experience the future of vaping with this remarkable tank.
Specifications
Measuring at 26 x 42.5mm (excluding the drip tip), this tank boasts a compact and sleek design that fits perfectly on your favorite mod. With a generous capacity of 5ml (and a spare glass tube option of 3.5ml), you'll have plenty of e-liquid to keep you vaping all day long.
Speaking of the drip tip, the Zeus Tank features an 810-drip tip, ensuring comfortable and satisfying draws. It's the perfect size for those who enjoy a wide bore drip tip experience.
When it comes to refilling, the Zeus Tank keeps things simple with its top-fill design. Just unscrew the top cap, fill up your tank, and you're good to go. No mess, no fuss.
Now, let's talk coils. The Zeus Tank comes with two impressive mesh coils. The Mesh Z1 coil, with a resistance of 0.4ohm, is ideal for wattage settings between 60-70W. For those who prefer a bit more power, the pre-installed Mesh Z2 coil, with a resistance of 0.2ohm, thrives between 70-80W.
Zeus Tank's Compatibility with Different Mods and Devices
The Zeus Tank is designed with versatility in mind, making it compatible with a wide range of mods and vaping devices. Whether you're a seasoned vaper or just starting your vaping journey, you can enjoy the Zeus Tank's exceptional performance on various devices.
This tank features a standard 510 connection, which is the industry standard for attaching tanks to mods. As a result, you can pair the Zeus Tank with a plethora of mods available on the market. It seamlessly integrates with popular mod brands such as SMOK, Vaporesso, GeekVape, Voopoo, and many more.
No matter if you prefer a compact single-battery mod, a dual-battery powerhouse, or even a squonk mod, the Zeus Tank has got you covered. Its compatibility allows you to customize your vaping experience based on your preferences and device capabilities.
So, grab your favorite mod, attach the Zeus Tank with its 510 connections, and get ready for an outstanding vaping experience.
Comparison of the Zeus Tank with Other Popular Tanks
Let's compare the Zeus Tank with two popular tanks in the market to see how it stacks up:
Falcon King Tank
Both the Zeus Tank and the Falcon King Tank are highly regarded for their exceptional performance. The Zeus Tank boasts a quick-change prebuilt coil system, while the Falcon King Tank is renowned for its innovative mesh coil technology. Both tanks deliver remarkable flavor and vapor production, catering to vapers who crave intense and satisfying hits.
In terms of design, the Zeus Tank features top airflow with a leak-proof function, while the Falcon King Tank offers a bottom airflow system. The Zeus Tank's top-fill design and updated fill port provide convenience and spillage resistance, while the Falcon King Tank's push-to-open top cap simplifies refilling.
Valyrian II Tank
The Zeus Tank and the Valyrian II Tank are known for their impressive coil options. The Zeus Tank includes the Mesh Z1 and Mesh Z2 coils, offering wattage ranges of 60-70W and 70-80W respectively. The Valyrian II Tank, on the other hand, offers a variety of coil options with different resistances to cater to different vaping preferences.
When it comes to airflow control, the Zeus Tank features direct top airflow and top-to-bottom airflow, ensuring smooth and satisfying hits. The Valyrian II Tank offers adjustable airflow options to fine-tune your vaping experience.
In terms of compatibility, both the Zeus Tank and the Valyrian II Tank have a standard 510 connection, allowing them to be used with a wide range of mods and devices.
Ultimately, the choice between the Zeus Tank, Falcon King Tank, and Valyrian II Tank comes down to personal preference. Each tank excels in different areas, offering unique features and advantages. Whether you prioritize coil performance, airflow control, or ease of use, all three tanks are popular choices among vapers seeking exceptional flavor and vapor production.
Troubleshooting Common Issues with the Zeus Tank
While the Zeus Tank is known for its outstanding performance, like any vaping device, it may encounter a few common issues. Let's explore some troubleshooting tips to help you address these problems:
Leakage: If you notice leakage from the Zeus Tank, first ensure that all the tank components are properly assembled and tightened. Check the O-rings for any signs of damage or wear and replace them if necessary.
Also, avoid overfilling the tank, as it can lead to leakage. Lastly, make sure the tank is kept upright when not in use to prevent any potential leaks.
Dry Hits or Burnt Taste: Dry hits or a burnt taste can occur if the coil isn't properly saturated with e-liquid. Ensure that you prime your coil adequately before use by adding a few drops of e-liquid onto the exposed cotton areas.
Additionally, avoid vaping at excessively high wattages that can cause the coil to dry out quickly. Regularly checking and replacing worn-out coils will also help maintain optimal flavor.
Flooding or Gurgling: Flooding or gurgling sounds can happen if the tank is overfilled or if there is excess e-liquid in the coil. To address this, try removing the tank from the device and gently blowing through the drip tip into a tissue or paper towel to clear any excess e-liquid. Additionally, ensure that the coil is securely fitted and that the tank is properly sealed to prevent any flooding issues.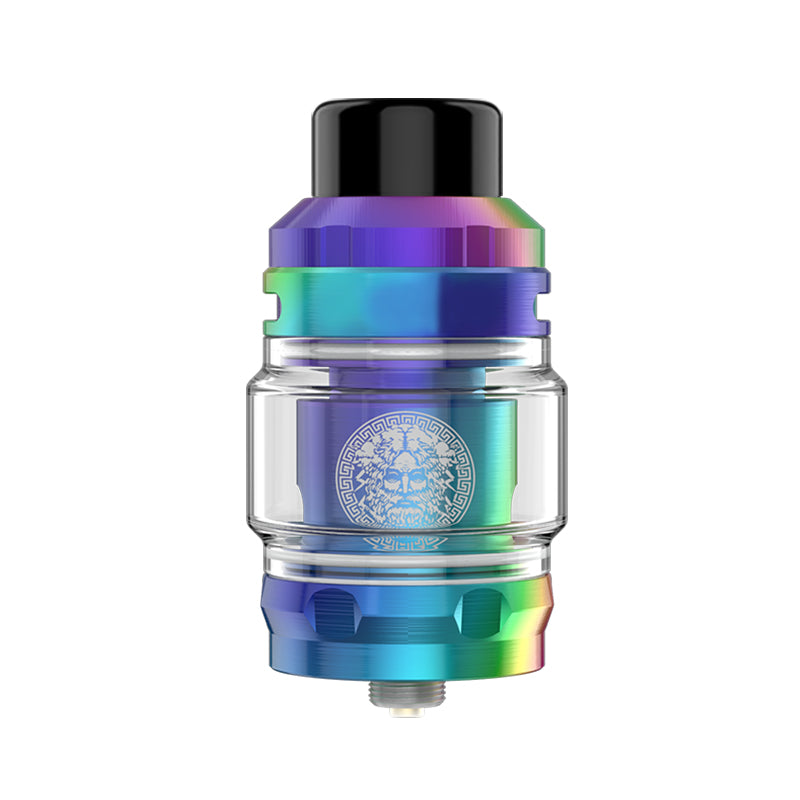 Poor Vapor Production: If you experience reduced vapor production, start by checking the wattage settings on your device. Make sure it's within the recommended range for the installed coil.
If the wattage is too low, try increasing it gradually until you achieve the desired vapor production. Also, verify that the airflow is fully open and adjust it to your preference.
Connection Issues: If you're encountering connection problems between the Zeus Tank and your mod, ensure that the tank's 510 connection is clean and free from any debris. Wiping the connection area with a clean cloth or cotton swab can help establish a secure connection.
Best Wholesale Vape Supplier – UPENDS
Looking for the ultimate wholesale vape supplier that will take your business to the next level? Well, look no further, because UPENDS is here to rock your world!
Let's be real, finding the right vape supplier can be a headache. But UPENDS is a game-changer! They're not your average run-of-the-mill supplier. They bring a unique twist to the table that will make your competitors green with envy.
From their mind-blowing selection of top-quality vape devices to their killer customer support, UPENDS has got it all. They're all about innovation, offering cutting-edge vape products that will make your customers go "wow" with every puff.
But wait, there's more! UPENDS doesn't just stop at providing killer products. They're in it for the long haul, supporting your business with awesome marketing resources and tools to help you succeed. It's like having a secret weapon up your sleeve.
So, if you're ready to take your vape business to new heights, UPENDS is the wholesale vape supplier you've been dreaming of. Get ready to stand out from the crowd, impress your customers, and dominate the vaping scene like a boss. It's time to UP your game with UPENDS!