Paris, the vibrant city of lights and love, is not only famous for its rich history, culture, fashion, and cuisine but has also emerged as a haven for vaping enthusiasts. If you find yourself in the city and are wondering how to buy vapes in Paris, you've come to the right place. In this comprehensive guide, we will provide you with all the information you need to navigate the Paris vape scene and make informed decisions.
Understanding Vaping Laws in Paris
Before delving into where and how to buy vapes in Paris, it's crucial to familiarize yourself with the local laws and regulations governing vaping. France, including Paris, has a relatively liberal approach to vaping compared to some other European countries.
While the use and sale of e-cigarettes and vaping supplies are legal, there are restrictions on advertising, and certain public places have smoking bans that also apply to vaping. It's important to respect these rules and be mindful of where you can vape in public.
Types of Vapes Available in Paris
Paris offers a wide variety of vapes to cater to the diverse needs and preferences of vapers. Whether you're a beginner or an experienced vaper, you'll find something suitable to enhance your vaping experience. The range includes simple disposable devices, as well as more advanced and customizable mods.
Vapes in Paris don't differ significantly from those found in other parts of the world. They come in various shapes, sizes, and designs, depending on their functionality and the manufacturer. Common types include pen-style vapes, pod systems, box mods, and disposables.
Where to Buy Vapes in Paris
If you're looking to purchase vapes in Paris, you have two main options: brick-and-mortar shops and online retailers. Physical stores, often referred to as "vape shops" or "vapor" shops, offer the advantage of allowing you to see and sometimes try the products before making a purchase.
These specialist retailers also provide expert advice to help you choose the right vape for your needs. On the other hand, online retailers offer a wider range of products and often run sales and promotions. They also provide the convenience of shopping from the comfort of your own home.
Here are some popular vape shops in Paris:
Vapostore Paris
Address: 21 Rue des Petits Champs, 75001 Paris
This is one of the most well-known vape shops in Paris. It offers a wide range of e-liquids, vape mods, accessories, and starter kits. The staff is generally knowledgeable and friendly, providing assistance to both beginners and experienced vapers.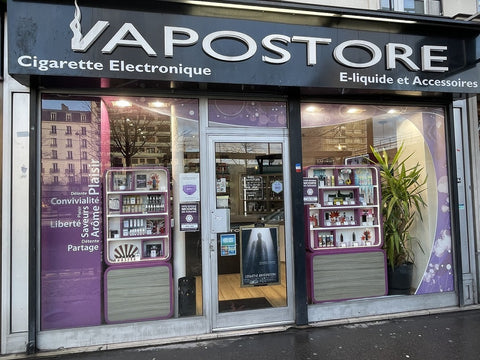 Le Petit Vapoteur
Address: 5 Rue de Dunkerque, 75010 Paris
Le Petit Vapoteur is a reputable online vape shop in France, but they also have a physical store in Paris. They have a comprehensive selection of e-liquids, mods, coils, and DIY supplies. The staff here is known for being particularly helpful and informative.
Vapoter.fr
Address: 24 Rue Saint-Maur, 75011 Paris
Another well-regarded vape shop in Paris, Vapoter.fr offers a broad range of vaping products. They have a diverse selection of e-liquids, including many popular international and local brands.
E-Liquide Shop
Address: 95 Avenue des Gobelins, 75013 Paris
This vape shop is known for its extensive range of e-liquids, catering to various flavor preferences. They also have a good selection of hardware and accessories.
Le Comptoir Vape
Address: 61 Rue de la Chapelle, 75018 Paris
Located in the 18th arrondissement, Le Comptoir Vape offers a diverse selection of e-liquids and vaping hardware. The staff is generally praised for their knowledge and willingness to assist customers.
Vaporesso
Address: 78 Avenue des Gobelins, 75013 Paris
Vaporesso is a well-known brand in the vaping industry, and they have their own retail store in Paris. Apart from their own products, they also carry a selection of other well-known brands.
Choosing Your Vape in Paris
When it comes to choosing the right vape in Paris, it's essential to consider your individual needs, preferences, and budget. Beginners may find simpler devices like pod vapes or disposables more suitable, while experienced vapers may opt for more advanced and customizable devices.
Additionally, Paris offers the opportunity to try vapes from local manufacturers, providing a unique vaping experience. Brands like J Well and Le French Liquide are renowned Parisian companies known for their quality products.
Tips for Buying Vapes in Paris
To ensure a positive vaping experience in Paris, here are some essential tips to keep in mind:
Verify Authenticity: It's crucial to purchase authentic vaping products. Check for authentication codes on the packaging that you can verify on the manufacturer's website.
Check the Warranty: Before making a purchase, inquire about the warranty offered by the brand or retailer. Reputable brands typically provide warranties on their devices.
Respect Public Spaces: While vaping is generally accepted in Paris, it's important to be aware of the designated no-vaping areas. Smoking, including vaping, is prohibited in certain public spaces such as transportation, workplaces, and areas with children. Always respect these rules and be considerate of the people around you.
Keeping Up with Vaping Trends in Paris
Whether you're a resident or a visitor, staying up to date with the latest vaping trends and technology in Paris can enhance your vaping experience. The city's vibrant vaping culture ensures a dynamic market with a constant influx of innovative products.
To stay informed, consider joining local vaping communities or online forums where you can connect with fellow vapers, access reviews and recommendations, and stay updated on product releases, discounts, and vaping events in Paris.
Enjoying the Vaping Experience in Paris
Ultimately, vaping is about enjoyment. Take the time to explore different vapes, e-liquids, and accessories available in Paris. Don't hesitate to seek advice from vape shop staff or fellow vapers to make the most informed choices. Paris, with its liberal approach to vaping, provides a unique opportunity to immerse yourself in the world of vapes and indulge in a satisfying vaping experience.
FAQs About Vapes in Paris
Are vapes common in France?
Yes, vapes are becoming increasingly common in France. According to a 2020 study, the number of daily vapers in France has increased by 20% in the past two years. The study also found that the majority of vapers in France are former smokers who are using e-cigarettes to quit smoking.
Can you smoke vapes in Paris?
The use of e-cigarettes in France is regulated by the same law that regulates smoking cigarettes. This means that you cannot smoke vapes in schools, in closed work spaces, and on public transport. However, the use of e-cigarettes in restaurants and bars remains at the discretion of the establishment's owner.
What are the rules for buying vapes in Paris?
You must be over the age of 18 to buy a vape in France. You can buy vapes from vape shops, tobacco shops, and some supermarkets.
What are the rules for vaping in public in Paris?
You cannot vape in the same places where you cannot smoke cigarettes. This includes schools, closed work spaces, and public transport. You should also check with the establishment before vaping in a restaurant or bar.
Are there any health risks associated with vaping?
The long-term health effects of vaping are still being studied. However, there is some evidence that vaping can cause respiratory problems, such as asthma and bronchitis. Vaping can also contain harmful chemicals, such as nicotine and heavy metals.
About UPENDS Mirror and UpBar GT
UPENDS Mirror is a mod vape that is known for its powerful vapor production. It features a 510 threaded connection and can be used with a variety of tanks and coils. UPENDS Mirror also has a long battery life of up to 2000 puffs.
UpBar GT is a pod system vape that is known for its smooth and flavorful vapor. It comes with a 1.2ohm pod that is designed for MTL vaping. UpBar GT also has a long battery life of up to 800 puffs.
Here is a table comparing the two vapes:
| | | |
| --- | --- | --- |
| Feature | UPENDS Mirror | UpBar GT |
| Type | Mod vape | Pod system vape |
| Battery life | 2000 puffs | 800 puffs |
| Coil resistance | 0.3ohm | 1.2ohm |
| Vaping style | DTL | MTL |
| Flavor | Powerful | Smooth |
Final Verdict
Navigating the world of vaping in Paris can be an exciting and fulfilling experience for enthusiasts and beginners alike. By exploring the diverse range of reputable vape shops in the city, such as Vapostore, Le Petit Vapoteur, and others, you can discover a plethora of high-quality e-liquids, mods, and accessories to suit your preferences.
Remember to always stay informed about local regulations and guidelines regarding vaping, as they may evolve over time. Whether you seek expert advice or a welcoming environment, Paris offers a vibrant vaping community eager to cater to your needs. With this ultimate guide, you're equipped with the knowledge and resources to embark on a satisfying vaping journey in the heart of the City of Lights.