Introducing the perfect fusion of technology and satisfaction - the RTA Vape. Prepare yourself for a harmonious blend of flavor, customization, and convenience in a single device.
Whether you are a seasoned vaper or just starting your vaping journey, the RTA Vape offers an unparalleled experience. Discover the ultimate balance of performance, flavor, and control as you embark on a journey of vaping perfection. Get ready to experience the harmonious blend of RTA Vape.
What Is An RTA?
An RTA refers to a type of atomizer that can be reconstructed and utilizes a tank portion. It includes a platform for building coils and also contains channels for wicking, a connection between the build deck and the atomizer's top cap called a chimney, a tank made of glass or plastic, and a drip tip.
Typically, RTAs have a means of regulating the airflow, commonly in the form of a ring positioned either above or below the tank section. More recent atomizers often incorporate extra airflow adjustment choices that allow users to customize how air flows onto the coils within the build deck to suit their preferences.
How Does An RTA Work?
The operation of an RTA is relatively straightforward. To begin, the user constructs a coil or coils and installs it onto the atomizer's build deck. Once the coil is prepared, it is necessary to add wicking material, usually cotton, by placing the cotton tails into the wicking holes of the build deck.
The tank is then filled with e-liquid, allowing the wicks to soak up the juice as it flows into the wicking channels. During inhalation, air enters the tank through the airflow holes and is directed toward the interior of the build deck. As the air travels towards the chimney, it interacts with the coils and eventually reaches the drip tip.
RTA Vape Options
Dovpo Blotto V1.5 RTA
The Dovpo Blotto V1.5 takes inspiration from both the original Blotto and its single-coil variant. It incorporates a 272-degree airflow system on a versatile deck that supports both single and dual coil builds. However, the deck size is somewhat limited, making it more suitable for single-coil configurations.
The top refilling design, which is dependable, ensures that the risk of leaking is minimized. To refill, you just need to twist the cap to open it, refill the tank, push it back in, and twist it again. Once these steps are completed, you are all set to enjoy an incredible vaping experience. The Blotto V1.5 has a diameter of 26 mm, a juice capacity of 6.4 mL, and is available in three different colors.
Features
272 Degree Airflow
Elevated Metal-Backed Airflow Posts
Strengthened AFC Ring & Base
Dual Diffusion Airflow System
Top Filling System
5ML (TPD Version: 2.0ML) & 6.4ML Capacity
Improved Cotton Well Design
26MM Diameter
Vandy Vape B3 MTL RTA
The most recent RTA to result from the partnership between Vandy Vape and Alex VapersMD is the B3 MTL (Berserker 3). It is a 24 mm RTA that has a 3 mL juice capacity and three airflow inserts for a variety of airflow adjustments. The most adaptable Berserker to date also includes three drip tips and three replacement tank parts!
The Berserker V3 MTL RTA is designed to be user-friendly for both beginners and experienced users, as it can be easily installed and fully disassembled. What's even more convenient is that you can adjust the airflow without the need to disassemble the device, which is a highly valuable feature. The package includes three airflow pipes for customization.
The airflow enters through the bottom airflow inlets, passes through the central airflow pipe, and then reaches the outlet located under the coil, resulting in a delightful flavor experience.
Features
Short Tube Size: 31.5*Φ24mm
Short Tube Capacity: 2ml
Long Tube Size: 43.5*Φ24mm
Long Tube Capacity: 6ml
Includes 2 types of capacity and 3 MTL drip tips
Airflow adjustment without the need for disassembly
Designed for easy installation and full disassembly, suitable for beginners.
Hellvape Fat Rabbit Solo RTA
Hellvape has introduced the Fat Rabbit Solo RTA, incorporating a range of design, performance, and material enhancements. This compact device features a sleek 25mm single coil RTA with a pillarless design, allowing for easier and more convenient coil building. The built-in tank has a 2ml capacity, and its top filling method, achieved by rotating the top cap, minimizes the risk of leakage.
To enhance user comfort, the RTA comes with interchangeable drip nozzles that have an anti-condensation design. The powerful dual-adjustable airflow system combines bottom airflow and side airflow, delivering an elevated flavor experience and producing dense clouds of vapor.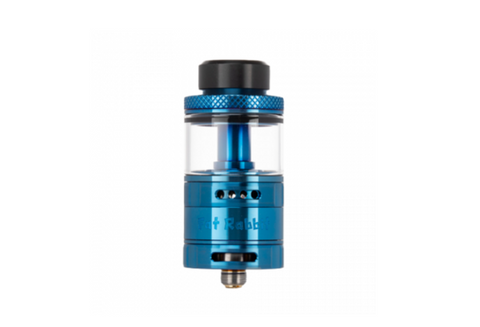 Features
Diameter: 28 mm
Tank Capacity: 5.5mL
Tank material: Pyrex glass for durability
Constructed with high-quality 304 stainless steel
Easy quarter-turn top fill system with dual fill ports
Postless build deck secured with flat head screws on the sides
Compatible with single or dual coil configurations
Insulated with PEEK material for heat resistance
Features a dual airflow control system on the side and bottom
Widebore 810 drip tip for comfortable vaping
Threaded 510 connection for easy attachment to devices
Available in multiple colors: Black, Stainless Steel (SS), Rainbow, Gunmetal, Full Black, Blue, Matte, and SS
Hellvape Fat Rabbit RTA
Given that it has a 28 mm diameter, the newest model in Hellvape's Rabbit line is fittingly called. The Fat Rabbit is a large-buildable 5.5 mL dual-coil RTA with a flat postless deck. It has independent adjustment for the two slots, which provide bottom and side airflow. Available in seven color options.
Features
Dimensions: 28.4*56.4mm
Material: SUS304 stainless steel
Tank Capacity: 5.5ml
Drip Tip: Compatible with 810 drip tips
Coil Options: Supports both single coil and dual coil configurations
Thread Type: 510 connection
Digiflavor TORCH 26mm RTA
The Torch RTA by DigiFlavor is a visually appealing and technologically advanced DL (Direct Lung) self-winding atomizer. It features comfortable 810 mouthpieces, an easy-to-use top cap for filling the 5.5 ml tank, and an airflow design that prevents leaks.
The postless dual coil deck allows for easy coil installation and optimal flavor production. One unique feature is the RGB lighting, which illuminates the tank in various colors based on inhalation intensity, creating a relaxing atmosphere while vaping.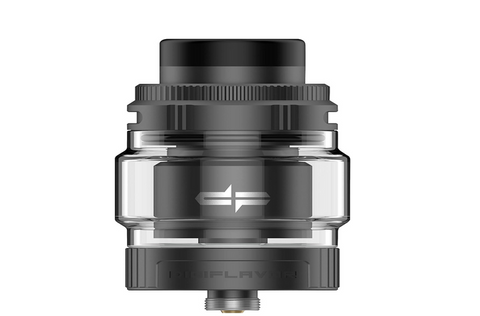 Features
Diameter: 26mm
Liquid Capacity: 5.5ml
Stylish RGB lighting for a disco-like experience
Height: 55mm
Base Diameter: 26mm
Pulling Technology: DL (Direct Lung)
RGB Lighting for added visual appeal
Deck Type: Postless, Dual Coil with a slight elevation
Weight: 60g
Material: Stainless Steel, PCTG
Drip Tip: 810
Positive Pole Pin: 510
Top Fill System for convenient refilling
Top Airflow and Leak-proof design
Box Contents: 1 DigiFlavor Torch RTA, 1 T-Tool, 1 Spare Parts Bag, 2 Coils, 1 810 Drip Tip, 1 5.5ml Glass Tank, 2 Cotton Wicks
Tips And Techniques For Using RTAs
Here are some helpful tips and techniques for using RTAs (Rebuildable Tank Atomizers):
Building Coils: Take your time to build coils accurately, ensuring they are properly positioned and secured on the build deck. Use appropriate wire gauges and coil types based on your preferences and device capabilities.
Wicking: Proper wicking is crucial for RTAs. Use enough cotton to fill the wicking channels, ensuring it's snug but not too tight. Trim the excess cotton to prevent any blockages or leaks.
Priming the Wicks: Before filling the tank, make sure to saturate the wicks with e-liquid. This helps prevent dry hits and promotes better flavor production.
Filling the Tank: When filling the tank, be mindful not to overfill it, as it can lead to leaking. Follow the manufacturer's instructions on where to fill and how much e-liquid to add.
Airflow Adjustment: Experiment with different airflow settings to find your preferred balance between flavor and vapor production. Adjusting the airflow can greatly impact the overall vaping experience.
Maintenance and Cleaning: Regularly clean your RTA to remove any residue, gunk, or leftover e-liquid. Disassemble the atomizer carefully and clean the various components with warm water or a mild cleaning solution.
Troubleshooting Leaks: If you experience leaking, double-check your wicking method and ensure the tank is properly sealed. Also, check for any damaged o-rings or loose connections that could be causing the issue.
Experimentation: Don't be afraid to try different coil builds, wicking techniques, and e-liquid flavors to find your perfect setup. RTAs offer great flexibility, allowing you to personalize your vaping experience.
Remember, it's essential to read the user manual and follow the manufacturer's guidelines specific to your RTA model.
Best Vape Wholesale Supplier-UPENDS
Discover the wonderful world of Vape UPENDS, where innovation and fashion meld together beautifully. Join our community and discover special deals designed to enhance your vaping pleasure. Our team of talented artisans is dedicated to creating flawless and captivating vaping products that will astound your senses. 
At Vape UPENDS, we strive to provide you with an unforgettable vaping experience, where creativity, fashion, and awe combine to leave you enthralled. Immerse yourself in a world of exceptional craftsmanship and indulge in the best vaping has to offer. Join us on this life-changing journey and prepare to be amazed by the remarkable encounters that await.