In the ever-evolving landscape of vaping, one flavor has emerged as a true standout among enthusiasts – Elf Blueberry Signature Vape Products. Offering a vaping experience that is both captivating and extraordinary, Elf Blueberry takes users on a journey through the tantalizing world of blueberry flavors. From the first inhale to the lingering aftertaste, this article explores the essence of Elf Blueberry and why it has become a beloved choice among users worldwide.
Elf Blueberry Characteristics
A Burst of Flavor
The Elf Blueberry Signature Vape Products boast a distinctive blueberry flavor that captures the essence of this beloved fruit. From the very first inhale, users are greeted with a burst of sweet and tangy notes, delivering an authentic and mouth-watering blueberry taste. This exceptional flavor profile sets Elf Blueberry apart, making it a go-to choice for users seeking a truly enjoyable vaping experience.
Premium Quality Ingredients
Elf Blueberry Signature Vape Products are crafted using only the finest ingredients, ensuring a premium vaping experience. The e-liquids are meticulously formulated with high-quality blueberry flavor extracts, resulting in an authentic taste that lingers on the palate. The dedication to quality is evident in every puff, providing users with a smooth and satisfying vaping session.
Diverse Range of Options
Elf Blueberry offers a diverse range of vape products to cater to different preferences. Whether you prefer traditional vape pens, pod systems, or even disposable devices, there is an Elf Blueberry option to suit your needs. This variety allows users to explore the blueberry flavor across different vaping devices, ensuring a personalized and enjoyable experience.
Nicotine Strength for Every Vaper
Understanding that users have varying nicotine preferences, Elf Blueberry Signature Vape Products come in different nicotine strengths. From nicotine-free options for those who enjoy the flavor without the nicotine hit, to higher nicotine levels for those seeking a stronger sensation, Elf Blueberry ensures there is an option for every vaper's desired nicotine experience.
Elf Blueberry Vape Products
BLUEBERRY ELF BAR DISPOSABLE VAPE
The Blueberry Elf Bar disposable vape kit is designed to be small and easy to use, providing a more seamless vaping experience. With ample e-liquid and a powerful battery, each bar lasts longer than 20 traditional cigarettes, all while being more cost-effective.
It eliminates the need for maintenance tasks like refilling and recharging, offering a genuinely hassle-free vaping experience that requires no additional setup. Additionally, it comes in various flavors, ensuring that there is a suitable Elf option for most users.
The Elf Bar is specifically crafted to replicate the sensation of inhaling from a traditional cigarette, delivering a modest amount of vapor suitable for Mouth to Lung (MTL) vaping. To enhance the overall experience and make it feel more authentic, the Elf Bar utilizes inhale activation, eliminating the need for buttons or complex menu systems.
The Elf Bar disposable range offers an extensive selection of flavors, encompassing fruit, menthol, tobacco, and candy blends. The Blueberry variant falls within the milder spectrum of these blends. On inhalation and exhalation, you'll detect a delightful hint of sweetness from the berry, providing an authentic and succulent taste experience.
Features
Compact Disposable Kit
Beginner-Friendly
600 Puff
Draw Activated
20mg Nic Salt
0mg (Nicotine-Free)
Smooth Throat Hit
BLUEBERRY ENERGIZE EB BC5000
The Elf Bar 5000 Blueberry Energize vape is a disposable vape pen that combines the flavors of blueberry, making it an excellent choice for those who enjoy either of these flavors. Whether you prefer the taste of blueberry or the invigorating kick of an energy drink, this disposable vape offers a satisfying option for your all-day vaping needs. It is particularly suitable for individuals who are new to vaping and looking to transition smoothly.
If you're in search of a convenient and flavorful disposable vape, the Elf Bar BC 5000 Blueberry Energize is the ideal solution. This disposable vape comes pre-filled with 13 ml of e-juice, boasting a nicotine strength of 5%. It offers a delightful vaping experience without the need for refilling or charging. With approximately 5000 puffs available per device, it is a fantastic option for users who are constantly on the move and desire a hassle-free vaping experience.
Indulge in the exclusive taste of the limited edition BC 5000 Blueberry Energize Disposable Vape by EB Design (Elf Bar). This disposable vape offers a delectable combination of sweet and tangy blueberry flavors, enhanced by a cool sensation upon exhaling. Immerse yourself in a refreshing and gratifying vaping session with this unique flavor.
Features
650mAh Built-in Battery
Rechargeable
Efficiently and reliably delivers consistent power and flavor
13 ml E-liquid juice
5% Nicotine Level
5000 Puffs
Size: 79mm x 41mm x 19mm
gradual pattern, Ergonomic mouthpiece, streamlined appearance, and silk-like toughness.
Ingredients: Vegetable Glycerin, Propylene glycol, nicotine, natural & artificial flavors
100% Authentic
Elf Bar Lux Blueberry Flavor 1500
The Elf Bar Lux 1500 Disposable Pod Device is a visually appealing and unique vape device with attractive patterns. It has a powerful 850mAh battery, allowing for a maximum of 1500 puffs. With its 2ml prefilled juice containing 2% nicotine, the Elf Bar Lux 1500 is undoubtedly an excellent option for a disposable pod. Simply acquire the Elf Bar Lux 1500 disposable device and savor the delightful flavor it offers.
Features
1500 trains
2%, 5% Nic salt
1800 Puffs
850 mAh Battery Capacity
8 ml E-liquid Capacity
16 Flavors
ELF BAR TE5000 – BLUEBERRY ICE 5%
The Elf Bar TE5000 disposable vape pen provides approximately 5000 puffs and incorporates various impressive attributes. It includes a rechargeable USB-C 650mAh battery, a mesh coil that enhances the flavor, and an e-liquid capacity of 13.5ml with a nicotine strength of 20mg. The device is designed to be draw-activated and features cute and compact rounded corners, as well as a comfortable mouthpiece, ensuring ease and comfort during usage.
One of the notable highlights of the Elf Bar TE5000 is its distinct transparent cover, which allows the battery and e-liquid reservoir to be visible. Additionally, it boasts an extremely Silence Function Design, along with specially engineered airflow that renders the inhalation process virtually noiseless. Despite its compact size, the Elf Bar TE5000 is a potent disposable vape that presents an excellent option for users seeking a convenient, silent, and flavorsome vaping experience.
Features
5000 Puffs
5ml of E-liquid
20 mg Salt Nicotine
650mAh Battery Capacity
TYPE-C charger
Mesh Coil
Amazing Flavor
Auto Draw Activated
Silent operation feature
Unique Transparent Cover
CARTRIDGES ELFA - BLUEBERRY
The Elfa replacement cartridge is designed to simplify your life by enabling you to change e-liquid quickly. It serves as a substitute for a cartridge that has run out of e-liquid. The Elfa cartridge is already filled with 20 mg/ml of nicotine salts in a delightful Blueberry flavor. Its mesh coil is integrated, eliminating the need for coil replacement.
With a capacity of 2 ml, this cartridge offers a tight draw suitable for Mouth-to-Lung (MTL) vaping, providing sensations similar to those of a traditional cigarette. Moreover, the nicotine salts in the cartridge ensure an ample nicotine supply, preventing relapse into cigarette smoking, while delivering a smooth throat hit.
Blueberry Ice Elfbar 2500 Puffs 
The Elf Bar Crystal 2500 is an elegant pre-filled disposable pod kit that features a sleek and slim design. It consists of a 1000mAh battery and a 2ml prefilled pod, allowing for a maximum of 2500 puffs.
The precise airflow mechanism, combined with an optimal voltage output, ensures a satisfying flavor experience. With a nicotine strength of 2% and quick draw activation, the Elf Bar Crystal 2500 is an excellent option for your everyday vaping needs.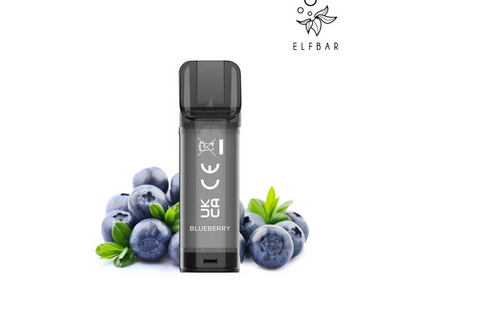 Features
2ml E-juice capacity
2% Nicotine strength
1000mAh Battery
2500 Puffs

Best Vape Wholesale Supplier-UPENDS
Explore the alluring world of Vape UPENDS, where innovation and flair meld together to invite you to go on an exciting vaping trip. We cordially invite you to become a part of our community, where a wealth of exclusive offers awaits to make your vaping experience truly delightful.
We at Vape UPENDS are really proud of our cutting-edge inventions, elegant designs, and careful attention to detail. Our group of talented artisans puts their all into creating flawless, breathtaking products that will captivate your senses. Every time you breathe in, we work to arouse your sophisticated taste buds while creating a sense of enchantment that will leave you in awe of the incredible moments we have planned for you.
We are thrilled to start this life-changing journey together with the ultimate goal of giving you an extraordinary vaping experience. Allow us to show you why Vape UPENDS is the top option for discerning clients who demand nothing less than perfection as you take a minute to relax. Get ready to immerse yourself in a universe where inspiration, style, and sheer wonder perfectly converge to provide an encounter that will fascinate you and leave you wanting more.