We are thrilled to explore a groundbreaking trend in the vaping industry: disposable vapes. These innovative devices have been making waves and reshaping the way vaping is perceived.
In the past, disposable vapes were met with skepticism by devout vaping enthusiasts. However, they have proven to be a game-changer for thousands of former smokers and newcomers to vaping.
Disposable vapes offer a hassle-free way to dip your toes into the vaping world without the commitment of investing in an expensive device and vape juice.
With disposable vapes, there's no need to fret over wattage, VG/PG ratios, ohmage, or coil changes – all the technical aspects that experienced vapers are well-acquainted with. Alternatively, you have the option of acquiring a disposable vape, where you can effortlessly eliminate the rubber seals, commencing your puffing session until the vapor gradually diminishes. Once it is fully consumed, disposing of it becomes a hassle-free task.
Convenience is the name of the game with disposable vapes. These pre-filled and pre-charged devices provide a seamless experience, perfect for any occasion where smoking is less desirable.
Today, we present our roundup of the seven best disposable vape pens available. Each of these remarkable devices possesses unique qualities that set them apart, catering to different preferences and ensuring you find the ideal disposable vape for your needs. So, read on as we uncover these outstanding options and discover the perfect disposable vape for you.
Popular Disposable Vape Brands
Elf Bar Lost Mary BM600
The Lost Mary BM600 Nic Salt Disposable Vape is another game-changer from Elf Bar. It's evident that they have invested considerable thought into improving their already exceptional range of disposable vapes, and The Lost Mary showcases their innovative design approach.
Featuring a new box design, the Lost Mary boasts rounded edges that make it incredibly comfortable to hold. Despite being slightly bulkier than pen-style disposables, it remains slim enough to easily fit in pockets or purses.
Equipped with an internal battery capacity of 550mAh, the Lost Mary offers an impressive average of around 600 puffs before needing to be replaced. This makes it a suitable choice for all-day vaping without worrying about running out of battery life.
Elf Bar continues to deliver a wide range of delightful flavors with the Lost Mary BM600, offering a selection of 12 fantastic fruity options.
Features
600 puffs
550mAh built-in battery
Ultra-compact design
Draw activated design
2ml Pre-filled e-liquid
2% nic salt
Pros
Ergonomic and comfortable design for a pleasant vaping experience
Long-lasting battery that provides extended usage without frequent recharging
An extensive range of flavors is available, offering a wide variety of enjoyable taste options
Cons
Non-rechargeable design
Somewhat bulky
Innokin Ifrit Flow
Innokin, renowned for their reliable and user-friendly starter kits like the T18-II and the T22 Pro, has ventured into the realm of disposables, and they have truly delivered a remarkable product.
Featuring a pre-charged 450mAh battery, the Innokin Ifrit Flow ensures several days of satisfying vaping, offering up to 600 puffs per unit.
The Ifrit Flow comes pre-filled with 2ml of 20mg nicotine salt vape juice, available in eight distinct fruity flavors ranging from Cherry Lemonade to Sour Berries. While there may not be options for cream enthusiasts, fruit lovers will find plenty of choices to suit their preferences.
Innokin's expertise in design is evident in the sturdy construction of the Ifrit Flow, surpassing the durability of most disposable vapes. This serves as a testament to Innokin's extensive experience in the field of product design.
Features
450mAh battery
600 puffs
2ml Pre-filled eliquid
2% nic salt
Upends UpBar GT
The UpBar GT is a sleek vaping device that exudes elegance, drawing inspiration from the sleek design of high-end sports cars. Its slender and polished body, adorned with captivating lines and intricate details, presents a visually striking aesthetic.
The UpBar GT pods are designed to hold 2ml of e-liquid and are pre-filled with 20mg of nicotine. Equipped with a mesh coil, these pods deliver a satisfying vaping experience and can offer approximately 600 puffs before needing to be replaced. The UPENDS UpBar GT is available in a diverse range of flavors, catering to different preferences and providing ample options for users to enjoy.
Features
2% Nic Salt
2 ml e-liquid
400mAh battery
600 puffs
E-liquid ratio: 50PG/ 50VG
Coil: 1.4ohm mesh
Elf Bar NC600
Elf Bar has taken a step further in enhancing their disposable vape design with the introduction of the NC600!
The NC600 boasts an upgraded battery capacity of 400mAh, providing approximately 600 satisfying puffs! It comes pre-filled with 2ml of 20mg nicotine salt vape liquid, featuring Elf Bar's renowned and flavorful vape juice blends.
With a wide range of flavors available, ranging from the delightful Vanilla Yoghurt to the invigorating Grape Energy, there's a delectable option to suit every individual aiming to reduce their smoke intake.
The Elf Bar NC600 operates solely on auto-draw, eliminating the need for any cumbersome button pressing and ensuring a seamless vaping experience.
Features
Non-rechargeable
400mAh built-in battery
2ml Pre-filled Ejuice
20mg nic salt
600 puffs
Breath activated
Best for MTL vaping
Pros
Sleek and slim design for a streamlined appearance
Lightweight construction, perfect for on-the-go vaping
Draw-activated functionality, eliminating the need for buttons
Cons
Limited to a variety of fruity and yogurt-inspired options
Nasty Juice Nasty Fix 2
Nasty Fix disposable vapes have made a powerful entry into the disposable vape market, showcasing impressive confidence and a robust pen design that surpasses many others in the field.
Featuring popular flavors from Nasty Juice such as Cushman, Asap Grape, and Bloody Berry, Nasty Fix disposable vapes offer a wider range of options in strengths of 10mg and 20mg compared to typical disposable pens.
With an astonishing 700mAh battery capacity, each unit delivers approximately 675 puffs, surpassing the battery power of some vape kits. Additionally, the inclusion of airflow control allows for a seamless transition between mouth-to-lung and restricted-direct-lung vaping styles.
The Nasty Fix range stands out as one of the most remarkable lines of disposable vapes we have encountered, leaving us eagerly anticipating the future of disposable vape pens.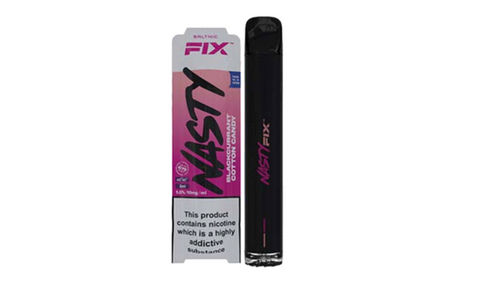 Features
Compact, light, and beginner-friendly vape
675 puffs
2ml pre-filled e-juice
20mg nicotine strength
700mAh Built-in battery
Airflow adjustment
delicious flavors
Pros
Adjustable airflow system for a personalized vaping experience
Generous battery capacity for extended usage
Wide selection of popular Nasty Juice flavors
Cons
Specifically tailored for enthusiasts of sweet flavors
Geekvape Geek Bar S600
Geekvape continues to receive overwhelmingly positive feedback for its disposable vape technology, and its latest release is set to leave a lasting impression!
The Geek Bar S600 showcases a complete redesign, transforming the vape into a delightful and lightweight slab of colorful delight, featuring an enhanced mouthpiece for added comfort.
With a generous 2ml pre-filled capacity, the S600 is loaded with 20 mg nicotine salt vape juice, available in a wide range of enticing flavors. From the invigorating Kiwi Geekbull to the tangy enjoyment of Blue Razz, there's a flavor to suit every taste preference. The 500mAh battery ensures a satisfying experience, capable of delivering up to 600 enjoyable puffs, providing relief for multiple days.
Features
500mAh Pre-charged built-in battery
Breath activated
600 puffs
2ml Pre-filled eliquid
20mg nic salt
Best for MTL vaping
Pros
A design that is small and portable is ideal for vaping when traveling.
The 500mAh battery offers a substantial capacity for longer usage
for a smoother and more enjoyable vaping experience, with nicotine salts added.
Cons
Limited to a variety of fruity and drink-inspired options
FAQs
What flavors are available in disposable vapes?
There are many flavors of disposable vapes. Popular options include tobacco, menthol, fruit, dessert, and beverage flavors. The flavor options vary depending on the brand and product.
Best Vape Wholesale Supplier-UPENDS
Embark on an enchanting exploration into the captivating universe of Vape UPENDS, where the realms of innovation and style harmoniously merge. Brace yourself for an unforgettable voyage through the world of vaping that awaits you. We extend a warm and heartfelt invitation to join our esteemed community, where an array of exclusive offers have been tailored to elevate your vaping experience to new heights of delight. 
At Vape UPENDS, we derive great joy from our cutting-edge innovations, refined designs, and meticulous attention to detail. Our team of gifted artisans pours their passion and expertise into crafting flawless and extraordinary creations that will mesmerize your senses. Every inhale is meticulously crafted to tantalize your discerning taste buds, while kindling a sense of wonder that will leave you spellbound, yearning for the enchanting encounters that lie ahead.
Our utmost aim is to provide you with a remarkable vaping experience, and we eagerly anticipate embarking on this life-changing journey with you. So take a moment to unwind and allow us to unveil why Vape UPENDS stands as the preferred choice for sophisticated customers who demand nothing less than perfection. Prepare to immerse yourself in a world where boundless creativity, fashion-forward elegance, and sheer awe converge, weaving an experience that will captivate your every sense and leave you craving for more.