The vaping industry is evolving and every week a new device with some modifications hits the market. When it comes to disposable vapes, salt nic disposable vape pens are gaining immense popularity. In the next few paragraphs, we will discuss salt nic disposables and some of the best options available.
What is Salt Nic?
Nicotine Salts (or Nic Salt) is a type of naturally forming nicotine that is formed from nicotine and an acid. A nicotine base and a weak acid is used to form a nicotine salt. They are found naturally in tobacco leaves and when blended with e-liquids it becomes more potent. It is the most efficient way to deliver nicotine and comes in a huge variety of strength options.
The creation of nicotine salt involves the strategic infusion of specific acids to freebase nicotine. This helps to reduce the PH level of the solution, resulting in less throat irritation. The process of creating nic salt reduces the throat hit and provides a smooth vaping experience. Even the higher nicotine strengths provide a smooth throat hit.
Nicotine salts are less harsh and also more tolerable compared to nicotine salts in aerosol form. Conventional or freebase nicotine is extracted in its purest form and has a higher PH. It delivers an extremely strong throat hit and that's why it is blended with weak acids, allowing quick absorption and a smooth throat hit.
What Are Salt Nic Disposable Vapes?
There are a few different types of nicotine that you can use in disposable vapes. Salt nicotine vape juice is one of the most popular choices and is liked by the vaping community. It is the same as regular vape juice with the only difference being that it is infused with nicotine salt. This makes the nic salt disposable vapes a lot more potent than disposables containing regular e-juice.
Though disposable vapes have been popular for a few years, salt nic disposable vapes have emerged to be the topmost contenders in the market. Today, a lot of companies are coming up with a wide range of options and a huge variety of nicotine strengths.
Let's talk more about it…
Benefits of Nic Salt E-Liquids
Nic Salt e-liquids are becoming more and more popular, and here's why…
Absorbs quickly and delivers more potent e-liquid
Provides a stronger nicotine hit
Provides mild throat hit with no irritation.
A variety of nicotine strength options are available
Provides bold and complex flavors
Enters the blood system faster than traditional freebase nicotine
Lasts longer compared to its freebase counterpart
Can be used by anyone, beginners or experienced vapers
5 Most Sought-After Salt Nic Disposable Vapes?
Elf Bar BC5000
This is the most popular salt nic disposable vape and for a reason. The Elf Bar BC5000 is a high-performing disposable vape that comes with 5% nicotine juice. This vape pen has quickly become one of the most sought-after vapes in the market. It features a 650 mAh battery and a whopping 15mL of 50 mg nicotine salt juice. The device is designed to provide approximately 5,000 puffs and is available in more than 55 flavors.
Air Bar Box
The Air Bar Box is another popular salt nic disposable vape pen that comes in 5% nicotine strength. It features 14mL of e-liquid capacity and provides more than 5000 puffs. The disposable vape comes in more than 20 flavors, all available in different nicotine straightens like 2%, 3%, and 5%. This Salt nic disposable vape pen comes with a rechargeable 650 mAh battery that can be charged through a Type-C charger.
Zovoo DRAGBAR B5000
This salt nic disposable comes in 5% nic salt and comes in more than 10 different flavors. This is a cute and compact vape device that provides up to 5,000 puffs. It features a crystal mouthpiece and is powered by a 500 mAh battery. It is available in different nicotine strengths, including 0mg, 20mg, and 50mg. Moreover, the disposable vape pen has a 13mL e-liquid capacity and can be charged via a quality-assured wall charger.
Hyde Mag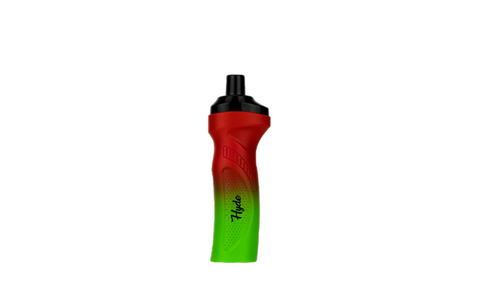 A salt nic disposable that is known for its unique shape, the Hyde Mag comes with 5% nicotine strength. It is a puff disposable vape that provides up to 4500 puffs and is available in 24 flavors. The ergonomic form factor adds to its popularity and it comes pre-filled with 10mL of vape juice. The device is powered by a 500mAh rechargeable battery. This disposable vape is ideal for both beginners and experienced vapers.
Flum Pebble 6000
The Flum Pebble by Float is a long-lasting salt nic disposable vape that is available in a huge variety of flavors. It is available in 33 different flavor options and comes with a rechargeable 600 mAh battery. The device has a 14mL e-liquid capacity of 5% nicotine salt and provides around 6000 puffs. It is a great device for anyone looking for a long-lasting disposable vape.
FAQs About Salt Nic Disposable Vapes
Why should I buy a salt nic-disposable vape pen?
Salt nic disposable vape pens offer a strong yet smooth throat hit and an excellent alternative for consuming nicotine. They contain nicotine salts as their base and provide a stronger nicotine hit.
How much nic salt is in a disposable vape?
The most common salt nic disposable vapes are available in 2%, 3%, and 5% nicotine strengths. The 2% strength is most popular among frequent smokers who are looking to reduce their intake.
Does salt nic disposable vapes produce more vapor?
Nic salts don't produce much vapor but provide a strong throat hit. They work best with low-powered kits as devices with a higher wattage may burn the coils.
How many cigarettes are there in 20 mg of nic salt?
A 20mg salt nic disposable vape is equivalent to approximately 20 cigarettes. This is one of the biggest reasons that people are shifting from traditional cigarettes to e-cigarettes.
Is consuming nicotine safe?
Nicotine is a toxic substance which is not good for your health. It may raise your blood pressure and also spike your adrenaline. Moreover, nicotine is addictive.
How much nicotine per day is safe?
Although there is nothing like safe nicotine or safe vaping, the total intake should be no more than six milligrams. It translates to about 1 percent of the dose that a pack contains.
3 Best Disposable Vape Options
Here are some other popular options that you may consider
UPENDS MIRROR: One of the best-designed disposable vapes that comes in a mirror-like design. It comes with a whopping 10mL e-liquid capacity and is available in many different flavors. It features a sleek finish and comes with an A-grade 500mAh battery that can be recharged via Type-C.
UPBAR GT: Again a popular disposable vape pen that is inspired by a sports car and comes with a 2mL e-liquid capacity. It features the next-level Fresor technology and an excellent mesh coil heating structure. The main highlight of this device is its visible transparent e-liquid cartridge.
UPBAR NANO: One of the tiniest disposable vape pens available on the market, the Upbar NANO provides a convenient option for on-the-go vaping. It comes with a 2mL e-liquid capacity and provides around 600 puffs. The device is available in many different flavors and comes with a pure transparent e-liquid chamber.
UPENDS: Your One-Stop Shop for Wholesale Vape Products
Welcome to a leading wholesale vape shop!
If you're looking for premium-quality salt nic disposable vapes, UPENDS could be the right platform to explore. Here you will find a huge variety of disposable vapes and other vape devices like pods and pod mods at an affordable price. We provide the best products at the best price followed by remarkable customer service.
We at UPENDS aim to offer the highest quality products and a memorable vaping experience. Our goal is to improve the way you vape and help everyone who wants to make the switch from cigarettes to vape. This is the reason we follow an automatic manufacturing process and test all our products for quality and impurities.
We are constantly on the lookout to bring the most innovative products and keep our customers happy. Started as a small vape store, we have successfully achieved many milestones by delivering smiles all across the world. We are proud of ourselves that we have been able to provide customer-oriented products.
Currently, we are planning to expand our operations and reach a wider audience. For this, we are looking for vape distributors and agents at different locations. If you are passionate about the vaping industry and willing to join us in our journey, we welcome you onboard.
Contact our team to learn more about this opportunity…