Have you ever felt left out of the vaping experience because you are avoiding nicotine addiction? Or are you looking for a safer and healthier vaping option and have not found any? You have reached your final stop with Ripple Vape. Aside from the fact that Ripple Vape contains zero nicotine, it comes in sleek designs that allows you to vape on-the-go. Another amazing fact is that it is user-friendly and comes in amazing flavors that would leave you craving for more. In this review, we'll delve into the key features, performance, and overall user experience of Ripple Vape devices.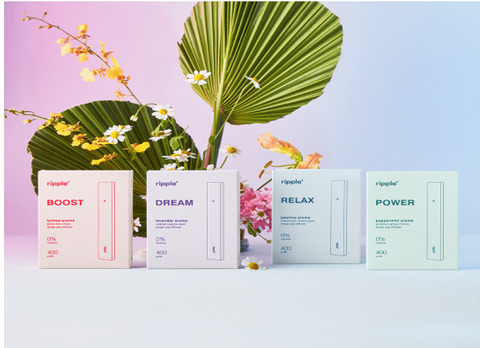 What is Ripple Vape?
Ripple Vape is a product of the Ripple+ vaping company that specializes in plant-powered vapes. The company is family-run and started by siblings who wanted to make a difference in the vaping industry.  The goal was to guarantee vapers with healthier vaping options without exposing them to the dangers of nicotine and other harmful chemicals. Hence, the Ripple Vape, which has zero traces of nicotine in it.
Aside from the fact that the Ripple Vape does not contain nicotine, it also relies on powered-plant puffs for its flavors, providing vapers with healthier soothing flavor and relaxation effects. If you are one who wants to explore the vaping industry but you're bothered about nicotine chemicals and other harmful chemicals, Ripple Vape is your best choice.
General Features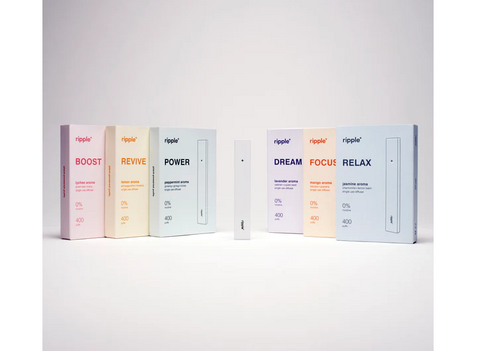 Nicotine Concentration
Unlike many disposable rechargeable vapes out there, Ripple Vape stands out as it contains zero nicotine concentration.  The Ripple Vape is a very healthy choice for people who are trying to reduce their dependence on nicotine vapes but still want to vape. The fact that Ripple Vape does not contain nicotine doesn't mean that it doesn't offer quality vaping experience. The vaping experience you would get from this device is second to none.
Battery
The Ripple Vape device, both the starter kit and pod kit are rechargeable. The battery capacity is durable and can offer you over 10 hours of vaping session before needing to recharge the battery. The Ripple Vape device comes with a fast charging USB type C cable which allows you to charge conveniently and saves you from the hassle of having to purchase a USB cord for your Vape.
Pod System
Ripple Vape devices use a pod system, making them convenient to use and maintain. The pod system allows for easy and quick refilling or replacement of pods, ensuring a hassle-free vaping experience. Each pod replacement comes in different flavors, so you're blessed with a variety of flavor options to enjoy.
Flavors
One would be curious as to how a nicotine free vape would taste. The Ripple Vape, being a nicotine Vape, did not compromise on its flavors. Each puff is loaded with a delectable array of rich flavors. Just as the name implies, each puff produces a ripple effect of incredible taste, leaving you anticipating the next puff. The Ripple Vape brand flavors are categorized into four aromas which include Relax Aroma, Detox Aroma, Happy Aroma, Power Aroma. These aromas are purely plant based and offer amazing sensations.
Design
Ripple Vape devices are designed to be sleek and lightweight, making them easy to carry and convenient for on-the-go vaping. No one wants to trade convenience for vaping, Ripple Vape offers the convenience you need with a sleek design to go with it. The device is also draw activated, so whether you are an experienced vaper or a beginner, this vape device is an excellent choice for you.
Relevant Youtube Videos on Ripple Vape
Review: Is Ripple Vape Good?
Ripple Vape
One of the standout features of Ripple Vape devices is their portability. You can easily slip them into your pocket or bag without any hassle. When it comes to battery capacity, Ripple Vape devices can last up to 10 hours before needing to be recharged. Another cool fact about Ripple vape is that it comes with an automated firing system such as the draw activated system. This eliminates the need for buttons and the issues pertaining to them.
It also includes protections against overcharging or over-discharging. This safety measure ensures peace of mind while using Ripple Vape devices. With its stylish design and a variety of color options, Ripple Vape devices not only provide an excellent vaping experience but also offer an aesthetic appeal. You are certain that Ripple vape would reflect your personal style and preferences.
Features
Nicotine Concentration: 0%
Puff Count: 500 puffs
Battery duration: 10 hours
Battery type: Rechargeable
USB: Type-C fast charging cord
Flavors: 4 categories ranging from jasmine effects to minty fresh effects.
Pros
A healthier vaping option
Soothing flavors
Zero Nicotine concentration
Sleek and elegant design
Rechargeable and disposable
Cons
Does not contain nicotine for nicotine vape lovers
Rise Vape
This is another healthy vape option for vapers who are trying to stay away from nicotine. The only thing is that this vape product contains caffeine. Despite this fact, this vape stands out amongst the list of healthy vapes out in the market. If you are a caffeine lover, this vape stands a chance of competing with your cup of coffee, as it offers all and more. The Rise vape is a disposable device with a simple design. It is designed for a limited lifespan, due to its disposable nature. It delivers around 400 puffs with a recommended 10 to 15 puffs per day to avoid heavy dependence on caffeine.
As a disposable option, it is not intended to be reusable or refillable. Once the liquid tank is depleted or the battery is drained, the device should be discarded. The Rise vape is made with plastic material and does not boast any notable features aside from its pink color. It is lightweight and is your best option for a caffeinated vape experience.
Features
Material: Plastic
Nicotine Concentration: 0%
Battery Capacity: 400 puffs
Caffeine Strength: approximately 40 mg in one vape
Flavors: Comes in 5 frosty flavors
Pros
Effective caffeine delivery
Zero Nicotine concentration
Delectable taste and wonderful flavors
Easy-to-use
Draw activated firing system
Disposable
Portable pocket-friendly design
Cons
It doesn't have a wide variety of flavors
The caffeine concentration is not strong enough for people that heavily depend on caffeine.
Frequently Asked Questions (FAQs)
Is Ripple Vape safe for kids?
No Vape is safe for minors. Vaping was manufactured for adults and not for children. You have to be of a legal age before you can be allowed to Vape. The fact that Ripple Vape does not contain nicotine doesn't mean that kids or minors in general can use them.
Are Ripple Vapes Addictive?
No, they are not. Ripple Vapes are completely healthy vapes that are nicotine free and come in amazing flavors to soothe your taste buds. If you are worried about getting premium vaping experience despite the absence of nicotine, this is not an issue. The Ripple vape offers standard and ranks amongst one of the healthy vapes in the market.
Is Ripple+ Vape Good?
There has been a lot of conspiracies as to whether this particular vape is good or not. Some people might feel that it isn't as good because it doesn't include nicotine, even though many girls vape without nicotine. Some people also think nicotine is bad, yet the most recent studies show nicotine is good for your health, can stimulate your nerves, and can speed up your metabolism. However the case may be, Ripple Vape is absolutely very good and harmless at the same time.
Can I inhale Ripple+ Vape?
While it's not advisable to inhale nicotine, some variants of Ripple+ Vapes may be safe to inhale since they do not contain nicotine. However, to be on the safe side, do not inhale. Ensure that you also consult the product label or manufacturer for precise directions on how to use the product.
Are there any side effects of Ripple vape?
Ripple Vapes are healthier and better for those trying to stop smoking than other vapes that contain nicotine salt. However, there could be negative effects, including throat and lung discomfort, coughing, and other respiratory problems, just like with any vaping product. Use exactly as instructed by the manufacturer, and if any negative effects occur, visit a doctor immediately.
Best vape wholesale supplier- UPENDS
How can you ensure that you're getting only the right vaping products that guarantee your safety during usage? It starts with buying from a remarkable retailer that specializes in providing high-quality vaping products at affordable prices. UPENDS is a leading distributor of vape products with an impressive catalog that reveals the highest standards of excellence.
One of the best ways to enjoy an unforgettable vaping experience is with top-notch products like Mirror gotten from an excellent retailer. Mirror is an UPENDS disposable vape that will introduce you into a new world of deliciousness. Choose UPENDS for disposable vapes that offer unparalleled satisfaction.
UPENDS is looking for authorized disposable e-cigarette agents, distributors, wholesalers worldwide, if you are interested, please contact us now!