In recent years, disposable vapes have emerged to be a popular choice. Vaping has now become a popular alternative to traditional smoking. Among the many brands providing a huge selection of vape products in the market, the Puff Plus Disposable Vape has emerged as a leading product.
In this in-depth review, we will get to know more about the Puff Plus Disposable Vape and explore all aspects related to the device. Let's get started…
An Introduction to Puff Plus Disposable Vape
Puff Plus Disposable Vape pen is a well-designed electronic cigarette and is the latest addition to the Puff Family. The device offers an excellent alternative to traditional vape pens, delivering a smooth and convenient vaping experience. Compact, lightweight, and easy to use, this tiny vape pen is loaded with some amazing features.
Don't let the small size of the Puff Plus Disposable Vape fool you as it packs a serious punch. Apart from many practical features, the vape pen comes in more than 15 unique flavors. The disposable vape pen is designed to deliver a smooth and satisfying hit every time. The device comes pre-filled and pre-charged.
The Puff Plus Disposable Vape is the ideal alternative to combustible cigarettes and comes with 5% nicotine to satisfy the cravings of the users. Moreover, it provides a convenient alternative to smoking with no need to refill the tank, charge the battery, or change the atomizer coil. It is a ready-to-use device delivering up to 80 puffs.
Puff Plus Disposable Vape Features
Here are some features that make the Puff Plus Disposable Vape stand apart…
Type: Disposable Vape Pen
Diameter: 0.5 inches (13mm)
Length: 4 inches (101mm)
Battery Capacity: A 550mAh battery
E-Liquid Capacity: 3.2mL
Nicotine Strength: 2% (20mg) or 5% (50mg) Nic Salt
Puff Count: Up To 800 to 1000 Puffs
Activation: Draw-Activated
Operation: Automatic, Auto Power Off
Design: Pen-Like, Compact, and Lightweight
Safety Features: Overheating and Short Circuit Protection
Box Includes: 1 x Puff Plus Disposable Vape Pen
Puff Plus Disposable Vape Flavors
The Puff Plus Disposable Vape Pen comes pre-filled with the finest e-liquid. Here are the most sought-after Puff Plus flavors that you might consider…
Puff Plus Cotton Candy: A flavor crafted to produce a delicious sugary fluffy cotton candy vape.
Puff Plus Lush Ice: A refreshing and fruity taste of a fresh watermelon mixed with cool mint.
Puff Plus Sour Apple: A tangy green apple flavor with notes of a sour candy taste.
Puff Plus Melon Ice: A mouth-watering taste of sweet melon mixed with ice slices for a sweet and tangy experience.
Puff Plus Blueberry Ice: A delicious blend of ripe blueberries and cool menthol delivering a refreshing taste.
Puff Plus Mango Ice: A sweet and juicy flavor of mangoes accentuated with ice for a refreshing cool flavor.
Puff Plus Banana Ice: A classic combination of sweet banana and cool menthol prodding a delicious flavor.
Puff Plus Apple Ice: A delicious mix of juicy sweet apple slices mixed with ice for a sweet and tangy experience.
Puff Plus Pomegranate Ice: A refreshing taste of juicy pomegranate with an icy touch.
Puff Plus Orange Soda: A bright, refreshing aroma of orange mixed with a cool lemonade.
Puff Plus Peach Ice: The sweetness of peaches mixed with the cooling sensation of menthol.
Puff Plus Lychee Ice: A unique flavor that combines the sweet and citrusy aroma of lychee with an icy cool menthol undertone.
Puff Plus Mixed Berries: A tasty mix of all berries like raspberries, strawberries, and blueberries.
Puff Plus Pina Colada: A perfect tropical blend of rich pineapple and coconut for a sweet and creamy flavor.
Puff Plus Guava Ice: A cool and refreshing mix of tropical guava slices and menthol.
Puff Plus Tangerine Ice: A delicious mix of chilly mint and sour citrus with a kick of tangerine.
Puff Plus Aloe Grape: A mouth-watering mix of sweet grape and ice slices.
Puff Plus Cool Mint: A refreshing blast of cool mint providing a simple yet strong taste.
Puff Plus Watermelon: A sweet and simple flavor of fresh watermelon slices.
Puff Plus Strawberry Watermelon: A classic combination of juicy watermelon and sweet strawberries.
Puff Plus Strawberry Donut: A scrumptious flavor filled with fresh strawberries and sweet custard.
Puff Plus Red Apple Lemon: A strong mix of juicy red apples and sour lemon slices with an icy finish.
Puff Plus Blue Razz Lemonade: A fruity blend of lemon slices and luscious sweet blue raspberries.
Puff Plus Apple Berry: A perfect combination of two amazing fruits, apple and berry.
Here's the list of other flavors available…
Puff Plus Whiskey
Puff Plus Banana Ice Cream
Puff Plus Mojito
Puff Plus Grape
Puff Plus Pink Lemonade
Puff Plus Mango
Puff Plus Fruit Fusion
Puff Plus Mamba
Puff Plus Cheesecake
Puff Plus Strawberry Banana
Puff Plus Strawberries and Cream
Puff Plus Mango Pineapple
Puff Plus Energy Drink
Puff Plus Strawberry Kiwi
Puff Plus Watermelon Kiwifruit
Puff Plus Pineapple Lemonade
Puff Plus Disposable Vape Review
The Puff Plus Disposable Vape Pen has three times the e-liquid capacity compared to the standard Puff Bar. It boasts a 3.2mL e-liquid capacity which is a lot more than the Puff Bar that was available in 1.3mL e-juice capacity. Available in 5%v nicotine strength, it provides a strong yet smooth vaping experience.
Design and Appearance
The Puff Plus Disposable Vape Pen comes with a modern sleek and sleek enough to fit your pocket. It features a flat-billed mouthpiece allowing a more natural and comfortable vaping experience. The cylindrical exterior of the device allows for easy hold while providing enough room for the internal e-juice tank, battery, and other components.
It also has a small LED light that is activated when inhaled and indicates when the battery is low. Moreover, the disposable vape pen comes in many different colors corresponding to its flavors.
Performance
The Puff Plus Disposable Vape comes with a high nicotine strength that is ideal for anyone looking for a strong hit. As far as the battery life is concerned, each device comes with a 550mAh battery that is sufficient to provide a long-lasting vaping experience. Once the device is fully charged, the LED light will activate.
All in all, this disposable vape device delivers excellent performance and has become a top choice for many vapers. Most people like the device for its sleek design, high nicotine strength, long battery life, and variety of flavors. When it comes to disposable vape devices, Puff Bar is one of the most sought-after brands in the market.
Puff Plus Disposable Vape Pros and Cons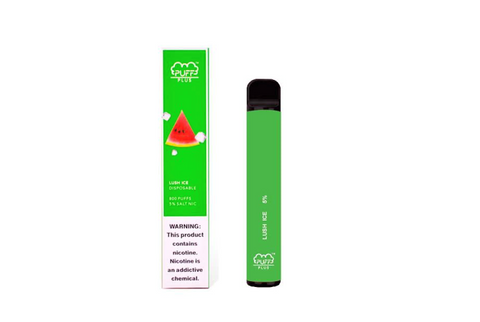 Pros…
Compact and lightweight to use
Portable and convenient to carry
A wide variety of flavors available to choose from
Ideal for both beginners and experienced vapers
A high amount of nicotine sale concentration of up to 50%
No need to refill, recharge, or replace any parts
Ready to use with draw activation mechanism
Readily available in any vape shop
Cons…
It could overheat after constant use
Adds to electronic waste
FAQs About Puff Plus Disposable Vape
Why should I buy a Puff Plus Disposable Vape Pen?
The Puff Plus Disposable Vape has been a popular choice as it provides a compact and convenient alternative to consuming nicotine. It is available in a wide range of flavors and boasts some impressive features.
How do I choose the best vape store to buy disposable vapes?
A reliable vape store offers a diverse selection of premium-quality products along with excellent customer service.
How many puffs are there in a Puff Plus Disposable Vape?
The Puff Plus Disposable Vape comes with a 3.2mL e-liquid capacity and a 550mAh battery that delivers up to 800 puffs.
How do I know when my Puff Plus Disposable Vape is empty?
There is an LED light on the front side of the device that will indicate when the battery depletes.
Alternative Disposable Vapes 
If you're looking for some budget-friendly options without compromising the quality, here are some popular options you may consider…
UPBAR GT: A sports car-inspired disposable vape pen by UPENDS that comes with a 2mL e-liquid capacity and many innovative features. It provides around 600 puffs and is an ideal option for both beginners and experienced vapers.
UPENDS MIRROR: One of the most popular options available on the market that comes with a whopping 10mL e-liquid capacity. It boasts an elegant mirror-like design and comes with an advanced mesh coil for consistent flavor.
UPENDS: Your Wholesale Vape Supplier
Still wondering what to buy? UPENDS provides a huge selection of vape products including disposable vape pens, pod mods, pod systems, and accessories. You can explore a wide range of vaping products and pick the most suitable one. We provide the highest quality products at a price that you would love to pay.
Furthermore, we have a team of the most talented and creative people who think out of the box to create products that surpass your expectations. Also, they are trained to provide the best customer service and come up with the best possible solution in no time. If you're looking for both a great quality product and unmatched service, UPENDS could be the right platform.
As we at UPENDS strive to reach global customers, we are looking for authorized vape distributors and agents. If you're interested in joining us on our journey, contact us…