PLUGplay extends an invitation to discover a cannabis vaporizer that combines sophistication with convenience. PLUGplay takes pride in introducing their distillate oil cartridges paired with stylish magnetic batteries.
Enthusiasts no longer need to make the choice between top-tier oil and a high-quality battery. PLUGplay not only provides an outstanding battery option in the world of vapes but also dedicates itself to the art of crafting premium distillate concentrates.
The Plug cartridge, featured in their DNA and Exotic lines, represents the pinnacle of distillate vaping, while the Play battery simplifies access to euphoria and well-being. These pods are available in a range of delectable and tantalizing flavors for your enjoyment.
What Is PLUGplay vape
PLUGplay is a brand known for its line of premium vape products, including vape cartridges and batteries. Their vape cartridges are pre-filled with high-quality THC oil, typically testing between 70-80% THC content. These cartridges are designed for use with PLUGplay's magnetic batteries, which are sleek and convenient, making it easy for users to enjoy their cannabis extracts. PLUGplay is known for its commitment to quality and offers a range of flavors and strains to cater to different preferences.
Plug Play Vape Cartridge
Plug and Play vape cartridges stand out from the ordinary pre-filled cartridges or pods. They contain high-quality THC oil, rigorously tested and typically ranging from 70% to 80%, all enclosed within a pod system equipped with a ceramic heating element.
These vape cartridges deliver a more potent punch compared to others, even those boasting higher THC percentages like Stiiizy, which generally reports an average of 85% THC in their pods.
These pods utilize ceramic heating, which truly sets them apart! The vaping experience is outstanding, resembling a dab rig more than any other vape cartridge I've experimented with. The ceramic heating element provides a clean and powerful hit with each draw. Furthermore, the vape pen's design discreetly conceals its THC oil pods, offering a high level of discretion. Plug Play vape pods are extremely robust and resilient to breakage from accidental drops, thanks to their plastic construction – there's no fragile glass to worry about cracking.
PLUGplay  THC Oil
DNA
DNA™ plugs, an abbreviation for Daytime, Nighttime, and Anytime, are meticulously formulated with the genuine terpenes of original strains, chosen for their renowned flavors and well-known effects. The Daytime plugs feature SATIVA dominant strains, the Nighttime plugs showcase INDICA dominant strains, and the Anytime plugs incorporate HYBRID strains to cater to different preferences and occasions.
Exotic
EXOTICS™ plugs are enriched with natural flavors, granting them their enjoyable and vibrant taste. Every flavor is painstakingly created to guarantee a harmonious blend of quality, taste, and effectiveness. All EXOTICS™ plugs are HYBRID, making them ideal for use throughout the day or night, catering to a variety of preferences and occasions.
LIVEST
LIVEST™ plugs consist of freshly frozen cannabis harvested at its prime, retaining all the beloved terpenes and cannabinoids. Just like a one-of-a-kind fingerprint, each batch of LIVEST™ is distinctive and restricted to the specific harvest it originates from, ensuring a unique and limited offering every time.
PLUGplay Flavors Review
Mango Mang PLUG
Indulge in the essence of relaxation and transport yourself to a personal tropical haven with Mango Mang. PLUGplay offers this all-inclusive retreat, meticulously packed in our distinctive cartridges. Regardless of your location, Mango Mang is your companion for pure delight, ensuring a smooth escape from the rigors of any day.
Brand: Plug Play
Strain Type: Hybrid
Effect of Hybrid
Happy
Balanced
Relaxed
Pain Relief
Hungry
Trainwreck PLUG
This aromatic and strong cartridge delivers a robust impact against drowsiness and a downcast mood. PLUGplay takes pride in presenting the PLUG DNA: Train Wreck cartridge, a Sativa strain that not only provides a burst of energy but also elevates your mood, spreading happiness throughout your experience.
Brand: Plug Play
Strain Type: Sativa
Effect
Uplifted
Energetic
Creative
Euphoric
Focused
Strawberry Champagne PLUG
Make sure to discreetly bring along this pen for a delightful brunch experience. PLUGplay presents their PLUG EXOTICS: Strawberry Champagne, a Hybrid vape oil known for its exceptional strawberry fragrance and a refreshing, pure flavor profile. Its effects are both uplifting and invigorating, leaving users feeling euphoric and fully prepared to engage with life and "PLUGplay."
Brand: Plug Play
Strain Type: Hybrid
Effect of Hybrid
Happy
Balanced
Relaxed
Pain Relief
Hungry
Pineapple Express PLUG
Embark on a journey to a tropical haven! When you choose PLUGplay's PLUG DNA: Pineapple Express, euphoria and vaping become synonymous. This particular strain boasts a sweet and fruity flavor profile, and its effects envelop users in a soothing sense of relaxation and positivity, creating a truly uplifting experience.
Grams: Gram
Strain Type: Hybrid
Effect of Hybrid
Happy
Balanced
Relaxed
Pain Relief
Hungry
King Louie XIII PLUG
For an exceptional encounter with the highest quality cannabis-derived terpenes and cannabinoids, make a connection with a DNA Plug. PLUGplay introduces the King Louie XIII as part of the DNA collection. Immerse yourself in the original cultivar's spicy terpene profile, where notes of pine and sour fragrances fill the air with each exhale.
The cannabinoids in King Louis XIII bring about muscle relaxation and relieve tension, guiding your consciousness into a peaceful and tranquil state, leading you towards a restful slumber.
Grams: Gram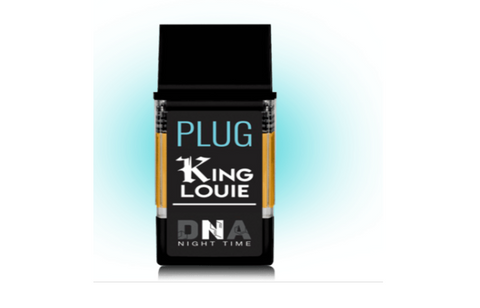 Brand: Plug Play
Strain Type: Indica
Effect of Indica
Relaxed
Pain Relief
Sleepy
Happy
Hungry
Vape product suggestions:
Upbar-nano
The UpBAR Nano represents a travel-friendly vaping solution, characterized by its lightweight and disposable design. It leverages FRESOR technology to optimize the utilization of e-liquids. The combination of the Next-Gen Mesh Coil and a distinctive flat stacking configuration collaborates to augment the quantity of puffs achievable, all while enhancing energy efficiency step by step.
Thanks to the revolutionary FRESOR technology, the Nano is entirely self-regulating, guaranteeing consistent and reliable performance. This leads to a vaping experience characterized by rich, precise flavor replication, abundant vapor production, and robust safeguards against leakage problems.
Features
0 E-liquid capacity
410 mAh battery capacity
20 mg/ml nicotine salt
0 Ω Resistance
UPENDS Mirror
The Upends Mirror vape pen boasts an elegant and portable design, consistently delivering an exceptional vaping experience. Its refined appearance is a result of its sleek and smooth exterior, enhancing its overall aesthetics.
This device not only promises a consistently delightful flavor profile but also sets a new standard for vapor production, all while maintaining its stylish design. This achievement is made possible through the integration of cutting-edge mesh coil technology. The Mirror's performance demonstrates its versatility in delivering a wide range of flavors.
Equipped with a robust 500mAh battery, a generous 10mL e-liquid capacity, and convenient Type-C charging, it allows for uninterrupted vaping sessions whenever you desire. Worries about battery life or e-liquid levels are no longer relevant.
Features
10mL E-liquid Capacity
0Ω Resistance
500mAh Battery Capacity
Type-C Charging Port
FAQs
Where can I purchase PLUGplay products?
PLUGplay products are available at licensed dispensaries and select retail locations in regions where cannabis is legal. You can also find them through authorized online retailers.
Can I travel with PLUGplay vape products?
It's essential to be aware of and comply with local and federal laws regarding cannabis and vaping when traveling. Always check the regulations of your destination before taking PLUGplay products with you.
Can I use PLUGplay products in states where cannabis is not legal?
No, PLUGplay products should only be used in regions where cannabis is legal for either medical or recreational use. Be sure to check your local laws and regulations before using these products.
How long does a PLUGplay battery typically last on a single charge?
The battery life of a PLUGplay vape depends on usage, but a fully charged battery can typically last for several vaping sessions before needing to be recharged.
Best Vape Wholesale Supplier-UPENDS
Step into the enchanting realm of Vape-UPENDS, where the fusion of innovation and sophistication is a harmonious delight. We warmly welcome you to embark on an extraordinary vaping journey filled with unforgettable moments. Join our vibrant community, and open the door to a treasure trove of exclusive offerings designed to elevate your vaping pleasure.
At Vape UPENDS, our commitment to cutting-edge innovation, graceful designs, and meticulous craftsmanship is unwavering. Our dedicated team of artisans pours their passion and expertise into crafting flawless and refined pieces of art that will captivate your senses. With every inhalation, our goal is to awaken your discerning palate and ignite a spellbinding experience carefully curated for your enjoyment.
Our ultimate objective is to deliver an unparalleled vaping adventure, and we are thrilled to embark on this transformative voyage alongside you. Allow us to elucidate why Vape UPENDS proudly stands as the preferred choice for those who demand nothing short of perfection when seeking moments of relaxation.
Prepare to immerse yourself in a world where creativity, elegance, and sheer wonder converge to create an experience that sparks your imagination and leaves you yearning for more.