Single-use vapes or disposable vapes are gaining immense popularity. These devices are becoming an all-time favorite due to their ease of use and portability. With the rising popularity of disposable vapes, many companies are introducing new and improved models, making it difficult to pick the best.
In this article, we will discuss a popular disposable vape - Packwoods 2-Gram Disposable Vape to see if it meets the expectations. Let's check it out…
An Introduction to Packwoods 2 Gram Disposable Vape
Packwoods Disposable is a reputed name known for its huge collection of disposable vape brands on the market. This line of disposable vapes comes with many impressive features and is designed to provide an exceptional vaping experience. Packwoods 2-gram disposable vape is one of the most popular and reliable vapes in the Packwoods disposable cart series. The vape device is incredibly powerful and comes pre-filled with 2 grams or 2000 mg of e-liquid. It provides an intense vaping experience.
It is a rechargeable disposable vape that can be charged regularly before the e-liquid runs out. The best thing about this vape is that it has a distinct combination of THC-B+, THC-H, and D11 and D8 live resin. This simply means that the vape pen is designed to provide a strong vaping experience using the best quality cannabinoids.
Let's get to know more about it…
Packwoods 2 Gram Disposable Vape Specs and Features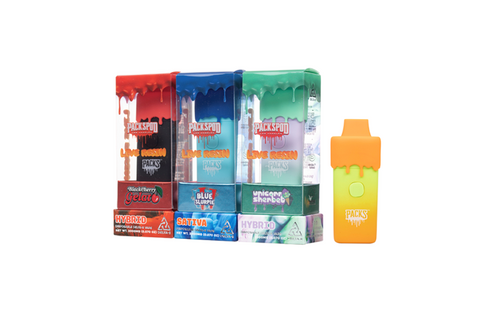 The Packspod 2-Gram Delta-8 Live Resin Disposable Vape by Packwoods comes with some amazing features, including…
The disposable comes with 2 grams or 2000 mg of potent, high-quality Delta-8 distillate and naturally derived terpenes.
It offers 5 delicious terpene flavor profiles to satisfy all taste buds.
It provides a feeling of relaxation and a sense of calmness.
The product is made in the USA with industrial hemp and verified for potency.
It is designed to provide an immensely potent and flavorful vaping experience.
It is made from life resin, not dried or cured flowers.
It comes pre-charged and pre-filled with premium-quality e-juice.
The device is rechargeable and can be charged via a USB-C cable.
It is available in many different strains like Indica, Sativa, and Hybrid.
The product is third-party lab tested for any impurities.
Packwoods Delta-8 Disposable Strains
Banana Flambe (Indica)
Black Cherry (Hybrid)
Blue Slurpie (Sativa)
Rainbow Sherbet (Hybrid)
Unicorn Sherbet (Hybrid)
Packwoods 2 Gram Disposable Vape Pros and Cons
Pros…
Compact and Portable
No Complicated Buttons
Draw Activated
High-Quality Delta-8 THC Distillate
5 Flavor Options
Lab-tested for Quality and Potency
Easy to Use Pod-Shaped Device
Cons…
A Bit Expensive as Compared to Similar Devices
Not Ideal for Beginners
Limited Flavor Options
Why Should You Buy Packwoods 2 Gram Disposable Vape
When we talk about Packwoods 2-Gram Disposable Vape, the Delta-8 Disposables holds a special place. These new disposables come with 2 grams of live resin that is naturally extracted and known for providing an immensely potent vaping experience. These are made from naturally derived strain-specific terpenes that are blended with top-grade distillate to provide a pure and strong product.
The device comes pre-charged and pre-filled so that users don't have to worry about filling it with e-liquid or adjusting settings. There are no complicated settings or buttons on the device, making it an ideal option for on-the-go users. Moreover, the device is designed to provide a strong yet flavorful vaping experience to both beginners and advanced vapers.
However, users will have to wait for 10 minutes to adjust for tolerance. It is also suggested to start with 2-3 puffs as this disposable vape is potent.
The Popularity of Delta-8 Vapes
Delta-8 Vapes have become the main highlight of the vaping world. There is nothing unique and more satisfying than a Delta-8 disposable vape with an infusion of natural terpenes. Packwoods Delta-8 Disposable Vapes are no different as they are designed to provide satisfying and powerful effects along with dense and flavorful clouds. These disposables provide a great way to enjoy Delta 8 blends and come in a wide variety of flavors.
These expert-designed disposables are known for their special formulation and provide calm, happy, and euphoric effects. The Packwoods disposable vape 2000mg comes in a variety of tastes and is designed with the most flexible coils. The advanced coils ensure a smooth throat hit and a powerful taste. It is also equipped with a rechargeable battery so that users can enjoy uninterrupted vaping sessions.
Packwoods Delta 8 Live Resin Disposable is also an improvement over its predecessor Delta 8 THC disposables. That's why it packs some amazing features and uses unique live resin-infused flavors. The flavors are made from exotic cannabis strain profiles to provide intense yet smooth and enjoyable throat hits.
Furthermore, the company uses its proprietary hardware for the Packwoods 2-gram disposable vape. It is designed to provide a better airflow, more vapor production, and potent flavor. The flavors are made to allow users to stroll through the relaxing, calm, and euphoric experience.
FAQs About Packwoods 2 Gram Disposable Vape
How long can I use my Packwoods disposable vape?
The lifespan of your Parkwoods disposable vape will depend on the model you choose and your vaping habits. If it has an e-liquid capacity of 12mL, it should last somewhere between 2 to 4 days.
How do I activate my Packwoods 2 Gram Disposable Vape?
Most Packwoods disposable vapes do not have physical buttons or any complicated settings. They come with a draw-activated mechanism which means you simply have to pull and get ready to vape. It will also turn off automatically after you finish vaping.
What is the THC content of Packwood's disposable vape pens?
Well, the THC content varies according to the strain and typically varies between 14% and 28%. Different strains come with different THC content that you can choose as per your needs.
What is the strongest Delta-8 vape?
Delta-8 vapes can differ greatly and some companies use a specific ratio of oil and terpenes. The strongest ones contain 93%+ Delta-8 and are suggested for only experienced vapers.
Do Delta-8 carts have THC in them?
Yes, Delta-8 carts contain THC as it is a psychoactive substance. However, it is not nearly as potent as traditional THC compounds.
How many should I expect from Packwoods 2-gram Disposable Vape?
This disposable vape comes with a 12mL e-liquid capacity which translates to up to 5000 puffs. However, it will depend on your vaping habits and frequency.
Does Packwoods make disposable vapes?
Yes, Packwoods provides a wide range of disposable vapes and flavors that you can choose as per your taste. These disposables are a great choice for anyone looking for a portable and hassle-free way to enjoy cannabis.
Other Disposable Vape Options to Consider
If you're still not sure which disposable vape pen will work best for you, here we've discussed some options you may want to consider. Take a look…
UPENDS UPBAR NANO
The UPBAR NANO by UPENDS can be a great option as it is an ultra-sleek and portable device. It comes with a 2mL e-liquid capacity and provides approximately 600 puffs. It is known for its unbelievable mini size, making it a hit among on-the-go users. Moreover, the device is available in many color options and flavors.
It is made using the most innovative FRESOR technology and comes with a pure transparent e-liquid chamber. It also features a layer-by-layer flat-stacking structure and comes with a Next-Gen mesh coil. The device is powered by a 410mAh battery capacity and comes with 20mg/mL nicotine. This disposable vape pen is ultra-compact and designed to provide a smooth vaping experience.
The flavor options available include Blueberry Ice, Juicy Peach, Watermelon Ice, Double Apple, Strawberry Kiwi, Kiwi Passion Fruit Guava, Pineapple Ice, Blue Razz Lemonade, Gummy Bear, Caramel Tobacco, Blueberry Sour Raspberry, Fizzy Cherry, Lemon Lime, Triple Mango, Watermelon Strawberry Bubblegum, Triple Melon, Pink Lemonade, and more.
Some other options include UpBar GT and MIRROR by UPENDS.
UPENDS: An Ultimate Place for Wholesale Vapes
If you're in search of a good-quality, potent disposable vape pen, visiting UPENDS might help. We stock a wide range of vape products starting from simple vape devices to the most advanced ones. Also, we stock a huge variety of vape accessories to take your vaping game to the next level. This is what helps us stay at the forefront of the vaping industry.
At UPENDS, we believe in designing and manufacturing masterpieces featuring unparalleled design and functionalities. Our motive is to ensure satisfying and consistent vaping right from the start to the finish. Also, our devices boast the most innovative features, ensuring you have an unforgettable moment.
Currently, we are looking for vape distributors and agents at different locations to reach our global customers. We want to make vaping an enjoyable and satisfying experience for vapers across the globe. If you're interested in joining us on this journey and providing global users with the most innovative products, feel free to contact us.