A lot of people have started using vaping devices, some just for leisure while others quit smoking. With the increasing demand for vape devices, a lot of manufacturers and brands are coming up with innovative solutions to vaping. Although there are many vape products available on the market, disposable vape bars have gained immense popularity.
Disposable vapes are e-cigarettes that are designed for one-time use and then discarded mindfully. These devices come pre-filled with e-juice and pre-charged built-in batteries so that users can use them straight from the box. These vape devices are small in size, convenient to be carried around, and portable enough to fit in a pocket or bag.
There are many different disposable vape models in the market, making it difficult to pick what works best for you. This article discusses one of the most popular vape models, the Pablo Bar Disposable. Here is more about this disposable vape bar…
What is Pablo Bar Disposable Vape?
The Pablo Bar Disposable Vape is a revolutionary device that is designed to cater to dynamic vaping needs. The Pablo Bar Disposable is a draw-activated vape device that comes pre-filled with e-juice and pre-charged. It is designed to provide a hassle-free vaping experience as no filling is required. All you have to do is open the package and enjoy.
It comes with many different flavors to choose from, allowing users to explore different sensations. It has an easy-to-use interface and sleek design that makes it an ideal device to carry places. Furthermore, it is designed for single use and needs to be discarded when it has been used up or finished.
There are two main products when we talk about Pablo Bar Disposable: the Pablo Bar Mini Disposable and the regular Pablo Bar. Pablo Bar Mini Disposable contains 15 mL e-liquid and provides around 5000 puffs. On the other hand, the Pablo Bar is a rechargeable disposable device that offers approximately 6000 puffs.
Pablo Bar Disposable Vape Features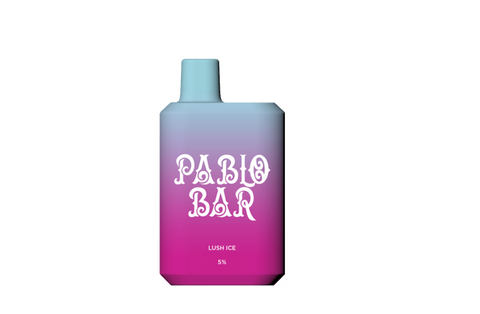 The Pablo Bar Disposable features…
A 15 mL e-liquid capacity
A massive 1500mAh battery
Around 6000 puffs per disposable
Mesh coil
5% (50mg) nicotine strength
A wide range of flavors
Auto-Draw activation
The Pablo Bar Mini Disposable features…
An impressive ten-pack of 5% (50mg) nicotine
A 15 mL e-liquid capacity
1300mAh integrated battery
A rechargeable battery
Approximately 5000 puffs per device
A wide range of flavors
Type-C charging
Pablo Bar Disposable Vape Flavors
These petite yet powerful disposable bars pack a massive rechargeable battery accompanied by a 15 mL tank to fill a wide range of e-juice flavors. The tank comes pre-filled with 5% salt nicotine e-juice and you can choose your favorite flavor.
The Pablo Bar Disposable 6000 puffs come in 21 flavors to choose from, including…
Apple Grape Lemonade
Blue Raspberry Cherry
Banana Ice
Blue Razz
Bubblegum Ice
Cotton Candy
Candy Ice
Cool Mint
Grape Ice
Kiwi Dragon Berry
Pink Lemonade Ice
Orange peach Pineapple Ice
Raspberry Grape
Raspberry Peach
Raspberry Peach Strawberry
Raspberry Green Apple Watermelon
Raspberry Strawberry
Strawberry Kiwi Dark Berries
Strawberry Kiwi Pomegranate
Watermelon Chew
Watermelon Ice
The Pablo Bar Mini Disposable comes in 20 different flavors including…
Blue Razz
Bubblegum
Cherry Peach Lemonade
Cool Mint
Energy Drink
Gummy Bear
Honeydew Punch
Lush Ice
Passion fruit
Peach Ice
Pineapple Strawberry Coconut
Purple Rain
Red Apple
Sour Apple
Strawberry Grape
Strawberry Ice Cream
Strawberry Kiwi
Strawberry Watermelon
Tropical Punch
Watermelon Candy
Pablo Bar Disposable Vape Review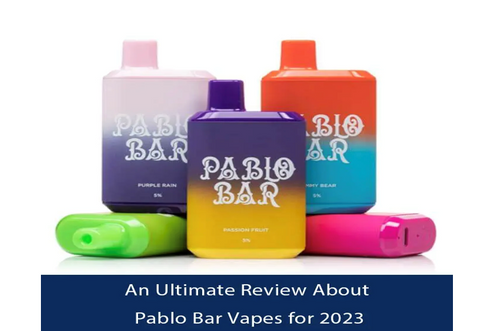 The Pablo Bar disposable Vape offers a variety of flavors to choose from, allowing users to satisfy their taste buds. Being disposable, the device is designed to have a shorter lifespan and you will need to discard it once the e-liquid has been all used up. The battery functions as a rechargeable battery as it can be charged.
What makes the Pablo Bar Disposable different from similar products is that it does not rely on concentrated liquids.
Here is a quick guide to the pros and cons of using disposable vapes…
Pros…
Pre-filled and pre-charged
Immediate draw-activated
Adjustable airflow
Compact and easy-to-use
Instant nicotine rush
Convenient, no-mess design
No maintenance required
No complex setup
Portable for on-the-go vaping
Offers a customizable vaping experience
Instant nicotine rush for a powerful vaping experience
Cons…
Not environment-friendly
Expensive in the long run
Fixed nicotine levels
Counterfeits are also available
Overall, the Pablo Bar Disposable is optimal for those who want to enjoy a long, flavourful vaping experience. They can enjoy their vaping session without the hassle of refilling tanks or recharging batteries again and again
With its excellent battery life, it provides a good lifespan along with the convenience of a non-refillable, portable design. Moreover, the flavors are made with high-quality ingredients so that users can have a great experience every time.
For those looking for a compact and convenient disposable vape bar, the Pablo Bar disposable can be a good pick.
Warning: Most vape devices or e-cigarettes contain nicotine, a chemical that may cause several health issues. It is recommended to use these devices carefully and in moderate quantities.
FAQ: Things You Need to Know About Pablo Bar Disposable
How many hits are in a Pablo Bar Disposable Vape?
The Pablo Mini Bar is designed to provide approximately 5000 puffs or hits. It can be used for several weeks until the vape juice runs out.
How much Nic Salt is in a Pablo Bar Disposable Vape?
The Pablo Bar Disposable Vape contains 15 mL of e-liquid which is 50mg nicotine.
How do I know if my Pablo Bar Disposable vape is empty?
Pablo Bar Disposable vape comes with an LED light and if the indicator blinks 3 to 10 times after you take a puff, it means that the battery is about to die.
Is Pablo Bar Disposable Vape Refillable?
No, Pablo Bar Disposable Vape cannot be refilled as it is a disposable device and comes pre-filled. However, the battery is rechargeable and can be charged.
How long do most disposables last?
Most disposable vapes are designed to last about 3 to 5 days given that they have a 500mAh battery. However, many factors determine the lifespan of a disposable vape device.
What does it mean if my Pablo Bar Disposable is blinking?
If your disposable vape device is constantly blinking, the most likely reason is that the battery is about to die.
Why is my disposable vape not hitting?
Sometimes, there may be bubbles that can get trapped in the pre-filled cartridge, leading to no hits. You can tap on the vape pen lightly to dislodge these bubbles.
How can I charge the Pablo Mini Bar Vape?
The Pablo Bar Mini Vape can be charged using the USB Type-C cable with its plug adaptor.
How to use the Pablo Bar disposable Vape?
The Pablo Bar Disposable is extremely easy to use as it only needs to be charged up and it is ready to use. As the device is powered by auto-draw technology, it starts working as soon as you inhale.   
What to do if a disposable vape tastes burnt?
If your vape bar tastes burnt after a charge, try using light puffs without fully inhaling as it will start depleting the battery and bring the total power output down.
UPENDS: Best Wholesale Vape Supplier 
The vaping industry is booming and attracting a lot of vape manufacturers and brands. UPENDS brand is one of the most popular names in China and other countries. It provides the largest selection of vaping hardware, vape juice, e-liquid, and other vaping supplies. The company is a wholesale vape equipment supplier that provides world-class vape equipment and accessories.
UPENDS is capable of delivering the most recent vape products that cater to the unique vaping needs of users on a global platform. The good news is that the company's premium selection carries an affordable price tag. You will get access to a wide range of premium products, which will make your vaping experience even more enjoyable.
The company's objective is to provide an unforgettable vaping experience to users across the globe. To make this happen, it follows a strict manufacturing process and all products are lab-tested for quality. Moreover, all team members are highly qualified to create the most innovative designs and provide the best customer service.
If you are willing to be a part of UPENDS' journey and grow your business, become a vape distributor or agent. The company is looking for distributors at different locations and invites all interested parties to contact us as soon as possible.