The vaping experience is taken a notch up by this great engineered vape pen. O2vape pens, more so the Vari-vape slim bit ceramic variable voltage pen, is perfected for you to indulge with ease. With that strong draw, a simple touch, and impressive durability of both battery and a ceramic cartridge.
The vaping excellence has been optimized. Simplicity is at the core of the pen's design which is shared with you also. From the easy do-it-yourself setup procedure of the pen to your first full draw puff, you will be awed.
About the Vari-vape pen
The small pen stands out with its portability. Once you purchase the pen, you will be fascinated by how minimal effort is needed for you to set it up and begin vaping. This slim kit ceramic version comes with an empty cartridge and a super sleek metal case for enhanced portability. However, the premium version comes pre-filled.
The brand ensures that their promise for a more enhanced experience for you is delivered. This is by offering a once-in-a-lifetime warranty for the pen.  An impressive 2-clicks pre-heat setting is also a feature that makes you love the vape pen.
The vari-vape series pens have multiple colors of four colors for you to choose according to your fancy. Color ranges from steel, rose gold, rugged gray, and rugged black.
Specifications of Vari Vape Pen
It comes with a range of two capacities cartridges: The 1 ml and a 5 ml
It has a USB wall charger
It is used for aromatherapy purposes
Has variable voltage of between 3.3 V to 4.8 V
It comes in multiple colors
Possess a ceramic cell wickless cartridge
It does not support nicotine e-liquid use
Wickless
Pros and Cons of 02 Vari-Vape Voltage Vape Pen
Pros
It gives a full draw
It can be refilled twice or thrice
High-quality material
Durable
Fast heat up
Sleek and sturdy
Ideal for thicker oil
Cons
It doesn't support nicotine E-Liquid
Requires high voltage batteries
Features of the 02 Vari-Vape Voltage Vape Pen
O2Vape ceramic cell vape cartridges
The ceramic and glass cartridges are crafted for their beautiful simplicity and packed full of revolutionary features that are oriented to give you a much Fuller draw. It is meant to utilize auto draw technology.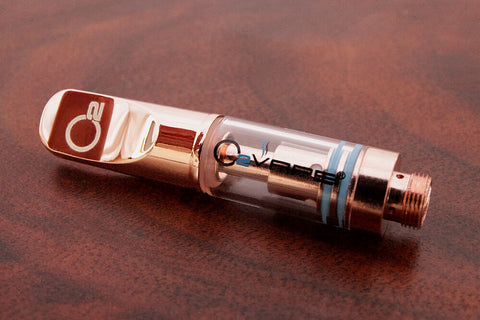 This ensures that you get rich puffs out of it. The 510-thread ceramic vape cartridge can be filled twice or thrice, depending on your preference. Precaution should be taken, however, not to accompany the cartridge with batteries with lower voltage. There are a variety of compatible batteries for you to choose from, notably;
Duo wax and oil vape pen
7-volt buttonless vape pen
Flip vape pen
Variable voltage vape pen
Features of the 02 Vape Ceramic Cell Cartridge
The cartridge has some amazing features specially designed to give a seamless experience. The aspects include; a glass or a ceramic vape cartridge, which are remarkably durable and small. They are not cumbersome during use or handling, and the design is also something that you will truly fancy.
Another feature that needs a warrant is the fact that the vape cartridge is eternally heated. Of course, a high voltage battery enables this to heat the oil to produce a great cloud for you to take a well-blended big draw.
To give you a Fuller draw. Another feature comes to the rescue. The O2 vape ceramic cell vape cartridge has been designed with multiple intake holes with descent sizes for you to enjoy a great cloud of vaping ecstasy.
Notably, the cartridge has a sleek coil that is heated inside the ceramic elements, and this means that the coil doesn't get in contact with the oil. You will also discover that it is also wickless. Lastly, the cartridge can be filled two or three times, depending on you. Care has been taken to craft a wide-open mouth that enhances the ease of refilling the cartridge.
Pros and Cons of the Vari Vape Cartridge
Pros
Ensures clean and smooth taste
Designed to reduce residue and clogging
Easy to refill
Has multiple intake holes
Cons
Requires high voltage batteries
Breaks if handled carelessly
How to fill a vape pen cartridge
The O2 vape ceramic cell vape cartridge has been designed to carry a reasonable amount of oil or juice of your choice. You can choose between a 1 ml capacity pen or its 5 ml counterpart.  The 1 ml capacity carries one gram of your favorite juice or oil.
 If you want a lasting touch, I recommend that you go for the 5 ml cartridge. To refill the cartridge is a very simple exercise. The sleek and intimidating design can make you think that filling is complex; quite the opposite is true.
Let me take you through a simple step-by-step procedure that you can do yourself.
Remove the mouthpiece
You need to understand that the mouthpiece opens with three or four anti-clockwise gentle twists; after unscrewing the mouthpiece, place it in a safe and sterile place to avoid the risk of it getting lost or contaminated.
After removing the mouthpiece, you will realize a gasket held relatively close to the cartridge wall. There are also some threads whose core function is to keep the gasket firm in place, and the threads also prevent sipping out of oil or juices. Turn to free the threads in the center pole.
Filling the cartridge
By then am sure you would have gotten hold of your best oil or juice from a good shop, and now it is time to fill your cartridge. Use a dropper or syringe and direct it between the center pole and cartridge pole. Be careful not to fill it to the brim; afterward, get hold of your mouthpiece and screw it to the cartridge with 3 or 4 clockwise twists, then continue enjoying the vaping sessions.
Battery
Vari-vape pens require a relatively high voltage battery to heat the oil for you to get an exquisite draw. O2Vape has designed a wonderful battery to accompany the vari cartridge. The company is an expert in the 510 thread batteries, and the Flip Ultra Advanced 510 key FOB Vape pen battery is a legend in the industry.
This patented battery is a gadget designed to give high voltage to your pen; it is also long-lasting. Different battery colors are also at your disposal, and you can choose from the following colors, white steel, wood grain, rose gold, and black-gray.
Another awesome package for the battery is the lifetime warranty that affirms the company's confidence that the 510 battery is the last you will purchase. Be cautious not to use first charging chargers.
Features of Flip Ultra/ Advanced 510 key FOB Vape Pen battery
The battery is compatible with vari-flow cartridges and also other glass cartridges.
The battery oozes power for a long by giving out an impressive 650mAh of power
It is 510 thread compatible
The battery boasts a wider Voltage range of 2.7 to 4.8V
It has a discreet aura about it that makes it kind of incognito
It has an auto-off and on flip lock
The lightning charger ensures a short charging time.
Pros and Cons of The Vape Pen Battery
Pros
Long-lasting power
User friendly
Digital display that features puff counter and battery life
Discreet
Great performance
Reliable
Premium quality with a pocket-friendly price tag
Compatible with a wide range of cartridges
Cons
Used only for aromatherapy
It does not support nicotine e-liquids
FAQ
Questions from other users bring insight into what glitches you may potentially face when using the vape pen. I have compiled most asked questions and answers so that they can guide you where necessary.
My last battery was not working well, and I barely got the oil heated. I decided to buy another one to replace the old one, but nothing seems to change, what could be the problem?
A battery problem in the O2 Vari-Vape variable voltage pens mostly emanates from using the wrong charger that kills the battery. If you decide to change the battery, try to find a high voltage Variable voltage 510 battery compatible with the cartridge.
What kind of maintenance do I need to perform for the pen?
The best maintenance practice is always storing the pen in a vertical position when it's not being used. Another maintenance measure is not to refill the pen more than thrice to reduce oil build-up.
Lastly, how many times should I recharge the battery? You can recharge the pen for as long as it lasts. There is no limited number for charging frequency. If anything goes wrong during the normal functioning of the product, check out the lifetime warranty.
Conclusion
Vari- vape pens are designed to give a resounding vaping experience; this is done through cutting-edge technology that blends user-friendliness and efficiency. You are going to have an uplifting experience that will leave you wanting more. Visit UPENDS to get a once-in-a-lifetime deal on vape devices that will leave you feeling cared for.