In this article, we will discuss the Nova Disposable Carts to understand whether they are worth your money or not…
An Introduction to Nova Disposable Carts
Nova Disposable Carts are a popular choice among cannabis users especially those who are looking for a high-quality vaping experience. The disposable carts are made using live resin which is a type of cannabis extract. The extract is derived from fresh and frozen flowers instead of the dried and cured ones. The extraction process results in a more flavourful product that is full of aromatic properties. Moreover, it gives the product a fuller and more intense high. This makes these disposable carts a great choice for cannabis users.
Nova Carts are available in many different flavors and weigh 1000 mg. The cart comes in a ziplock bag and is made from a glass material. These carts come in different strains, including Sativa, Hybrid, and Indica.  
Let's get to know more about Nova Disposable Carts…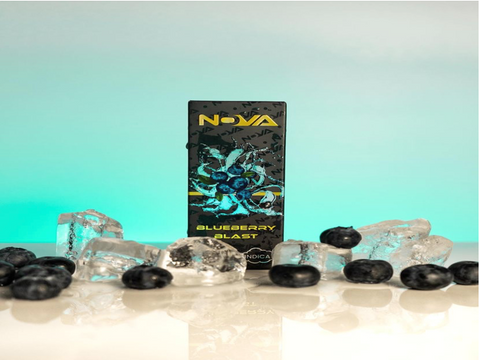 Nova Disposable Carts Features
1 Gram or 1000mg Pure THC Cannabis Oil
Pre-filled with Cannabis Oil
Free from Solvents and Preservatives
Powered by a 2200mAh Battery
510 Thread Cartridges
Lab-Tested Cannabinoid Profile
High Potency
Nova Disposable Carts: Flavors
Nova Disposable Carts come in a wide range of flavors to choose from. Some of these flavors are extremely popular among vape users. Let's have a look at some of the most popular Nova Carts flavors…
Blue Dream Nova Carts (Sativa): A 1000mg sweet, blueberry flavor that provides euphoric feelings.
Blue Razz Nova Carts (Sativa): A 1000mg juicy taste of tart blueberry flavor mixed with raspberries.
Blueberry Blast Nova Carts (Hybrid):This is a 1000mg disposable cart made from freshly hand picked blueberries.
Bubble Gum Nova Carts (Hybrid): As its name suggests, this 1000mg cart is a mix of sweet ingredients like candy and fruits.
Cherry Limeade Nova Carts (Hybrid): It is a sweet cherry base flavor mixed with limeade to provide a perfect balance of sweetness and tartness.
Cherry Splash Nova Carts (Hybrid): A sweet flavor that combines the sweetness of fresh cherries and exotic fruits.
Cookies and Cream Nova Carts (Indica): A classic biscuit blend to provide a perfectly sweet flavor that is also accentuated with cream for a buttery taste.
Crystal Candy Nova Carts (Indica): A mouth-watering taste of candies laced with ice-cold menthol for a refreshing sweet flavor.
Nova Disposable Carts Review
Nova Disposable Carts have gained immense popularity as the products are designed by a team of cannabis enthusiasts. Nova Cartridges was founded in the city of Angels to provide cannabis users with some great vaping options. The company uses state-of-the-art lab technology to extract the cannabis concentrates. The best thing about the extraction process is that it does not use any preservatives or filling agents to pump up the products.  
The company provides one of the most potent THC vape cartridges and is suitable for getting the users high. The cartridges come powered by a 2200mAh battery and provide a long-lasting battery that is enough to enjoy multiple vaping sessions. Furthermore, all parts of the cannabis are perfectly concentrated inside the cannabis oil to provide a smooth yet strong vaping experience. The 510-thread carts contain natural terpenes and cannabinoids.
When we talk about Nova Disposable Carts, they are known to provide a smooth and satisfying vaping experience. The carts are made from premium-quality, THC oil cartridges that are specifically designed to be used with high-quality vape pens. Moreover, these carts are designed to provide cannabis users with high potency, convenience, and portability.
Here are a few reasons why Nova Disposable Carts are popular among the vaping community…
They are made of 100% pure THC with no added solvents or preservatives, offering users with a natural and intense cannabis experience.
There are no toxic solvents used during the extraction process, making the carts safe for consumption as there are no harmful contaminants.
The e-liquid is tested to ensure that it is free from contaminants and provides a smooth vaping experience right from start to finish.
The carts are designed to provide a clean and pure vaping experience as no pesticides or other harmful chemicals are being used.
The absence of solvents and harmful chemicals makes this an eco-friendly alternative as they do not contribute to the pollution caused by such chemicals.
The Nova Disposable Carts are sleek, stylish, and portable, making them a great option for travelers who are looking for a convenient option for vaping.
The devices are designed to provide smooth vaping sessions with no harsh throat hits or unpleasant taste.
Coming to the flavor profiles, there is a wide range of flavors to choose from such as Blue Dream, Blue Razz, Blueberry Blast, Bubble Gum, Cookies and Cream, Cherry Splash, Cherry Limeade, and more. The Bubble Gum flavor is one of the most popular ones as it offers a citrusy flavor and uplifting effects. This super-juicy strain gives a fruity taste as it combines the goodness of fresh strawberries and watermelon.
Nova has also introduced the Nova 2 Grams Disposable to provide a prolonged vaping experience. It comes pre-filled with a generous 2-gram capacity and offers an extended session. It combines the convenience of a disposable vape with exceptional performance without the need for refilling or recharging. Moreover, it has a sleek and portable design that makes it a great pick for on-the-go vaping.
Users can also pick Nova Carts Cannabis that are crafted to deliver a premium vaping experience. Each cart comes pre-filled with premium-quality cannabis oil to provide potent and robust flavors. Different flavors provide different effects such as relaxation, a boost of energy, calmness, creativity, and uplifting effects. With their advanced heating technology and auto-draw mechanism, these carts provide a seamless vaping experience.
Nova has become one of the most versatile vaping brands that provides high-quality disposable carts at an affordable price. Moreover, every cartridge is filled to the brim with natural, solvent-free cannabis oil. These carts offer a hassle-free and discreet way to consume cannabis with no need for refills, charges, maintenance, or any complicated setup.
Nova Disposable Carts Pros and Cons
Pros…
No Harmful Solvents or Other Chemicals
No Preservatives or Pesticides
A Huge Variety of Flavors
Smooth and Clean Draw
Ethanol Extracted
Pure Cannabis Oil
Compact and Portable
Ziplock Bags
Glass Material
Cons…
Expensive in the Long Run
Disposables Add to Electronic Waste
FAQs Nova Disposable Carts
How Do I Verify Nova Disposable Carts?
You can easily verify your Nova cart by locating the verification code on the back of the box and entering it to know if it is original.
Are Nova Disposable Carts Safe?
There are potential risks associated with all e-cigs but Nova Disposable Carts uses no solvents, pesticides, or other harmful chemicals.
Can I recharge my Nova Disposable Cart?
No, Nova Carts are not rechargeable and come filled with 1 gram of pure cannabis oil from dry cannabis buds with no solvents or preservatives.
Is it worth investing in Nova Disposable Carts?
Nova Disposable Carts come in a huge variety of flavors, from fresh summer flavors to sweet candy and bubble gum flavors. Also, the carts are solvent and chemical-free and contain pure cannabis oil.
How to use Nova Disposable Carts?
Nova Disposable Carts are simple-to-use devices. All you have to do is unwrap the cart, inhale to activate the device, and enjoy your vaping session.
UPENDS: Home to Wholesale Vape Products
Looking for disposable carts? As a trusted and renowned vape wholesaler, UPENDS provides high-quality vape products. We prioritize customer satisfaction above anything else and that's why provide an easy, quick, and secure shopping experience. Furthermore, with our responsive customer service team and fast shipping, you can be assured that you will get your products on time and in excellent condition.
When it comes to quality and convenience, UPENDS can be your perfect platform. Whether you're a seasoned consumer or just a beginner, we have something for everyone. All our products are tested for quality as we strive to provide the best products to all our customers. If you want to embrace the convenience and elevate your vaping experience, we welcome you to take a look at our selection.
Some of our best-selling disposable vape pens include UPENDS MIRROR, UpBar GT, and UpBar Nano. These products are designed to provide you with the latest technology and unbeatable features. The idea is to take your vaping experience to a whole new level by providing some of the best designs, features, and functionalities available on the market.
As our aim is to maintain the highest standards of quality and provide the best products to our global customers, we're looking for authorized vape distributors and agents. If you're willing to be a part of an innovative and customer-oriented brand, we welcome you to join us. Feel free to contact us and have a word with our team.
So what are you waiting for?