Innovation and progress have been the driving forces behind the vaping industry's evolution since its inception. From humble beginnings as a smoking cessation tool to a diverse and vibrant subculture, vaping has come a long way. At the heart of this transformation lies the continuous advancement of vape devices and technology.
Today, we stand on the brink of a new era in vaping, where cutting-edge innovations promise to redefine the entire experience. These new vape devices are more than just gadgets; they embody the future of vaping technology.
This article explores the groundbreaking innovations that are revolutionizing the vaping landscape and setting the stage for a new era of unparalleled enjoyment and safety. From intuitive features that cater to individual preferences to eco-conscious design approaches that reduce waste and environmental impact, the future of vaping technology is marked by a commitment to enhancing both user experience and sustainability.
Join us as we embark on a journey through the latest advancements in vaping technology, uncovering the state-of-the-art materials, intelligent hardware, and software integration that make up the foundation of these futuristic devices. Discover how these innovations are not only elevating vaping to new heights but also reshaping public perception by emphasizing responsible usage and responsible production.
With the global vaping community eagerly anticipating these transformative developments, the future of vaping technology promises to be an exciting and progressive one. Whether you are a seasoned vaping enthusiast or new to this smoke-free world, prepare to be amazed by the ingenuity and ingenuity that has propelled vaping devices into the future.
New Vape Device Options
Found Mary FM600
Presenting the Found Mary FM600 is a small, disposable vape with a pre-filled reservoir with 20mg (2%) nicotine salts and a 500mAh battery that can last up to 600 pleasurable puffs. Indulge in a wide selection of 18 delightful flavors, including fruit, drink, and menthol options.
Designed with user-friendliness in mind, the FM600 utilizes inhale activation, eliminating the need for setup, maintenance, or button press, making it the perfect choice for a hassle-free vaping experience. The 20mg (2%) nicotine salt formulation ensures swift satisfaction of cravings, delivering a smooth and satisfying vape.
The Found Mary FM600 has a mesh coil, which ensures that throughout the device's lifespan, it continuously produces a rich and tasty vape. An LED indicator at the base illuminates during vaping and rapidly blinks when the device is empty.
Features
500mAh Battery Capacity
600 Puffs
2% Nicotine Strength
20mg nic salt
18 Flavour Options
LED indicator
Upbar-nano
The UpBAR Nano is a compact, portable, and easily transportable mini box-shaped disposable vape, allowing you the flexibility to enjoy vaping wherever and whenever you desire.
Enjoy improved e-liquid utilization with FRESOR technology. The state-of-the-art Next-Gen Mesh Coil features a carefully layered flat-stacking design, greatly enhancing energy efficiency and puff count.
With patented FRESOR technology, the Nano undergoes fully automated production, ensuring consistency in every unit and delivering a strong flavor, excellent flavor replication, dense vapor, and dependable leakproof performance with each puff.
Features
0 E-liquid capacity
410 mAh battery capacity
20 mg/ml nicotine salt
0 Ω Resistance
Slix Disposable Vape
The Slix Disposable Vape is a practical and affordable vape kit that is great for beginner users and needs no setup or maintenance. Each Slix device is prefilled with 2ml of e-liquid, which produces a smooth MTL (mouth-to-lung) pull and up to 600 puffs of quality nicotine salt e-liquid in a variety of delectable fruity, minty, and tobacco flavors.
The ANDS Slix bar has an instant inhale activation mechanism, so all you have to do to start puffing is open the box, take the seals off, and enjoy. The 20mg of high-quality nicotine salts in each device allow for quick absorption and long-lasting craving relief. The Slix disposable is made to resemble the feel of a cigarette and releases a little quantity of vapor when exhaled.
Each ANDS Slix disposable is equipped with a Nexcore mesh coil with a larger surface area, which swiftly and evenly heats the e-liquid to produce an incredibly smooth and rich flavor over the course of the device's lifespan.
The Slix disposable vape kit is one of the most environmentally responsible single-use vaping kits now on the market because of its exceptional eco-friendly features. The Slix's premium construction features an environmentally aware design composed of premium cardboard and biodegradable silicone that can be easily disassembled and totally recycled, allowing you to contribute to environmental conservation as well.
Features
2ml capacity
20mg Salt-based nicotine
Draw Activated
400mAh Battery
600 puffs
8 flavor options
Just Juice x Oxbar RRD
With its refillable disposable vape design, the Just Juice x OXVA Oxbar RRD delivers a novel vaping experience. It combines the portability and versatility of a refillable pod system with the convenience of a disposable e-cigarette. With a 2ml refillable pod capacity and a rechargeable battery, the Oxbar RRD ensures unparalleled ease and sustainability for all your vaping needs.
The device features a 2ml refillable pod with a 1.0ohm built-in coil that can be refilled up to 5 times before replacement is necessary. Included in the kit is a 10ml bottle of one of Just Juice's top-selling flavors, providing a minimum of 3000 puffs when using the entire 10ml nic salt.
The device is designed to last for 6000 puffs, and by purchasing an additional 10ml nic salt bottle, you can enjoy another 3000 puffs before requiring a replacement. The Oxbar RRD is powered by a 550mAh battery, and its type-C USB charging capabilities allow for a quick 40-minute charging time (cable is not included).
Simplicity is at the core of the Oxbar RRD's design, featuring inhale activation technology that requires just a single inhale on the mouthpiece to activate the device.
Features
550mAh Battery Capacity
Inhale Activated
2ml E-liquid
6000 puffs
0ohm Built-In Coil
Type-C USB Charging port
Wenax K2 Pod kit
The Wenax K2 Pod kit presents an excellent refillable option, perfect for beginners or those transitioning from disposables. With a 1000mAh battery and 18W variable power, this sleek and slim vape offers a smooth MTL experience, making it ideal for extended vaping sessions with the latest nic salt flavors.
Equipped with the K1 cartridge, the Wenax K2 features a pre-fitted coil in a 2ml pod. Refilling the pod is easy, with a silicone stopper on the side. The mesh coil design ensures even and consistent heating of your e-liquid, delivering exceptional flavor and a smooth draw. The device comes with a 0.8ohm pod for a warm and flavorful vape, and an additional 1.2ohm pod is included for a tighter, cigarette-like draw.
With three clicks of the power button, you can switch between three power adjustment settings, complemented by a precise airflow slider on the side of the kit, allowing you to fine-tune your vape experience up to 18W. The intelligent LED indicator keeps you informed of the power level and battery charge.
The Wenax K2 can be activated by pressing the button or simply drawing on the kit to engage the inhale activation feature. Crafted from durable aluminum alloy, this highly portable and lightweight kit houses a generous 1000mAh battery. The included Type-C charging cable ensures minimal downtime between charges.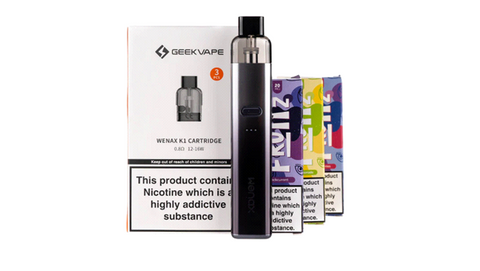 Features
LED indicator
Type-C charging
2ml E-liquid
Adjustable Airflow
1000mAh battery
2ohm resistance
FAQs
What sets new vape devices apart from traditional vaping devices?
New vape devices stand out from traditional vaping devices due to their advanced features and functionalities. They often boast longer-lasting batteries, faster charging capabilities, temperature control options, improved coil technology, and customizable settings.
Are new vape devices more environmentally friendly?
Efforts to create more environmentally friendly vape devices have been gaining traction in recent years. Manufacturers are increasingly using eco-conscious materials and adopting sustainable production practices.
Are new vape devices suitable for beginners?
While some new vape devices may have advanced features that appeal to experienced vapers, many manufacturers also cater to beginners. There are user-friendly devices with simple operation and safety features that make them accessible to those new to vaping. It's essential to consider individual preferences, nicotine requirements, and familiarity with vaping when choosing a device.
Best Vape Wholesale Supplier-UPENDS
Welcome to the fascinating world of Vape UPENDS, where style and creativity converge to entice you on a singular vaping journey. We kindly invite you to join our group, where exclusive discounts are prepared to elevate your vaping.
At Vape UPENDS, we take great pride in our cutting-edge creations, sophisticated aesthetics, and rigorous attention to detail. With each breath, the flawless and exquisite products that our team of gifted artisans makes are intended to arouse your senses.
In order to give you the best vaping experience possible, that is our mission. So fasten your seatbelt and get ready for a trip you won't soon forget! Let us demonstrate why Vape UPENDS is the top choice for discriminating users while you sit back and unwind.