Vaping has transformed the conventional smoking game by providing a more convenient alternative. When we talk about vaping, the Monster Bar Disposable is a popular name in the vaping community.
Let's uncover the secrets behind the popularity of Monster Bar Disposable Vapes…
What is a Monster Bar Disposable?
Monster Bar Vape has earned a great reputation among vaping enthusiasts by providing some of the best disposable vapes. The products are known for delivering a smooth and satisfying vaping experience that is liked by both beginners and experienced vapers. The brand offers a broad spectrum of flavors, from bold to fruity and sweet to savory to cater to the needs of different customers.   
The Monster Bar Disposable is a pre-filled and pre-charged device with no special requirements to smoke. The device is user-friendly as there are no complicated settings or buttons to adjust. There is a variety of vape devices to choose from and they come with different capacities and flavors. Users can also choose from different puff capacities such as 2500 puffs, 3500 puffs, and more.  
Monster Bar Disposable 3500 Puffs: Most Popular Among All
The Monster Bar Disposable 3500 is an exceptional device and one of the most popular disposables on the market. It is designed for a satisfying vaping experience that is ideal for both beginners and experienced vapers. It provides around 3500 puffs before it needs to be replaced which makes it one of the longest-lasting disposable vapes. Moreover, the device is known for its long-lasting battery and it also takes no time to charge.
The Monster Bar Disposable 3500 puffs come pre-filled and pre-charged, allowing users to enjoy their nicotine instantly. Talking about its design, it contains all the necessary components despite being compact and portable. It sits comfortably in the hand or pocket, making it an ideal choice for travelers. With its compact design, long-lasting battery, and impressive features, this disposable device is extremely popular among the vaping community.
Key Features of Monster Bars 3500 Puff Disposable
A Disposable Vape Pen
Pre-filled 7mL E-Liquid Capacity
Up To 3500 Puffs
1200mAh Integrated Battery
Draw Activation Mechanism
Mesh Coil
5% Nicotine
31 Different Flavors
Monster Bar Disposable 3500 Puffs Flavors
When you decide to buy the Monster Bar Disposable 3500 Puffs, there are 31 different flavors to choose from, including…
Banana Custard: A mix of rich banana flavor and custard that tastes like a banana pudding dessert.
Banana Ice: A chilled banana flavor with the coolness of frozen fruit.
Blackberry Jam: A sensational flavor of vine-ripened blackberry accentuated with the sweetness of jam.
Blueberry Jam: A burst of blueberry flavor with a hint of sweet jam.
Blueberry Lemonade: It's a refreshing mixture of wild mountain blueberries and sweet lemonade.
Blueberry Raspberry Lemon: A sweet and tangy flavor combining the taste of ripe blue raspberries and zesty lemon. 
Blueberry Raspberry Lemon Ice: A perfect mix of blueberries, raspberries, and lemon with a hint of ice for a cool exhale.
Butterscotch Custard: A combination of browned butter, caramelized sugar, and molasses for a sweet blast of flavor.
Mango Peach Guava: A tropical nectar that combines mangoes, peaches, and juicy guava.
Mango Peach Guava Ice: A frozen tropical smoothie made with ripe mangoes, peaches, and guava.
Milk Cinnamon: A warm and comforting flavor made by blending milk with spicy cinnamon.
Milk Berry Crunch: A mouthwatering flavor combining the creamy flavor of milk and the fresh taste of mixed berries topped with a crunchy cereal.
Milk Fruity: The richness of milk combined with ripe and juicy peaches, strawberries, and bananas.
Mint: A classic flavor of mint made to provide a refreshing flavor.
Mixed Berry: A combination of blueberries, raspberries, and blackberries accentuated with a rich, creamy aroma.
Mixed Berry Ice: A frozen flavor combining fresh chilly blueberries, raspberries, strawberries, and blackberries.
PB & Banana Jam: A sweet flavor made by combining bananas with creamy peanut butter. 
PB & Grape Jam: A perfect combination of peanut butter and grape jam.
Pink Lemonade: A sweet and tangy flavor that combines lemonade and red berries.
Passionfruit Orange Guava: An exotic flavor made by combining passionfruit, orange, and guava.
Passionfruit Orange Guava Ice: A unique trio mix of passionfruit, orange, and guava with a hint of ice.
Smooth Tobacco: A traditional, classic flavor of dry, robust tobacco topped with cream for a smooth finish.
Strawberry Custard: A unique blend of classic custard and sweet ripe strawberries.
Strawberry Banana Ice: A combination of vine-ripened strawberries and ripe bananas with a hint of frosted ice.
Strawberry Ice: A sweet and fruity flavor made by combining red strawberries and ice.
Strawberry Lemonade: It is a refreshing mix of the sweet taste of strawberry and tangy lemonade.
Strawberry Jam: A delicious mix of strawberries and jam for a sweet twist.
Strawberry Kiwi Pomegranate: A great combination of fruits like strawberries, kiwi, and pomegranate for a tart yet sweet flavor.
Strawberry Kiwi Pomegranate Ice: A frozen flavor combining the goodness of popular fruits like strawberries, kiwi, and pomegranate.
Vanilla Custard: A dessert flavor that combines the taste of creamy vanilla and custard.
Watermelon Lemonade: A tangy flavor made by mixing the juicy watermelon with tangy lemons.
Monster Bar Disposable Pros and Cons
Pros…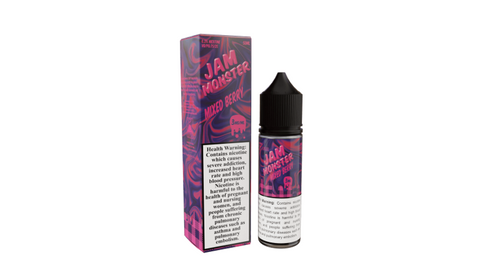 More than 30 Flavors
Pre-Filled and pre-Charged
Draw-Activated Mechanism
Discreet and Portable
Ceramic Coil
Easy to Use and Convenient
5% Nicotine
Cons…
A Bit Heavy
Disposables Are Not Environment Friendly
Monster Bar Disposable Review
Let's unfold the secrets behind the popularity of the Monster Bar Disposable…
Great Build Quality
The disposable vape bars by Monster Vapes are made to withstand harsh usage conditions. The vape pods are sturdy and durable, making them a perfect choice for on-the-go vapers. However, they are a bit heavier compared to other pod devices.
Impressive Performance
The disposable vapes are designed to provide a flavorful and satisfying vaping experience. There are many different flavors and puffing capacities to choose from. Monster Disposable Bars 3500 and 2500 are two of the most popular and well-performing devices by the company.
Efficient and Tastiest Vape
Monster Bar Disposable vape device is one of the tastiest vape products available on the market. Apart from the style and sturdiness, it provides a smooth yet strong vaping experience. The e-liquid provides thick clouds for the most satisfying vaping sessions.
Whopping Puff Count
The Monster Bar Disposable vape pod provides around 3,500 puffs per device. The puff count is enough to enjoy uninterrupted vaping for around 3 to 4 days. The monstrous performance makes it an extremely popular device in the vaping world.
FAQs About Monster Bar Disposable
Is Monster Bar Disposable a good vape?
Monster Bar Disposable packs many features like 5% nicotine, 7mL e-juice capacity, 1200mAh integrated battery, and a huge variety of flavor options. Its concentration provides a strong hit, making it a great option for anyone looking for an intense nicotine experience.
What are the benefits of using disposable vapes?
With disposable vapes, you get the freedom to enjoy different flavors and the latest technology. As they are designed to have a shorter lifespan, you don't have to worry about maintenance. Also, there is no need to refill or recharge.
How much nicotine is in a Monster Bar Disposable?
The Monster Bar Disposable comes with 5% nicotine concentration while the other features may vary depending on the model you choose.
How many days should 3500 puffs last?
Well, it will depend on the usage frequency but on average, a 3500 puff vape should last anywhere between one and two weeks.
How do I know that my Monster Bar Disposable is out of e-juice?
The easiest way to know if your vape device is empty is by looking for an indicator light blinking. You can also pay attention to the diminished flavor or burnt taste.
UPENDS: Your One-Stop Shop for Wholesale Vapes
Looking for disposable vapes? UPENDS offers a wide selection of vape products, including disposable vape pens, vape pods, pod mods, and vaping accessories. Our devices are known for their build quality and ultimate performance.
If you're looking for a stylish yet powerful disposable device, you can consider UpBar GT and UPENDS MIRROR. The UpBar GT is an innovative disposable vape device inspired by the sports car and a perfect choice for those looking for style and performance.
On the other hand, the UPENDS MIRROR is a sleek and stylish disposable vape pen that is worth considering. It is designed to deliver exceptional vapor production and intense flavor. It comes with a pre-filled pod and magnetic connection to provide an incomparable performance.
At UPENDS, we believe in providing the best value for your money and that's why we create the most innovative and stylish products. Furthermore, our products are tested for quality and impurities.
To help our global customers get their hands on the best vape products, we are looking for vape distributors and agents at different locations. If you're interested in joining us, feel free to talk to us…