Are you looking to elevate your vaping experience to new heights? Look no further than the Uwell Whirl vape system. This exceptional vaping device is designed to provide you with maximum satisfaction and enjoyment. With its advanced features and innovative design, the Uwell Whirl is the perfect companion for both new and experienced users alike.
Whether you prefer mouth-to-lung (MTL) or direct-to-lung (DTL) vaping, the Uwell Whirl offers a versatile experience to suit your style. Its adjustable airflow system allows you to customize your vaping experience and find the perfect balance of flavor and vapor production.
Not only does the Uwell Whirl prioritize performance, but it also values convenience. The bottom-filling tank makes refilling your e-liquid a simple and mess-free process. The PRO-FOCS flavor testing technology further enhances the taste, ensuring that every puff is packed with delicious flavor notes.
Constructed with stainless steel and quartz glass, the Uwell Whirl is built to last. Its sleek and stylish design not only looks great but also feels comfortable in your hand, making it an enjoyable device to use.
In this guide, we will explore the various features and benefits of the Uwell Whirl, as well as provide tips and tricks to maximize your vaping experience. From coil selection to airflow adjustments, we will delve into the details that will elevate your vaping journey to new heights.
What Is Uwell Whirl S
The  Uwell Whirl S is a discreet and user-friendly device that serves as an excellent introduction to vaping, making it highly recommended for new users. Constructed with stainless steel and quartz glass, its simple and sleek design offers both lightweight portability and durability.
The slim tube-like vape kit features a built-in 1450mAh battery with a maximum output power of 18 watts in bypass mode. Charging is quick and convenient with the included Type-C cable, supporting a charging current of up to 2A.
One standout feature of the Uwell Whirl S is its 2ml capacity tank, which allows for hassle-free top-fill refills. Simply press down and twist the child-safe top cap to access the filling port, ensuring a seamless and mess-free experience. With the built-in observation window in both the tank and battery unit, monitoring the liquid level is a breeze.
The Whirl S kit operates with a dual firing system, allowing users to fire the device using either the intuitive firing button or the draw-activated firing system when unlocked, providing added flexibility. The device features a fire button with an integrated color LED, while other controls and settings are not required.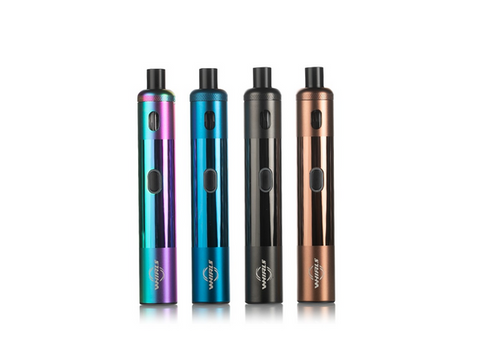 Whether you prefer a restricted direct-to-lung (RDL) hit or a mouth-to-lung (MTL) style, you have the flexibility to customize your vaping experience. Additionally, the tank securely attaches to the device thanks to a powerful magnet, providing peace of mind during use.
Features
Built-in 1450mAh Battery
Direct Vape or Button Vape Option
Maximum Wattage of 18W
2ml Tank Capacity
Easy Top Filling System for Convenient Refills
Mesh Coil for Enhanced Flavor
Pro-FOCS Flavor Testing Technology for Optimal Taste
Child-lock Mechanism on Top Cap (CRC version only)
Coil lock Design for Secure Coil Placement
Adjustable Airflow for Customizable RDL (Restricted Direct Lung) and MTL (Mouth-to-Lung) Vaping
Easy to Clean with Running Water
E-liquid Level Window for Easy Monitoring of Liquid Level
Package includes:
1 Uwell Whirl S Vape Kit
2 Uwell UN2 0.8 Ohm Meshed Coils
1 Type-C Charging Cable
1 User Manual
Whirl 20 AIO Starter Kit
The UWELL WHIRL 20 Starter Kit introduces a cutting-edge vape pen system that offers optimal performance and portability. With its all-in-one design and pro-FOCS atomizer structure, it prioritizes flavor-focused technology. There are two editions available, each with its own unique features.
Powered by a direct output voltage system, the UWELL WHIRL 20 Starter Kit adjusts power levels based on the remaining battery capacity, reaching a maximum output of 25W. Operating the device is simple with a single firing button, accompanied by an LED battery light indicator developed by UWELL's independent research and development team.
The integrated tank of the WHIRL 20 Starter Kit showcases exquisite craftsmanship, featuring grooved bottom and top bases. It has a generous e-juice capacity of 2mL, easily accessible through a threaded top-fill method. The WHIRL Tank uses the cutting-edge pro-FOCS (Professional Flavor Optimization Core System) technology to suit both constrained direct-to-lung and mouth-to-lung vaping techniques. This system is enhanced by the inclusion of 0.6ohm Whirl Coils, delivering an exceptional flavor experience.
What is Whirl 20 AIO Starter Kit
The Whirl 20 AIO Starter Kit is a compact and all-in-one vaping device designed by Uwell. It is a user-friendly kit perfect for beginners and those looking for a convenient and hassle-free vaping experience. The kit features a 20mm diameter device with a built-in 700mAh battery and a 25W constant wattage output, providing ample power for a satisfying vape.
It is constructed with stainless steel and quartz glass for durability and features a bottom-filling tank for easy refills. The Whirl 20 AIO Starter Kit also incorporates Uwell's PRO-FOCS flavor testing technology, ensuring an exceptional taste with every puff. With its plug & pull coils and compatibility with both MTL and DTL vaping styles, the Whirl 20 AIO Starter Kit offers versatility and convenience for users of all levels.
Features
20mm Diameter for Compact Size
Built-In 700mAh Battery for Convenient Use
Single Button Operation for Easy Vaping
25W Constant Wattage Output for Consistent Performance
Stainless Steel and Quartz Glass Construction for Durability
Plug & Pull Coils for Effortless Coil Replacement
Bottom Filling Tank for Convenient Refills
PRO-FOCS Flavour Testing Technology for Enhanced Taste
Allows for MTL (Mouth-to-Lung) and DTL (Direct-to-Lung) Vaping Styles
Available in Iridescent, Purple, Stainless Steel, Sapphire Blue, Gold, and Black for Stylish Choices
Package includes:
1 WHIRL 20 kit
1 Extra quartz glass
2 0.6 ohm coils
1 Pack of replacement O-rings
1 Micro-USB cable
1 User Manual
1 Drip tip cover
Other products to try:
UPENDS Diamond
When you engage in vaping, the diamond-textured exterior of the device creates an enchanting and ethereal ambiance as it reflects light from the base. This unique design feature enhances the visual allure of the device, making it visually captivating. Furthermore, the device elevates your vaping experience by providing a more pronounced taste and improved replication of flavors.
It also boasts enhanced energy efficiency, enabling you to enjoy more puffs before requiring a recharge. By utilizing the bottom button, you can conveniently adjust the inlet airflow, offering you the versatility to indulge in either Direct-to-Lung (DTL) or Mouth-to-Lung (MTL) vaping styles based on your personal preference.
With an impressive 13mL mega e-liquid capacity and a 600mAh rechargeable battery, you have the liberty to savor your vaping sessions without concerns of depleting e-liquid or battery power.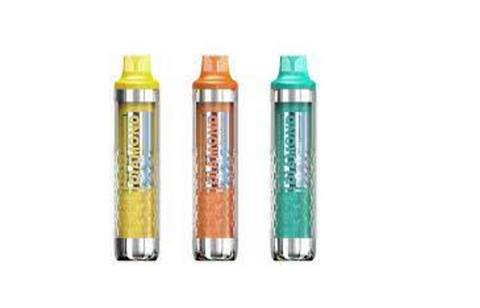 Features
Battery 600mah
13ml Capacity E-liquid
Size 119.8mm x 27.5mm
Type C USB charging port
0ohm Resistance
Package includes:
Package: Single
1 x Device
1 x User Manual
Mid-Package
Voopoo Drag X Plus
Experience the incredible Voopoo DRAG X PLUS 100W Pod Mod Kit, a cutting-edge device that combines power, versatility, and exceptional vapor production. The DRAG X PLUS Pod Mod Kit is made with a durable zinc alloy frame that offers durability and incorporates the cutting-edge GENE.FAN 2.0 Chipset.
This innovative chipset includes features like Smart Mode, which automatically detects coil resistance, making it ideal for new users. For more experienced users, the RBA Mode allows for compatibility with 510 threaded sub-ohm tanks or rebuildable atomizers. With its compatibility with the TPP Coil Series, the VOOPOO DRAG X PLUS delivers satisfying vapor with a wide range of coil options, catering to all vaping preferences.
The Voopoo Drag X Plus is a powerful and stylish pod mod that features a 100W maximum output, a large 5.5ml pod capacity, and compatibility with a wide range of coils. It offers advanced features, such as adjustable airflow and a vibrant color display.
FAQs
What type of coils does the Uwell Whirl use?
The Uwell Whirl utilizes Uwell's Whirl Coil Series, including 0.6ohm and 1.8ohm coil options.
These coils are designed for both direct-to-lung (DTL) and mouth-to-lung (MTL) vaping styles.
Best Vape Wholesale Supplier-UPENDS
Experience the captivating world of Vape UPENDS, where innovation and style converge to deliver an extraordinary vaping encounter. Join our welcoming community and explore a range of special offerings designed to elevate your vaping pleasure.
At Vape UPENDS, we take immense pride in our cutting-edge inventions, elegant designs, and meticulous attention to detail. Our team of talented artisans dedicates their careers to perfecting magnificent products that will enchant your senses. Prepare to be amazed by the unique experiences we have in store, tantalizing your discerning palate with every exhale
With our unwavering commitment to providing an exceptional vaping experience, we invite you to embark on this transformative journey together. Discover why Vape UPENDS is the premier choice for those who seek nothing but the best when it comes to relaxation. Immerse yourself in a world where innovation, style, and sheer wonder seamlessly intertwine, creating a magical experience that will leave you craving more.