Max VG refers to any e-juice containing 70% VG or higher. The term "max" means that no more VG can be added to the e-juice recipe without changing it. This is because most flavorings used are propylene glycol-based flavors. Max VG can and maybe contains high as 90% and above.
Some people prefer max VG e-juice because of some reasons such as :
They want to avoid as much as possible propylene glycol. 

Others may just love the big milky clouds and the smooth vapor produced by the VG.
 E-liquid containing more VG and less PG has an advantage since it provides less of a throat hit, which is preferable for direct lung vaping. Whereas, if you're a mouth-to-lung vaper, high-VG e-juice is not really an advocated one to use. 
What vapes work best with high VG?
The following are some of the devices that one is recommended to use with Max VG Juice
a) Vape mods

b) Sub Ohm tanks

c) RDAs

d) RTAs
 Max VG e-liquids functions most appropriately with direct lung sub ohms vapes.
 High VG juice is not advisable for use the low-powered mouth to lung devices like pod paves. The reason behind this is because it has a higher viscosity, hence it will not vaporize properly. For it to work efficiently, e juice requires low resistance coils and more power
WHAT'S THE BEST PG TO VG RATIO?
Just to set things easy, we will define the abbreviations VG & PG. VG means vegetable glycerin whereas PG means Propylene Glycol. 
Vegetable Glycerin is a thick substance that is used as a food sweetener and thickener. This ingredient is derived from plant oils. It helps in the production of the vapor when used in an e-cigarette.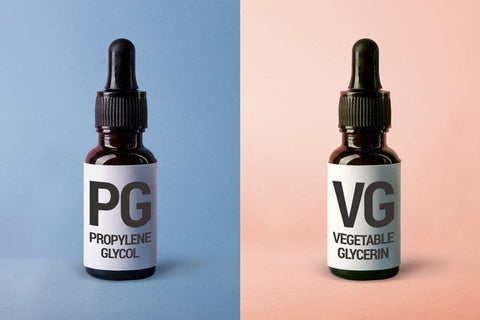 Propylene Glycol it's a chemical that is made to a food-safe standard that is fit for human consumption. It's been used in the food industry and is still used as medicines that we usually consume daily. In an e-liquid, this ingredient helps to carry the nicotine and the flavor.
The main ingredients in an e-liquid are PG and VG, along with nicotine and flavorings. The Vegetable glycerin makes the flavorings sweeter and produces huge milky clouds when one exhales. Without PG, one experiences a harsh hit at the back of the throat.
High PG Liquids
Most Typical e liquids have a 4:1 PG: VG ratio. This means, strong, sharp flavors, small and thinner clouds will be exhaled, hence one will notice a hit at the back of your throat. A high PG ratio will deliver a similar experience to smoking if one is using vape o replace the mouthful of a cigarette. 
The neutral flavor produced of PG gives a meaning that the flavors of your e-liquid will be sharper and more savory. That makes the flavors perfect for toasted tobacco, or menthol flavors.
Those are the two types of e-liquid that you don't find available with high VG ratios. A high PG ratio is the only way that one will feel like you're smoking on the inhale. 
 HIGH VG LIQUIDS 
"Mod" liquids take the ratio of a standard juice and switch it the other way around. Now you've got a 4:1 VG: PG ratio. That means a much smoother inhale hence a throat hit will be less noticed
Another observation is that you'll find that the mouthfeel of your vape is somehow creamier and a lot sweeter than with a high PG ratio. That is what differentiates both of them. That means that a high VG liquid is perfect for dessert flavor or bubblegum flavors. The main benefit of a high VG liquid ratio is that it allows you to vape large and thick clouds when you exhale. This can truly make one make all sorts of tricks by the thick cloud when vaping. 
This gives a conclusion about the VG and PG ratio. High VG and High PG ratios got their separate benefits. For balancing a 50:50 ratio will be better. This means the e liquids are perfectly balanced. 
The 50:50 ratio-based liquids are perfect and compatible with any device. Dense enough for use with the sub-ohm mod but not so clammy so that they will not clog a less power pen Vape. 
Propylene Glycol Vs Vegetable Glycerin: What they are & their uses.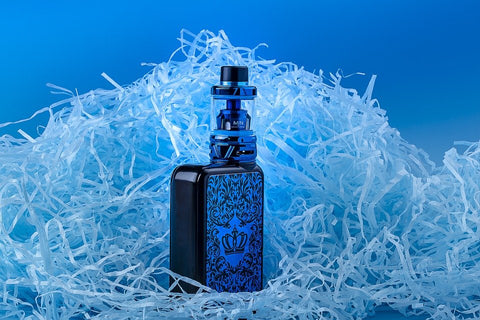 Propylene Glycol and Vegetable Glycerin are unscented liquids combined with Nicotine and flavors to create e-juice. They are not oils, and cannot cause any medical issues. 
Both of them technically belong to the Alcohol Chemical class, Classified under sugar alcohols. 
They usually produce vapor when heated, hence allowing them to be inhaled. 
Since they have different tastes, that gives them different consistency to each other. 
When vaped, they have distinct mouth and throat sensations. That is normally the taste of the flavors. 
Propylene Glycol 
The fluid has no color or odor.
Less viscous than Vegetable glycerin.
During vaping, it is used in the provision of 'throat hit'.
It carries flavor that is more effective than Vegetable Glycerin, and this makes it the most commonly used suspension fluid for nicotine. 
PG can be found in some household items such as toothpaste, medical products (especially the ones taken orally), pet food, and beauty products. 
Most of the common side effects of using e-liquid consisting of PG are dehydration symptoms, sore throat, and too much thirst. If hydrated properly, the body gets used to propylene glycol 
     2. Vegetable Glycerin
It is a natural chemical that is derived from vegetable oils, so it makes it very safe for vegetarians. It is commonly used in e-liquid for provision of thick sensation to vapor. 
Vegetable Glycerin has a delicious taste and it is thicker than PG. This makes Vegetable Glycerin provide a much smoother throat hit than Propylene glycol, making it more convenient for sub-ohm vaping. 
Vegetable Glycerin can be found in several medical, care products and food.
 It can be used as a sugar replacement. 
VG is used in the provision of a thickening agent for certain medical jellies and pills. 
Used in beauty products such as deodorant and aftershave. 
It is necessary to note that the risk of being allergic to vegetable glycerin is very low. This will be very beneficial to most users who have issues when vaping e-juice since that is another alternative they've got. 
As with the Propylene Glycol, vaping high VG e-liquid can suffer from dehydration. That includes thirst and dry mouth. The solution is to stay hydrated and taking a break from vaping if it's possible. 
High VG liquids, clogs up coils more rapidly. 
Wholesale Vape Sources: UPENDS  
UPENDS is the new rising e-cigarette brand. With this device, you can put your flavor of CBD vape juice that you'd wish to have. UPENDS is still the leading brand and wholesaler of vaping products. The developer allows you to enjoy your vaping experience, at the comfort of your flavor at a wholesale price. Their products are developed and presented in a pen stylus design, easy to carry along, anytime anywhere one can vape.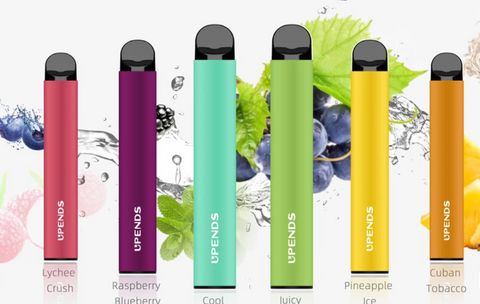 With UPENDS they assure each vapor of great disposal and allow one to vape at a lower cost. 
UPENDS gives a chance of vapors to refill the vaping pens once they are over, which explains the reason why they are of a lower cost. This will favor the vapor's in terms of spending money. 
The Pod Kit is designed for people chasing both hygiene and style. It can be recharged within 1Hour. The Pod can only sustain 3-5 refilling's with your taste on the vape juice you are going to refill it with. 
The brand is focusing and ensuring on each detail during use and strives for an easier, amazing, and fine experience. 
One is suggested to place an order through their official website at www.upends.com since the brand is establishing its global distribution panel.