The LoKey Vape is the plug when it comes to portable, ultra-discreet vaping while bridging the gap between novelty and functionality. Currently, the market is oversaturated with a variant of Lo key products that may not live up to their expectation. To help you in the journey of finding the authentic lo-key product for your use, we have curated the most comprehensive low-key review you can ever read.
What is Low Key vape?
A dynamic voltage-based vape known as the lo-key V2 350mAh 510 Thread battery implements a 350mAH rechargeable battery, features about 3 separate power levels, and flip out 510 threaded connection for an innovative discreet vaping. The Lo Key V2 vape features the flexibility to control the heat settings of the vape according to the viscosity of the oil in the cartridge. It comes in a discreet shape of a car key which makes it more appealing.
General Feature of Lo Key Vape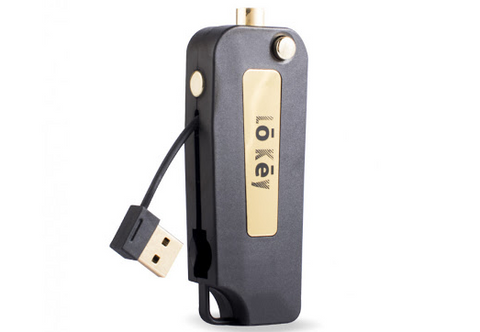 The Lo Key Vape encapsulates all of the best qualities of a travel-friendly device. The Lo Key Vape features an ideal use for liquids or aromatic oils. It features impressive spec which gives users a gratifying and easily accessible session. These features include;
A charge time of 4 hours
Different Color options (Black and Gold, Black and Rainbow, Full Gold, and many more)
Protected Cartridge
Voltage setting options: 2.7V | 3.1V | 3.6V
350mAh battery capacity
510 Cartridge compartment
Loop for keyring attachment
Hidden integrated USB charging cable
How to use the Lo Key Vape
With its inconspicuous and sleek design quality, the Lo Key Vape is user-friendly. To use your newly purchased Lo Key Vape, simply click on the flip-out button to flip out the 510 threaded connection. Then click on the power button 5 times to switch it on. Vaping on the Lo Key features 3 different power levels including 2.7V, 3.1V, and 3.6V. You can switch between power levels when vaping. To go through with this, click on the power button 3 times. There are color descriptions on the outside of the Lo key Vape which corresponds with the voltage level. Red light signifies 2.7V hit, blue signifies 3.1V hit, while green light signifies the highest setting which is 3.6V.
Pros and Cons of Lo Key Vape
Pros of Lokey Vape
As a result of simplicity, Lokey vape is out rightly to use. As opposed to most vapes that come with a mini charger port, it comes with a built-in USB charger hidden in the side. This makes it possible to charge your Lokey Vape anywhere and anytime. Although the charger may be short which makes the device hang while charging, the ultra-discreet and sleek design offer more for secret smokers. So, with the Lo Key Vape, you do not need to worry about carrying a charger from one place to another.
Moreover, the lowkey vape is reasonably priced. So, you do not have to worry about a high budget because it's definitely good for the money. This is available for pick up in any smoke shop for $30 or less.
Low key is user-friendly and can be set at 3 varieties of voltage. They include 2.7V, 3.1V, or 3.6V with 3 different clicks from the power button. Each voltage has a different color display as coated on the front of the vape.
LoKey features a super low-key design that can be so convincing that you can grab the wrong key fob when leaving your comfort zones. It also features a keychain loop for keyring attachment to make your day a memorable one.
Unlike other vapes, the Lo Keyreaches temperature in a few moments to allow users a cloud-dense exhale and satisfying draw. To activate a pre-heat, click twice on the power button.
For less careful smokers, the cartridge of the LoKey is completely contained within. So, you need not worry when you hit it off something. Also, Lo Key Vape comes with a 350mAh battery, this depicts that users will enjoy more vaping sessions before worrying about low battery.
Cons of LoKey Vape
Let's get one thing straight and clear – vapes don't explode because they are not bombs. So, the only thing that can malfunction to a horrible extent is the battery. This is basically true of any battery. When not properly or carefully used, a battery can damage the device, blow up the device and property, or may cause harm to the vaper. This is one of the disadvantages of using a Vape, however,  Lokey Vape won't blow up as long as you have the original product. Beware of fake Lo Key Vape products out there. Upends.com is your plug if you are looking for the real Lo Key Vape for a more vaping experience.
Do you normally throw your keys around? If Yes – then Lokey will have to contend with your Keys and Keychains on your keyring. Also, since it is designed as a keyring you may unintentionally bang the Lokey around all day. This may lead to breakage.
Lastly, the Lo Key comes with a 350mAh battery which is perfect for its size. However, it takes twice as long as its counterpart to fully charge.
Lo Key Vape FAQ
How do I turn on my Lo Key Vape?
Turning a Lo Key Vape on is simple. To turn on your Lo Key vape, simply click on the power button on 5 clicks, then there you go and it comes on.
 What does a red blinking signify on a Lo Key Vape?
Lo Key Vape is designed with great experience in mind. Its power button features different colors that denote different meanings. If your Lo Key Vape battery runs down, it will blink red and shut down. However, in a situation of overheating, the Lo Key Vape blinks three times and turns off. Also, the mode will automatically turn off in case of a short circuit.
 How Long does it take the Lo Key Vape to fully charge?
The Lo Key Vape features a powerful battery of 350mAh allowing for a long vape session. With the hidden integrated USB charging cord, it takes about an hour to fully charge.
How do I clean my Lo Key Vape?
To clean your Lo Key vape, soak a clean cloth in alcohol and wipe the interior of the chamber off gently. As you wipe, remember to treat the vape with caution. To clean the exterior part of the Lo Key Vape, follow the same procedure as the interior.
Conclusion
The Lo Key Vape is one of the most discreet vapes you can ever lay your hands on. It's a perfect pick for those who are looking for private and portable vaping without getting noticed. It's a key fob and you'll get the value for the money. The Lo Key Vape offers a sleek and simple design with varieties of options to choose from. It is reasonably priced for more affordability while the only caveat is to treat the vaping device as a relatively delicate electrical device. A trial of Lo Key Vape will convince you. You can check the Lo Key Vape up here at upends.com. We offer varieties of quality and long-lasting Lo Key Vape devices.