Disposable vapes are gaining immense popularity, thanks to the convenience they offer. These devices are ideal for transitioning as no charging or filling is required. However, the vape manufacturers have added the option to charge your devices so that you can enjoy every bit of the e-liquid. All you have to do is simply grab your favorite device and start vaping.
Today, there are many brands out there providing a huge variety of disposable vapes. In this article, we will discuss one such popular vaping brand that has made a good name among the vaping community - Looper Disposable Vape.
Let's get started…
What is a Looper Disposable Vape?
Looper is a renowned cannabis brand that deals in minor and rare cannabinoids. They offer a wide selection of products, including Looper Disposable Vape, Cartridges, Gummies, and more. The products offered by the company are known for their taste and high potency. This makes them ideal for people who want to enjoy the world of cannabinoids. Moreover, the products are designed to provide strong, full-bodied effects. 
The company provides a wide selection of Looper Disposable Vapes in different strains such as Hybrid, Indica, and Sativa. The main products you will find under these categories include Looper HHC Disposable Vape 2g, Looper Melted Disposable Vape, Looper HHC-O Disposable Vape 2g, Looper XL Live Resin Disposable 3g, and Looper Lifted Disposable Vape 2g.
Let's discuss more about Looper Disposable Vape…   
Looper Disposable Vape Product Selection
Looper Melted Series Live Resin Disposable Vape
One of the most popular Looper disposable vape series, the Melted Series provides a smooth and strong vaping experience. This is the latest vape pen by Looper with a high concentration of 2000 mg in each 2-gram cartridge. It is designed to provide strong psychoactive effects and is available in many strains. It provides effects like happy, hungry, and giggly and available in fruity, earthy, and herbal flavors. This could be a perfect vaping option for anyone looking for uplifting effects and maximum euphoria as it provides a powerful kick.
Features…
Disposable Vape Pen
2 Gram Cartridge
No Artificial Flavoring
2000 mg of THC-O, THC-P, and HHC
Discreet and Portable Vaping
3rd Party Lab-Tested
Draw-Activated
Live Resin Concentrate
Less Than 0.3% Delta-9 THC
Rechargeable Via Micro-USB
Indica/Hybrid Strain
Looper Disposable Vape Lifted Series
The Looper Lifted Disposable Vape series is known for using live resin and cannabinoid manufacturing technology. The disposable vape pens under this series come with a 2g capacity and are available in many satisfying flavors. The best thing about this series is that it retains all the beneficial properties of the hemp plant's cannabinoids, terpenes, and flavonoids. The disposable vape pen is designed to provide a strong taste and aroma as it has live resin extracts. Moreover, the vape pen provides a hassle-free way to enjoy live resin extracts and offers a satisfying vaping experience.
Features…
2 Gram Cartridge
Live Resin Concentrate
Button-Activated
A Transparent Window
Less Than 0.3% Delta-9 THC
Rechargeable Via Type-C Port
Third-Party Lab-Tested
Natural Terpenes
Looper XL Disposable Vape Series
This vape series is designed to deliver a balanced high that is perfect to be consumed at any time of day. It contains a high hemp-derived THC content and provides a powerful yet uplifting effect. The vape pen features a sleek and portable design, making it a perfect choice for on-the-go use. Moreover, it is made from 100% USA-grown hemp and contains less than 0.3% Delta 9 THC. It comes in many different strains and flavors to provide a satisfying vaping experience to users with different needs.
Features…
3 Gram (3000mg) Cartridge
Live Resin Extracts
Draw-Activated
Less Than 0.3% Delta-9 THC
Rechargeable Via Type-C Charging Port
3rd Party Lab-Tested
Hybrid, Sativa, and Indica Strains
Looper Disposable Vape HHC-P
The HHC-P disposable series comes pre-filled with high-quality live resin and has 2 grams of HHC cannabinoids. The HHC used in this disposable vape series is derived from CBD sourced from high-quality hemp to provide a satisfying vaping experience. The disposable vape is available in different flavors to satisfy different taste buds. Moreover, it provides a smooth yet strong vaping experience, making it a perfect choice for both beginners and experienced vapers.
Features…
2 Gram of HHC Cannabinoids
Live Resin Extracts
No THC
Third-Party Lab-Tested
Draw Activation Mechanism
Type-C Charging Port
Natural Terpenes
Different Strains and Flavors
Looper Disposable Vape Review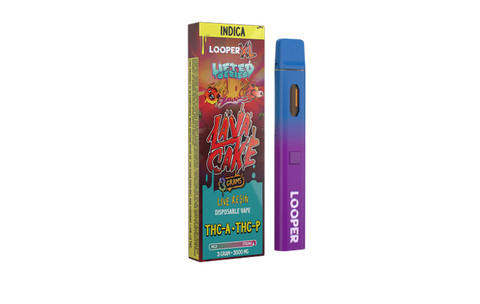 If you're looking for a flavorful and potent disposable vape, Looper can be a great option to consider. The Looper disposable vape is designed to provide smooth and satisfying hits. The vapor produced by these disposables is thick and full-bodied. It creates a sensation just like smoking a traditional cigarette, making it a perfect option for those making a transition.
Talking about the taste, it is undoubtedly one of its best features as there is a huge variety of flavors to choose from. All flavors are designed to be bold and distinctive. Moreover, they provide a burst of flavor whether you choose a dessert-inspired flavor or a fruity one. There is a flavor for everyone so that all vapers can satisfy their cravings.
Furthermore, the Looper disposable vape is known for its durability. The device is well-constructed and well-structured so that it lasts long, making it a great value for its price. Despite being a disposable device that has to be discarded after use, you won't have to worry about its durability. It won't split into pieces, making it a great option for on-the-go users.
Looper Disposable Vape Pros and Cons
Pros…
Unique Cannabinoids
Good, Practical Packaging
High-Quality Product Design
Potent and Full-Bodied Effects
Affordably Priced
Great Finish and Functionality
A Wide Selection of Flavors
Third-Party Lab-Tested
Cons…
Ideal for those with high tolerances
Not all products are tested for impurities
FAQs About Looper Disposable Vape
Is Looper Disposable Vape worth buying?
The Looper Disposable Vape is a well-balanced and potent device that is designed to deliver something new to the vapers. Moreover, there are many flavors and devices to choose from as per your unique needs.
How long does the Looper Disposable Vape take to charge?
It might take around two to three hours to fully charge your Looper Disposable Vape. It takes around 10 to 20 minutes for the vape to take effect initially.
What is HHC-P?
HHC-P or Hexahydrokanabiphorol is a member of the cannabinoid family with others including CBD, THC-P, and THC. It has a chemical structure just like THC and provides psychoactive effects.
Is Looper a reliable vape brand?
Looper Vapes are popular in the vaping world as most of the products are tested for quality and impurities. Moreover, there are many different products to choose from that are affordably priced.
What is the best Looper Disposable Vape?
Although it will depend on your taste and preferences, the Looper Melted Series Vape: Purple Punch is a popular choice among vapers. This 2-gram disposable vape is one of the strongest disposables and comes with a live resin blend.
Does Looper Disposable Vape get you high?
Well, the most potent hemp-derived Delta-8 provides strong psychoactive effects and euphoric feelings. As the vapes contain natural terpenes and Cannabinoids, you can expect a high.
What are the pros and cons of buying disposable vapes?
As far as the pros are concerned, disposable vapes are easy to use and convenient to use as no charging or refilling is required. They are also maintenance-free devices. However, disposables add to the electronic waste that is not good for the environment. Also, they can be expensive in the long run.
UPENDS: Your Wholesale Vape Store
If you're looking for a reliable vaping brand that provides a wide selection of high-quality products - UPENDS could be the right place for all your vaping needs. We strive to provide the best to our customers whether it's a product or customer service. The idea is to provide an unforgettable vaping experience at an affordable price.
At UPENDS, you will find a huge variety of vape products, including Disposable Vape Pens, Vape Pods, Vape Pod Mods, and Vaping Accessories. We have everything that you need for a smooth and satisfying vaping experience. We have a team of highly skilled and passionate professionals who are working to provide you with the best products.
UPENDS is a place where creativity meets technology to create products that are far beyond imagination and expectations. Some of the best examples of our work include UPENDS MIRROR, UpBar GT, and UpBar NANO. These products feature a unique design and come with the latest technology.
As we aim to provide our global customers with superior-quality products at the most reasonable price, we are looking for some helping hands. We are seeking authorized vape distributors and agents at different locations. If you want to be a part of our journey, feel free to contact us.
Let's discuss how we can help each other and grow businesses…