Are you seeking a method to vape that doesn't involve nicotine? It's now more accessible than ever before. The trend towards non-nicotine vapes has grown significantly, with an increase in the popularity of 0mg vape juices and disposable products that contain zero nicotine.
There are numerous benefits to vaping without nicotine, and various options are available, to begin with. To assist you, we've compiled a list of the top non-nicotine vapes.
What Is A Nic Free Disposable Vape
A Nic Free Disposable Vape is a type of electronic cigarette or vaping device that does not contain nicotine. It is a disposable vape device that can be used for a limited period before it is discarded.
Unlike traditional cigarettes, which contain tobacco and produce smoke, disposable vapes heat a liquid (usually a flavored e-liquid) to produce an aerosol or vapor that is inhaled.
Nicotine is a common ingredient in e-liquids, but some manufacturers produce nicotine-free e-liquids that can be used in disposable vapes.
Nic Free Disposable Vape Products
Elfbar BC5000
Elfbar is a leading brand in the disposable vape market, and they have now established itself as the top producer of nicotine-free disposable vapes. It's exciting news that they've started offering one of our favorite disposable vapes in a 0 mg (no nicotine) version, which provides the same great vape experience without the nicotine content.
The BC5000 model is particularly impressive, featuring a sizable 13ml of pre-filled juice, a rechargeable 650mAh battery via USB-C, and an impressive puff count of up to 5000 per bar.
Elfbar is renowned for delivering exceptional flavor profiles across their range of disposable vapes, including popular flavors like Kiwi Passionfruit Guava, Watermelon Ice, and Rainbow Candy. Additionally, the BC5000 boasts an appealing form factor with its vibrant, two-tone design.
Features
0 % Nic salt
13ml of pre-filled juice
650mAh battery
USB-C
5000 puffs
Foodgod 2400 0% Zero Nicotine Disposable
The Foodgod Zero Nicotine Disposable is designed to provide an exceptional vaping experience with carefully crafted and sophisticated flavors from different parts of the world.
It guarantees high-quality vape without any trace of nicotine. Each Foodgod Zero device boasts of an already charged 1000mAh battery, 8mL of e-liquid, and a 0% nicotine content. You can savor the smooth and delicious flavors from various parts of the globe.
Features
0% nicotine
1000mAh battery
8mL of liquid
Various flavor options
Fire Float Zero Disposables
The Fire Float Zero disposable vapes are among the top choices for nicotine-free options. They come pre-filled with 8ml of e-liquid, which can last up to 3000 puffs per disposable. As there's no nicotine, the inhalation is incredibly smooth and not as harsh as other disposable vapes on the market. Additionally, the mesh coil produces outstanding flavor, and the vapor clouds are impressive.
Fire Float Zero disposables are available in 12 different flavors, including fruit, fruit/menthol, and even candy flavors, catering to a wide range of tastes.
Features
0 % nicotine
3000 puffs
8ml of e-juice
mesh coil
12 different flavors
TryMelody Melody Max Pro
The main objective of TryMelody is to produce disposable vape pens without any nicotine content. Their product line does not include any vaping devices that contain nicotine, and their motto is centered on managing cravings.
This dedication is what makes the Melody Max Pro an exceptional disposable vape with zero nicotine. With 11 ml of pre-filled e-liquid and a USB-C rechargeable battery, it has the potential to deliver up to 6000 puffs per device.
The Melody Max Pro is packaged in a sleek box design that is easy to grip and has outstanding durability. Additionally, it provides an ideal MTL inhaling experience for smokers who are switching to vaping. Nevertheless, what stood out to us the most about this product was its vast selection of flavors.
Features
0% nicotine
5000 puffs
11ml of e-juice
7 different flavors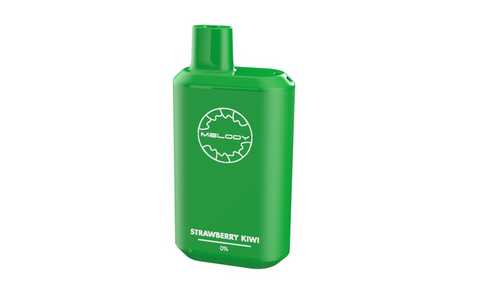 Twist 6000 0% Zero Nicotine Disposable
Twist has transformed its presence in the world of disposable vaping by creating a remarkable product that contains its delicious flavors.
Despite having previously created various devices, the Twist Disposable Vape has taken the lead in modernizing its range of products, with a fresh design, bigger battery, larger vape juice capacity, and the ability to deliver up to 6000 tasty puffs.
Features
0% nicotine
6000 puffs
650mAh battery
15mL of liquid
Adjustable airflow
Mesh coil
Draw activated
Various flavor options
FLUM Float 0% Zero Nicotine 3000 Disposable
If you're searching for a chic and tasty vape bar, look no further than the Flum Float Disposable Vape Bar. Its compact and sleek design offers 3000 puffs of delicious flavors. You can select from their signature flavors such as Strawberry Ice Cream, Aloe Grape, and Pina Polo, among others.
Plus, the disposable design means you won't have to refill, build or make any adjustments, making it zero maintenance. Enjoying your favorite flavor has never been simpler!
The Flum Float is a popular disposable vape in the current market due to its stylish and comfortable design and smooth, delightful flavors. It comes with 8 ml of liquid and contains 5% nicotine.
Features
0% nicotine
3000 puffs
1000mAh battery
8mL of e-liquid
Draw-activated.
Various flavor options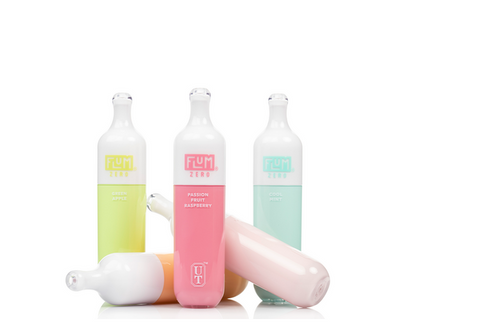 Upends UpBar RS (0 % nicotine)
The Upends UpBar RS is a disposable vape bar that contains 0% nicotine, making it an excellent alternative for those who are trying to quit or reduce their nicotine intake. It features a sleek and compact design that makes it easy to carry around in your pocket or bag.
This disposable vape bar comes pre-filled with 1.2ml of e-liquid, which is enough for approximately 300 puffs. The e-liquid is made from high-quality ingredients that deliver a smooth and flavorful vaping experience. The UpBar RS also features a leak-proof design, which ensures that the e-liquid does not spill out and provides a hassle-free vaping experience.
Features
2 ml e-liquid
0% nicotine
400mAh battery
600 puffs
Vaportech Cube Zero Disposables
The Cube Zero disposable vape line offers a great variety of delightful flavors that cater to different preferences. With options such as Strawnana, Tropic, Coffee, Summer Menthol, Red Apple, Melonerry, Slushy, Wildberry, Nirvana, and Dragonade, customers can find a flavor that suits their taste.
Our top picks are Strawnana, Summer Menthol, and Dragonade. You can buy the Cube vape in individual packs or in a sampler pack that includes three flavors. Both options are available in 0mg nicotine strength.
Features
3000 puffs
11ml of pre-filled juice
Adjustable airflow
Avida CBD Disposable
Avida produces CBD vape pens that contain pure CBD isolate derived from hemp and do not contain any nicotine. These vape pens are manufactured in the United States and offer about 300 puffs per pen. Avida uses third-party laboratory testing to verify that their CBD vape pens meet or exceed industry safety, purity, quality, and consistency standards.
Each of their CBD vape pens contains 100 mg of CBD isolate in a 1ml vape pen, which is pre-filled and ready to use. These disposable CBD vape pens are ideal for those seeking to reduce their consumption and for on-the-go use.
Avida offers five delectable flavors to choose from, including Blue Razz, Berry Grape, and Chilled Kiwi Strawberry. They also offer a flavorless option.
Features
0% Nicotine salt
5 delicious flavors
Tiny LED light indicator
300 puffs
280 mAh
FAQ About  Nic Free Disposable Vapes
Can I Refill A Nic Free Disposable Vape?
No, Nic Free Disposable Vapes are designed to be used only once and discarded after the e-liquid has been depleted.
How Do I Dispose Of A Nic Free Disposable Vape?
Nic Free Disposable Vapes should be disposed of properly in the trash. It is important to check your local regulations to ensure that you are disposing of them correctly.
Are Nic Free Disposable Vapes Legal?
Nic Free Disposable Vapes are legal in most countries, but it is essential to check your local regulations before purchasing or using them.
Are Nic Free Disposable Vapes Safe?
Nic Free Disposable Vapes are generally considered safe. However, it is important to purchase them from reputable manufacturers and to avoid using any products that contain harmful chemicals.
Best Vape Wholesale Supplier-UPENDS
Welcome to Vape UPENDS, where our unwavering passion for developing a vaping experience that will enthrall all of your senses drives everything we do. Our expert team is dedicated to creating cutting-edge and fashionable vaping goods that will elevate your vaping experience to entirely new heights.
We create devices with cutting-edge technology and meticulous attention to detail that not only work perfectly but also look amazing. As a beloved member of the Vape UPENDS family, you will have access to our premium selection of goods that are bound to astound and captivate your clients. Come along on this thrilling adventure with us and learn why Vape UPENDS is the top choice for all discerning users.