Everyday technology tends to advance, and people over the recent past have gradually shifted from the traditional way of tobacco smoking and have embraced the use of vape products. All disposable vape products are known to give the user the easiest and most fun time. Disposable vape products do not require any maintenance as they are meant to be -used until when all their content is depleted. This blog introduces you to the Jeeter Disposable straw that has gained every vaper's interest.
What is Jeeter Disposable Straw?
Key Specs
Made of stainless steel
USB-port
Matte finish
Variable Temperature control
Welcome to the Jeeter Disposable straw that presents you with a revolutionary mode of enjoying the mouthwatering natural flavors that you can think of. The Jeeter disposable straw offers you the aroma of your favorite botanical extracts for you to enjoy its content. This premium-quality disposable straw is meant to be used once, and it proves to be the perfect tool for on-the-go fun. The Jeeter disposable straw is made of premium materials that display a unique physical make that is geared towards ensuring that you receive the top flavor and potency.
Battery and Charging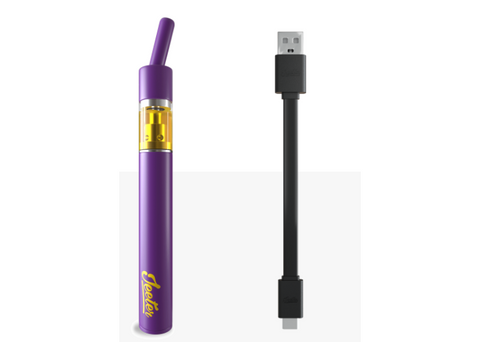 The Jeeter disposable vape comes with a powerful rechargeable battery that is responsible for heating up the strain that is contained in the straw. This product as well comes with a USB charger and port to allow its users to recharge it and be able to conveniently deplete the device's content. The battery plays a significant role in enabling of heating up of the botanical extracts and strains in the Jeeter disposable vape. This device as well comes with a USB charger to let the user connect the device to a power source. There is a micro-USB port that you can insert a charger into a wall adapter, power bank, or computer. The Jeeter disposable vape should be allowed to charge until it's completely full for optimal performance.
 Flavor
The core intention of the Jeeter disposable straw is to offer its user a generally flavorful and exciting, enjoyable, exciting experience in consuming their favorite strain. This device offers you a vast range of flavors that are available to serve every individual's preference and taste. You can find fruit flavors and herbal blends that give a similar taste to a given botanical extract. The flavors are absolutely natural and original.
While the flavors are kept authentic, the Jeeter disposable straw ensures you get the highest quality flavors as you explore the delicious aromatic elements that are produced for an unmatchable experience.
Cost of purchase
The Jeeter disposable straw is a premium quality device that is made of high-quality materials that make it a top selection in the market. The device offers a wide range of flavors as it is proud of its elegant and sleek design. The outstanding features that include improved airflow make this product attain a high value. Generally, the Jeeter disposable straw is retailed at $49.9. Remember, the retail price is most likely to vary in every shop you visit.
Ease of use
The designer of the Jeeter disposable straw keeps in mind that you should enjoy the portability of this precious device. The device proves to be a real on-the-go companion that features a compact and lightweight design. Every Jeeter disposable straw enjoys the capability to travel and proudly use the device in the office or any other event with greater comfort. Thanks to the draw activation technology in this device, that allows you to start enjoying the flavors with the first puff. This feature rhymes along with the pre-filled and pre-charged state of a newly purchased Jeeter disposable straw for uttermost convenience in strain consumption.
General Performance
This vape device is popular for its worth as it brings convenience and makes your vaping sessions even more fun. Jeeter disposable straw is the most convenient vape device for consuming botanical extracts. You will appreciate the flavorful taste it brings as it lets you select your desired flavor from the wide range of flavors it offers. The Jeeter disposable straw is an easy-to-use device as it comes with no buttons or controls. All you need is to make your draws and enjoy. You need a portable vape device like the Jeeter disposable straw for you to have a great time with a quality-designed vape tool.
Pros
It comes with a compact size and lightweight design
It is available in different flavors
It is easy and simple to use
It is highly convenient
It comes with a rechargeable battery
Cons
It is expensive
It has a limited number of puffs
They are environmentally unfriendly if disposed of inappropriately
Manual, Review & Instructions
Here is the best guide that will appropriately bring to light how the Jeeter disposable straw functions. You are as well in the best position to explore the mouthwatering flavors that can be accessed by purchasing the Jeeter disposable straw.
The Jeeter disposable straw comes with a temperature control which lets you adjust the intensity of every draw or puff you make. Less heat is triggered by a softer pull, and yet the original flavor is maintained. The Jeeter disposable straw is capable to offers you stronger hits and hence bigger clouds with a higher temperature setting.
Check out the following admirable Jeeter disposable straws, where each of them has got a unique flavor that will bring you fun and satisfaction.
 Purple Pesos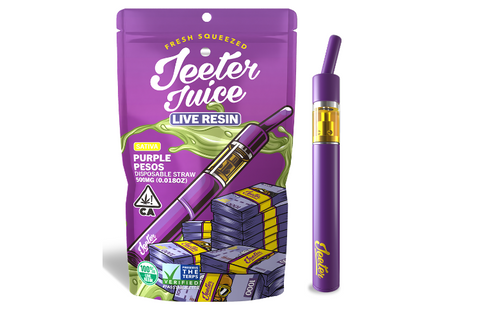 This is an exciting sativa strain that is achieved by crossing orange creamsicles and garlic cookies. This unique blend will create a citrusy flavor and a fruity aroma that is complemented by a tangerine hint. Those who have tried out this live resin disposable straw have reported an uplifting, happy mood that comes along with euphoric effects. This is the right strain you can use to boost your mood for a brighter day ahead.
Ice Cream Cake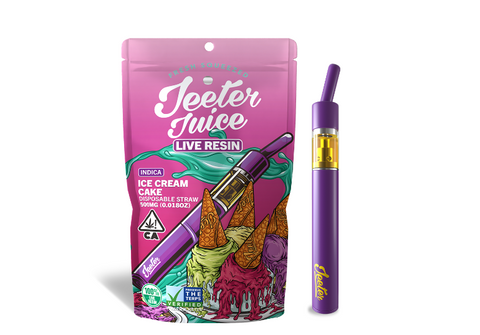 This is an impressive Indica strain that is made by mixing the wedding cake flavor with the Gelato flavor to come up with a super delicious cheesy, creamy taste that delivers a sweet nuttiness. You will be excited by its mouthwatering aroma that gives a delicious light pungent effect. You will receive the actual taste you are to have if you take a cone of your favorite ice cream. With this kind of strain, you will receive an uplifting and relaxed mood for the rest of the day.
Mac N Cookies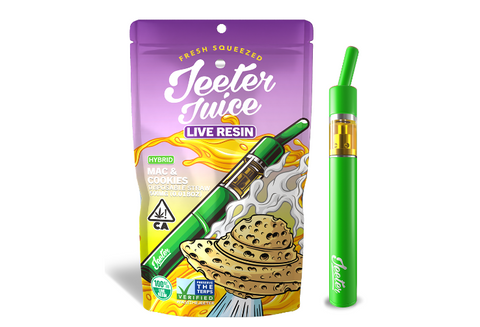 Interestingly, this is a hybrid strain that features a well-balanced crossing of the Classic miracle alien cookies and alien cheese strains. If you desire a high potency for your medicine, then this is the right Jeeter disposable straw for you. Once you inhale from this disposable device, you will be greeted with a heavy aroma of the pungent gassy overtone as you enjoy the sweet and creamy cheesy flavor. The strain is accented by touches of peppery earth and nutty cookies to make an absolutely unique vape product. This Jeeter disposable straw is celebrated for its ability to induce sleep, hunger, arousal, and uplifting and euphoric effects.
Frequently Asked Questions about Jeeter Disposable Straw
How long does a Jeeter Disposable Straw last?
The Jeeter disposable vape has got 1ml e-liquid capacity. This low e-liquid capacity translates between 200 to 300 puffs. Remember that the longevity of any vape device solely depends on the frequency of use and the intensity of vaping. The Jeeter disposable Straw is made of strong materials, and therefore it can withstand drop-off and even scratches.
Is the Jeeter Disposable Straw worth it?
The Jeeter disposable straw is absolutely worth it. You can consider its high-quality flavors that come in a wide range. The disposable straw exhibits an impressive performance as it gives you ease of use as you enjoy the botanical extracts of your selection. It features a rechargeable battery that lets you continue vaping until the strain in the Jeeter disposable straw is depleted.
How do I turn on my Jeeter disposable straw?
For you to turn on the Jeeter disposable is like a drop in the ocean. Amazingly,  what you need to do for your Jeeter disposable vape to start functioning is just a single puff once you take your first draw. Thanks to the draw activation technology.
UPENDS; Wholesale vape Equipment Supplier
UPENDS is one of the world's leading vape supplier companies that bring something special to the vape market. If you take your time and visit UPENDS.com, you will be moved by how such amazing premium quality vape products can be so affordable. The UPENDS vape products achieve the best physical design as they deliver a wide range of quality flavors.
The UPENDS team undertakes intensive and extensive research and development of up-to-date products that make them stand out among all vape suppliers. Visit the UPENDS shop today for a significantly improved vaping lifestyle.