Welcome to the world of the exceptional Vinci Voopoo series. In this captivating lineup, Voopoo presents an outstanding range of vaping devices that are designed to deliver an unparalleled vaping experience.
From sleek and compact pod systems to powerful mod kits, the Vinci Voopoo series combines innovation, style, and cutting-edge technology to redefine your vaping journey. Prepare to be amazed as we delve into the remarkable features and extraordinary performance of the Vinci Voopoo series.
Products Of Vinci VooPoo Series
Vinci Q Vape Pod Kit
The Vinci Q Vape Pod Kit from the Vinci VOOPOO series is a sleek and compact pod kit designed specifically for new users who want a user-friendly device to start their vaping journey. With its slim and portable design, this kit is perfect for on-the-go vaping. The built-in 900mAh battery can be activated either by inhaling or by pressing a button, providing convenience while you're out and about.
Included in the kit is the 2ml Vinci Q pod, which shares the same design and coil as the Vinci pod and Drag Nano 2. These pods utilize VOOPOO's unique ITO atomization technology, ensuring optimal vaporization. The pods are available in MTL 0.8ohm and 1.2ohm variants sold separately, but both offer a larger surface area for enhanced flavor and bigger vapor clouds.
The Vinci Q automatically adjusts the power output based on the pod being used, providing an adaptive power range of 11-15W. This ensures that each puff delivers an intense flavor experience, consistently satisfying your taste buds.
Features
900mAh Built-in battery
Maximum output of 15W.
0ml E-liquid Capacity
Resistance: 1.2Ω Mesh Pod - MTL and 0.8Ω Mesh Pod - MTL options.
Multi-layered texture with a fingerprint-proof finish.
Available in 6 Macaron Color options
LED indicator lights
Activation with the Fire Button or by drawing on it.
Leak-proof design
Easy refills
The package includes:
1 Voopoo Vinci Q Pod System
1 1.2ohm Mesh Pod
1 Type-C Cable
1 User Manual
VOOPOO VINCI POD SE
The VOOPOO VINCI POD SE is the latest addition to the VINCI family. VINCI POD, VINCI POD Royal Edition, VINCI Q, and Drag Nano 2 are all compatible with their cartridge. The upgraded cartridge provides a super dense and authentic flavor experience. Additionally, the silver ion mouthpiece offers a reassuring vaping experience with its 99% antibacterial rate.
With its compact and sleek design, the VOOPOO VINCI SE showcases a modern minimalist aesthetic. The gradient color of its mini-size body, along with its clean lines and smooth finish, exudes a stylish appeal. Adding to its allure, the specular LED light fades in and out with every puff, serving as an indicator of the current battery capacity.
Features
93mm x 14.14mm Size
Lightweight design, weighing 41.8 grams.
Durable aluminum alloy construction.
Adjustable power output ranging from 11 to 15 watts.
The voltage is between 3.2 and 4.2 volts.
3 to 3.0Ω Resistance
Integrated 900mAh battery for long-lasting use.
2ml e-liquid capacity.
Pod Resistance: Included pod with a 0.8Ω resistance coil.
Kit Content
Voopoo Vinci Pod SE device
Voopoo Vinci Series V2 pod with a resistance of 0.8Ω
Type C charging cable
User manual
VooPoo Vinci Pod Kit Royal Edition
The VooPoo Vinci Pod Kit Royal Edition is a compact and user-friendly device designed to offer a customizable vaping experience. It features adjustable airflow, ensuring you can find the perfect balance of air intake. The device is designed with a comfortable grip, making it easy to hold and use. It also supports fast charging, allowing you to quickly recharge your device for uninterrupted vaping sessions.
With six built-in safety features, you can enjoy peace of mind while vaping. The convenient and straightforward design of this kit makes it an ideal choice for those who prefer a simple yet customizable vaping experience.
The pods feature a transparent design, allowing you to easily monitor your e-liquid levels. With the convenient top-fill function, refilling is quick and hassle-free. The filling port is equipped with a rubber stopper to prevent any leaks or spills.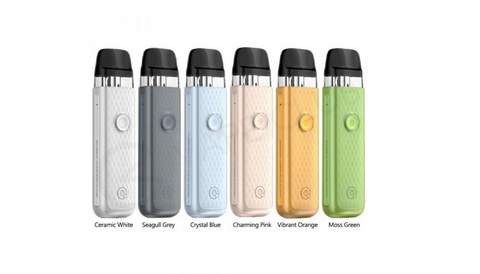 Features
Auto-draw feature for effortless vaping
2ml cartridge with a visible design
Smart LED light for easy monitoring
800mAh built-in battery for long-lasting use
Adjustable airflow for personalized vaping
The kit includes:
1 Vinci Pod Royal Edition Device
1 Vinci Pod Cartridge with 1.2Ohm resistance
1 Vinci Pod Cartridge with 0.8Ohm resistance
1 Type-C charging cable
1 User manual
VINCI Q POD
The VooPoo Vinci Q pod vape kit is a sleek and user-friendly option for vaping enthusiasts. With its discreet design, it offers both style and convenience. Powered by a built-in 900mAh battery, this compact pod device ensures a full day of vaping without the need for frequent recharging.
It's an excellent choice for those who want to transition from prefilled pods or disposables, as it requires minimal maintenance. The kit comes complete with a refillable Vinci Q 2ml pod that features a built-in coil, providing everything you need to start your vaping journey.
The taste of the 1.2Ω VINCI POD Cartridge has been enhanced to a higher level. With improvements over the previous version, it now offers a more refined and satisfying flavor experience. The cartridge incorporates VOOPOO Laboratory's latest mesh technology, which optimizes the atomizing effect of the coil, resulting in an exceptional taste sensation that is taken to the extreme.
Features
900mAh built-in battery for long usage.
Single-button operation for easy use.
Maximum output of 15W.
Auto power selects for convenient power adjustment.
2ml refillable pods for your e-liquid.
Built-in coils for hassle-free maintenance.
Included in the package:
VooPoo Vinci Q 900mAh Vape Device
2ml Refillable Vinci Q 1.2 Ohm Pod
USB-C Charging Cable
User Manual
Vinci X 2
Although the original VooPoo Vinci played a significant role in the rise of pod mods, it was the Vinci X that truly captured the attention of both novice and seasoned vapers. The introduction of an external battery option for the Vinci proved to be a brilliant move by VooPoo, as the Vinci X quickly became more popular than its predecessor. Given this success, it comes as no shock that the Chinese company chose to develop a sequel, the Vinci X 2.
The Vinci X 2 pod mod comes packaged in a box similar to the VooPoo Vinci 2, with a slightly longer size to fit the device. The front of the box showcases an image of the pod mod with a prominent "2" in the background. On the back of the box, you'll find a list of the contents, along with nicotine and age-related warnings, manufacturer details, and an authenticity sticker with a scratch-and-check feature.
Features
121mm x 29mm x 27mm size
Zinc alloy construction
x 18650 battery Required but not included
5ml e-liquid capacity
Adjustable wattage from 5W to 80W
2 to 4.2 Voltage
15Ω and 3Ω Resistance
08-inch TFT color display screen
The kit content
1 x Voopoo Vinci X 2 Pod Mod Kit
1 x PnP-VM1 Mesh 0.3 ohm Coil
1 x PnP-VM6 Mesh 0.15 ohm Coil
1 x USB Type-C Cable
User Manual
FAQs About Vinci VooPoo Series
How long do Vinci VooPoo Series pods last?
The majority of vapers will have a 24-hour battery life, according to VooPoo. Additionally, there are none. To use the device, simply breathe through the mouthpiece to turn on the coil. The package includes 2 pods in total.
How long does a Vinci Q pod last?
The Vinci Q uses changeable pods, so you can simply start over with a fresh pod if you feel your vape isn't performing as it should or just replace it right away after a week of everyday use.
Best Vape Wholesale Supplier-UPENDS
Welcome to the captivating world of Vape UPENDS, where innovation and style come together to offer you an extraordinary vaping experience like no other. We invite you to embark on a journey filled with state-of-the-art technologies, elegant designs, and unwavering attention to detail.
As a valued member of our community, you'll have access to an exclusive realm of offerings that will elevate your vaping pleasure to unprecedented heights. Our team of skilled artisans wholeheartedly dedicates themselves to crafting flawless and exquisite devices, aiming to awaken your refined taste buds with every inhale and leave you enchanted by the remarkable experiences we have in store.
Our ultimate goal is to provide you with an exceptional vaping journey, and we're thrilled to embark on this unforgettable adventure with you. So, take a moment to unwind, relax, and allow us to demonstrate why Vape UPENDS stands as the top choice for discerning users who demand nothing but the very best. Get ready to be welcomed into a world where innovation, style, and a sense of wonder merge to create an experience that will leave you spellbound and craving for more.