Introducing the UWELL Caliburn KOKO Pod System, an exquisitely designed vaping device that combines an integrated rechargeable battery, compatibility with Caliburn pods, and a compact form factor that can be easily concealed in the palm of your hand. Constructed from premium aluminium alloy, the UWELL Caliburn KOKO showcases a durable chassis with a matte metallic finish, providing impact resistance and a sleek appearance.
Equipped with a 520mAh rechargeable battery, this pod system ensures reliable power throughout the day. The Caliburn KOKO features a twin parallel 1.2ohm coil design that smoothly vaporizes eJuice or nicotine salts, giving rich flavors, and is also compatible with the 2mL refillable Caliburn Pods. and satisfying nicotine hits.
The Caliburn KOKO pod kit stands out with its unique shape and style, offering improved portability and discreetness for vapers on the go.
What Is  UWELL Caliburn KOKO Pod
The UWELL Caliburn KOKO Pod is a compact and portable pod system designed for vaping. It features an integrated rechargeable battery and is compatible with Caliburn pods. The device is constructed from high-quality aluminum alloy, providing durability and a sleek look with a matte metallic finish.
The Caliburn KOKO Pod utilizes refillable Caliburn Pods with a 2mL capacity and a dual parallel 1.2ohm coil design. This allows for easy vaporization of e-juice or nicotine salts, delivering flavorful and satisfying vaping experiences. The Caliburn KOKO Pod offers a concealable shape and design, making it highly portable and convenient for vapers on the move.
Features
Integrated 520mAh Rechargeable Battery
Wattage Output Range: 11W
Voltage Output Range: 3.2-4.0V
Direct Voltage Based Output
Resistance Range: 1.2-1.5ohm
Durable Aluminium-Alloy Chassis Construction
LED Battery Life Indicator Light
2mL Capacity Juice Pods
2ohm KOKO Coil Resistance
Pro-FOCS Flavor Technology for enhanced flavor
Top Fill System with a drip tip that doubles as a fill port cover
5mm Fill Port with dual ports for convenient refills
Minimum Fill Line on Pod for easy monitoring
Proprietary Gold-Plated Magnetic Snap-In Connection for secure attachment
Draw-Activated Mechanism with fault diagnosis
Short-Circuit Protection for safety
Low Power Alert to indicate battery level
10 Second Cut Off Protection for user protection
MicroUSB Port for charging convenience
Available in a variety of stylish colors: Black, Blue, Grey, Red, Dark Green, Light Green, Orange, Purple, Gold, and Pink.
Package includes:
1 x UWELL Caliburn KOKO
1 x 1.2ohm Caliburn KOKO Pod
1 x MicroUSB Cable
1 x User Manual
1 x Warranty Card
Pros
Exceptional flavor delivery
Produces dense, warm vapor
Ergonomic and comfortable grip
2ml e-juice capacity
Compatible with Caliburn pods
Convenient LED battery life indicator
Zero instances of dry hits
Long-lasting coil life (2-3 weeks)
Easy to use and refill
Affordable pricing
Fast charging capability
Cons
Offers comparable performance to the Caliburn
No increase in battery capacity compared to the Caliburn
Drip-tip removal can be challenging
Vapor production diminishes when battery level drops below 30%
Why Choose Caliburn KOKO Pod
The Caliburn KOKO Pod presents a sleek, compact, and lightweight design, featuring a small square shape measuring 67mm x 43mm x 12mm, including the 1.2ohm pod.
Despite its smaller size, it feels sturdier compared to the original Caliburn, providing a more robust sensation. It also has a slightly increased weight, weighing 33g when the pod is attached.
The Caliburn KOKO logo is prominently displayed on both sides of the battery section, while the USB charging port and battery vents are conveniently located at the device's bottom.
Situated on the side of the KOKO is a discrete LED battery life indicator, positioned at the bottom hole, accompanied by a single airflow hole. The battery indicator illuminates when drawing from the mouthpiece and flashes during charging, using red, blue, or green lights to indicate the remaining battery life.
The KOKO seamlessly accommodates the pods at the top, ensuring a snug fit through the utilization of two compact magnets that securely hold them in place.
How To Fill The UWELL KOKO pods?
To refill the Caliburn koko pod with e-juice, start by removing the black plastic mouthpiece from the top of the pod. It may require some effort, especially during the initial refills when the fit is tight.
Once the mouthpiece is removed, you will notice three holes at the top of the clear plastic pod. It is important to avoid filling through the middle hole, as it serves as the airflow channel.
On the side of the pod, you will find a minimum and maximum fill line. Simply insert the tip of your e-juice bottle through either the left or right hole and fill the pod up to the maximum line. After filling, firmly press the black mouthpiece back onto the top of the pod.
It is crucial to allow a few minutes for the wick to properly saturate before taking a puff. This ensures optimal performance and prevents any potential dry hits.
Other products you might want to try:
UPENDS Uppen pod
These 2ml refillable pods were created especially for the Uppen vape pen (also compatible with the Vapmor Vpen) and feature a specially made, flax-infused, 1.2 Ohm EtchipTM coil. This advanced coil technology ensures consistent heating and controlled e-liquid delivery, resulting in a smooth and satisfying draw without any issues of popping, spitting, or leakage.
The innovative mouthpiece has been enhanced with antibacterial properties, providing an added layer of protection against common bacteria.
EtchipTM combines a precisely-etched metal mesh with a flax-based fabric, surpassing the performance of traditional cotton wicks. It excels with freebase e-liquids, nicotine salts, and even CBD e-liquids, delivering an optimal vaping experience.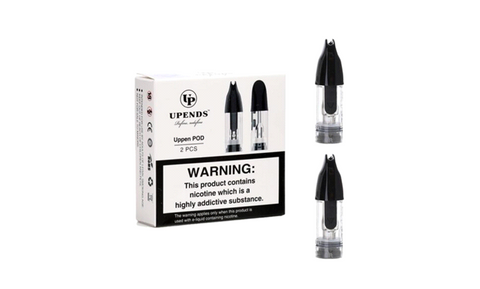 Features
Battery 600mah
2ml Capacity disposable pod
Size 16 x 134mm
10W Average output
2ohm Resistance
GeekVape Aegis Pod
Geekvape presents the Aegis Pod, the newest addition to their line of pod-style all-in-one devices. Renowned for their stunning aesthetics, exceptional performance, and impressive IP67 water and shock resistance, the Aegis series has garnered immense popularity—from the original Aegis mod to the latest Aegis Boost pod system.
However, unlike the Aegis Boost, the Aegis Pod offers a more straightforward and user-friendly experience, focusing on delivering a satisfying low-wattage vaping experience.
The GeekVape Aegis Pod is a durable and rugged pod system that is resistant to water, dust, and shocks. It offers a reliable performance, long-lasting battery life, and a simple refillable pod design.
Feature
Dimensions: 87.7 mm, 40 mm, and 17.7 mm
Weight: 73 grams
Pod capacity: 3.5mL
Battery capacity: 800mAh
Wattage output range: 12–15 watts
Coil: 0.6-ohm G coil
Charging current: Type-C 5V/1.5A
Max puff time: 10 seconds
Battery indicator: Green (100%-70%), Blue (69%-31%), Red (30%-0%)
GeekVape Aegis Pod kit includes:
1 x GeekVape Aegis Pod device
1 × 0.6-ohm ST Coil
1 x USB Type-C charging cable
1 x User manual
FAQs About  UWELL Caliburn koko pod
How do I charge the UWELL Caliburn koko pod
Charging the UWELL KOKO is a simple process that involves using the included micro USB cable.
Locate the micro USB port on the bottom of the device and connect the charging cable to a compatible USB outlet. Insert the other end of the cable into the USB port on the KOKO, and the device will begin charging.
While the KOKO is being charged, the battery LED indicator will display a flashing light. The color of the light will vary, with red, blue, and green representing different battery levels.
Once the battery is fully charged, the LED will cease flashing and remain a steady green color.
Best Vape Wholesale Supplier-UPENDS
Step into the captivating realm of Vape UPENDS, where a fusion of innovation and style awaits, beckoning you to embark on an unforgettable vaping adventure. If you desire to elevate your vaping pleasure to new heights, join our welcoming community and explore the array of exclusive offerings we provide.
Vape UPENDS takes immense pride in its state-of-the-art innovations, refined designs, and meticulous attention to detail. Our team of gifted artisans spends their entire careers perfecting magnificent products that will mesmerize your senses. Prepare to be astounded by the extraordinary experiences we have prepared for you, tantalizing your discerning taste with every inhale.
We are thrilled to commence this transformative journey together, with our ultimate objective being to provide you with an exceptional vaping experience. As you take a moment to unwind, allow us to demonstrate why Vape UPENDS stands as the prime choice for individuals who seek nothing but the best. Immerse yourself in a universe where creativity, fashion, and sheer marvel harmoniously coexist, creating an enchanting encounter that will leave you longing for more.