In the world of vaping, innovation is a driving force that continually pushes boundaries and enhances the overall experience for enthusiasts. One such groundbreaking product that has been making waves in the 7 Daze OHMLET 7000.
The 7 Daze OHMLET 7000 is a disposable vape meticulously crafted to deliver an unparalleled vaping experience. Boasting advanced technology and a powerful design, it revolutionizes the game. This innovative device takes the already remarkable Daze Egge disposable and enhances its capabilities threefold.
Now, users can indulge in an intensified, more flavorful, and deeply satisfying vaping sensation. The Ohmlet 7000, a compact powerhouse, effortlessly produces dense clouds and provides an immersive flavor experience with every puff. Engineered by Vape 7 Daze, the esteemed brand renowned for its beloved Red Apple e-liquid, the Daze Ohmlet 7000 ensures cloud chasers experience sheer delight in every vaping session
What Is An Daze Ohmlet Disposable Vape
The Daze Ohmlet Disposable Vape signifies the evolution of disposable vaping devices, featuring a sleek and compact design that enhances portability, allowing it to fit conveniently in your pocket. This innovative device is equipped with a rechargeable 500 mAh battery, ensuring extended usage with an impressive estimated 7000 puffs.
With a generous 15.0 mL capacity of salt nic e-juice, it guarantees a long-lasting and enjoyable vaping experience. The utilization of a mesh coil further enhances the device's performance, delivering a satisfying and robust vaping sensation with every inhale.
Additionally, the Daze Ohmlet is available in a diverse range of flavors, catering to a variety of preferences and ensuring there is something for everyone.
Why Choose Daze Ohmlet Disposable Vape
Designed For Delight
Vape 7 Daze has always been committed to delivering products that not only perform exceptionally, but also captivate users with their aesthetics.
The Ohmlet 7000 is no exception. With its sleek and ergonomic design, this device perfectly balances style and functionality. Its compact size makes it easy to carry in your pocket, ensuring that you have your vaping companion wherever you go.
The Ohmlet 7000's intuitive interface and user-friendly controls further enhance the overall experience, allowing for effortless customization and fine-tuning.
Red Apple E-Liquid
One of the hallmarks of Vape 7 Daze is their popular Red Apple e-liquid, and the Ohmlet 7000 continues to elevate this fan-favorite flavor. This innovative vaping device is optimized to deliver the signature taste of the Red Apple e-liquid with remarkable accuracy and intensity.
Each inhales is a journey through crisp and juicy apples, reminiscent of biting into the real thing. With the Ohmlet 7000, the Red Apple e-liquid experience reaches new heights, captivating vapers and leaving them craving for more.
No Maintenance
It eliminates the need for complicated setups or maintenance, making it ideal for both novice vapers and experienced enthusiasts seeking a hassle-free experience. With the Ohmlet 7000, users can enjoy the pleasure of vaping anytime, anywhere, with minimal effort.
Unmatched Performance
The 7 Daze OHMLET 7000 is engineered to provide an unparalleled vaping experience. Its advanced technology and powerful design make it a true game-changer.
This innovative device takes the already impressive Daze Egge disposable and amplifies its capabilities by threefold. Users can now enjoy a vaping sensation that is more intense, flavorful, and satisfying than ever before.
The Ohmlet 7000 is a pocket-sized powerhouse that effortlessly delivers thick clouds and an immersive flavor experience with every puff.
Features
0 mL e-liquid capacity
5% nicotine salt
7000 puffs
Pre-charged & pre-filled
500 mAh rechargeable battery
USB Type-C charger
Mesh Coil
Draw-activation
LED Indicator Light
Pros
The sleek and flat design of the Ohmlet Disposable enhances portability, allowing users to easily carry it in their pockets or bags.
Daze Ohmlet Disposable is available in a diverse range of flavors, catering to different preferences and allowing users to explore and discover their favorite combinations.
With a rechargeable 500 mAh battery, the Ohmlet Disposable offers an impressive estimated 7000 puffs, providing users with a long-lasting vaping experience.
The utilization of a mesh coil in the Ohmlet Disposable results in a satisfying and robust vaping sensation, delivering enhanced flavor profiles
Cons
Daze Ohmlet Disposable is designed for single-use and cannot be recharged or refilled, meaning it will need to be replaced once the e-juice is depleted.
Ohmlet do not offer the same level of customization options, such as adjustable wattage or airflow control
7 Daze Ohmlet Disposable Flavors Review
Orange Kiss
Experience complete satisfaction with Orange Kiss, a delightful blend of freshly picked oranges and soothing aloe. This sweet combination offers a tantalizing vaping experience that will leave you craving for more.
Pineapple Peach Whip
Get ready for a triple threat combo with Pineapple Peach Whip. Indulge in the sweet fusion of lychee, juicy peaches, and luscious pineapple. This e-juice is a true delight for your taste buds, delivering a harmonious blend of tropical flavors.
Sour Rainbow Berries
If you're a fan of both sweet and sour flavors, Sour Rainbow Berries is the perfect choice. This tropical mix combines the tangy goodness of sourness with a medley of luscious berries, creating a vaping experience that will make your taste buds dance with delight.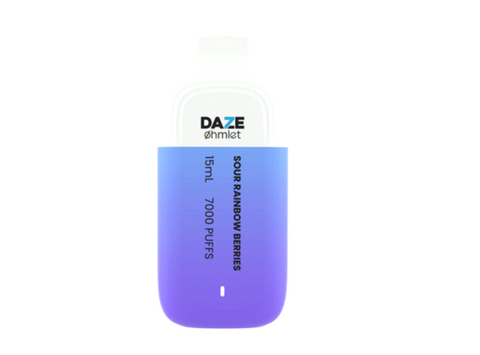 Strawberry Rolly
Satisfy your cravings with Strawberry Rolly, an e-juice crafted from the essence of delicious red strawberries and a touch of sweetness. This must-have flavor will transport you to strawberry fields with its authentic taste.
Tropical Gummi
Prepare to be amazed by Tropical Gummi, an e-juice that defies description. Infused with the sweetness of freshly-picked pineapples and a tropical blend, this flavor will transport you to a paradise of fruity goodness.
Watermelon Grape Orange
Dive into a sweet symphony of flavors with Watermelon Grape Orange. The refreshing taste of ripe watermelon combines harmoniously with the zing of freshly picked oranges, enhanced by a touch of tangy grapefruit. This sweet and sour combination is sure to excite your palate.
White Grapeberry
Indulge in a medley of flavors with White Grapeberry. This e-juice brings together the succulent essence of grapes and the natural sweetness of berries, creating a symphony of fruity goodness that will leave you wanting more.
Icy Blast
Brace yourself for a chilling sensation with Icy Blast. This e-juice delivers an exhilarating blast of ice that runs down your throat, giving you an instant chill and a refreshing vaping experience.
Blueberry Peach
Experience the perfect fusion of blueberry and peach with this delectable e-juice. The sweetness of ripe blueberries intertwines with the juicy essence of peaches, creating a flavor combination that is both satisfying and irresistible.
Lychee Aloe
Discover a heavenly combo with Lychee Aloe. This e-juice brings together the exotic and fragrant lychee fruit with the soothing properties of aloe. The end result is a distinctive and revitalizing vaping experience that will whisk you away to a tropical haven.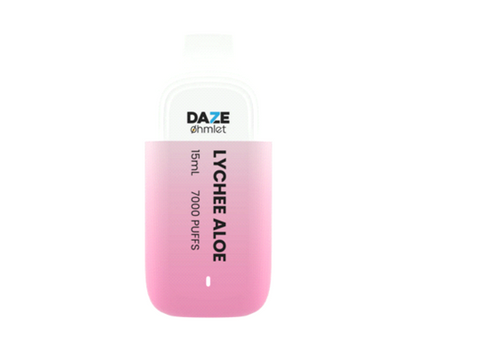 FAQs About Ohmlet Disposable
Is The Ohmlet Disposable Refillable?
No, the Ohmlet Disposable is designed as a single-use device and cannot be refilled with e-juice. Once the e-juice is depleted, the device needs to be replaced.
Can I Adjust The Airflow In The Ohmlet Vape?
The Ohmlet Disposable does not offer adjustable airflow. It is pre-set to provide an optimal vaping experience without the ability to customize the airflow to individual preferences.
Are There Any Nicotine Options Available For The Ohmlet Disposable?
The Ohmlet vape comes pre-filled with salt nic e-juice, which typically contains nicotine. However, it is important to check the nicotine strength and options available for each specific flavor variant.
How Should I Dispose Of The Ohmlet Disposable Responsibly?
To minimize the environmental impact, it is recommended to dispose of the Ohmlet Disposable properly according to local regulations and recycling guidelines.
Many areas have designated e-waste recycling programs that can handle the disposal of electronic devices.

Best Vape Wholesale Supplier-UPENDS
Explore the exciting world of Vape UPENDS, where innovation and style converge to provide an unmatched vaping experience. Prepare yourself for an experience that will truly mesmerize you as we combine cutting-edge technology, svelte designs, and great attention to detail.
As a part of our growing community, you'll have access to a range of premium goods that will advance your vaping expertise. Our group of talented craftspeople is committed to creating equipment that is gorgeous and faultless. Our aim is to leave you feeling awe-inspired by our goods by infusing you with a sense of refinement and magic with each puff.
Our primary goal is to give you an outstanding vaping experience that will stay indelibly in your memory. Thus, unwind as we take you on an amazing trip as you sit back and rest. Find out for yourself why Vape UPENDS is the finest option for people who just want the best.