There are seamless ways to get your life interesting and worthwhile to keep on moving. You need a true companion who will mask your tough times and project your cheerful moments. Vape products have proved to bring the desirable vibes of a true friend. There is a vast range of vape brands that have succeeded in presenting all types of vape devices that give different vaping modes and vibes as well.  
This article introduces you to the most exciting vape device that will assure you of the best vaping performance. The Innokin vape pen is the ideal option that you can take for a fulfilling vaping experience.
What is Innokin Vape Pod?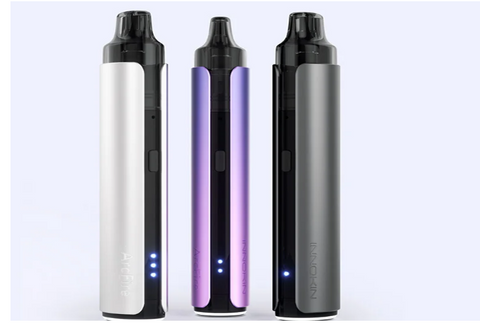 The Innokin brand, since its establishment in 2011, has strived to promote a healthy lifestyle to the public. With the uttermost intention of providing the highest quality, innovative, and intuitive vape products, it presents you with the Innokin Vape pod. The Innokin vape is an excellent vape device that brings you the latest and advanced features.
Key Specs
Weight: 49g
Resistance: 0.5 ohms
Size: 11mm by 2.2mm by 1.4mm
Battery: 800mAh
Tank Capacity: 2ml
Pod Coil Type: Cotton
Coil Resistance: 0.65ohm
Coil types: Bottom Vertical Coil (BVC)
Charging Type: USB Type-C
Battery Type: Integrated
Battery Capacity: 500Amh
E-liquid: 50/50 PG/VG content ratio
Build Quality and Design
The Innokin vape device is loved by its users as it comes in four striking colors you can select from. The vape device achieves a sleek and compact design that will excite you. The body shine gives this vape device a general physical appeal. You will as well adore the outstanding finish that is combined with the durability of the vape device to make it a one-of-a-kind vape product.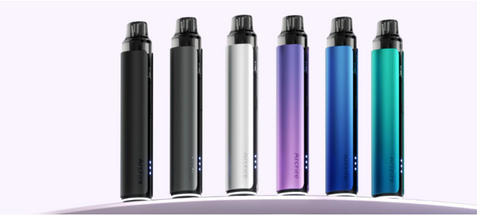 The vape device is designed to fit perfectly in your pocket as it presents a small body size. You will adore the classy feel and the comfortable grip this vape device offers when you handle it. The body of the Innokin Vape pod is dustproof, and this makes it free of any possible contamination. The vape device grants you the highest portability levels that you deserve for a memorable vaping encounter.
Battery and Charging
The Innokin Vape pod can be smaller than your palm, but it still greatly delivers in terms of its performance and functionality. The vape device employs a 500mAh integrated battery that is powerful enough to deliver instant and long-term heating. The Innokin Vape pod is known to charge safely and fast as it employs a USB-C charger and port. The fast-charging capabilities that are displayed by this vape device allow you to vape anytime, as the device will always be ready for the next vaping session. You can use the Innokin Vape pod for the whole day on a single complete battery recharge.
Ease of Use
The ease of use of the Innokin Vape pod is matchless. Right from the transparent mouthpiece, that lets you inspect the e-liquid levels. A buttonless vape design lets you activate your vape device without firing the fire button thrice. All you need to do is to make a puff, and the Innokin Vape pod is set for vaping for as long as it can allow. The vape device as well allows you to enjoy hassle-free refilling. The device's cartridge can easily be accessed through the side hole.
General Performance
Thanks to the Boost mode, that gives the Innokin Vape pod its pride. The Innokin Vape pod employs two essential vape modes, and those are the regular and boost mode. In the boost mode, the vape device operates at a wattage range of 13.5W to 15.5W. These wattage levels are capable of perfectly mounting the flavor and vapor concentration. You will enjoy the 2ml magnetic refillable pod system that incorporates the Plexus EQ 0.65-ohm mesh coil to ensure that you acquire a flawless vaping experience. There is a battery level indicator that also alerts you whenever you are required to recharge this amazing vape device.
Pros & Cons
Pros
It employs the boost technology
It comes with battery-level indicators
It features the Plexus Coil technology for faster heating
It offers you a refill system
It offers you mouth to the lung vaping experience
It comes with an elegant physical design
Cons
The Innokin Vape pod's strength may be weak for some vape users
Manual, Review & instructions
Even though the Innokin Vape pod comes with only one button, it gives you the chance to customize it to your needs. The vape device allows you to switch between two power output levels. You will love to operate between the normal and boost mode, which are a click away from the available button. You will find the core ease of using the vape device as it involves a single button.
When you make two quick successive clicks on the button, the LED light will turn from red to green. This means that the vape device is operating in low-power mode. In this mode, the battery efficiency is maximized, and you will enjoy a warm and mellow vaping session. On the red LED light, you will be operating in the high-power mode, where you are served with increased warmth and intense flavor and experience optimum nicotine delivery.
This refillable vape pod comes with a 2ml e-juice capacity as it is capable of heating up the e-liquid at a fast rate using the 0.65-ohm coil. The refilling exercise is pretty much simple as you are expected to just flip over the stopper that is located on one side of the pod. The vape device achieves a large filling port that will highly minimize overflow and airlock issues. A 50/50 PG/VG content ratio is best recommended to be used with the Innokin Vape pod.
Frequently Asked Questions about Innokin Vape Pod
 How do you charge an Innokin Vape Pod?
It is quite hilarious how simple it is to recharge this vape device. There is a micro-charging port that is positioned at the base of the pod. Since the Innokin Vape pod comes with a USB-C charger in its package, you will use the cable to insert it into the charging port of your device and connect the charger to the USB port on your computer.           
How long does Innokin Vape Pod last?
Your vaping duration and habits are what hugely determine how long your Innokin vape pod is expected to last. If you use the vape device frequently or in long sessions, the vape e-liquid will last for half a day. The bigger the cartridge, the longer the vape time you enjoy. As for the Innokin Vape pod, it offers you a capacity of 2ml that can take you for half a day.
How do I turn on Innokin Vape Pod system?
Turning the Innokin Vape pod on is super easy as it involves a single button. All you ought to do is to press the available button thrice, and the vape device will be set for a long vaping session. You will press the same button thrice if you want to turn the Innokin Vape pod off.
Alternative Vape Pen -UPENDS UpBar GT
UPENDS UpBAr GT provides you with the best alternative whenever you get the urge to find a disposable vape product that will perfectly suit your needs. The UPENDS UpBAr GT is manufactured with the core intention of providing a high vaping experience level. The vape device is engineered with a mesh coli that perfectly delivers the authentic flavors that you select. There is a seamless number of UPENDS UpBar GT flavors that you are free to choose from.
Some of the fruity flavors that the UPENDS UpBAr GT is capable of supporting include; Tigar Blood, Blueberry Peach Ice, Strawberry Smoothie, White Peach Tea, Ice Mint, Blueberry Ice, Mixed Berry, Lemon Mojito, and Lemon Ice. Each vape flavor is available in a 2ml capacity that allows you to enjoy up to 600 delicious puffs.
You need such an easy-to-use disposable vape device that comes in a pre-filled and pre-charged state. This allows you to start vaping right from the moment you purchase it. The vape pen is as well designed to be leakproof, and this feature enables it to prevent any possible leakage.
Wholesale Vape Equipment Supplier: UPENDS
UPENDS is a well-established vape brand that has dominated the vape market over recent years. UPENDS is the largest vape product wholesaler in China and is praised for its impressive way of vape product distribution. UPENDS avails you of premium quality vape products that are focused on innovation, ease of use, and ultimate customer satisfaction.
Most retailers and business owners recognize the essence of sourcing vape products from the great UPENDS company. Once you visit the UPENDS company for any vape product, you will appreciate the way the products are of great quality but surprisingly at absolutely affordable prices. Make your right choice today!