The UWELL Caliburn X is the latest addition to the popular line of pod vapes. Since the introduction of the original Caliburn in 2019, UWELL has expanded the line with different sub-lines, each offering unique features. The line targets beginner users, the G line provides more advanced options, and the KOKO line offers a distinct shape.
With the Caliburn X, a new line emerges, featuring a slightly larger device equipped with an OLED screen and full wattage adjustability, which are unprecedented in previous Caliburn models. It also boasts a larger battery capacity of 850 mAh and accommodates larger pods with a capacity of 3 mL. Despite these enhancements, the Caliburn X maintains compatibility with Caliburn G coils, with currently three options available.
What Is Uwell Caliburn X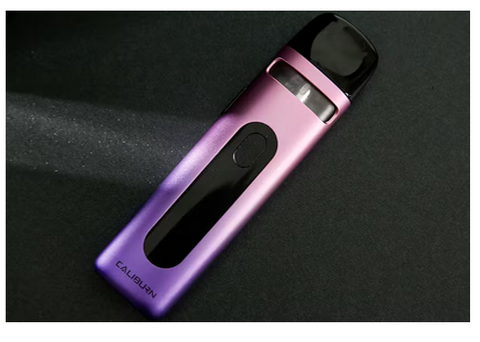 The Uwell Caliburn X is a pod system that features an integrated 850mAh battery and an output range of 5-20W. Its durable aluminum alloy chassis provides protection against minor falls and impacts. With its ample battery capacity, the Caliburn X delivers consistent vapor production throughout the day.
The device is compatible with both G/G2 Coils, offering versatility in coil options. The refillable pods have a 3mL capacity and include a juice viewing window to easily monitor the e-liquid level and prevent dry hits or coil burning.
Features:
Device Dimensions: 107.4mm x 27.5mm x 15.6mm
Battery: Integrated 850mAh
Wattage Range: 5-20W
Construction: Aluminum-Alloy Chassis
Firing Button: Intuitive and user-friendly
Juice Viewing Window for easy monitoring of e-liquid levels
Display Screen: OLED for clear and convenient information display
Pod Capacity: 3mL
Fill System: Top Fill for hassle-free refills
Coil Compatibility: Uwell Caliburn G/G2 Coil Series
Coil Options: 0.8ohm Caliburn G Coils and 1.2ohm Caliburn G2 Coils
Coil Installation: Press-fit for easy and secure installation
Pod Connection: Magnetic for a stable and reliable connection
Intelligent Resistance Detection for optimal performance
Low Power Protection to safeguard the battery
8s Vaping Overtime Protection for Safety
Charging: Type-C Port for fast and convenient charging
Available Colors: Matte Black, Link Blue, Lilac Purple, Moonlight Silver, Lake Green, Ribbon Red
Package Includes:
1 x Caliburn X
1 x Caliburn X Pod
1 x 0.8ohm Caliburn G Coil
1 x 1.2ohm Caliburn G2 Coil
1 x Type-C Cable
1 x User Manual
Pros
Solid construction and durable build quality
Lightweight and easily portable, perfect for pocket carry
The display is vivid and simple to read.
Adjustable wattage for a personalized vaping experience
Airflow can be adjusted without the need to remove the pod
Convenient top-filling design for easy refills
Generous pod capacity of 3 mL for extended vaping sessions
Coils deliver excellent performance and flavor production
Capable of Restricted Direct Lung (RDL) vaping with airflow fully open
Long battery life for extended usage
Quick charging time, taking less than an hour to fully charge
Cons
Mouthpiece size could be smaller according to personal preference.
The airflow adjustment slider feels somewhat loose.
Experienced occasional connection issues with a 0.8-ohm coil.
Wattage settings are not automatically adjusted when changing coils.
The device may have a slightly steeper learning curve for beginners.
Getting started
Setting up and using the X, the latest iteration of the Caliburn, is a straightforward process despite its advanced features. Here's how to get started:
Prepare the coil by applying 4-5 drops of e-liquid onto it.
Insert the coil into the pod, ensuring that the cutout under the pod aligns with the bottom of the coil.
Place the pod into the battery.
Remove the mouthpiece by pressing on its flat side.
Fill the pod with e-liquid, using the designated red marked hole.
Allow approximately five minutes for the wick to absorb the e-liquid.
Adjust the airflow using the slider according to your preference.
To vape, either press the button or inhale through the mouthpiece.
Button operations:
Power On/Off: Press the fire button five times consecutively to turn the device on or off.
Adjust Wattage: Press the fire button three times to enter the wattage adjustment mode (wattage will begin blinking).
Increase Wattage: While the wattage is blinking, raise the wattage by pressing the fire button.
Lock/Unlock Fire Button: Press the fire button two times to lock or unlock the fire button. Note that the auto-draw function will still work even when the fire button is locked.
Other product suggestion
Upends UpBar GT
Exuding sophistication and elegance, the UpBar GT showcases a slender and polished body with captivating lines and intricate details, resulting in a visually stunning appearance.
The UpBar GT pods boast a 2ml capacity, accommodating a generous amount of e-liquid.
These pods come pre-filled with 20mg of nicotine, delivering a gratifying vaping experience. The pods' mesh coil ensures excellent flavor delivery and creates stunning vapor clouds. Users can indulge in approximately 600 puffs before needing to replace the pod.
Notably, the UpBar GT shines through its wide array of flavors. With a diverse selection available, users have the opportunity to choose from a range of enticing options that cater to their personal preferences, guaranteeing a delightful vaping experience.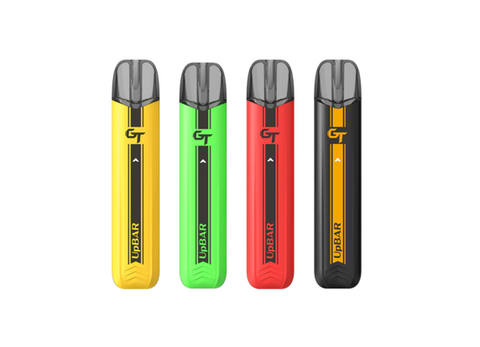 Features
2ml capacity e-liquid
400mAh battery
600 puffs
E-liquid ratio of 50PG/50VG
4ohm mesh coil
SMOK Nord X Pod System
Explore the impressive SMOK NORD X 60W Pod System, which offers adjustable wattage ranging from 5-60W, an IP67 rating for water and dust resistance, and compatibility with the RPM & RPM 2 Coil Series. The NORD X Pod System can deliver up to 60W of output power when powered by a 1500mAh rechargeable battery, making it a perfect complement for the RPM & RPM 2 Coils.
The 6mL refillable pods of the SMOK NORD X allow for convenient coil changes through a bottom press-fit connection. Crafted from durable zinc alloy, the NORD X chassis holds an IP67 rating, safeguarding against water and dust intrusion while remaining shock-proof for added protection against minor accidents. For the convenience of the user, the NORD X has a side-mounted OLED Display Screen that clearly and legibly displays vaping information.
Features
Integrated 1500mAh Rechargeable Battery
Wattage Output Range: 5-60W
Voltage Output Range: 0.5-4.0V
Resistance Range: 0.2-3.0ohm
Zinc-Alloy Chassis Construction
IP67 Rating – Water/Dust/Shock Proofing
Intuitive Firing Button
LED Indicator Light
Side OLED Display Screen
Two Adjustment Buttons
Magnetic Pod Connection
Nord X RPM and RPM 2 Pod Capacity: 6mL
Side Fill System with Silicone Stopper
SMOK RPM & RPM 2 Coil Series
16ohm RPM 2 Mesh Coil with a 25–50W rating
4 ohm RPM mesh coil with a 25 watt rating
Press-Fit Connection for easy coil installation
Atomizer Recognition
Overheating Protection
8S Cut-Off Protection
Short-Circuit Protection
Low Battery Warning
MicroUSB Port for charging
GeekVape Aegis Hero Pod Kit
Geek Vape Aegis Hero 2 Pod Mod Kit, featuring a slim and portable design. It includes a 1400mAh battery, 5-45W output range, and utilizes Geek Vape B Series Coils. With its durable zinc-alloy construction and IP67 rating, it offers protection against drops, water, moisture, and dust. The 4mL refillable pod delivers delicious flavor and vapor from your favorite e-juice or nicotine salt.
Features
Integrated 1400mAh Battery

Wattage Output Range: 5-45W

Voltage Output Range:

Resistance Range: 0.1-2.0ohm

Resistant to Dust, Water, and Shock

Two Adjustment Buttons

4mL Pod Capacity
FAQs
Is the Caliburn X Pod Kit suitable for beginners?
While the Caliburn X Pod Kit offers adjustable wattage and various coil options, it may require some basic knowledge of vaping. However, with its user-friendly design and intuitive operation, it can still be a suitable option for beginners who are looking for a more customizable vaping experience.
Is the Caliburn X Pod Kit suitable for beginners?
While the Caliburn X Pod Kit offers adjustable wattage and various coil options, it may require some basic knowledge of vaping. However, with its user-friendly design and intuitive operation, it can still be a suitable option for beginners who are looking for a more customizable vaping experience.
Best Vape Wholesale Supplier-UPENDS
Welcome to the captivating world of Vape UPENDS, where innovation and style combine to deliver an extraordinary vaping experience. Join our friendly community and unlock a range of special offerings designed to elevate your vaping pleasure.
At Vape UPENDS, we take great satisfaction in the innovative ideas, sophisticated aesthetics, and rigorous attention to detail that we produce. Our team of skilled artisans dedicates their careers to perfecting magnificent products that will captivate your senses. Prepare to be amazed by the unique experiences we have in store for you, indulging your discerning taste with every exhale.
With a commitment to providing an exceptional vaping journey, we invite you to embark on this transformative adventure with us. Discover why Vape UPENDS is the preferred choice for those seeking the finest relaxation moments.
Enter a world where creativity, fashion, and unbridled wonder mix in perfect harmony, producing a unique experience that will leave you wanting more.