If you're in search of a vaping experience that is truly distinctive and enjoyable, look no further than cotton candy disposable vapes. These delightful and playful options capture the irresistible flavor of freshly spun cotton candy, packaged in a convenient and compact design. Perfectly designed for effortless use, these disposable vapes are particularly suited for individuals on the go.
With their pre-filled flavored nicotine solution, there's no need to worry about refilling or recharging. Moreover, the wide array of sweet and whimsical flavors available ensures that you can find the perfect match for your taste preferences. Not only do these vapes deliver a satisfying nicotine hit, but they also offer the pure pleasure of savoring the sugary and fanciful essence of cotton candy.
Whether you're an experienced vaper or simply seeking an enjoyable and entertaining method to satisfy your nicotine cravings, choosing cotton candy-flavored disposable vapes is an exceptional decision. Get ready to experience a world of alluring taste and vaping delight.
What Is Cotton Candy Disposable Vape?
Cotton Candy Disposable Vape is a convenient and ready-to-use vaping device that offers the delightful and nostalgic flavor of cotton candy. It is a disposable vape pen that requires no refilling or charging, making it easy to use.
What Is Cotton Candy Disposable Vape
The Cotton Candy Ice Elf Bar disposable vape kit is a small and uncomplicated device that provides a more enjoyable vaping experience. Each bar includes a sufficient amount of e-liquid and a sizable battery that lasts longer than 20 cigarettes, all at a much lower price.
With no maintenance required, such as refilling or recharging, it offers a truly convenient vaping experience that can be enjoyed right away. It comes in various flavors, ensuring there's an Elf Bar suitable for most vapers.
Cotton Candy Disposable Vape Products
Swft Cotton Candy Disposable
Introducing Swift's Cotton Candy Disposable - the perfect solution for those who can't bear to be apart from their favorite carnival confection. No longer will you have to wait in line to enjoy the sweet and whimsical flavors of cotton candy.
This remarkable vape device comes in a pack of one, offering a synthetic nicotine strength of 50mg (5.0%). With an impressive 15ml tank, it delivers approximately 5000 puffs, ensuring you have plenty of indulgences
The convenience doesn't stop there - the Cotton Candy Disposable features a rechargeable 400mAh battery, eliminating any mess, hassle, or maintenance. Get ready to experience the joy of cotton candy wherever you go with Swift's Cotton Candy Disposable.
Features
Made with synthetic nicotine
15ml e-liquid
5000 puffs
5% Nic salt
Cotton candy flavor
400mAh battery
FLUM FLOAT COTTON CANDY
The Flum Float Cotton Candy disposable vaporizer is a compact and portable device that comes pre-filled with 8ml of e-juice and contains 5% nicotine. It offers approximately 3000 puffs, ensuring a satisfying vaping experience.
With a 1100mAh battery, the Flum Float Cotton Candy disposable vaporizer provides ample power for great flavor, eliminating the need for charging or complicated settings. Since it is disposable, there is no requirement for filling, charging, or swapping pods. When the juice and battery are depleted, you can simply purchase a replacement.
This vape device is ideal for individuals transitioning into vaping and offers impressive performance and flavor that even the most discerning users will appreciate. It is incredibly user-friendly – just open the Flum Float vape package and start puffing.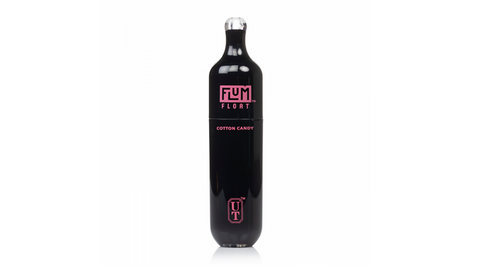 Features
8 ml e-juice capacity
5% nicotine salt
3000 puffs
1100mAh battery
COTTON CANDY ICE ELF BAR DISPOSABLE VAPE
The Cotton Candy Ice Elf Bar disposable vape kit is designed to be compact, and straightforward, and provides a smoother vaping experience. Each individual bar comes pre-filled with enough e-liquid and a large battery capacity that surpasses the lifespan of 20 cigarettes, all at a significantly lower cost.
With no need for maintenance such as refilling or recharging, this vape kit offers a truly hassle-free experience and can be used right out of the box. It is available in various flavors, ensuring that there is an Elf Bar suitable for a wide range of users.
Features
Beginner-Friendly
600 Puffs
Inhale Activated
10 mg Or 20mg Nic Salt
0mg (Nicotine-Free)
Smooth Throat Hit
COTTON CANDY ELF BAR 3500
Created by EBDesign, the Cotton Candy BC3500 vape device offers a delightful combination of fruity flavors, reminiscent of sugary sweet cotton candy. This vape is specifically crafted for adult users who have a penchant for indulging their sweet tooth.
Features
5ml E-liquid contents
50mg Nicotine Level
3500 Puffs
650mAh Battery Capacity
Elux Legend Cotton Candy 3500 Disposable
This cotton candy-inspired vape blends together the delightful flavors of strawberry and watermelon candies, resulting in a sweet and tasty experience that is pure yumminess.
The Elux bar series stands out as one of the pioneering disposable devices in the market, offering customers a superior choice due to its exceptional flavor, top-notch quality, and competitive pricing.
The Elux Legend disposable pen device takes the vaping experience to the next level, providing a smooth and pure taste. With a selection of 14 delectable flavors to choose from, a 1500mAh battery, and approximately 3500 puffs, this device offers a satisfying vaping experience that lasts.
Features
3500 Puffs
1500 mAh Battery
20mg Nicotine
14 delectable flavors
Cotton Candy Delta-8 Disposable Vape Pen
Indulge in the taste of cotton candy with this disposable pen that features a delightful cotton candy flavor. Packed with 1000 mg of Delta-8 THC, it offers a fun and enjoyable experience that is just a puff away.
Features
Contains 1000mg of Delta-8 THC
Free from fillers such as VG or PG
Crafted with a unique blend of terpenes
Utilizes 99.7% pure Delta-8 distillate, surpassing the typical 80%-90% content found in other Delta-8 pens
Undergoes quality testing by an independent lab for each batch
ESCO BARS MESH – COTTON CANDY
The EscoBars Mesh Cotton Candy Disposable Vape Pen is a delectable disposable vape device produced by Esco Bars. It boasts a generous capacity of approximately 6 ml of e-liquid and offers around 2500 puffs.
With its innovative mesh coils, this vape pen enhances the flavor profile, delivering a truly delightful vaping experience. Furthermore, the mesh coils contribute to a tighter draw, ensuring consistent enjoyment for your customers from the very first puff to the last.
The cotton candy flavor crafted by Esco Bars is a delightful and sugary sensation. It offers a rich array of flavors that will transport your customers to the nostalgic atmosphere of a genuine carnival, evoking the taste of freshly spun sugary treats. The addition of the mesh coil elevates the experience, allowing the flavor to truly come alive and captivate the senses.
Features
Available in a 10-pack
2500 Puffs
1100mAh Battery
5% Nicotine salt
6ml E-Liquid
Aroma King Hybrid- Cotton Candy
Cotton Candy offers a delightful and nostalgic experience with its sweet and fruity flavor, serving as an exquisite replica of the renowned cotton candy taste that takes you on a trip down memory lane.
The Aroma King Legend 3500 Puffs Disposable is a compact and lightweight vaping device, ideal for travel, evening use, or as a convenient backup option.
Features
20 mg/ml (2%) Nicotine salt
3500 puffs
1500 mAh battery
10 ml E-liquid fluid
1,6 ohm Resistance
Stylish ergonomic design
FAQs
Are Cotton Candy Disposable Vapes Suitable for Beginners?
Yes, Cotton Candy Disposable Vapes can be suitable for beginners due to their user-friendly design and ease of use.
What nicotine strengths are available in Cotton Candy Disposable Vapes?
Cotton Candy Disposable Vapes usually come in various nicotine strengths, catering to different nicotine preferences. Common options include 0mg (nicotine-free), 2mg, 3mg, 5mg. The specific nicotine strengths available may vary among brands and product lines.
Best Vape Wholesale Supplier-UPENDS
Uncover the captivating universe of Vape UPENDS, where the fusion of innovation and style effortlessly harmonizes, inviting you to embark on an extraordinary vaping adventure. Join our welcoming community, where a plethora of exclusive deals awaits to make your vaping experience even more delightful.
At Vape UPENDS, we take immense pleasure in our cutting-edge innovations, refined designs, and meticulous attention to detail. Our team of talented artisans wholeheartedly dedicates themselves to crafting impeccable and awe-inspiring creations that will truly captivate your senses. We strive to indulge your sophisticated taste buds with every inhale and ignite your sense of wonder, leaving you astounded by the extraordinary experiences that lie ahead.
Our ultimate goal is to provide you with a remarkable vaping journey, and we are excited to accompany you on this life-changing venture. So take a moment to relax and allow us to showcase why Vape UPENDS stands as the preferred choice for discerning customers who expect nothing short of the best. Prepare to immerse yourself in a world where innovation, style, and wonder intertwine, resulting in an enchanting encounter that will leave you craving more.