Naked 100 has become the favored destination for many seeking premium vape juice. Their extensive array of carefully crafted flavors includes everything from exotic fruits to delightful tobacco blends. A standout offering is the Naked Vape Juice Pick 3 Bundle, an excellent online deal that allows you to select up to three of your most beloved Naked 100 flavors at a discounted price.
In this bundle, you have the freedom to choose three 60mL bottles featuring your preferred flavors, as well as your desired nicotine strength. Options range from 0mg to 12mg, ensuring a personalized vaping experience. The available flavors encompass the entirety of Naked 100's vape juice collection, granting you a delightful array of indulging choices.
Based in Torrance, California, Naked 100 has garnered a massive following of vapers worldwide, establishing itself as the preferred brand for many. With the expertise of skilled mixologists, Naked 100 crafts delightful vape juice flavors, earning its reputation as one of the most beloved brands in existence.
Its journey began humbly in 2012, swiftly capturing attention with its distinct bottles, straightforward flavors, and top-notch taste. While numerous brands exist in the market, none can rival the status of Naked 100, which has grown to become the industry's largest and most prominent vape juice brand.
What is Naked 100 Vape Juice
Naked 100 Vape Juice is a popular brand of premium e-liquids known for its extensive range of delicious flavors. The Naked 100 E-liquid combo pack presents a trio of their top-selling flavors, consisting of a 60mL bottle each of Very Berry, Hawaiian Pog, and Amazing Mango.
This delightful combination of flavors offers some of the finest fruit-flavored vapes available in the market today, all at a fantastic value. Amazing Mango delivers a delectable blend of mango with hints of peach and creamy undertones that will keep you savoring every last drop.
Hawaiian Pog brings together the delightful flavors of passion fruit, guava, and oranges, reminiscent of a favorite tropical cocktail. Meanwhile, Very Berry provides a sweet explosion of blueberries and blackberries, complemented by a candied lemon drizzle for an irresistible taste experience.
Specs & Features:
Key Flavors: Pineapple, Guava, Orange
Key Flavors: Blackberry, Blueberry, Candied Lemon
Key Flavors: Mango, Peaches, Heavy Cream
Contains
1 60ML of Hawaiian Pog E juice by Naked 100
1 60ML of Very Berry E juice by Naked 100
1 60ML of Amazing Mango E juice by Naked 100
Naked 100 Vape Juice Flavor Reviews
Lava Flow: This flagship flavor is a fan favorite, blending strawberries, coconut, and pineapple for a delightful and lingering taste that keeps users coming back for more.
Lava Flow Ice: A reenvisioned version of the popular Lava Flow, this flavor adds a cool menthol finish to the original blend of strawberries, coconut, and pineapple, offering a refreshing twist.
Melon Kiwi: A magical fusion of honeydew, kiwi, and green apple creates a refreshingly delicious taste that is sure to become your new all-day vape.
Hawaiian POG: A beloved flavor in the industry, Hawaiian POG combines orange juice, passion fruit, and guava for an unforgettable taste experience that captivates your taste buds.
Mango: A legendary flavor in the premium vape juice world, Mango offers a trifecta of flavors, combining mango, peach, and a creamy smoothie taste that will leave you in awe.
All Melon: For melon enthusiasts, this fusion of cantaloupe, watermelon, and honey delivers a perfect melon experience, satisfying your cravings for melon flavors.
Really Berry: Bursting with berry goodness, Really Berry showcases blueberries and blackberries with delightful notes of lemon and sugar, creating a berry-packed and flavorful vape.
Strawberry POM: A cool blast of menthol paired with strawberries, kiwis, and a touch of pomegranate creates a refreshing and chilling vape flavor for your taste buds.
Lemon: With a combination of lemon, lime, and hard candy, Lemon delivers a zesty and unforgettable experience that leaves a lasting impression.
Strawberry Cream (Formerly Naked Unicorn): Treat yourself to a taste overload with this creamy vape featuring juicy strawberries and Naked 100's signature cream, a perfect all-day option.
Azul Berries: Bursting with berry goodness, Azul Berries combines luscious blueberries and sweet raspberries with Naked 100's signature cream flavor for a thick and satisfying vape.
Pineapple Berry: End your day with a mix of juicy strawberries, delicious kiwis, and sweet cream, creating a thick and flavorsome vape perfect for any time.
Cuban Blend: Catering to hardware tobacco vape enthusiasts, Cuban Blend delivers a robust taste of Caribbean tobacco with flavorful notes that linger.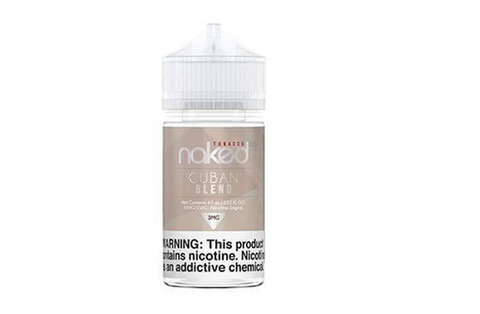 Euro Gold: For a milder tobacco vape, Euro Gold offers a light and smooth blend of classic tobacco flavors, perfect for all-day vaping.
Banana: For banana lovers, this vape offers the simplicity of ripe and creamy banana slices, delivering a smooth and tasty experience with every puff.
Straw Lime: A unique blend of strawberries, lime, and candied notes, Straw Lime recreates the taste of strawberry sour belts in a way that's even more enjoyable.
Vape suggestion you might want to try:
Upends UpBar GT
The UpBar GT has an elegant design that emanates elegance and class. It has a sleek, polished body that is embellished with alluring lines and minute details.
The UpBar GT pods' substantial 2ml capacity allows for the storage of a large volume of e-liquid. These pre-filled pods provide 20mg of nicotine and provide a pleasurable and fulfilling vaping experience. Mesh coils included inside the pods guarantee excellent flavor distribution and great vapor production. Each pod lasts for roughly 600 puffs before needing to be replaced.
The UpBar GT's wide variety of flavors is one of its most distinctive features. Users have access to a wide variety of tempting options that adapt to their own interests, providing a wonderful and personalized experience.
Features
2ml E-liquid Capacity
400mAh Battery Capacity
600 puffs
50PG/50VG E-liquid Ratio
4ohm mesh coil resistance
Elf Bar 600
The Elf Bar 600 is an essential choice for those who value convenience and crave a delightful fruity experience. If you relish the refreshing taste of fruits, this vape pen delivers a truly satisfying vaping journey.
Boasting a generous 2ml capacity of grape e-liquid, it provides ample refreshing puffs. The e-liquid is infused with salt nicotine, ensuring smoother throat hits and rapid relief from cravings. It is offered in zero nicotine strength, as well as 10 mg and 20 mg options.
Features
2ml capacity
10 or 20mg Salt based nicotine:
Draw activation
350mAh Battery
600 puffs
34 flavor choices
FAQs About Naked 100 Vape Juice
Does Naked 100 offer any menthol flavors?
Yes, Naked 100 has several menthol flavors, including Polar Breeze (formerly Melon) and Lava Flow Ice.
What are some top-selling flavors from Naked 100?
Some top-selling flavors from Naked 100 include Hawaiian POG, Lava Flow, Very Berry, Amazing Mango, and All Melon.
Is Naked 100 Vape Juice made with high-quality ingredients?
Yes, Naked 100 takes pride in using premium ingredients to create their vape juices, ensuring a satisfying and flavorful vaping experience.
Where can I purchase Naked 100 Vape Juice?
Naked 100 Vape Juice is available at many vape shops and online retailers. It's essential to ensure you are purchasing from authorized sellers to guarantee genuine products.
Are there any discounts or bundle offers available for Naked 100 Vape Juice?
Naked 100 occasionally offers bundle deals or combo packs that allow customers to try multiple flavors at a discounted price. Keep an eye out for special promotions and sales from authorized retailers.
Best Vape Wholesale Supplier-UPENDS
Enter the captivating world of Vape UPENDS, where innovation and style seamlessly blend, inviting you to embark on an unforgettable vaping adventure. If you desire to elevate your vaping pleasure to unparalleled heights, join our welcoming community and explore a myriad of exclusive offerings awaiting you.
Vape UPENDS takes great pride in its state-of-the-art innovations, elegant designs, and unwavering commitment to perfection. Our skilled artisans put their hearts into crafting flawless and mesmerizing products that enchant your senses, ensuring each inhale is a delightful experience for your refined taste.
Our mission is to amaze you with incredible experiences as we embark on this transformative journey together, striving to provide you with an extraordinary vaping escapade. Let us show you why Vape UPENDS stands as the ultimate choice for those seeking only the best. Take a moment to relax and get ready to immerse yourself in a universe where creativity, fashion, and sheer marvel coexist harmoniously, creating an experience that captivates you and leaves you yearning for more.