Introducing the Elf Bar BC3500 Disposable Vape, a revolutionary vape device designed in a unique flag-shaped form factor to enhance the user's vaping experience. With its portable size, this vape offers unparalleled convenience.
Equipped with a powerful 650mAh built-in battery and a generous 10.5ml pre-filled juice capacity, the Elf Bar BC3500 Disposable Vape supports an impressive 3500 puffs, ensuring long-lasting enjoyment without the need for recharging or refilling.
One of the standout features of this vape is its dual coil system, which delivers exceptional flavors, thanks to the built-in mesh coil technology. Each puff guarantees a delicious and satisfying vaping experience.
Despite its compact and small design, the Elf Bar BC3500 Disposable Vape boasts an eye-catching high-contrast color combination that enhances the overall aesthetic appeal. By choosing this exquisite device, you can immerse yourself in the purest taste and elevate your vaping journey.
What Is Elf Bar BC3500?
The Elf Bar BC3500 is a specific model of disposable vape device that prioritizes convenience, portability, and user-friendliness. Its distinct flag-shaped design stands out among other disposable vapes and offers visual appeal and a comfortable grip.
Equipped with a built-in 650mAh battery, the Elf Bar BC3500 provides sufficient power for extended use. It impressively supports 3500 puffs before it needs to be discarded.
Furthermore, the BC3500 disposable vape boasts a generous pre-filled juice capacity of 10.5ml. This eliminates the need for frequent refills, allowing users to enjoy their vaping sessions without interruption.
Why Choose The Elf Bar BC3500
There are several reasons why you might choose the Elf Bar BC3500 as your disposable vape device of choice:
Convenience
With the Elf Bar BC3500, vaping is hassle-free. It is a disposable device, meaning you don't need to worry about refilling or recharging it. Simply use it until the battery or e-liquid runs out, then dispose of it.
Portability
The compact and portable design of the Elf Bar BC3500 makes it easy to carry around with you wherever you go. It can fit comfortably in your pocket or bag, allowing for vaping on the move.
Extended Usage
With its 650mAh built-in battery and 10.5ml pre-filled juice capacity, the Elf Bar BC3500 provides an impressive number of puffs. It supports up to 3500 puffs, ensuring you can enjoy your vaping sessions for an extended period before needing a replacement.
Flavorsome Experience
The Elf Bar BC3500 is equipped with a dual coil system, including a mesh coil. This configuration enhances flavor production, resulting in a more enjoyable and satisfying vaping experience.
Unique Design
The flag-shaped design of the Elf Bar BC3500 sets it apart from other disposable vapes on the market. It adds a touch of style and uniqueness to your vaping setup.
Overall, the Elf Bar BC3500 combines convenience, portability, extended usage, flavorful experience, and unique design, making it a compelling choice for vapers seeking an enjoyable and hassle-free vaping experience.
Features
5mL E-Liquid Capacity
650mAh Battery
5% Nicotine Strength
3500 Puffs
Dual Mesh
Draw-Activated Mechanism
Type-C USB Port
Pros
The BC3500 variant offers an impressive 3500 puffs, thanks to its large battery capacity and pre-filled juice capacity. This means you can enjoy an extended vaping session before needing a replacement.
The flavor produced is rich, satisfying, and highly enjoyable. The vape provides a smooth and seamless draw, ensuring a satisfying hit that is both flavorful and satisfying to the user.
Cons
The Elf Bar BC3500 does not allow for adjusting the nicotine strength or swapping out e-liquid flavors. It offers a more limited range of customization options.
Elf bar BC3500 Flavors Review
Strawberry Kiwi
The Strawberry Kiwi flavor brings together the natural sweetness of ripe strawberries and the tangy, tropical essence of kiwi. The blend of these two fruits creates a delightful balance of flavors, with the juicy and succulent notes of strawberry complemented by the refreshing tartness of kiwi.
Peach Mango Watermelon
This flavor combination combines the sweetness of juicy peaches, the tropical essence of ripe mangoes, and the refreshing crispness of watermelon. With each puff, you'll experience a delightful blend of fruity flavors that dance on your palate, offering a harmonious and refreshing vaping sensation.
Mango Peach
Mango Peach presents a fusion of two luscious fruits. The vibrant, tropical sweetness of ripe mangoes perfectly complements the soft and succulent flavors of peaches. The result is a mouthwatering vaping experience that captures the essence of summer and leaves a deliciously sweet aftertaste.
Kiwi Passionfruit Guava
Kiwi Passionfruit Guava takes you on a tropical journey. The tangy and slightly tart kiwi pairs harmoniously with the exotic sweetness of passionfruit, while the juicy essence of guava adds depth to the flavor profile. This combination creates a vibrant and refreshing vape with an irresistible tropical twist.
Lemon Mint
Lemon Mint combines the bright and zesty citrus taste of lemon with the cool and invigorating essence of mint. The tangy lemon adds a refreshing burst of flavor, while the mint undertones provide a soothing and revitalizing sensation. This combination creates a well-balanced and uplifting vaping experience.
Watermelon Ice
Watermelon Ice offers a burst of summer freshness. The flavor captures the mouthwatering juiciness of ripe watermelon, delivering a sweet and refreshing taste. The addition of a cooling menthol sensation adds a crisp and icy finish, making it an invigorating choice for those seeking a chilled vaping experience.
Blue Razz Ice
Blue Razz Ice features the irresistible taste of juicy blue raspberries, delivering a delightful blend of sweet and tangy flavors. The addition of a cooling menthol touch creates a refreshing and icy sensation, enhancing the overall vaping experience and leaving a cool aftertaste.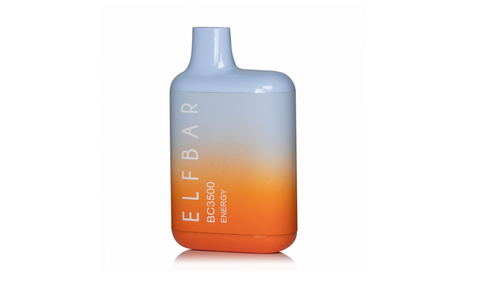 Energy
The Energy flavor is inspired by popular energy drinks, offering a bold and vibrant taste that stimulates the senses. It combines lively and invigorating flavors with a touch of effervescence, providing a unique and energizing vaping experience reminiscent of your favorite energy beverage.
Strawberry Mango
Strawberry Mango combines the succulent sweetness of ripe strawberries with the tropical juiciness of mangoes. The result is a tantalizing blend of fruity flavors that harmonize perfectly, creating a satisfying and refreshing vape that bursts with the natural essence of these two beloved fruits.
Cranberry Grape
Cranberry Grape offers a delightful combination of tart cranberries and luscious grapes. The tartness of cranberries balances perfectly with the natural sweetness of grapes, resulting in a well-rounded flavor profile. Each puff delivers a harmonious blend of fruity notes, leaving a satisfying and tangy aftertaste.
Red Mojito
Red Mojito is a flavor inspired by the classic Mojito cocktail. It combines a medley of berries, such as strawberries and raspberries, with a hint of citrus and a touch of refreshing mint. The result is a tantalizing fusion of fruity flavors, creating a vape that is both vibrant and invigorating.
Sakura Grape
Sakura Grape captures the delicate and enchanting essence of Japanese cherry blossoms paired with the luscious sweetness of grapes. The flavor combines floral and fruity notes, offering a unique and captivating vaping experience.
FAQs About The Elf Bar 3500
Is the Elf Bar 3500 rechargeable?
Elf Bar has introduced two new lines of rechargeable disposable vape devices, offering extended usage with 3,500 puffs and 5,000 puffs respectively. These new models from Elf Bar are designed to be charged using a convenient USB-C charging cable input, enabling users to fully enjoy the nicotine salt vape juice contained within the disposable vape devices.
How long does Elf Bar BC3500 last?
The Elf Bar BC3500 is a disposable vape device that typically lasts for a certain number of puffs rather than a specific timeframe. The BC3500 is designed to deliver approximately 3500 puffs before the battery and e-liquid are depleted.
Best Vape Wholesale Supplier-UPENDS
Embark on a captivating exploration into the world of Vape UPENDS, where the perfect blend of innovation and style awaits you. Join us on an unforgettable vaping journey that promises to delight your senses and leave you craving for more. We extend a warm invitation to become a part of our community, where a treasure trove of exclusive deals awaits, designed to enhance your vaping pleasure.
At Vape UPENDS, we take immense pride in our state-of-the-art innovations, elegant designs, and meticulous attention to detail. Our team of skilled artisans puts their heart and soul into crafting flawless and magnificent products that will captivate your senses. With every inhale, we strive to tantalize your refined taste buds, while igniting a sense of wonder that will leave you mesmerized by the extraordinary experiences we have in store for you.
Our ultimate goal is to provide you with an extraordinary vaping experience, and we are thrilled to embark on this transformative journey alongside you. So take a moment to unwind and allow us to demonstrate why Vape UPENDS is the premier choice for discerning customers who demand nothing but the best. Prepare to immerse yourself in a world where imagination, style, and sheer amazement converge, creating an encounter that will truly enchant you and leave you yearning for more.