If you are here, you must be looking for an enjoyable vaping experience. But what makes any vaping session enjoyable? It is the quality of the vape products that can make or break your vaping experience.
In this article, we will discuss Humble Vape Juice to know what different flavors are available for you…
About Humble Juice Co
Started in 2015, Humble Juice Co. is an e-liquid company that specializes in premium vape juices. It has created some of the award-winning e-liquid flavors. It provides a huge range of e-liquids at an affordable price. Though the company is not too old in the vaping world, it has created a niche by providing premium-quality products. Today, it is one of the renowned e-liquid brands both domestically and globally.
Humble Vape Juice: An Introduction
Humble Juice offers a huge selection of e-liquids to satisfy different tastes and preferences. After trying its different products, it will be safe to say that the company has done good market research and brought some of the best flavors to the market. It has done a good job with flavors that sit at a slightly higher than normal 80VG/20PG. The ratio is more suitable for experienced vapers or anyone looking for increased vapor production.
If you've got a sweet tooth, Humble Vape Juice can be your right pick. Though the dessert flavors are prominent, there are some other options too that are worth considering. Let's check out some of the most popular flavors that you may want to try…
Humble Vape Juice: Best E-Liquid Flavors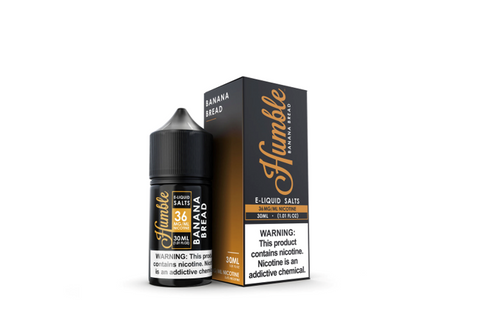 Here we've listed some of the most sought-after e-liquid flavors. Take a look and see what suits you the best….
120mL ICE E-Liquid (0mg, 3mg, 6mg)
Strawnana Dragon Fruit ICE 'Donkey Kahn ICE':An amazing blend of Strawberry and banana with a splash of dragon fruit on ICE. It is a 3MG/ML, 120mL Nicotine e-liquid.
Berry Raspberry Chew ICE 'Berry Blow Doe ICE':, this is a mix of crunchy blueberry shells that offers a mouthwatering explosion.
Fruit Blast ICE 'Fruit Punch Ice':Available in 0mg, 3mg, and 6mg nicotine strengths, this flavor is a summertime favorite as it combines the delicious Hawaiian juicy fruits and ice.
Kiwi Melon Apple ICE 'Pee Wee Kiwi ICE':Available in 0mg, 3mg, and 6mg nicotine strengths, this is an amazing twist of kiwi on ice with hints of watermelon slices, apple, and a pinch of citrus.
Mango Melon ICE 'Sweater Puppets ICE': A perfect mix of some delicious fruits like mango, cantaloupe, and honeydew melon on Ice. This is one of the tastiest and most refreshing flavors.
Citrus Sorbet ICE 'VTR ICE':It is a colorful sorbet mixed with some amazing fruit flavors on Ice.
Guava Strawnana Ice ' Guava Kahn ICE':A blend of guava with a hint of dragon fruit on Ice. It offers a bit of a tangy taste.
120mL E-Liquid (0mg, 3mg, 6mg)
Strawberry Crepe 'Strawberry Waffle': A delicious flavor of buttery crepe topped with farm-fresh strawberries.
Blackberry Lemon: A refreshing mixture of lemon and citrus with a hint of blackberry that provides a tangy twist.
Blue Raspberry Freeze 'Blue Slushee': A chill blend of tart blueberries and juicy raspberries that is perfect for a summer day.
Strawnana Dragon Fruit 'Donkey Kahn': An amazing mixture of strawberry and banana with a hint of dragonfruit.
Strawberry Custard 'Smash Mouth': It is a blend of refreshing strawberries, crackers, and custard.
Blue Raspberry Chew 'Berry Blow Doe': An impressive mixture of juicy raspberry and crunchy blueberry.
Fruit Blast 'Fruit Punch': A delicious Hawaiian juicy fruit and soft chew mash-up and a summertime favorite.
Peach Berries 'Peach Pleasure': An amalgam of delicious strawberries mixed with dragon fruit and ripe peaches.
Fruit Crisp 'American Dream': A fruity breakfast bar with a splash of refreshingly creamy milk.
Kiwi Melon Apple 'Pee Wee Kiwi': It is a blend of kiwi mixed with slices of watermelon and apple along with a pinch of citrus.
Vanilla Butterscotch 'Hopscotch': It's a perfect mixture of vanilla, butterscotch custard, and toffee.
Fried Banana: A blend of sweet fried bananas paired with cinnamon sugar doughnuts.
Menthol: The flavor provides the refreshing and cooling effects of menthol.
Tobacco: It is a classic flavor of tobacco that gives a delicious and smooth hit.
60mL E-Liquid (3mg, 6mg)
Strawberry Banana E-Liquid
Mango Passionate E-Liquid
Kiwi Berry Citrus E-Liquid
Blue Raspberry E-Liquid
Watermelon E-Liquid
Toffee Vanilla Custard E-Liquid
Banana Bread E-Liquid
Creamy Crunch E-Liquid
Blue Raspberry Menthol E-Liquid
Vanilla Almond Tobacco E-Liquid
Sweet Citrus E-Liquid
Cherry Limeade E-Liquid
Strawberry Sour E-Liquid
Jasmine Tea E-Liquid
Berry Delight E-Light
Creamy Fruit Bar E-Liquid
Smooth Tobacco E-Liquid
Roasted Nuts E-Liquid
Cherry Limeade Menthol E-Liquid
Chill Menthol E-Liquid
P.N Mix E-Liquid
30mL Nicotine Salts (48mg)
Guava Strawnana 'Guava Kahn' Salts
Blackberry Lemon Salts
Strawberry Crepe 'Strawberry Waffle' Salts
Blue Raspberry Freeze 'Blue Slushee' Salts
Blue Raspberry Chew 'Berry Blow Doe' Salts
Kiwi Melon Apple 'Pee Wee Kiwi' Salts
Citrus Sorbet 'VTR' Salts
Strawberry Custard 'Smash Mouth' Salts
Blueberry Cobbler 'Humble Crumble' Salts
Mango Melon 'Sweater Puppets' Salts
Fruit Crisp 'American Dream' Salts
Strawnana Dragon Fruit 'Donkey Kahn" Salts
Peach berries 'peach Pleasure' Salts
Vanilla Butterscotch 'Hopscotch' Salts
Fruit Blast 'Fruit Punch' Salts
Flavor Free Salts
Fried Banana Salts
Menthol Salts
Tobacco Salts
30mL Salt Nicotine (18mg, 36mg)
Banana Bread Nic Salt
Blue Raspberry Nic Salt
Blue Raspberry Nick Salt
Creamy Crunch Nic Salt
Kiwi Berry Citrus Nic Salt
Mango Passion-fruit Nic Salt
Strawberry Banana Nic Salt
Sweet Citrus Nic Salt
Toffee Vanilla Custard Nic Salt
Vanilla Almond Tobacco Nic Salt
Watermelon Nic Salt
Berry Delight Nic Salt
Cherry Limeade Menthol Nic Salt
Chill Menthol Nic Salt
Creamy Fruit Bar Nic Salt
Jasmine tea Nic Salt
Roasted Nuts Nic Salt
Smooth Tobacco Nic Salt
P.N Mix Nic Salt
Strawberry Sour Nic Salt
Humble Vape Juice Collection 
Humble Juice Co. specializes in premium e-liquids and there is something for everyone. Apart from offering different flavors, no-flavor options are also available.
Here are the main product categories…
120mL ICE E-Liquid
120mL E-Liquid
60mL E-Liquid
30mL Nicotine Salts
30mL Salt Nicotine
Our Verdict on Humble Vape Juice
The Humble Vape Juice range consists of some amazing flavors and there's something for every taste and preference. Apart from the fresh fruity flavors of tangy tobacco and minty mints, there is a huge variety of e-liquids to choose from. They also stock some impressively strong flavors for experienced vapers and some mild ones for beginners.
What makes the brand stand out from the crowd is that the collection consists of different quantities and nicotine levels. Users can pick from 120mL or 60mL e-liquid along with 30mL salt nicotine and 30mL nicotine salts.
FAQs About Humble Vape Juice
Which flavor is best for vape?
It depends on your personal choice of what flavor you like the most. However, sweet fruity e-liquids, menthol e-liquids, and tobacco e-liquids are extremely popular among vapers.
Is zero nicotine vape safe?
Vaping itself can have harmful effects even if it's without nicotine. However, you can go for zero nicotine levels to avoid lung and throat irritation.
What are some of the most sought-after vape flavors?
Some e-liquids are extremely popular among vapers such as tobacco, menthol, mint, dessert, creams, fruit, citrus, beverage, nuts, and spices.
Is it better to smoke or vape?
Vaping is considered less harmful than smoking, but it's still not completely safe. Most e-cigarettes contain nicotine and other harmful chemicals that may be harmful to health.
UPENDS: Offering Premium-Quality Vape Products
Welcome to UPENDS, a renowned vape brand that provides a wide range of vaping products. Whether you're looking for premium disposables, high-quality pod systems, or luxurious pod mods, we got you covered. We are known to provide the most innovative and practical vaping solutions at a price that you would love to pay.
We have a team of highly qualified and experienced professionals to create flawless vape products. Our products are not only designed to have a great look but also loaded with immense features to make your vaping journey as smooth and enjoyable as possible.
When it comes to the most innovative vape products, we have recently launched some of the best
designs. UPENDS MIRROR, UpBar GT, and UpBar NANO are our three recently launched products that come packed with the latest features and functionalities.
Currently, we are inviting authorized vape distributors and agents to help us reach our goal - to provide our global customers with the best quality products. If you're interested, do not hesitate to contact us…