UPENDS Guide on How to Spot Fake JUUL Pods
In the recent past, many people who used to smoke have quit smoking and prefer to vape. This even good as vaping is the best alternative for you to continue enjoying the best hit without the adverse health effects of smoking tobacco. 
Due to the rising number of vapers, there is a rising demand for vaping equipment. To meet the market demand, many firms are coming up with vaping equipment that may be substandard. JUUL pods are the best-known vape pod brands, but there is fear that there are many counterfeit JUUL pods in the market.
Since there are counterfeit JUUL Pods in the market, it doesn't mean there are no original JUUL Pods in the market. You only need to take care that you buy your JUUL Pods from authorized and certified vendors.
As you are planning to buy JUUL Pods, this article is out to guide you into making the right decision on the right JUUL Pod for your vape. Let's read to the end!
Fake JUUL vs. Real JUUL Pods
There are both fake and real JUUL Pods in the market. You need to take care that you get the real ones as the fake ones pose a health risk if you use them for vaping. There are different ways that you can use to differentiate between the fake JUUL Pods and Real JUUL Pods. 
Here are some of the ways;
JUUL Pod Logo
A fake JUUL Pod comes with four dots of different colors on its top, while the real one has the JUUL logo. If you see anything on the top of a JUUL Pod apart from the JUUL logo, then that pod is counterfeit.
Caps Color
The fake JUUL Pods come with harsh e-juices than expected. Their caps are brightly colored against the real JUUL Pods that have a dull color. For instance, the caps of a real JUUL Pod may be yellow-orange, while the fake one comes with red-orange caps.
E-Juice Spills
The real JUUL Pods are professionally packed with no spills, unlike the fake ones that have the e-juice spillages scattered around.
Cotton Arrangements

Both the fake and original JUUL Pods come with cotton but differ in the cotton arrangements. The real ones come with neatly arranged cotton against the fake ones that are fluffy.
Best 5 Real JUUL Pods
After differentiating the real JUUL Pods from the fake ones, you are now ready to get into the market and choose the best JUUL Pod to enjoy your vaping. 
Here are some of the best five JUUL Pods that you will love;
SEApods JUUL Pods
These are the newest pods in the market. These pods hold a milliliter of e-juice, which is 0.3ml more than the previous JUUL Pods. SEApods Nicotine Juul Pods allows you to enjoy a 5% strength nicotine salt e-juice.
SEApods Nicotine Juul Pods come in different flavors that you can choose depending on the flavor you like. The flavors include; grape flavors, Blueberry flavor, Lush Flavor, Mango flavor, Mango menthol flavor, Pineapple Lemonade flavor, Mint flavor, Pink Lemonade flavor, Strawberry flavor, and Strawberry Menthol flavor.
The SEApods Nicotine Juul Pods are cheaper than other JUUL pods in the market but still give you the best vaping experience. When you use it, you need to take care that you don't take long puffs to avoid getting the burnt feel.
Many vapers like SEApods Nicotine Juul Pods because they don't readily leak. They can only leak when you squeeze the pod too hard, or you constantly pop it. Their quality is also outstanding among other JUUL pods in the market.
Plus JUUL Pods
The Plus JUUL Pods comes with $12 for the four packs. They contain 6% nicotine and more e-liquid as compared to the original pods.
Plus, JUUL Pods gives you an option to choose from its 14 different flavors that mainly focus on the fruits department. Some of the flavors of Plus JUUL Pods include; Mango flavor, Blue Raspberry flavor, Iced Mint flavor, Strawberry. California Cream flavor, Passion Fruit flavor, Lemonade flavor, Watermelon flavor, Banana flavor, and Green Apple flavor.
The Plus JUUL Pods are the best for vaping as they are compatible with the JUUL battery. They easily control the temperature; thus, you can vape without experiencing any burnt fill. Many vapers also prefer Plus JUUL Pods because of their high nicotine content that gives you the hit you require.
Ziip JUUL Pods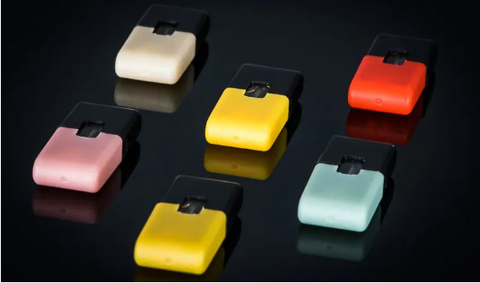 A pack of Ziip JUUL Pods is priced at an average of $12. They are pre-filled; thus, you don't need to worry about the refilling process. They come with a capacity of 1ml, which is 0.3ml more than the original JUUL pod.
Another benefit of vaping Ziip JUUL Pods is that they come in all nicotine strengths. You can choose 0% nicotine, 0.9% Nicotine, 1.8% nicotine, 3.0% nicotine, 5.0% nicotine and 6.0% nicotine. This caters to you if you are a beginner or an expert. As a beginner, you can start by 0% strength as you advance slowly.
Apart from the nicotine strengths, Ziip JUUL Pods are the best as they allow you to choose from among its 26 flavors. Some of the common flavors include; Mango, Tobacco, Strawberry Milk, Mint, Cheesecake, Cinnamon Roll, Blueberry, Pineapple, Spearmint, grape flavor, and many more.
The Ziip JUUL Pods can last longer depending on how you use them. You need to avoid any form of leak in the form of bubbles by avoiding pulling the pads too much. To make sure Ziip JUUL Pods, you also need to avoid constantly puffing to allow the wick to absorb the e-juice.
Ziip JUUL Pods sometimes can let you feel a burnt hit. However, this can be readily be corrected by you slowing down with puffing. This will allow the wick to sack enough e-juice for vaping.
4X JUUL Pods
These are yet another JUUL Pods that you can consider if you want to enjoy vaping. Many vapers prefer 4X JUUL Pods as they are highly compatible with the JUUL batteries, come with different nicotine strengths, and gives you the opportunity to choose from their wide variety of flavors.
4X JUUL Pods offer high nicotine strengths higher than the original JUUL pods. You will enjoy 6% nicotine, 6.5% nicotine, and 6.8% nicotine strength. This makes them ideal pods to enjoy high nicotine hits at high nicotine strengths.
You will also have the freedom to choose from a wide range of 4X JUUL Pods flavors, depending on your preference. Some of the 4X JUUL Pods flavors include; Blue Raspberry, Mango Peach Pineapple, Kiwi Strawberry, Strawberry Sour Belt, Blue Blackberry, Sour Gummy, Peach, Raspberry Mint Lemonade, and Grape flavors.
4X JUUL Pods are the best pods to consider if you prefer the nicotine strength to flavor. Although the nicotine strength is high, you will not experience harsh nicotine hits on your throat.
Peaked JUUL Pods
Apart from the nicotine JUUL pods, you can also like to enjoy the cannabidiol (CBD) JUUL pods, and one of the best CBD JUUL pods is Peaked JUUL pods.
You will enjoy 1000mg of CBD-isolate extract per purchase of a pack of four Peaked JUUL pods. Peaked JUUL pods are the best as they are the terpenes are mixed in equal measures to realize the best.
Peaked JUUL pods allow you to access different flavors. The flavors include; Watermelon, Clementine, Gelato, Blue Dream, Pineapple Express, and many more.
JUUL Prices
The people who make fake JUUL Pods understand that you may consider a lowly priced pod to be fake. This makes them set high prices to lure buyers. You should not be lured by these tricks.
The JUUL pods come in a price range of $8 -$12. If the prices are too high above this or too low, then you need to countercheck the pods. You can quickly pair the specific JUUL pod to your smartphone using Bluetooth technology. The original one contains a serial number that will facilitate successful pairing, and the fake one will not pair.
Conclusion
You need to be careful when you need to buy vaping equipment. If you use counterfeit JUUL pods, you may expose yourself to health and safety dangers. Apart from the fake vaping products affecting you, they may directly or indirectly affect the manufacturers, legitimate distributors, and even the entire vaping industry. Always be careful and practice the mentioned practices as earlier discussed above to make sure you get the real ones.