Are you planning to gaze at the stars tonight? If the answer is yes, then consider taking a ride on Hamilton Devices' Starship for an unparalleled and extraordinary elevation! Allow us to present the groundbreaking innovation of the initial tri-heating element device!
The Starship from Hamilton Devices is tailor-made for individuals who aspire to elevate their vaping encounter to unexplored heights. Whether you're seeking a solo session or a shared smoking experience, the Starship guarantees an exceptional journey.
Moreover, it offers an added perk for our avid bong enthusiasts – an accompanying bong attachment! This enhancement is specifically designed to enhance your vaping experience by providing an extra layer of filtration, ultimately leading to cooler, smoother, and fresher hits.
What Is Starship Vape
The "Starship Vape" from Hamilton Devices is an innovative vaping device designed to provide users with an extraordinary vaping experience. This remarkable device features a groundbreaking triple heating element, setting it apart as a true pioneer in the world of vaping. It offers versatility, allowing users to use either three vape cartridges or three wax coils simultaneously.
The Starship Vape is perfect for a variety of vaping scenarios, whether you prefer solo sessions or group gatherings. It is simple to carry on the go thanks to its portability. Additionally, the device comes with a water pipe attachment, enabling users to connect it to a bong for water-cooled hits and thick, satisfying clouds.
Equipped with a robust 1,450mAh battery, the Starship Vape provides ample power for extended vaping sessions. Users can select from three preset variable voltage settings, indicated by distinct LED light colors: Blue (3.2V), White (3.7V), and Red (4.2V). An automatic mode is also available when attached to a water pipe. The device is conveniently rechargeable via USB-C, with a full charge typically taking around 1.5 hours.
The Starship Vape is known for its ability to deliver huge hits, making it particularly appealing to those who enjoy star-gazing or seeking an otherworldly vaping experience. Furthermore, the inclusion of three wax coils enhances its versatility, allowing users to enjoy various concentrates such as oils, wax, shatter, and more.
Why Choose Starship Vape
Experiencing Celestial Heights: Embark on Stellar Journeys
The Starship pledges to usher you into a realm of intoxicating highs that will redefine your perception.
Versatility Redefined: Designed for Every Vaping Moment
Embrace boundless adaptability: Whether you seek tranquil solitude or shared cosmic camaraderie, the Starship flexes to your vaping desires. Illuminate group gatherings with astral wonder or navigate the cosmos of flavor on your solitary expedition.
Enhanced Bong Adventure: Elevate Your Vaping Voyage
For the devoted bong enthusiasts, the Starship unveils a distinctive attachment, unlocking an expanse of possibilities. Elevate your hits into a realm of freshness, coolness, and smoothness, all powered by an extra layer of meticulous filtration.
Cutting-Edge Specifications: Pioneering Your Journey
Empower your journey with innovation: Activate the device through a tactile button mechanism, underpinned by a premium-grade circuit board. Shape your voyage with three dynamic power settings – Low (Blue), Medium (White), and High (Red), offering you unparalleled authority over your experience.
Enduring Vigor: Powering Boundless Exploration
A robust 1450mAh battery instills in you the assurance of readiness for every liftoff, ensuring that you're equipped to explore the limitless vistas of vaping, every single time.
Colors of Cosmic Majesty: A Palette of Cosmic Aesthetics
Encounter the allure of cosmic Red or immerse yourself in the enigma of Black – the Starship invites you to discern the hue that resonates with your cosmic aspirations and personal style.
Features
Activation: Button Activated
Auto Activation: Click the Button Twice While Using the Bong
Circuit Board: High-Quality
Power Levels: Low (Blue) - 3.2V, Medium (White) - 3.7V, High (Red) - 4.2V
Battery Capacity: 1450mAh
Resistance Range: ≥5Ω
Connector: Screw-in 510 Thread
Size: Φ34mm (Width) * 195mm (Height)
Color Options: Red, Black
Charging Method: Type-C Charger
Charging Time: 1.5 hours
Package Contents
1pc Starship Battery
1pc Glass Mouthpiece
1pc Water Pipe Attachment
3pcs Wax Coils
1pc Type-C Cable
1pc Dab Tool
2pcs O-rings
2pcs Dummy Plugs
1pc QR Card
Tips for Device Maintenance:
Leakage is possible with any oil-related device.
Consistent cleaning is essential to maintain peak device performance.
Other product suggestions
UPENDS Mirror
The Upends Mirror vape pen presents an elegant and compact design that consistently delivers a premium vaping experience. Its sleek structure and smooth exterior contribute to its refined look. By incorporating an advanced mesh coil, this device sets new standards for vapor production while ensuring a consistently delightful flavor profile, all while maintaining its stylish appearance. The Mirror is truly an expert when it comes to flavors, and this fact is readily apparent.
With a robust 500mAh battery, generous 10mL e-liquid capacity, and convenient Type-C charging, you can enjoy uninterrupted vaping sessions whenever it suits you. There's no need to be concerned about battery life or e-liquid levels. The Upends Mirror invites you to embark on an exceptional vaping journey and promises to elevate your vaping experience to new heights.
Features
10mL E-liquid Capacity
0Ω Resistance
500mAh Battery Capacity
Type-C Charging Port
Upbar-nano
The UpBAR Nano is a compact disposable vaping device designed for convenient on-the-go use. It incorporates FRESOR technology to optimize the efficient use of e-liquids. The innovative Next-Gen Mesh Coil and a unique flat stacking design, layer by layer, collaborate to enhance energy efficiency and increase the number of achievable puffs.
With the patented FRESOR technology, the Nano is manufactured through a fully automated process, ensuring unwavering performance. This translates into a vaping experience characterized by rich flavor, faithful flavor replication, abundant vapor production, and a safeguard against any leakage issues.
Features
0 E-liquid capacity
410 mAh battery capacity
20 mg/ml nicotine salt
0 Ω Resistance
UpBar GT
The UpBar GT marks a new development in the vaping industry by introducing a revolutionary step. This disposable electronic cigarette is pre-loaded with opulent flavors that are high in nicotine.
The UpBAR GT, which has about 600 puffs, was designed with design cues from high-end autos and has an exquisite exterior that complements its flavor odysseys. The Upends Upbar GT stands out for its innovative feature that allows customers to easily monitor the amount of e-liquid still in the gadget.
Features
2 ml e-liquid
2% Nicotine Strength
20 mg Nic Salt
410mAh battery
600 puffs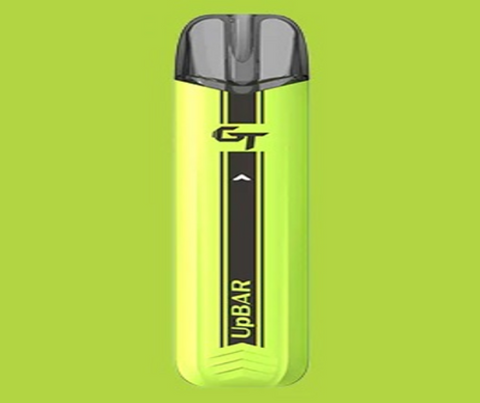 FAQs
How does the triple heating element in the Starship work?
The triple heating element in the Starship Vape operates simultaneously, allowing users to use three vape cartridges or three wax coils. This results in enhanced vapor production and a more consistent flavor profile, all while maintaining a stylish design.
What can I use with the Starship Vape: cartridges or wax coils?
You can use both vape cartridges and wax coils with the Starship Vape. This versatility allows you to customize your vaping experience to your preferences.
Is the Starship Vape suitable for solo use or group sessions?
The Starship Vape is perfect for both solo vaping sessions and group gatherings. Its portability makes it convenient for any occasion.
Can I attach the Starship Vape to a bong?
Yes, the Starship Vape comes with a bong attachment, allowing you to connect it to a bong for water-cooled hits and denser clouds, enhancing your vaping experience.
What are the available voltage settings on the Starship Vape, and how do they affect the vaping experience?
The Starship Vape offers three preset voltage settings: Low (Blue - 3.2V), Medium (White - 3.7V), and High (Red - 4.2V). These settings allow you to control the intensity and flavor of your vapor.
Best Vape Wholesale Supplier-UPENDS
Explore the world of Vape-UPENDS, where innovation and elegance perfectly coexist, on a mesmerizing journey. Prepare for an unforgettable vaping adventure filled with unforgettable moments. We cordially invite you to become a part of our active community, where a variety of exclusive offers are ready to enhance your vaping pleasure.
At Vape UPENDS, our cutting-edge inventions, elegant designs, and painstaking artistry are the source of our unending joy. Our skilled team of artisans uses their passion and knowledge to create faultless, sophisticated works of art that will mesmerize you. With each breath, we hope to arouse your sophisticated taste and ignite an enchantment that leaves you completely enraptured by the painstakingly selected sensations we've created.
Our ultimate objective is to offer a vaping experience that is unsurpassed, and we are eager to embark on this transformational journey with you. We would like to take this opportunity to explain why Vape UPENDS is the best choice for discriminating against those who want nothing less than perfection from their moments of pleasure.
Get ready to immerse yourself in a world where creativity, fashion, and sheer wonder collide to create an encounter that captures your attention and leaves you wanting more.