The Uwell Crown 5 Tank is an upgraded sub-ohm atomizer that builds upon the design of its predecessor, the Crown IV tank, while introducing new advancements. The tank boasts a shorter yet wider profile, with a 29mm diameter, constructed from stainless steel for durability and polished to a glossy finish, offering a sleek and smooth aesthetic. Its Pyrex glass tube can hold up to 5mL of e-liquid, ensuring an ample capacity for extended vaping sessions.
The Crown 5 Tank features a simplified quarter-turn threaded top fill system, allowing for quick and convenient refills. An added silicone seal prevents e-liquid from escaping during the filling process, ensuring a mess-free experience. Furthermore, the tank incorporates Uwell's patented self-cleaning technology, which effectively vaporizes condensation before it accumulates, minimizing the risk of leakage issues and enhancing overall performance.
What is Uwell Crown 5 vape tank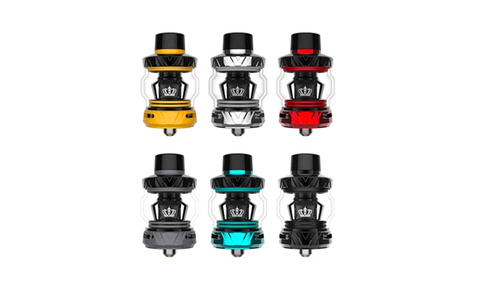 The Uwell Crown 5 vape tank is a high-quality sub-ohm tank designed and manufactured by Uwell, a renowned vaping brand. It is the fifth iteration in the Crown tank series and is known for its exceptional performance, innovative features, and stylish design.
The Uwell Crown 5 tank features advanced self-cleaning technology, which helps prevent leakage issues and reduces the need for frequent cleaning and maintenance. This innovative technology vaporizes any condensation build-up inside the tank, ensuring a cleaner and more reliable vaping experience.
Refilling the Crown 5 tank is simple and convenient, thanks to its user-friendly top-fill design. By twisting the top cap a quarter of the way, you can access the fill port and easily add your preferred e-liquid. The tank also includes a silicone check valve to prevent leakage during the refilling process.
To cater to different vaping preferences, the Crown 5 tank offers a bottom adjustable airflow system. You can easily customize the airflow to achieve either a loose inhale or a slightly more restricted draw, depending on your personal preference.
The Uwell Crown 5 tank is compatible with a range of coils, with the package typically including a single mesh 0.23 Ohm coil and a dual mesh 0.3 Ohm coil. These coils are optimized for delivering excellent flavor and vapor production when paired with e-liquids containing 60% VG (Vegetable Glycerin) or higher.
Why Choose Uwell Crown 5
Tiple Vape Experience
The Uwell Crown 5 Kit tank utilizes single, dual, and triple mesh coils, which effectively and evenly atomize e-liquid, resulting in superb flavor and vapor production. Additionally, the tank incorporates a condensation holder that absorbs excess e-juice through regular usage and vaporizes it. This innovative feature not only minimizes juice leakage but also reduces the frequency of required cleaning, providing a more convenient and hassle-free vaping experience.
Optimized Cap Design
Effortlessly refill your e-juice by rotating the top cap of the tank 90 degrees, allowing for easy access to the filler holes. The inclusion of silicone check valves in the filler holes prevents any potential e-liquid leakage, ensuring a clean and mess-free filling process.
Uwell Exclusive Pro-Focs Flavor Testing Technology
Vapers can enjoy the ultimate vaping experience through the implementation of Pro-FOCS Flavor Testing Technology. This advanced technology ensures precise control of the heating temperature, rigorous management of material quality, and complete restoration of the e-juice flavor. With Pro-FOCS, vapers can indulge in the fullest and most authentic flavor profiles for a truly satisfying vape.
Long Battery Life
Experience powerful vaping capabilities with the convenience of dual 18650 batteries, providing ample power for uninterrupted sessions. Charging becomes a breeze with the Type-C USB port, allowing for easy and efficient charging. With this setup, you can enjoy vaping anytime and anywhere without worrying about battery life.
High-Quality Manufacturing, Luxurious
The stainless steel construction of the new crown 5 has been finely polished to give it a bright brilliance and a silky feel. The "5" Roman numeral is included in the top cap and airflow ring designs. The contrast of leather and metal accentuates the mod's rugged appearance.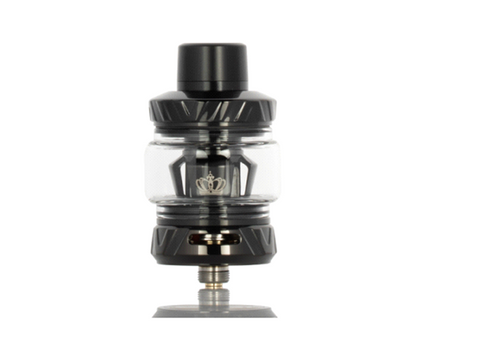 Features
5mL Bubble Glass Capacity
Durable Pyrex Glass Reinforcement
High-Quality Stainless Steel Tank Construction
Convenient Quarter Turn Top Fill System
Compatible with Uwell CROWN 5 Coil Series
Includes 0.23ohm UN2 Single Mesh Coil (rated for 65-70W)
Comes with 0.3ohm UN2-2 Dual Mesh Coils (rated for 50-55W)
Effortless Press-Fit Coil Installation for easy coil swaps.
Pro-FOCS Flavor Testing Technology for an enhanced flavor experience
Dual slotted bottom airflow control ring for adjustable airflow
Detachable structure for easy cleaning and maintenance
Threaded 510 connection for wide compatibility with mods
Available in a range of stylish colors: Silver, Yellow, Grey, Black, Red, and Blue
Package Includes
1 x Uwell Crown 5 Tank
1 x Replacement Glass
1 x 0.23ohm UN2 Mesh Coil
1 x 0.3ohm UN2-2 Mesh Coil
1 x Pack of O-Rings
1 x User's Manual
1 x Drip Tip Cover
Other Products You Might Want To Try:
SMOK TFV18 Tank
Discover the outstanding performance of the Smok TFV18 Sub-Ohm Vape Tank, now available at DirectVapor! This exceptional tank boasts a massive 7.5ml juice capacity, ensuring you have plenty of e-liquid for extended vaping sessions. Compatible with Smok's high-performance TFV18 Replacement Coils as well as the thrilling TFV16 Mesh Replacement Coil family, the TFV18 tank delivers incredible flavor and vapor production.
Crafted from durable stainless steel, the Smok TFV18 tank guarantees long-lasting durability to withstand everyday use. Its rugged construction ensures it can withstand the demands of regular vaping.
The SMOK TFV18 Tank is a high-performance sub-ohm tank known for its large e-liquid capacity, adjustable airflow, and compatibility with a wide range of coils. It offers excellent flavor production and vapor density.
Features
Generous 7.5mL e-liquid capacity (optional 6.5mL capacity also available)
Constructed with durable Pyrex glass
Superior tank construction using high-quality 304 stainless steel
A top-filling system with a press and slide mechanism that is practical
Compatible with the TFV18 Mesh Coil Series
Includes 0.33ohm TFV18 Meshed Coils
Also includes 0.15ohm TFV18 Dual Meshed Coils
Easy press-fit coil installation for hassle-free replacements
Dual-slotted bottom airflow control ring for customizable airflow
Secure threaded 510 connection for a reliable connection with compatible mods.
UPENDS Diamond
When you partake in vaping, the device's diamond-textured exterior creates a captivating and otherworldly atmosphere as it reflects light from its base. This distinctive design element enhances the device's visual appeal, making it visually enchanting. Moreover, the device enhances your vaping experience by delivering a more pronounced taste and improved replication of flavors.
Additionally, it boasts enhanced energy efficiency, allowing you to enjoy more puffs before needing to recharge. By using the bottom button, you can conveniently adjust the airflow inlet, granting you the flexibility to engage in either Direct-to-Lung (DTL) or Mouth-to-Lung (MTL) vaping styles according to your personal preference.
With an impressive e-liquid capacity of 13mL and a rechargeable battery of 600mAh, you have the freedom to indulge in your vaping sessions without worrying about depleting your e-liquid or running out of battery power.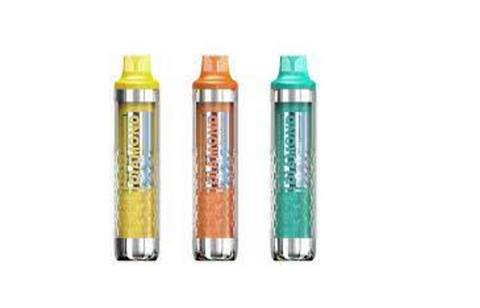 Features
Battery 600mah
13ml Capacity E-liquid
Size 119.8mm x 27.5mm
Type C USB charging port
0ohm Resistance
FAQs About Uwell Crown 5
The Crown 5: A reliable tank?
Fans of direct-to-lung clear atomizers will like the pleasant surprise of Uwell's Crown 5. It provides great flavors and is simple to use. The tank's lack of space is the only drawback.
Best Vape Wholesale Supplier-UPENDS
Welcome to Vape UPENDS, a world where innovation and style combine to offer an unforgettable vaping experience. Join our community and explore our exclusive range of products. With cutting-edge advancements and meticulous attention to detail, we take pride in crafting flawless and stunning devices that will captivate your senses.
Prepare to be amazed as we cater to your preferences with every inhale. Sit back, relax, and let us show you why Vape UPENDS is the ultimate choice for exceptional quality. Immerse yourself in a universe of imagination, style, and wonder, leaving you craving more of our enchanting vaping encounters.