If you're looking to experience a unique and unparalleled sensation with the latest and most popular cannabinoid, THC-O, then the Torch 2 Gram Disposable Vape may just be what you need.
This disposable vape is known to be up to three times stronger than D8 and is infused with a premium blend of CBD, CBN, terpenes, and D8 to create an unmatched experience that cannot be found elsewhere on the market, especially at this price range. Torch, a company renowned for its top-quality THC Diamond Disposables on the West Coast, is bringing its expertise and attention to detail to the Alternative Hemp market with this exceptional product.
With exciting flavors and more than double the amount of product available in competing brands, these 2.2ml disposables are also rechargeable and compact, making them perfect for use on the go. In this comprehensive guide, we'll take a closer look at the Torch 2 Gram Disposable Vape and explore its features, benefits, and everything else you need to know to get the most out of this product.
What Is A Torch 2 Gram Disposable Vape
The Torch 2 Gram Disposable Vape is an appealing portable THC vape pen that is rechargeable, compact, and discreet. It is made using live resin and has a small, white design. The strain used in this vape pen produces mild, sativa-leaning hybrid effects and offers a delightful flavor profile.
The Torch THC-O Diamond Disposable 2.2g is a disposable device that is both rechargeable and fast-charging via a Type-C USB port. This device has a smooth and unobtrusive design, with a rubberized body that provides an enhanced grip. Additionally, it features ceramic technology that improves flavor and vapor production.
Why Choose Torch Diamond THC-O 2G Disposable
Potency: THC-O is a highly potent form of THC, and some users might prefer it over other forms of THC as it can offer a more intense and potent high.
Convenience: The Torch Diamond THC-O 2G Disposable is a disposable vape pen, which means that it does not require any maintenance or cleaning. It is also easy to use and can be disposed of after use, making it a convenient option for people who are always on the go.
Flavors: The Torch Diamond THC-O 2G Disposable contains natural terpenes that enhance the flavor and aroma of the product. This can provide a more enjoyable and flavorful experience than other THC products that do not contain terpenes.
Design: The Torch Diamond THC-O 2G Disposable has a sleek and stylish design, making it an attractive option for people who value aesthetics.
Cost: The Torch Diamond THC-O 2G Disposable is priced competitively, making it an affordable option for people who want to try THC-O without investing in more expensive devices.
Effects
Blissful
Ease
Relaxed
Feel better
Features
350–700 puffs
2 Gram HHCP Live Resin Diamonds of high quality containing Delta-8
Ready for immediate use upon opening the package
USB-C port for rapid recharge
Button activated
Uses proprietary ceramic coil technology
Naturally derived terpenes included
3 different strains to choose from
Free from any leaks or clog 
Pros
The disposable Torch THC-O Diamond with a weight of 2.2g has terpenes that are derived from natural sources, and these terpenes contribute to the pleasant smells and tastes of the disposable product.
Torch employs a creative strategy in their devices, which are reputed to exhibit significantly lower defect rates in terms of problems like leaks, blockages, and malfunctioning batteries when compared to other brands.
Torch Diamond THC-O 2G Disposable Flavors Review
Sativa
Champagne Breath
This Sativa strain is known for its bubbly, effervescent flavor, reminiscent of a glass of champagne. It has a light, fruity taste with hints of citrus and sweetness, making it a popular choice for those who enjoy a more delicate, nuanced flavor.
Super Lemon Haze
As the name suggests, this strain has a bold, zesty lemon flavor and aroma, similar to the tart and sweet taste of Lemon heads candy. It's a popular strain for those who enjoy a burst of citrus freshness in their smoking experience.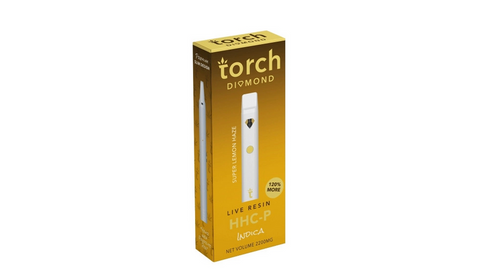 Trainwreck
This sativa strain has a complex flavor profile, with a blend of lemon, menthol, and pine scents and flavors. It has a sweet, earthy undertone, with an acrid edge that can be quite intense. Trainwreck is known for its potent effects and is a popular choice for those seeking a powerful, energizing high.
Hybrid
Devil Driver
This hybrid strain has a citrus and fruity flavor profile, with hints of melon. It's a refreshing and uplifting strain that's great for daytime use. Devil Driver's effects are known to be balanced, offering a combination of physical relaxation and mental clarity.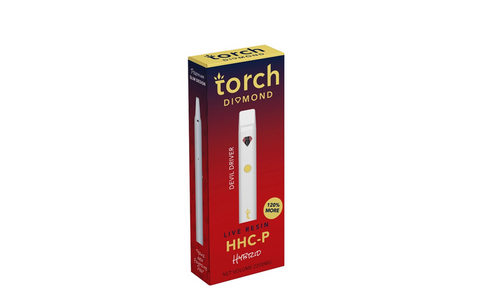 Fuel Biscuits
This strain has a pungent aroma and flavor, with a strong diesel note and undertones of freshly baked cookies. It's a unique and flavorful strain that's known for its potent effects, which can provide a balance of both physical and mental relaxation. Fuel Biscuits is a popular choice for those seeking relief from stress and anxiety.
India
Juicy Hashberry
This strain has a refreshing and fruity floral flavor, with subtle undertones of hashish. There's also a hint of either pepper or mint, which adds to the unique and complex taste. Juicy Hashberry is a mellow strain with relaxing effects that are great for unwinding after a long day.
Romulan Grapefruit
This Indica strain has a strong and earthy pine flavor, with a bitter citrus tartness that balances out the taste. It's a potent strain that's known for its sedative effects, making it an excellent choice for those who struggle with insomnia or chronic pain. The combination of flavors in Romulan Grapefruit provides a distinctive taste that's enjoyable for many cannabis enthusiasts.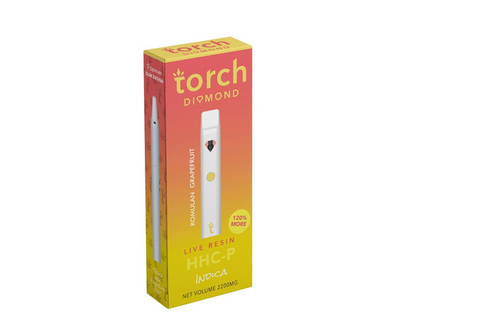 FAQs About Torch 2 Gram
Do Torch Flow Disposables Perform Well?
Yes, we believe that Torch produces a magnificent disposable THC pen that is reasonably priced, has a pleasant taste, and is effective. If you are looking for a reliable weed pen, we recommend Torch.
Does Torch Offer Its Flow Disposable Vapes In Delta 8?
Yes, it seems that Torch has Delta 8 versions of its Flow disposable vapes, which is a form of THC derived from hemp that is available for purchase online. However, it is important to be cautious when purchasing Torch Delta 8 products to avoid any fraudulent items.
Can I Have A Torch Flow Disposable Vape Delivered To My Location?
Yes, individuals residing in California may be able to have Torch products, such as the Guava Gelato Disposable Vape, delivered to their location.
Are There Any Side Effects Of Using The Torch Diamond THC-O 2G Disposable?
As with any cannabis product, the use of THC-O may have potential side effects, such as dry mouth, red eyes, increased heart rate, and impaired coordination. It is always recommended to consult with a healthcare professional before using any cannabis product, especially if you are new to cannabis use or have underlying health conditions.
Is The Torch Diamond THC-O 2G Disposable Legal?
The legal status of THC-O is still being debated in some jurisdictions, and it is important to check the local laws and regulations regarding the use of cannabis products. In some states where cannabis is legal, THC-O may also be legal.
How Many Puffs Are In A Torch 2G Disposable?
On average, a disposable that contains one gram of substance is likely to provide approximately 350 draws, with each draw lasting about two seconds. Therefore, a two-gram disposable is expected to provide a tank capacity of 700 draws, which results in a longer lifespan per device. Consequently, a two-gram disposable can last much longer than its smaller counterpart, allowing you to use it for a more extended period.
Best Vape Wholesale Supplier-UPENDS
Enter the remarkable world of Vape UPENDS, where innovation and flair work together to produce the ultimate vaping experience. It gives us great pleasure to extend a warm welcome to you and demonstrate what makes our community unique.
We are confident that you will be impressed by our state-of-the-art technology, modern designs, and unrelenting attention to detail. Being a part of the Vape UPENDS family gives you access to a variety of premium goods that will elevate your vaping experience.
We take great delight in producing beautiful, faultless products here at Vape UPENDS. We're passionate about giving you an elegant and charmed feeling when you use our items, and we're sure you'll be mesmerized by what we have in store for you.
Our goal is to give you the best vaping experience possible, and we're eager to embark on a trip that you won't soon forget. So take a seat back, unwind, and allow us to demonstrate why Vape UPENDS is the top choice for people who expect nothing less than the best.